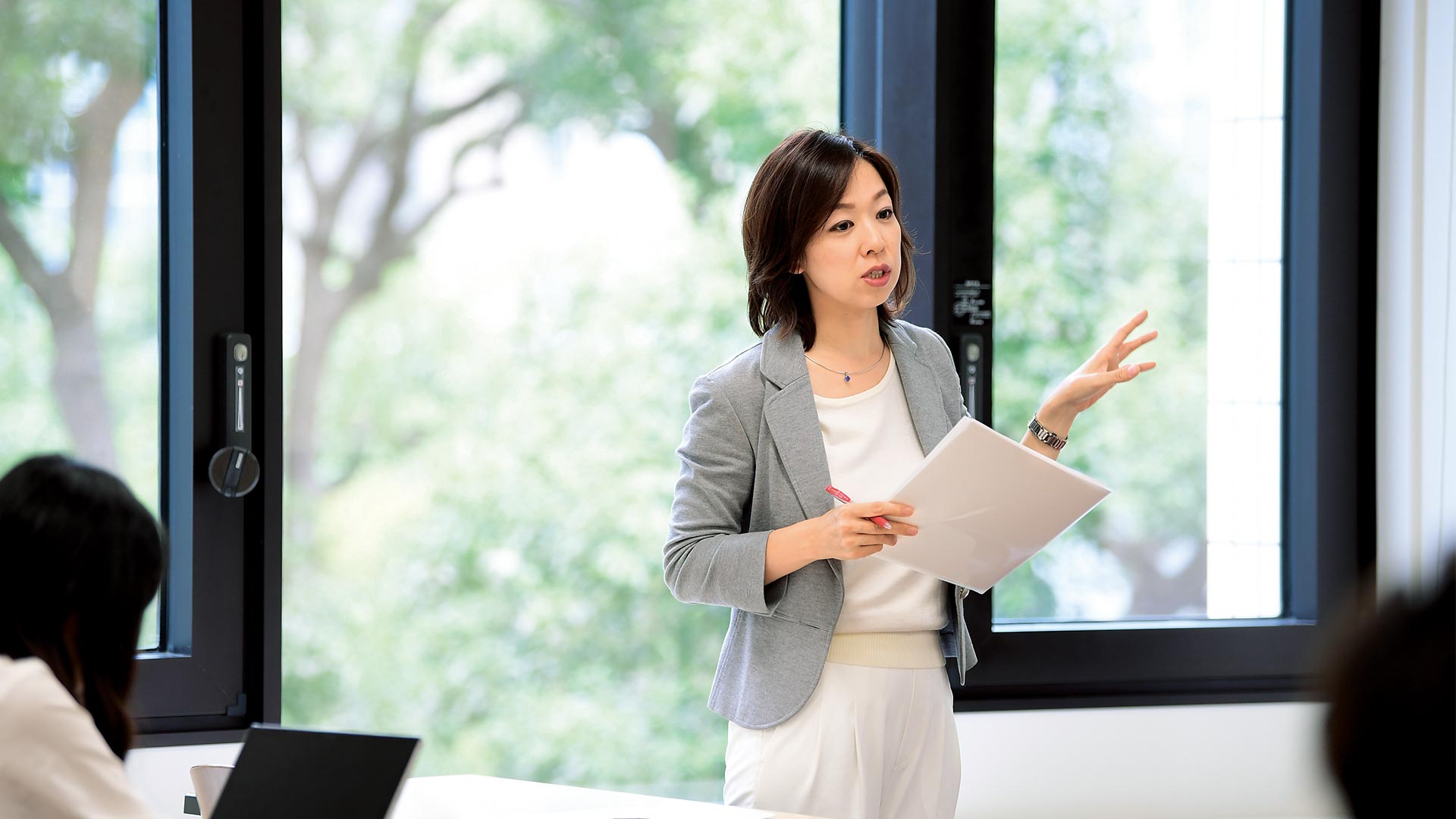 Becoming leading professionals who influence global society with intelligence.
Department Features
In the face of today's whirlwind of informational exchange on a global scale, let us strive to achieve the free movement of goods, people, and money while protecting the uniqueness and individuality of each culture, tradition, and society. The Department of Global Studies is for students to cultivate this mindset and apply it to their career paths. Through a complex, multidimensional education, the program aims to provide a rich environment to attain both macro and micro perspectives on regional development, which fully equips motivated students with knowledge, discipline, morals, and intelligence to put their ideas into action and opens up the possibility of further discourse. It is our hope that our students will contribute to realizing a truly global, inclusive society in which they can live together with the people of the world.
The Department of Integrated Global Studies offers a degree program in English (Sophia Program for Sustainable Futures [SPSF]).
A leading force of global studies: Looking at the world with two different approaches to gain a solid grasp of global society.
Cultivating the internationality of students has been an important educational objective of Sophia University since its founding. With the honor of the name "Sophia—true wisdom," our educational endeavor is solely focused on realizing our belief that true wisdom is a universal language in the strictest sense. The Global Studies that we have established at Sophia over time have finally come to fruition with the founding of the Faculty of Global Studies, which is the newest center of Global Studies.
International Relations

International Politics

Civil Society & International Cooperation
Regional Studies

Asian Studies

Middle-Eastern and African Studies

North American Studies* European Studies*

Latin American Studies* Russian and Eurasian Studies*
*This is a research course offered by the Faculty of Foreign Languages.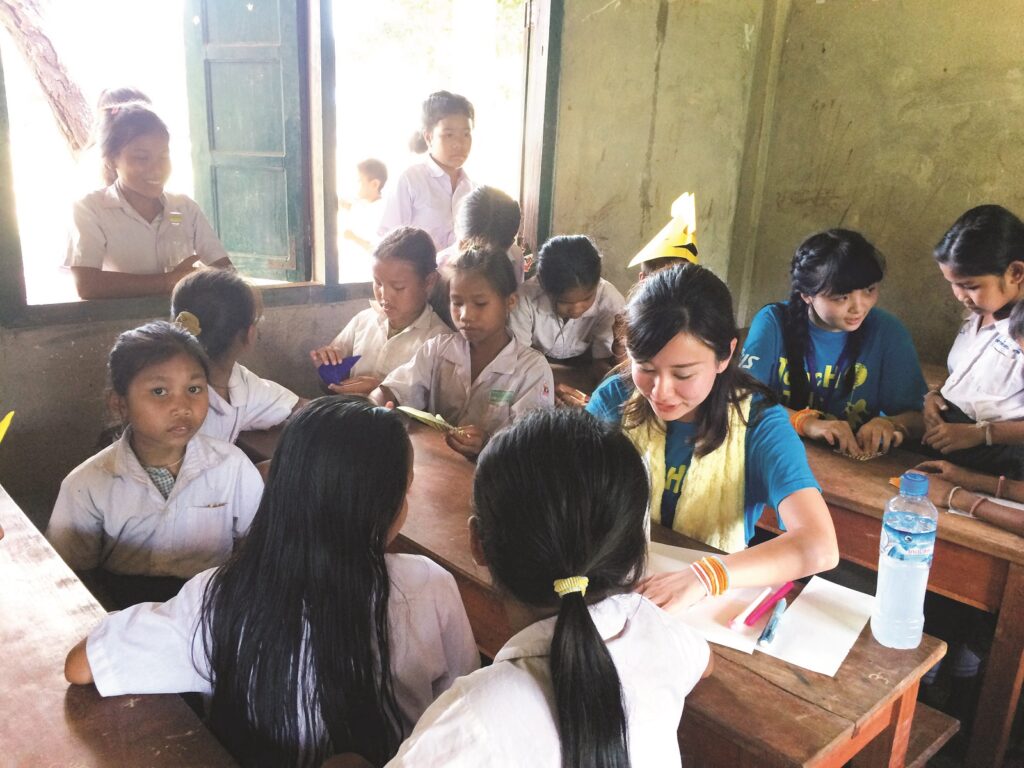 Students conducting field research for their independent study, "Education in Laos"
The department's foremost goal is for students to acquire a multifaceted perspective of the world. To this end, we emphasize small-group exercises and independent research, with regional studies as the dual focus for thinking on a global scale, and provide open learning that invites students to the world of theory and practice of global studies. How does your life connect to the world? The Faculty of Global Studies is for students who wish to dig deeper into these questions and apply what they discover to their future.
Learning in the Faculty of Global Studies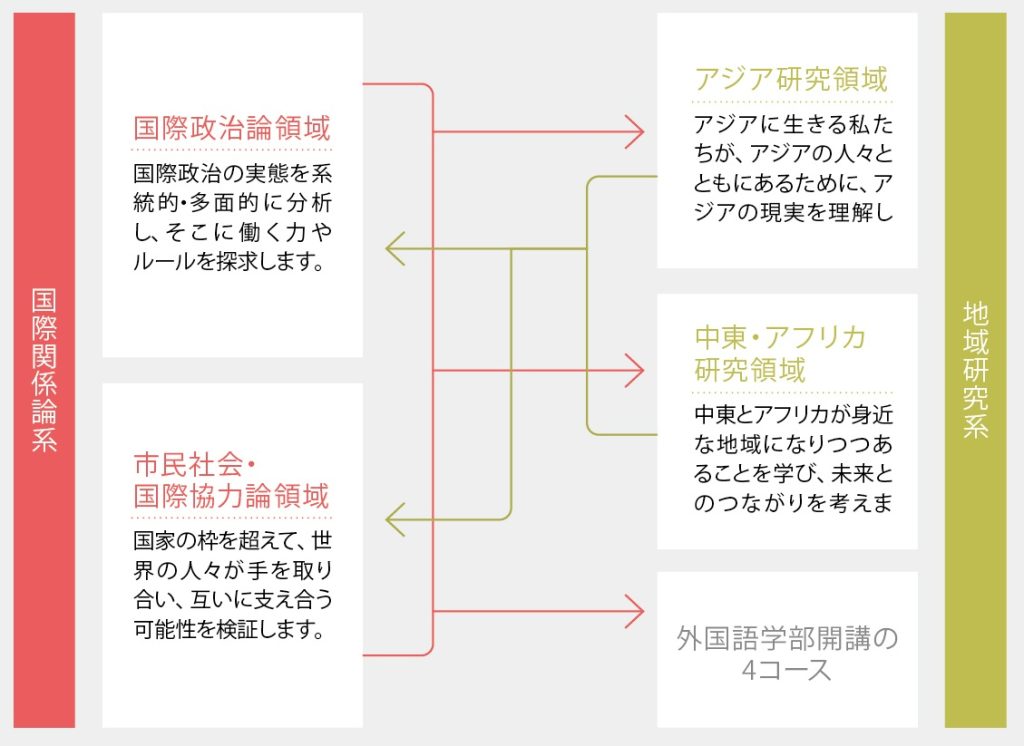 Students in the Faculty of Global Studies start their educational journey with a comprehensive study of global studies, and from the second year, they study two areas of International Relations (International Politics, and Civil Society & International Cooperation) and two areas of Region Studies (Asian Studies and Middle-Eastern and African Studies), in accordance with their interests. In the third year, students choose one of these four areas as their major, participate in Seminar classes for each area (mandatory in the third year but elective in the fourth), and complete their studies by writing their graduation thesis in the fourth year. At the same time, students will choose one area as a minor from a different lineage than the one to which their chosen area belongs, and effectively combine that study with the major to complete their own global studies.
Curriculum
Effectively combining two specialized areas, International Relations, and Region Studies, the curriculum enables students to realize their own global studies goals.
After studying Global Studies comprehensively in the first year, students can choose either International Politics or Civil Society & International Cooperation as International Relations studies, or Asian Studies or Middle-Eastern and African Students take Region Studies (or other areas) in the second year to acquire a multidisciplinary perspective, as the course aims to provide students with a chance to acquire a multifaceted perspective. We also emphasize courses that require students to work independently, such as the first-year Basic Seminar in Global Studies, the third-year Seminar, and independent research in the second and fourth years, as well as foreign language acquisition.
*Please refer to the syllabus for more information on the subjects
*Major areas of study will be finalized according to the Seminar choice. Because there is a limit to the number of places available in the Seminar program, not all students can be placed in their first choice of Seminar program. As a result, the major and minor areas may differ from the desired area.
What to aim for, what to learn. Integrated Global Studies Course Model
1) Seeking a career in a trading company
Having a deep interest in international politics surrounding energy resource issues, a student took courses focusing on international political theory. By studying the relationship between China as a rising global player and the Middle-East and Africa as resource-rich areas, the theme of the student's graduation thesis was "China's Measures Against Africa: Focusing on Energy Strategies." The student made the most of this interest and knowledge to work for a trading company involved in the resource development business.

2) Seeking a career in an NGO
A student focused on Asian Studies courses to learn about the history, culture, and society of Southeast Asia. Having an interest in poverty issues in Cambodia, the student took Civil Society & International Cooperation as a minor area to study theories and approaches to development and poverty issues. For the graduation thesis, the theme was "Tourism and the Poor in Cambodia." The student now works for an international NGO to address poverty issues from the locals' perspective.

Course Examples
Introduction to Global Studies

This is a new integrated academic field that combines the global perspective of international relations theory with the local perspective of area studies so that students can acquire knowledge and understanding of world issues, in order to comprehend the globalizing world. As an introduction to the course, students will study various issues from the perspectives of international relations, political science, economics, sociology, history, anthropology, region studies, Asian studies, and Middle-Eastern and African studies.
Freshman Seminar

In small classes of about 10 people, students familiarize themselves with university educational methods, which differ greatly from those of high school. With all five senses and bodies to read, think, search for materials, gather materials, discuss, and write, students confirm their interests, identify themes, and acquire the necessary knowledge-acquisition techniques (skills and methods). This becomes a roadmap for them to pursue independent and autonomous research after the second year.
Independent studies

Students will study various issues in global society based on their own set of tasks and plans. With the guidance of the faculty member in charge, students will conduct fieldwork, internships, volunteer work, and literature research, and submit a final product. This is a subject unique to the Faculty of Global Studies, which emphasizes independence, free thinking, and a spirit of challenge.
Seminars, graduation thesis, etc.

Both the third-year Seminar and the fourth-year graduation thesis are required, and in principle are taught by the same faculty member. Through Seminars and literature studies, students deepen their research by discussing the themes with other students and faculty and produce a graduation thesis as the culmination of their four years of study. The themes of past students' graduation theses are available on the department's website.
Available teaching licenses and subjects
Junior high school teacher (social studies)
High school teacher (civics)
Curatorial courses are available.
Educational Objectives and Policies
By systematically taking courses in both international relations and area studies, students will acquire 1) an understanding of globality, 2) an understanding of locality, 3) proficiency in multiple languages (English and regional languages), and 4) negotiation skills backed by a strong sense of ethics.
To produce international intellectuals who tackles both the positive and negative aspects of globalization and actively engages in building a inclusive society where global citizens live.
The Faculty has established the following abilities and knowledge that students should acquire upon graduation in order to become professionals who strives for a society that upholds human dignity in this age of globalization. Upon completion of graduation requirements, students are recognized as having mastered these requirements and are awarded a degree.

Interest in security, conflict, poverty, development, migration, refugees, and the global environment, and the ability to explain why these are issues that require global solutions
Ability to understand the macro ideas and theories of international relations and area studies that underpin global studies, and to combine both perspectives
Ability to analyze the positive and negative aspects of globalization using basic theory and empirical methods in specific cases, and to envision solutions to these
Ability to select one area of specialization from International Politics and Civil Society/International Cooperation, and one area from Asian Studies and Middle East/African Studies (or other regional studies), and to set up and research a subject combining the two areas.
Ability to interact with diverse people living in various regions of the world and to cooperate in problem-solving toward the formation of a society of harmonious coexistence.
In line with the Diploma Policy, the Department organizes its curriculum with courses that incorporate the following objectives

learn the core theories and methods, and acquire basic research skills and attitudes. Through lectures on global studies and the fundamentals of international relations and area studies that support it. [course number 100s]
Understand the dynamics of international politics and economics, learn about the mechanisms of international cooperation and civil society through lectures, and prepare for each choice of specialization. [courses number 200s]
Study history, culture, politics, economics, and other aspects of the society in Asia, the Middle East, Africa, and other regions through lectures to prepare for their choice of specialization. [course number 200s]
Specialize in one area from International Politics, Civil Society, and International Cooperation, and one area from Asian Studies, Middle Eastern and African Studies, etc. Develop the ability to conceive and implement solutions to global problems through lectures and other courses. [Lecture course number 300s and 400s]
To proactively set individual issues on various problems of globalization, focusing on the output such as formally presenting the results of their research as a thesis. [Independent studies 200s, exercises 400s, graduation thesis/research in the 400s, etc.]
Through small-group exercises, students will deepen understanding through discussion and learn to support each other's research. Basic exercises for the 100th and 400th units.
Through taking courses in English, students will improve their proficiency in English, the the global language, and acquire multilingual skills by learning a foreign language other than English. [Lecture course over 200s]
We accept the following students who are willing to contribute to building a global inclusive society by developing their intellectual interests and motivation through independent efforts.

Students with a great interest in the positive and negative aspects of globalization and have a sufficient level of knowledge of contemporary society acquired during their high school years.
Students with a great interest in how the diverse society brings prosperity to the humanity and have a sufficient level of knowledge of geography and world history acquired during their high school years.
Students with logical thinking ability based on solid backing and
Students with adequate English proficiency to read and understand the basic literature necessary to understand the globalizing world.