Sophia—Bringing the World Together
The Origin of the Establishment of the University is the Visit of Francis Xavier to Japan
Sophia University was founded in 1913 as a Catholic Jesuit university.
Based on Christian humanism, Sophia has set "For Others, With Others" as its educational philosophy, and has focused on cultivating the spirit of caring for others and serving society.
At the same time, Sophia has developed education and research with a strong awareness of international compatibility, and has produced many human resources who can contribute to not only Japan but also to international society, as well as play a role in multicultural conviviality in a global society.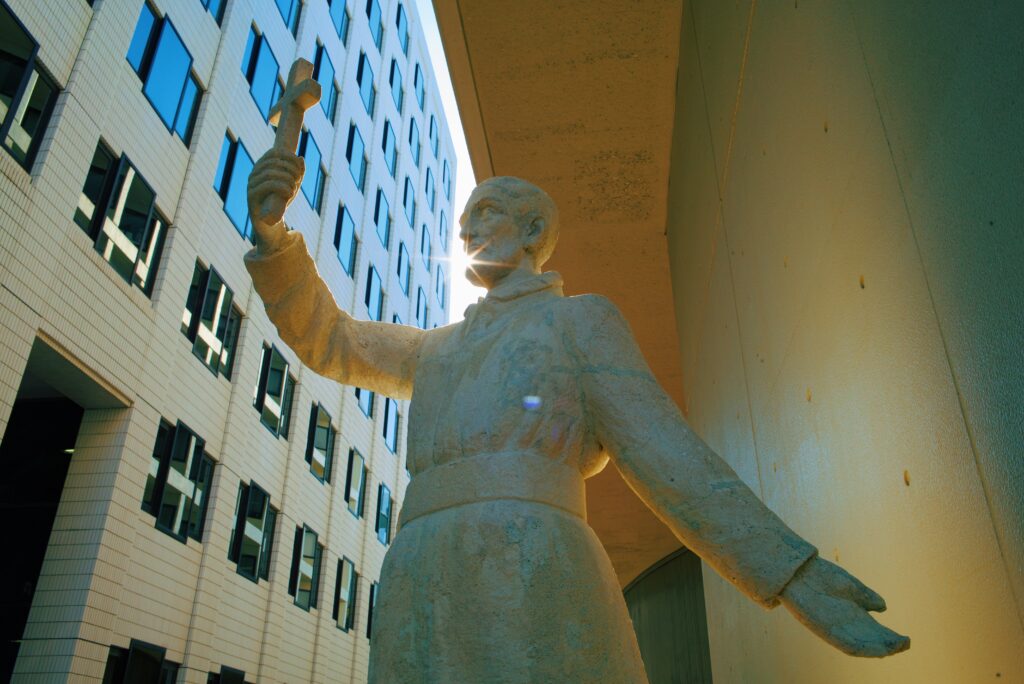 The origins of Sophia University date back to 1549, when the Catholic friar Jesuit missionary St. Francis Xavier came to Japan. At the time, Xavier was impressed by the excellence and intellectual curiosity of the Japanese people. He had studied at the University of Paris and envisioned the creation of a similar university in the Japanese capital to promote cultural, ideological, and religious exchange between Europe and Japan, which led to the establishment of Sophia University.
Educational Environment for International Compatibility
Immediately after the university was established, there was a strong awareness of the need for international compatibility in terms of education. One of the earliest examples of this embodiment was the Department of Japanese Language and Culture in the Faculty of Foreign Languages, which was established in 1975, with its roots in the International Division founded in 1949. The department's commitment to international liberal arts education in English made it a model for pioneering the internationalization of universities in Japan. After that, the department was changed to the Faculty of Comparative Culture, and in 2006, the current Department of Liberal Arts in the Faculty of Liberal Arts was born. The Faculty of Liberal Arts provides an environment where Japanese students who have graduated from high schools in Japan and abroad, as well as exchange students and students from foreign schools of various nationalities, can experience and learn in the international community.
The campus was also relocated from Ichigaya to Yotsuya when the department was changed to the Faculty of Liberal Arts. By integrating all undergraduate departments and graduate majors in a single campus, the university will accelerate its progress towards becoming a global campus as a "small urban university" with mobility and collaboration.
The student dormitory "Soshigaya International House" opened in April 2012, and the Sophia University Alpe International Student Dormitory opened in April 2019. These dormitories are designed to provide an environment where international and Japanese students can learn together in a symbiotic environment. In terms of financial support, more than 40% of foreign students whose visa status is "College Student" are subsidized by the Scholarship for Encouragement of Study. In addition, the cross-organizational "International Student Support Network," which aims to provide a university-wide support system, is constantly examining issues and solutions related to the acceptance of international students, studying, student life, and career support.
Global Campus—Contributing to the International Community and Achieving Diversity
A global campus does not only mean a campus with physical ties to the world, such as a campus with partner universities and international organizations around the world. The campus is a place where students can acquire the personality traits and culture to appreciate diverse values in education, research, and student life, and to develop research activities that lead to solutions to global issues that can benefit others.
In order to build a peaceful world, it is necessary to have a broad range of education and solid specialized knowledge (wisdom) that can be used in the international community. Sophia University aims to be an international starting point for this and to make further contributions.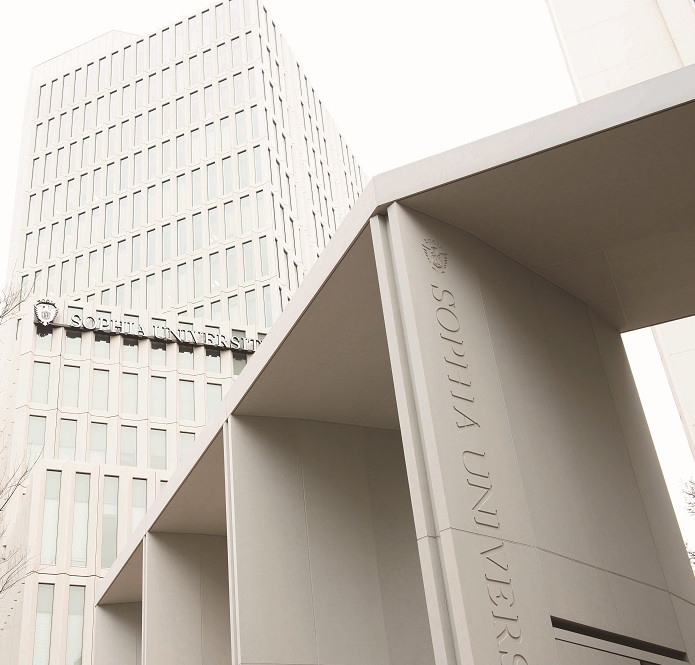 Various Programs to Connect with and Learn from the World
Sophia University offers a variety of programs to connect with and learn about the world. Many of our graduates are active on the international stage, often because they participated in such programs while studying at Sophia. We hope you will find the right fit for you and take the first step to advance to the world from Sophia University.
Globalization Initiatives
Aiming to strengthen international competitiveness and improve international compatibility—Top Global University Project (SGU) by the Ministry of Education, Culture, Sports, Science and Technology (MEXT)
Creating a Global Campus with Multiple Hub Functions and Supportive Governance 2014–2023
In 2014, Sophia University was selected for the Top Global University Project (Type B: Global Traction Type) promoted by the MEXT. Under the concept of creating a global campus with multiple hub functions and supportive governance (MEXT project), we are working to create a diverse learning environment by expanding and diversifying the entrance examination system, curriculum, and study abroad programs; promoting international student exchange; and establishing overseas bases, while globalizing the faculty and staff who support these efforts.
For more information on the Top Global University Project, please visit Web Piloti.
Adopted Program for the Inter-University Exchange Project
Connecting with overseas universities online: Interactive and Collaborative Learning Environment in and Outside Class (COIL) 2018–2022
COIL stands for Collaborative Online International Learning. Students can study in an interactive learning environment by connecting online with universities abroad. Students who are unable to study abroad due to economic reasons, social conditions, or university curricula can study with students from other countries while remaining in Japan. Diverse learners with different cultural backgrounds can learn collaboratively and acquire multifaceted understanding of issues and multifaceted thinking skills.
Studying in Latin America, which companies around the world are focusing on: Support for the Formation of Inter-University Exchanges with Latin America and Other Countries (LAP), 2015–2019
(This program is continuing as the university's own program even after the grant program ends.)
In cooperation with 13 universities in 6 countries (Mexico, Colombia, Peru, Chile, Argentina, and Brazil), students who participate in a semester or year-long study abroad program at one of the partner universities can study special courses offered in Spanish and Portuguese at Sophia University before or after the program.                       
Japanese and Latin American Comparative Literature (offered in Spanish)
Seminar (Research on the Education and Social Situation of Brazilians in Japan) 1 & 2 (offered in Portuguese)
Short-term study abroad programs in Colombia during the summer vacation allow students to acquire advanced Spanish language skills and deepen their understanding of Colombian culture, as well as improve their understanding and adaptability to different cultural societies.
Learning in fast-developing ASEAN countries: Support for Strategic Alliances in Higher Education with Foreign Countries(SAIMS), 2013–2017
(This program is continuing as the university's own program even after the grant program ends.)
Students will study abroad for one semester at one of Sophia University's seven partner universities in four ASEAN countries, and study various fields offered by each university in English. The program fosters these three skills: the communication skills necessary for collaboration and negotiation; the ability to identify issues that transcend national borders and to work proactively to solve them; and the ability to cooperate in a multicultural environment.
For more information on the Inter-University Exchange Project, please visit Web Piloti .