Extracurricular Activities
Sophia University is characterized by its active club, circle, and volunteer activities. Students will be able to grow through the experience of meeting and sharing excitement with many friends beyond their grade, department, and faculty.
List of Clubs and Circles
Sophia Universities clubs can be categorized to ones which belongs to 5 of the alliances "Cultural Academic Alliance", "Athletic Activities Alliance", "Music Activities Committee", "Theatrical Activities Committee", "Hobby Club Alliance", ones which does not belong to any of those, and other committee.
Sophia Athletes Association (headquarters organization for alliance)
Aikido Club
Ice Hockey Club
American Football Club
Sophia Cheering Squad
Karate Club
Japanese Archery Club
Dance sport club
Kendo team
Girls tennis team
Men's Tennis Team
Sophia Baseball Club
Golf Team
SOPHIA Univ. FOOTBALL TEAM
Shorinji-kempo Club
Sophia University Motorsports Club
Judo Club
Semi-hard baseball club
Sophia Swimming Team
Racing Ski Club
Table Tennis Club
Women's Soft Tennis Club
Soft tennis club (men)
Handball club
Women's Basketball Club
official sophia men's basketball team
Women's Volleyball Team
mens volleyball club
Badminton Club
Fencing club
Sophia University Boxing Club
Archery Club
Sophia Sailing Team
Rugby Football Club
SophiaTrack and Field Club
WANDERVOGEL CLUB
Girl's Lacrosse Club
Ladies' Baseball Club
Men's Lacrosse
Sophia Field Hockey
FLYING DISC CLUB FREAKS
SOPHIA WINDSURFING TEAM
Don Quixote (Volunteer at foster home)
American Music Association (playing bands at venues and studios)
Sophia Movie Club (Filming movies and playing at screening)
English Speaking Society (Speech, Debate, Drama in English)
Tea ceremony club (practicing tea ceremony)
Sophia Photography Club (Holding Photo exhibitions, photo shoots, and practice sessions)
Sophia Jazz Society (Playing mostly Jazz, but other genres as well)
Tankenbu (Climbing, rafting, and other outdoor activities)
Brazilian Music Club (Playing Latin music, mainly Brazilian ones)
Sophia Art Club (Doing art activity such as Painting/ Pottery)
Sophia Broadcasting Circle (Practicing and research about announcing skills)
Wakatake Club (Bonding with disabled children)
Japanese calligraphy club (Japanese calligraphy, writing it for exhibitions)
Music Activities Committee (headquarters organization for committee)
Sophia Philharmonic Orchestra (Playing orchestral music)
Sophia Guitar Ensemble (playing classic guitar)
Sophia Glee Club (male choir)
The Philharmonic Chorus Amadeus Choir (mixed choir)
Sophia Concert Band (SCB) (Playing brass band music)
Sophia Marching Band (SMB) (Playing Marching Band)
Sophia Sokyoku Club (Playing Koto, Shamisen, and Shakuhachi)
Sophia Mandolino (Mandolin orchestra)
New Swing Jazz Orchestra (Playing Jazz as a big band)
Folksong Lovers (Band performance)
Sophia Chamber Orchestra (Ensemble performance)
Theater Association Headquarters (Head organization for committee)
Engeki Kenkyuukai (theater performance)
Gekidan Little Square (theater performance)
Gekidan Euphoria! (theater performance)
Theater Company Kanransha (theater performance)
Sophia Modern Dancers (Dance)
Alegrias (flamenco)
Aspen Ski Club (Aiming to be better at skiing)
Sophia Walking Club (Walking around Tokyo, traveling, sports)
APeS (Basketball)
Japanese flower arrangement club (Japanese flower, Ikebana)
SISEC (interacting with exchange students)
EAGLE (soccer)
Sophia Sign Language Club (learning sign language, interacting with hearing impaired)
Sophia Jurist Club (learning about law)
Fire Birds (playing soft-ball baseball)
Sophia figure skating club (figure skating)
B-pro (Broadcast community) (Filming, making leaflet for other clubs)
Sophia Comic Society (Comics, Anime, Game, and other subcultures)
MEGUKO- Action for the Self-Reliance of Children in Asia- (Support fundamental education for children in India and Philippines)
Sophia University Sophia cheerleaders Lollipoppers (cheerleaders for football team)
The information of this list is based on the data that the students of each clubs and circles have submitted to the Center for Student Affairs once a year. We do not take responsibility about the contents placed in this brochure.
Movie
Sophia University- Nanzan University Athletic Meet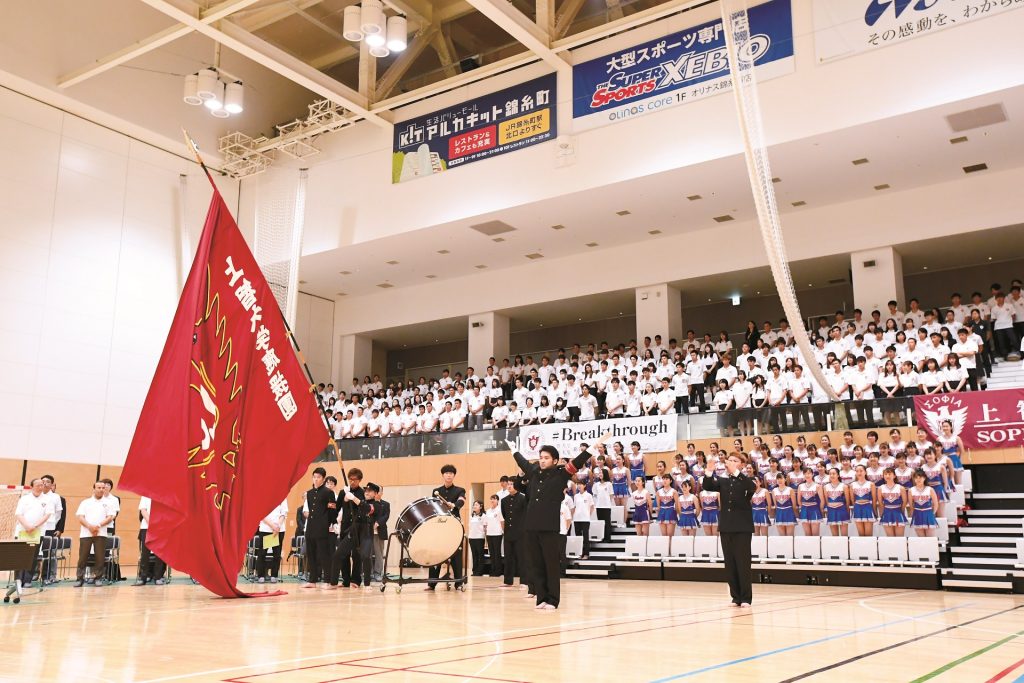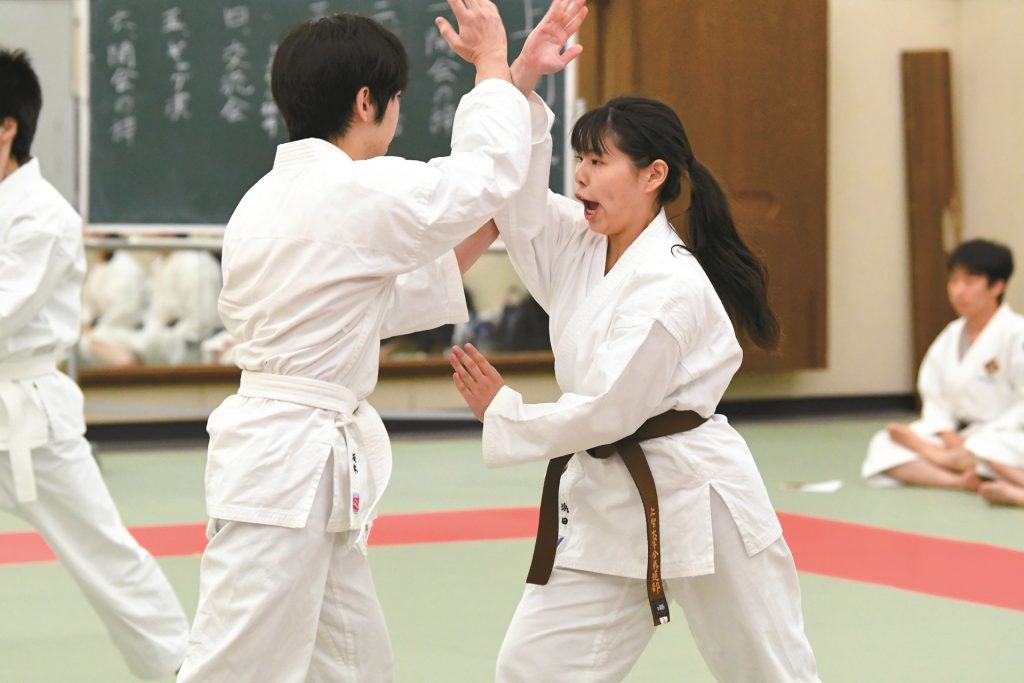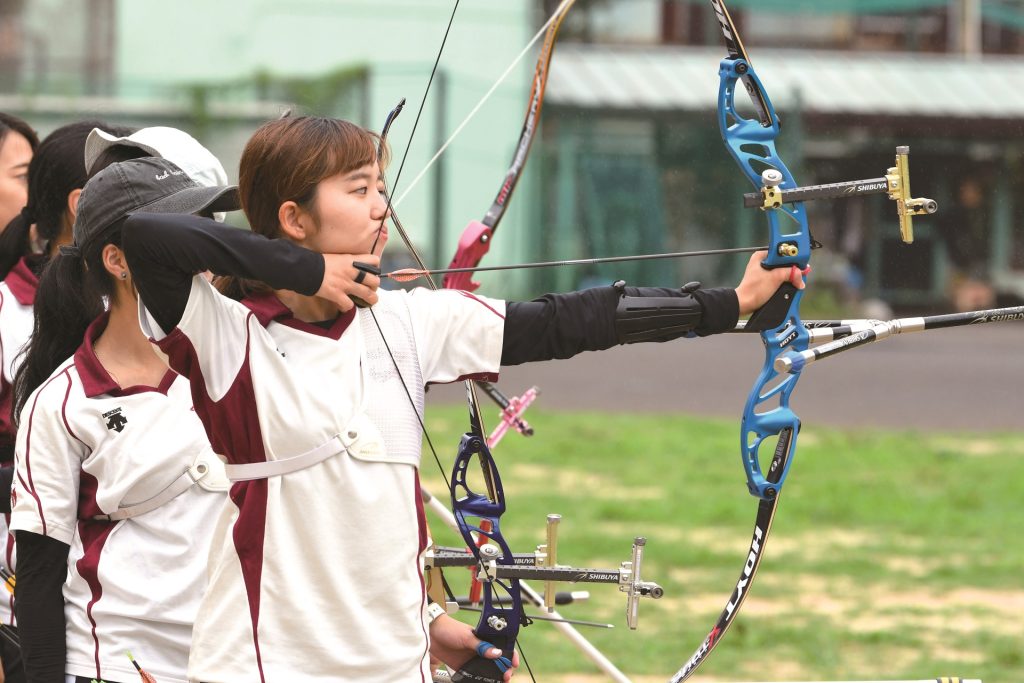 The Sophia University-Nanzan University Athletic Meet (Johnan the classic) is a traditional sports competition between Sophia University and Nanzan University, which share the same educational philosophy as Catholic universities, to deepen exchanges through intercollegiate athletic competitions.
We hold the event by exchanging the location every year by playing Baseball, Volleyball, American Football, Soccer, Lacrosse, and the team with more points wins the overall championship. In addition, cultural groups such as English drama, brass band, photography, etc. also participate in various exchange and collaboration programs to deepen mutual friendship.