Guidance for Corporate Recruiters
Message to Corporate Recruiters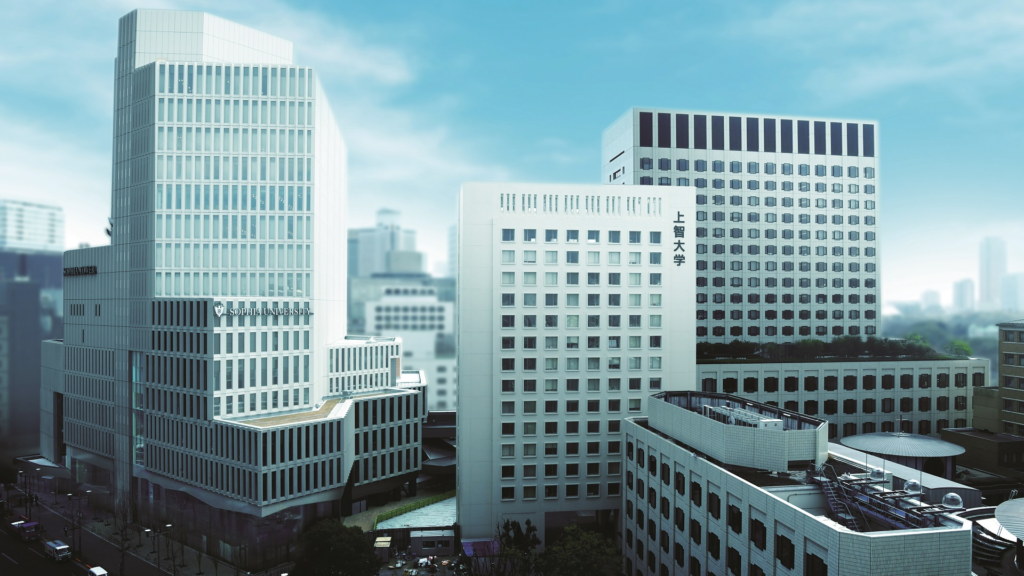 We would like to offer our appreciation for your recruitment activities targeting students from Sophia University.
Sophia University was founded on the educational spirit of "for Others, with Others," and since then, we have strived to cultivate individuals who can use their abilities for the benefit of others and give back to society. Our students gain the academic capabilities needed by students, various other abilities, and develop their humanity through curricular and extra-curricular activities and study abroad, and we support them in selecting a future path by helping them make a decision they will be happy with, whether it be employment, further study, or entrepreneurship.
We thank you for your understanding of our university's policy and for respecting our student's right to freely decide on their own career path.
Request Concerning the Recruitment Screening of New Graduates
Scheduling
We provide support for job hunting activities in accordance with a mutual understanding formed between universities by the Recruitment Issues Panel , an organization comprising public and private universities among others. Each year, the job-hunting and recruitment period is getting earlier and longer, so we are concerned about the impact this might have on a student's academic studies and emotional health.
When carrying out recruitment activities, we ask that you consider the needs of our students and comply with the Request Concerning the Recruitment of Graduates and Prospective Graduates issued by the Japanese government.
Job Hunting for Diverse Students
Sophia University continues the tradition of the Jesuit educational spirit of "for Others, with Others." We believe that all which exists is good, so we respect human dignity by treating all people equally. We also aim help all students to continue grow in a way that maximizes their individual abilities so that they can go on to help others. We actively work to provide career guidance for students with disabilities, LGBTQ students, and non-Japanese students. Please feel free to contact our Career Center to discuss job information and recruitment.
On-campus Company Information Sessions
Sophia University's Career Center is selecting additional companies to take part in on-campus company information sessions based on comprehensive consideration of factors such as past job offers issued. Please understand that not all companies that apply will be able to take part in the sessions.
Also, currently we are not taking applications for on-campus joint company information sessions. We thank you for your understanding.
Recruitment Visits
If you wish to visit our Career Center, please inform us of your preferred date and time through the Job Placement Consultation Request Form. You will then be contacted by the relevant person in charge.
We accept notifications regarding Sophia University job vacancies and internships through Caritas UC. In cases where a potential visitor has not registered with Caritas UC or where there are too many unfilled sections on the form, there will not be enough information to disclose to students and we may not be able to provide a consultation. Please register in advance. Please understand there may be cases where we are unable to receive visitors at their preferred times due to consultations with students, guidance events, and the like.
Career Center
Location

7-1 Kioi-cho, Chiyoda-ku, Tokyo 102-8554, Japan
1F, Building No.2, Yotsuya Campus, Sophia University

Tel.

03-3238-3581
FAX

03-3238-3585
E-mail

career-co@sophia.ac.jp
Hours

Monday to Friday 10:00-16:30
(Lunch hour 11:30-12:30)

*The Career Center may be closed at other dates or times due to school events.

Academic Staff in Charge of Employment at the Faculty of Science and Technology and Graduate School of Science and Technology
If you wish to visit the academic staff in charge of employment at the Faculty of Science and Technology and Graduate School of Science and Technology, please inquire directly using the email address shown at the bottom of this page. Please understand that academic staff may not be able to fulfill your requests due to their teaching and research activities.
A detailed introduction of each department and area of study of the Faculty of Science and Technology and Graduate School of Science and Technology and a list of their academic staff can be found on the Faculty of Science and Technology website, which can be accessed using the link below. Please refer to the Bachelor's and Graduate Program Guide and Introduction to Research Activities sections of the site.
Internship Support
Handling of Internships at Sophia University
Following the June 13, 2022 revision of the "Basic Approach to the Promotion of Internships and Other Career Development Support Initiatives for Students (MEXT, MHLW, METI)", the types of industry-university collaborative initiatives in career development support for students have been redefined. The agreement is now in effect.
*The following reference materials are available in Japanese only.
The University's priority is to provide an environment in which students can concentrate on their studies, and in promoting internships, the University will develop various types of support based on the basic concept of the Three Ministry Agreement.
Internships conducted and mediated by Sophia University
The following three types of internships are offered by Sophia University and require application through the university.
1. Class course (for credit) type internship *1

Students can receive credits for elective courses by doing internships (work experience) at companies and institutions (global companies, Japanese delegations of international organizations, international cooperation organizations, media organizations, etc.) with which the university has established an agreement, attending lectures and submitting assignments before and after the internship.

Various criteria must be met in order to receive credit.
Applications are open to second-year undergraduate students and above.

This type of internship is handled by the Center for Global Education and Discovery.
See the information page for students here (In Japanese only)
2. Internships by public offices and local governments

For internships conducted by public offices and local governments for which individual applications are not accepted or applications must be made through the university, please send us the application guidelines by e-mail.
3. Programs for Foreign Students (International Students)

For programs for foreign students please send us an email with the application guidelines.
We are also willing to accept programs that do not require N1 level Japanese proficiency or that can be participated in only in English or other languages
For internships and other programs not listed above, students are required to apply on their own. The Career Center does not make recommendations to companies or organizations, nor does it act as an intermediary in the organization of applications.
*Note 1
Following the June 13, 2022 revision of the "Three Ministry Agreement," four types of career development support, including internships, were defined. Undergraduate courses planned for the 2023 academic year at Sophia University with "Internship" in the title may fall under the guidelines of Type 2: Career Education.
About Job Postings and Internship Application Guidelines
1)Job offer

・Please use Career Tasu UC

・STEAM Recommendation Job Postings: Please send application materials and specify the number of applicants for each department or field to the "Career Center".
2)Internship Application Guidelines Please use Career Tasu UC.

・Please use Career Tasu UC

・In addition to Career Tasu UC or if you cannot use Career Tasu UC, we can also post your advertisements on campus and on student websites.
If you would like to post your advertisement, please fill out this form.
*Please note that we may not be able to post short term "Open Company" information or other information that does not meet the internship requirements.
Issuance of Recommendation Letters
Letters of recommendation are only issued for screening processes that require recommendations from a technical school. They are issued on or after June 1 and will not be issued in or before May.
Letters of recommendation for other kinds of application screenings (open applications for technical or administrative positions) cannot be issued with information such as the name of the university, president, or career center as they may be used to prevent students from refusing job offers or promises of job offers, impeding their freedom to choose their own career path. We hope that you understand our position.
Request for the Sending of Former Graduate Lists
Visits to former students are essential in helping students picture life as a worker after receiving a job offer. We ask for your cooperation in sending a list of Sophia University graduates working at your company or organization.
Address
Sophia University Career Center
7-1 Kioi-cho, Chiyoda-ku, Tokyo 102-8554, Japan 1F, Building No.2, Yotsuya Campus, Sophia University
2)Via e-mail
career-co@sophia.ac.jp
Part-Time Job Recruitment
In March 2003, Sophia University became a member institution of the Student Part-time Job Information Network led by the general incorporated association Student Support Center, an organization approved by the Ministry of Education, Culture, Sports, Science and Technology, and we provide students with part-time job introductions accordingly.
Please register on the Student Part-Time Job Information Network website after checking details posted on the To Companies Wishing to Post Job Listings page.