Department of Global Studies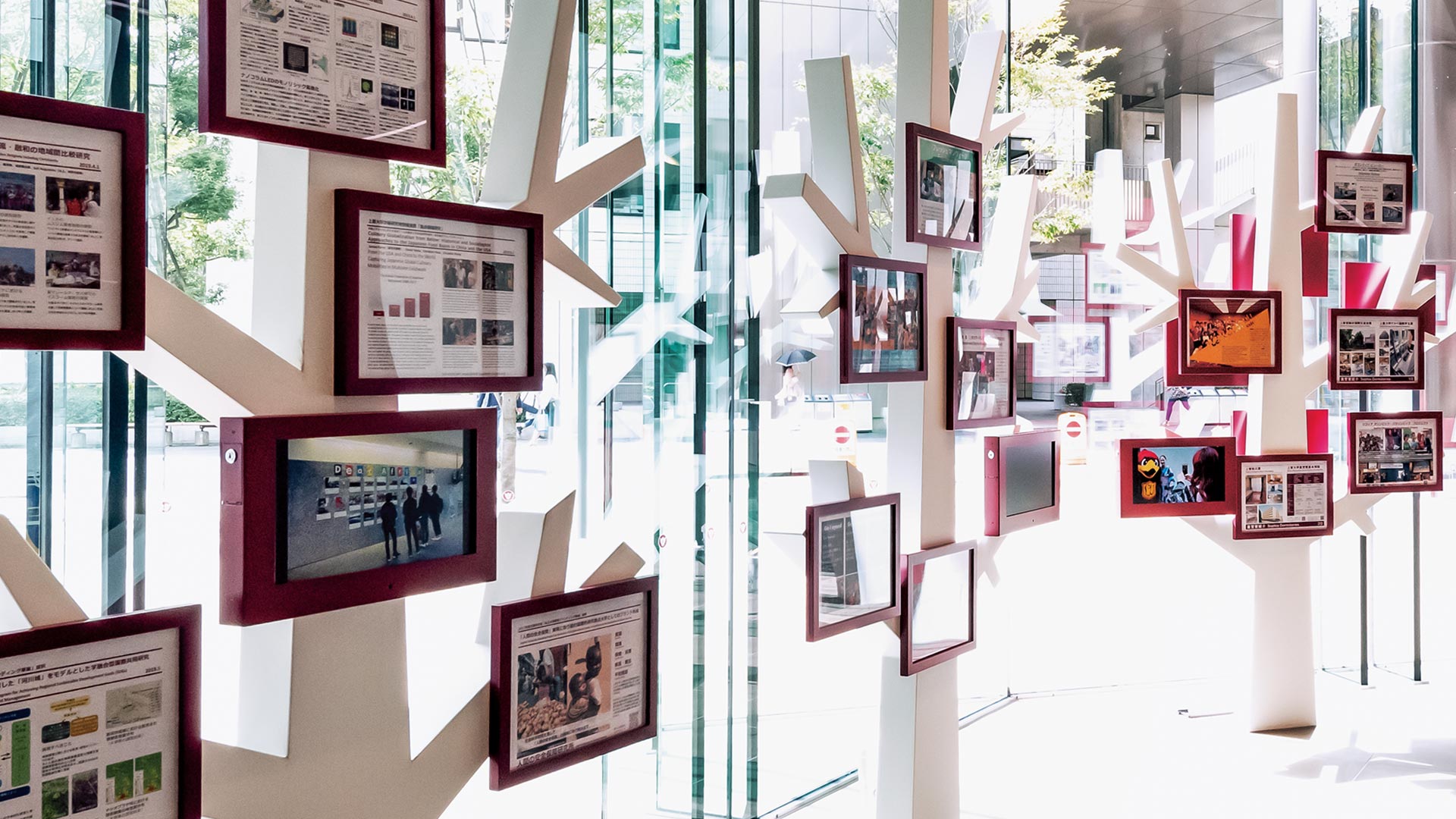 Fostering people who can contribute to solving global issues
Learning at Sophia Faculty of Global Studies |Learning Global Studies at Sophia University
Leading to "solutions" from both global and local perspectives

#Sophian Students who study at Faculty of Global Studies
The department looks at globalizing society not only from the perspective of a single country or region, but also from the perspective of larger international relations, and incorporates the perspectives gained in this process into regional studies, leading to detailed examination. The department is positioned as a "comprehensive" department in the sense that students study international relations and regional studies together, crossing diverse regions of the world and various academic disciplin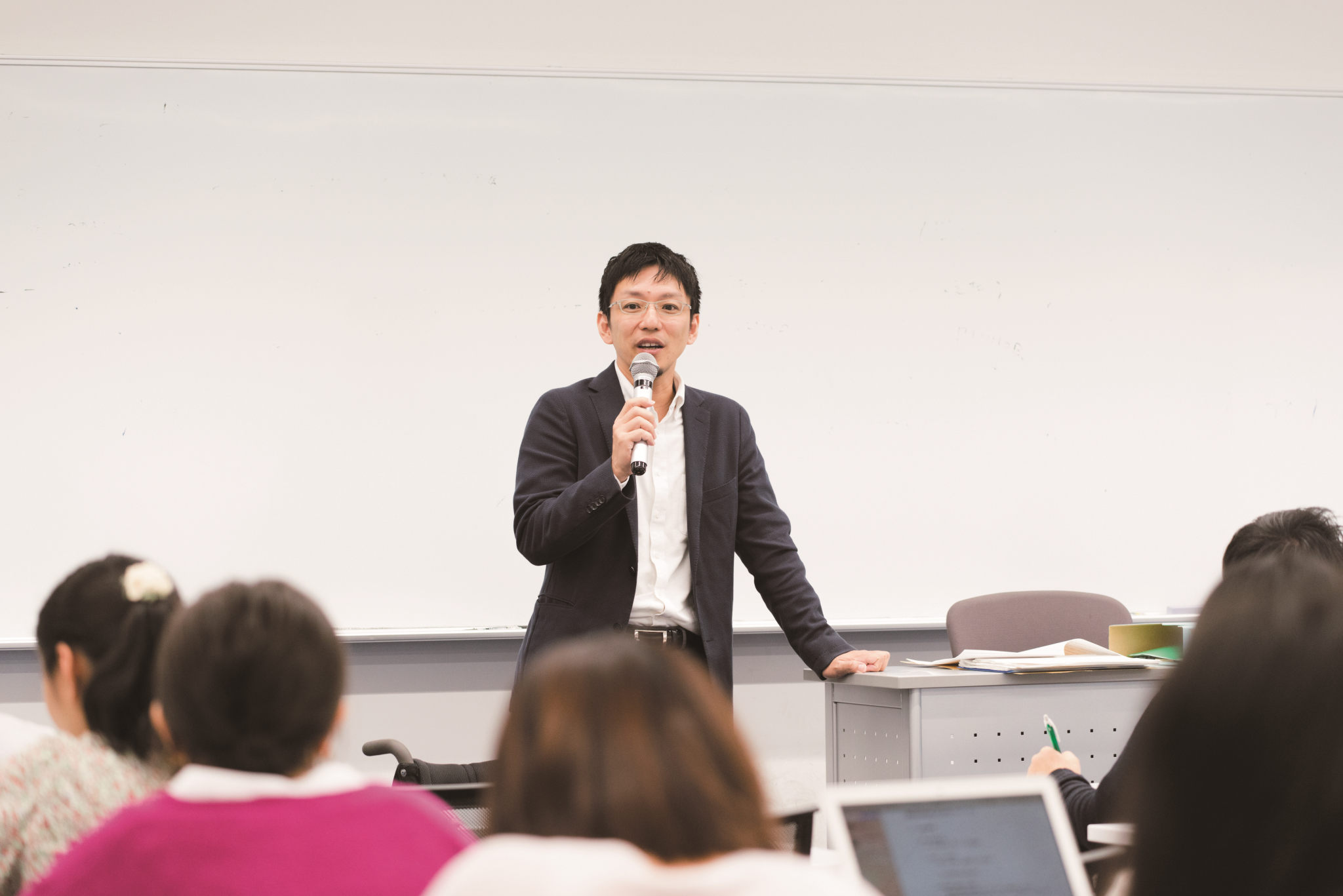 #Glocal International Relations and Area Studies Perspectives.
The "Glocal" perspective, which combines a global (international relations) perspective that looks at the world from a broad perspective with a local (regional studies) perspective that looks at the region in detail, is the basis for learning. It is a concept that one's own common sense and beliefs are not necessarily the same as those of others. The habit of thinking from different regions and perspectives leads to new perspectives.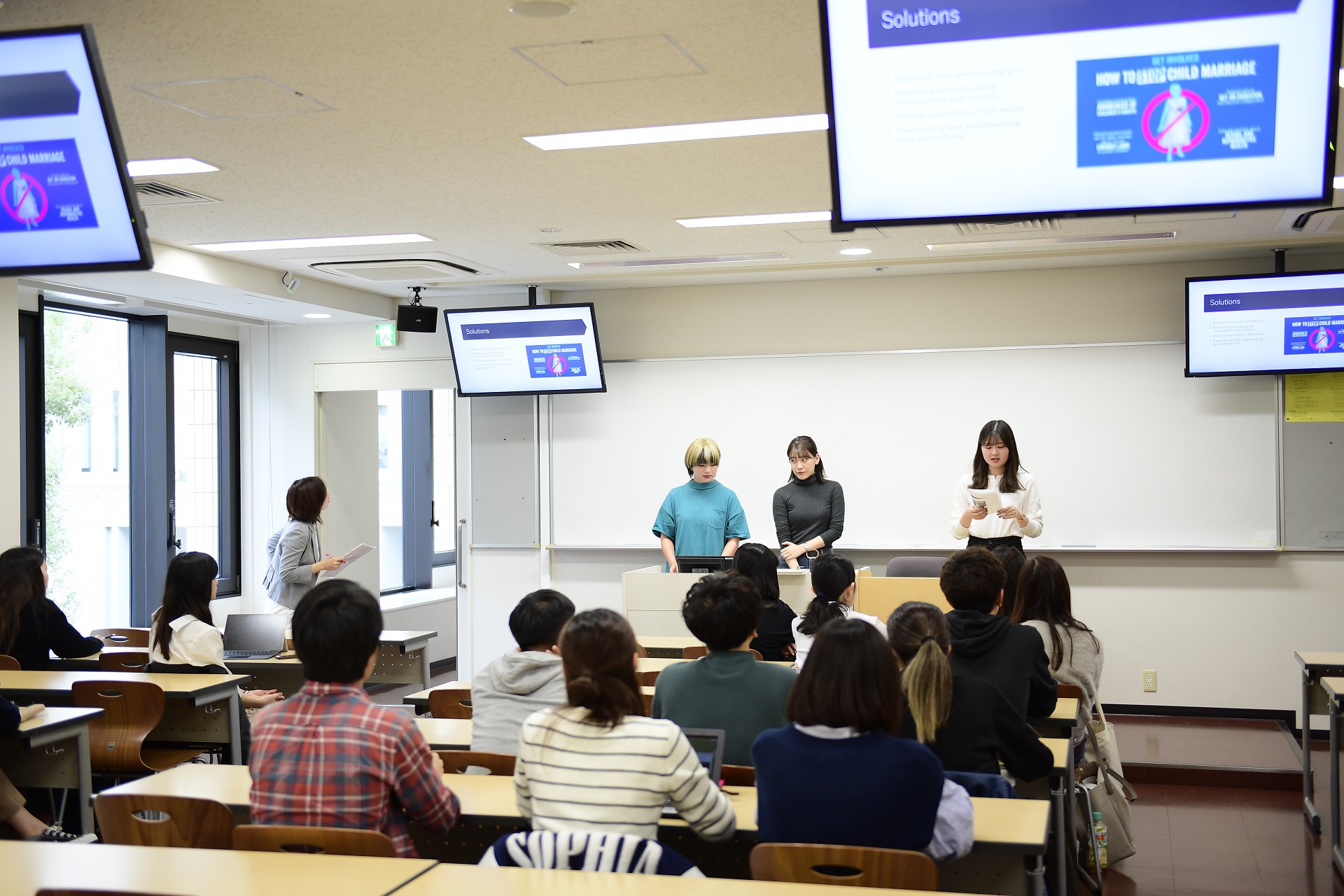 #Diversity and Inclusion Accepting diversity
Through learning with a diverse group of students, students will gain an awareness of the importance of respecting individuality. This will lead you to a deeper understanding of the social background behind diversity in terms of religion, race, and ethnicity, and even the existence of a national framework. You will be motivated by the stimulation and enjoyment of broadening your own thinking.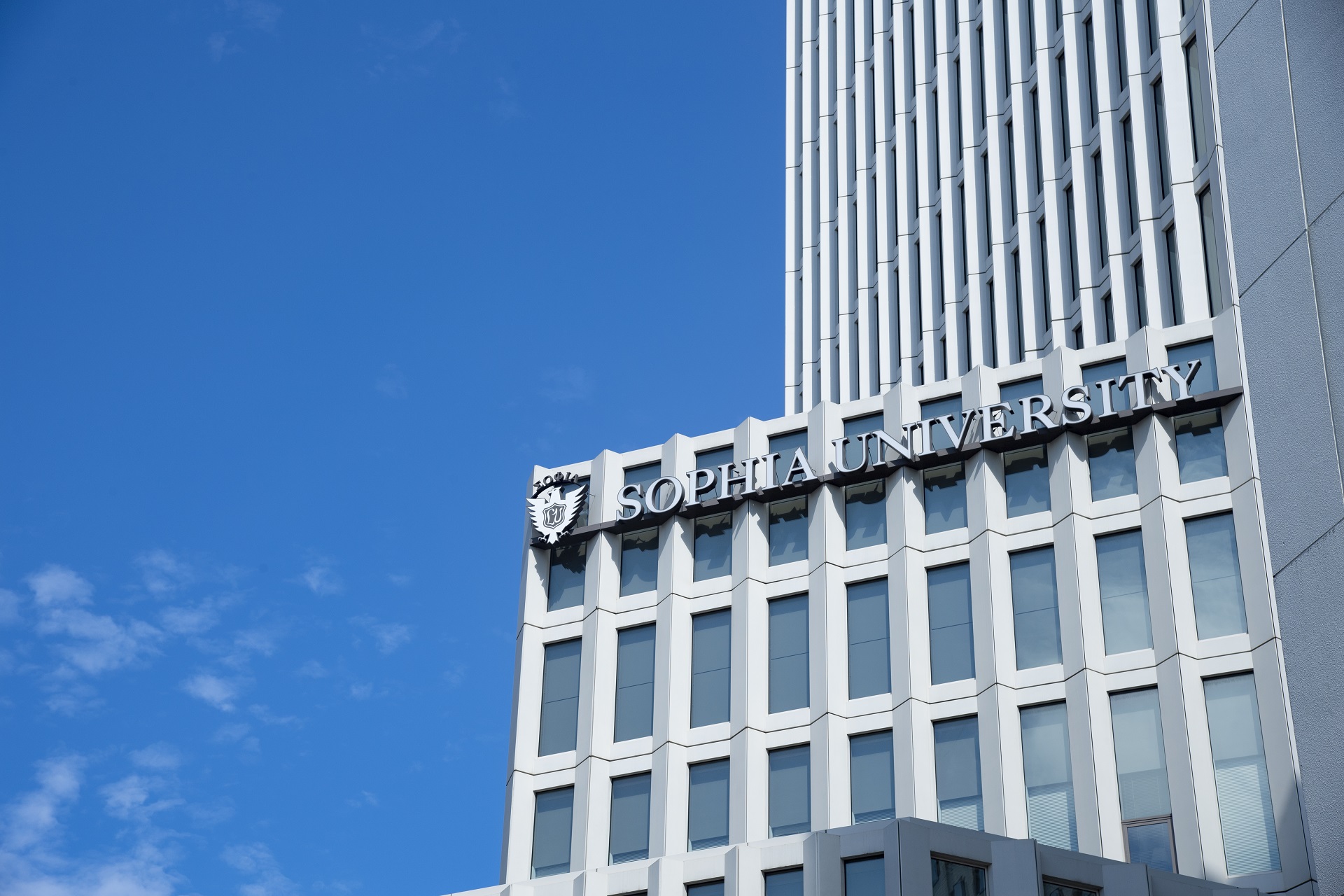 #Sophia Global Studies What is to learn Global Studies
How should we behave and how should we live in an increasingly globalized society? Such questions and curiosity are what give us the strength to face the world and increase the value of the knowledge we gain. Your future is mirrored in the images of our senior students who have changed their way of thinking and experienced significant growth before and after enrollment.
About the Faculty of Global Studies
Academics and environment to nurture "international public intellectuals"
Throughout its more than 100 years of history, Sophia University has accumulated a system and ways to enhance global competence, including an educational system based on values and perspectives that can be shared with people around the world, and a support system for a study abroad, both in specialized fields and in languages.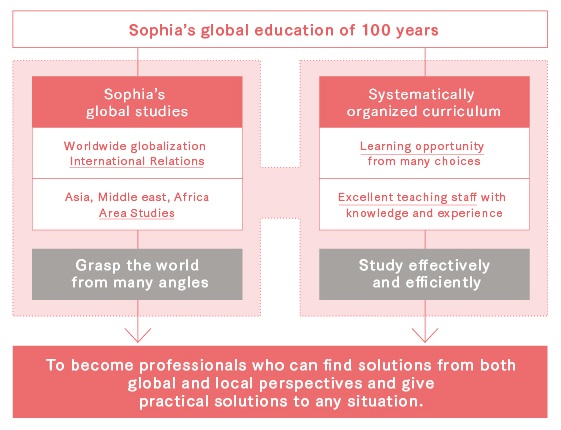 The Department of Global Studies (FGS) will nurture "international public intellectuals" through the effective and efficient acquisition of "perspectives and theories to view the world from a three-dimensional perspective" while fully utilizing its "100 years of accumulated global education".
Educational Objectives and Policies
To equip students, through systematic study of courses divided broadly into the categories of international relations and area studies, with (1) understandings of globality, (2) understandings of locality, (3) proficiency in multiple languages (English and regional languages), and (4) negotiating skills grounded in ethical awareness.
To produce graduates (international public intellectuals) capable of addressing both positive and negative facets of globalization, and contributing to the development of a collaborative society in which all people of the world move forward in partnership.
The Faculty of Global Studies sets standards for the skills and knowledge that students who aim to become international public intellectuals seeking to achieve a fair society that protects human dignity in the globalizing world today. Those who fulfill the graduation requirements shall be deemed to have acquired these qualities and will be awarded a diploma.

An interest in social security, conflicts, poverty, development, immigrants, refugees, global environment, etc. and the ability to explain why such issues need to be solved globally.
The ability to understand the approaches and overall theory of international relations studies and area studies and consider issues from both perspectives combined.
The ability to shape problem-solving methodology analyze the positive and negative aspects of globalization in line with concrete case studies, using basic theories and demonstrative methods.
The ability to set up a research subject and perform research, combining two disciplines selected as disciplinary specialties: one area from International Politics Studies and Civil Society/International Cooperation Studies, and one from Asian Studies, Middle East and African Studies (or other area studies)
The ability to engage in dialogue with various others who live in different parts of the world and to cooperate in solving problems for the creation of an inclusive society.
In accordance with the Diploma Policy, the Department of Global Studies constructs its curriculum with courses aligned with the following purposes:

To have students study Global Studies and the basics of International Relations and Area Studies that support it in lectures, and thus acquire core theories and methodologies as well as fundamental research skills and approaches.【Course numbers 100-199】
To have students understand the dynamics of international politics and economy, and learn in lectures about the mechanism of international cooperation and civil society, and thus prepare for selecting their specialties【Course numbers 200-299】
To have students learn about Asia, the Middle East and Africa, etc. from the perspectives of history, culture, politics, economics, etc. in lectures and thus prepare for selecting their specialties.【Course numbers 200-299】
To have students select one area of International Relations -International Politics or Civil Society and International Cooperation -and one from Area Studies, including the two branches, Asia and Middle East and Africa, and have them conceptualize and implement solutions to global issues through lectures, etc.【Lecture Course numbers 300-499】
To have students actively set up individual research questions regarding globalization issues and present relevant research results in academic papers and other clear forms.【Self-motivated research: 200-299; Seminars: 400-499; Thesis and research: 400-499】
To have students acquire a supportive attitude toward the theme-based research of other individuals through small-group seminars where they can deepen mutual understanding through debate.【Basic Seminar numbers 100-199; Seminars 400-499】
To have students enhance their proficiency of English, the language commonly spoken internationally, by taking English-taught courses, as well as to acquire multilingual skills by encouraging them to learn foreign languages other than English.【Lecture Course number 200-】
The Faculty of Global Studies welcomes students who will engage in proactive efforts to build on their intellectual interests and motivation, and endeavor to contribute to the creation of a global inclusive society, as described below:

Those highly interested in the positive and negative dimensions of a globalizing world and have acquired a certain level of knowledge in high school classes associated with Modern Society.
Those highly interested in the richness of human society and culture created by the diversity of regions and people constituting the world who have acquired a certain level of knowledge in high school classes associated with Geography and World History
Those who can approach matters with evidence-based logical thinking and who have made continued efforts to address matters independently
Those who bear the English skills to read and comprehend the basic literature required to understand globalization trends
SPSF (Sophia Program for Sustainable Futures)
Faculty of Global Studies:
SPSF Department of Global Studies