Sophia School Corporation
Message from the Chancellor
Sali Augustine, S.J.
Chancellor of Sophia School Corporation
In 2023 we celebrate the 110th anniversary of the founding of Sophia University. I am truly humbled to be entrusted with the chancellorship of Sophia School Corporation from May 1, 2023, in this year of gratefully remembering our outstanding service in education, research and social engagements. Our journey started with the arrival of Saint Francis Xavier to Japan in 1549, with a powerful thirst for knowledge and recognizing the importance of contributing to Japanese society through learning and education. He was one of the founding members of the Society of Jesus (Jesuits), a Catholic male religious order, and his vision of "creating a university in Japan's capital" was passed on to Jesuit priests who eventually established Sophia University in 1913 and Rokko Junior/Senior High School in 1937, Sophia University Junior College Division (founded as Sophia Junior College in 1973), Eiko Gakuen Junior and Senior High School (1947), Hiroshima Gakuin Junior and Senior High School (1956), and Sophia Fukuoka Junior-Senior High School, now under the Sophia School Corporation.
As of today, the world is facing different challenges like military aggressions or human made tragedies, climate changes etc., hence it is even more relevant to focus on our founding spirit and educational ideals, that we conduct education, research, and social contribution initiatives grounded in Christian humanism. This year we have started our long-term plan for the school corporation called "Grand Layout 3.0~towards 2030"(2023-2030). It is truly guided by the founding philosophy "Sophia—Bringing the World Together," and our Education Spirit, "For Others, With Others" to undertake various reforms in response to a turbulent world. I seek your collaboration and support in pursuing these endeavors together in a spirit of Magis (better=a Jesuit motto), especially through networking and collaboration with institutes throughout the world that share our vison and mission.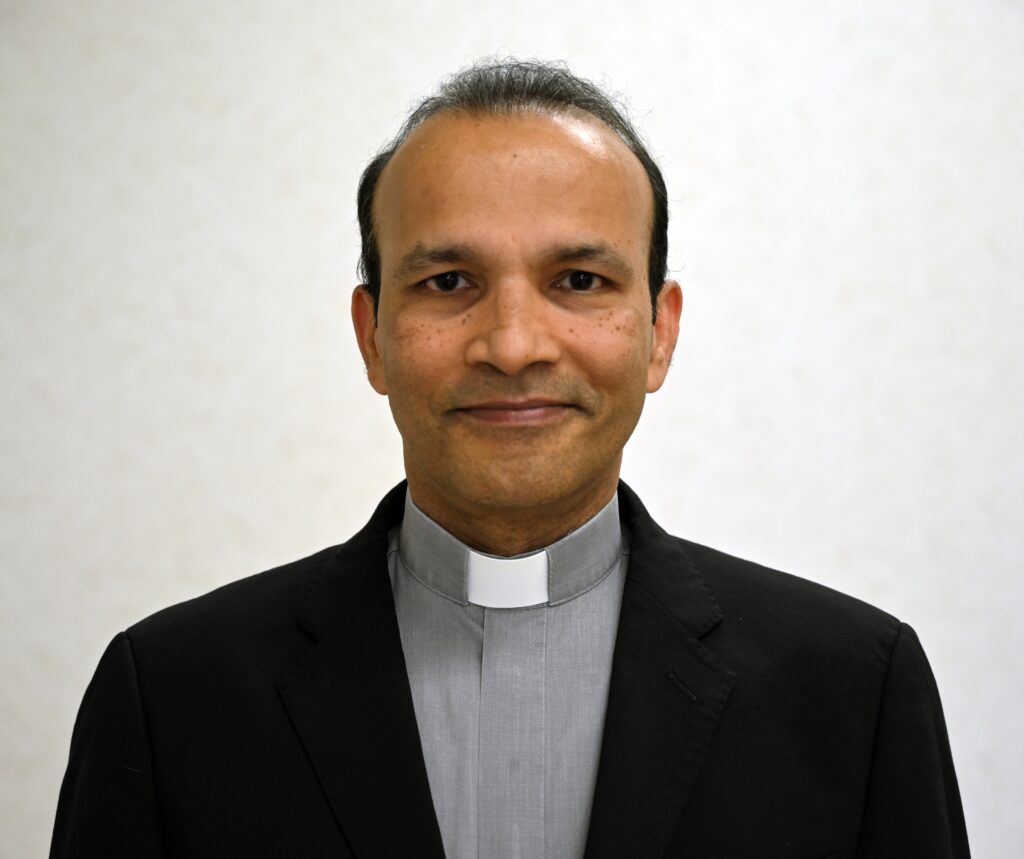 [Profile]
Chancellor of Sophia School Corporation; Professor, Faculty of Global Studies
Obtained bachelor's degrees in Political Science from the University of Calicut, India and Philosophy from Jnana-Deepa Vidyapeeth in Pune, India. Subsequently, graduated from the Faculty of Theology, Sophia University and received his M.A and Ph.D. in Area Studies (Ethnic Politics) at the Graduate School of Foreign Studies. Teaching as Lecturer in the Faculty of Literature(2007), Associate Professor in the Faculty of Theology(2009), Professor in the Faculty of Global Studies(2016), he served as Vice President for Student Affairs (2017), and Trustee for General Affairs of Sophia School Corporation (since 2018), before becoming Chancellor of Sophia University since May 2023.
Society of Jesus and its Educational Initiatives
Foundation of the Society of Jesus
The Society of Jesus is a Catholic male religious order founded by Saint Ignatius of Loyola from the Basque region in northern Spain, and a group of six like-minded students at the University of Paris, including Saint Francis Xavier. Its
foundation was formally approved by Pope Paul III in 1540.
Inspired by the order's charism of departing to all corners of the world to help others when sent by the Pope, Jesuits voyaged to North and South America, Africa, India, and beyond. Those missionaries were also commissioned to the
Council of Trent, convened to reform the Catholic Church.
Educational Initiatives
Right from the order's founding, Jesuits recognized that school-based education made a tremendous contribution to shaping individuals and enhancing social and spiritual values.
Beginning with a Jesuit College opened in Messina, Sicily, in 1548, 31 schools and universities were established in major European cities over the eight years until the death of Ignatius in 1556, and Jesuit educational institutes spread around the world. Their educational methods shape character guided by the "Spiritual Exercises" written by Ignatius based on his own spiritual experiences. These focus on "magis," the concept of gaining deeper human understanding and educating people to live "for others and with others." As of 2021, more than 1.63
million young people are studying in a network of some 2,500 educational institutes grounded in this educational philosophy that spans 78 countries. It encompasses 2,300 secondary educational institutes and 200 higher-level educational institutions, including 90 universities.
Educational Institutions Operated by Sophia School Corporation