Sophia as a Catholic University
Pope and Sophia University
Sophia University is the oldest catholic university in Japan and has had a very deep relationship with the Pope throughout its history.
Fr. Joseph Dahlmann, S.J., who played an essential role in the founding of Sophia University, explained the need for the establishment of a higher educational institution in Japan when he met with St.Pope Pius X in 1905. Consequently, the Pope requested the Jesuits to establish a catholic university in Japan, which led to the establishment of Sophia University in 1913.
Since then, St.Pope John Paul II and Pope Francis have visited Sophia University. In response to the message entrusted to us by the two Popes, we believe that it is our mission as a catholic university to always keep in mind those who are in difficult situations and to contribute to solving various issues facing the world.
St.Pope John Paul II visits Japan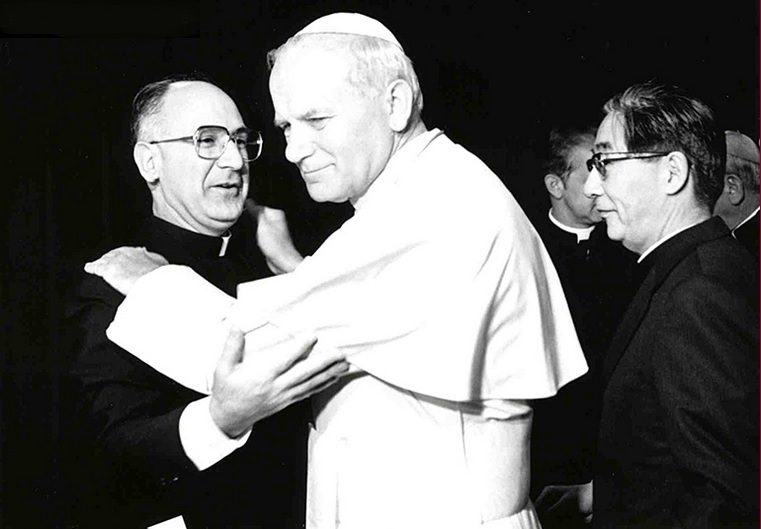 In February 1981, St.Pope John Paul II made his first visit to Japan and also visited Sophia University during his stay. This visit was not scheduled in advance and came as a great surprise. Even though his visit was early in the morning, about 400 students, faculty, and staff came to the venue to welcome the Pope.
In his message, the Pope mentioned Sophia, the English name of Sophia University. He explained that the word "Sophia" means "expectation" in the Old Testament, and concluded his message with the words, "I am depending on all of you at Sophia to continue to contribute for the people in Asia." He also appealed to the audience to be more concerned about the issues of poverty and hunger in Asia.
Pope Francis' ties to Sophia University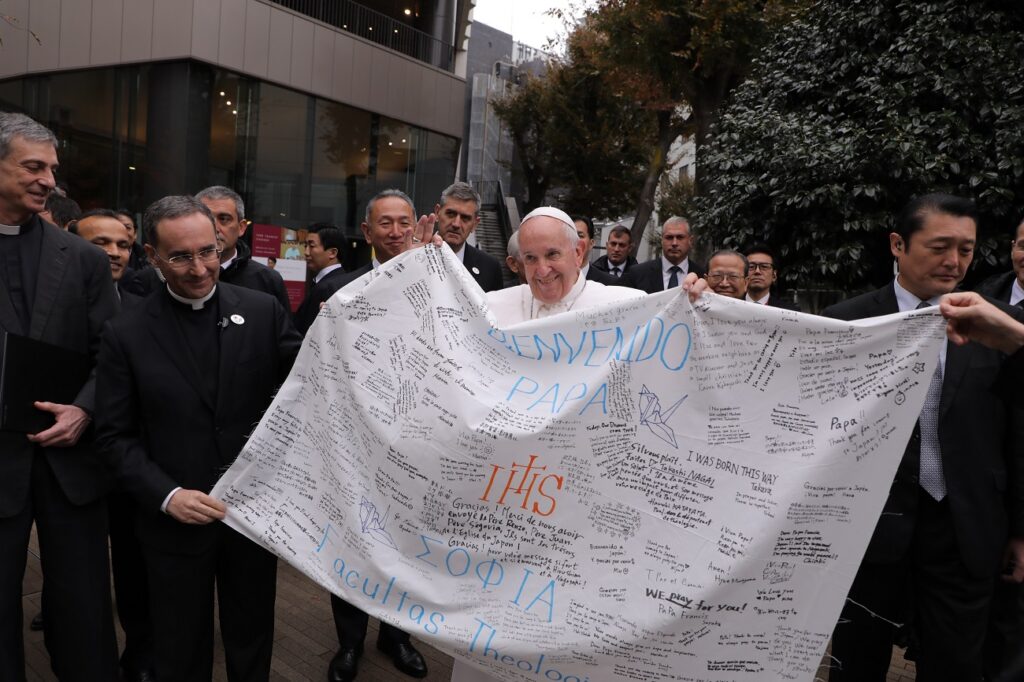 In March 2013, Pope Francis was elected as the 266th Roman Catholic pontiff. He was the first pope from the Society of Jesus in catholic history. As a Jesuit university, Sophia University has cherished its ties with Pope Francis and had been in close contact with him.
In December 2017, Sophia University hosted "Let's Talk with Pope Francis," an online dialogue event with Sophia students. The Pope answered each of the students' questions with a sense of humor, such as "What do you think is the importance of studying at a university?" and "What actions do you think should be taken to reduce poverty and protect the environment at the same time?"
In November 2019, Pope Francis finally visited Sophia University. It was the first visit by a Pope to Sophia University in 38 years, since 1981.
The venue was fully packed with approximately 700 students, faculty, and staff. The Pope expressed his expectations for Sophia University, saying, "In a society of competition and technological innovation, Sophia University should be not only a place of intellectual education, but also a place for shaping a better society and a future full of hope. In his message, the Pope also said, "Never forget the poor and protect the weak. Always be honest and sincere."
Campus Ministry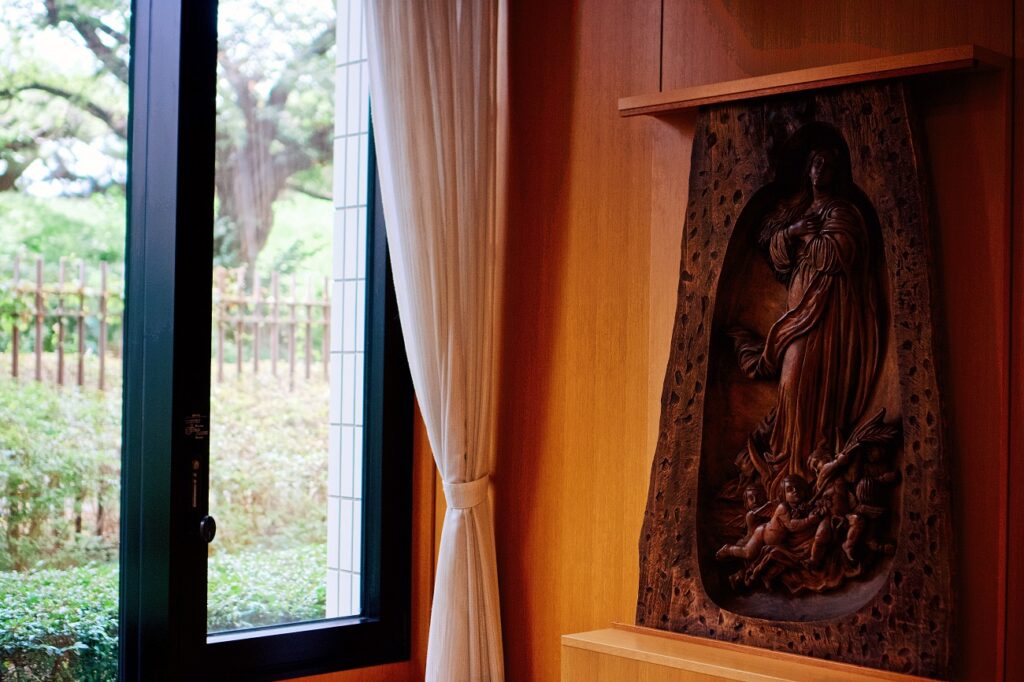 The Catholic Jesuit Center organizes a variety of activities to support campus ministry activities in order to foster better understanding of Christianity.
The Center is responsible for the University official mass such as entrance day thanksgiving mass, graduation day thanksgiving mass, easter mass, Sophia foundation mass, and Christmas mass. The center hosts symposiums and introductory Christianity courses, and also provides consultation services on religious matters.
Mass and Prayer Time

In addition to Masses held during university events, a Mass for students and faculty (12:45-1:20 p.m.) is held daily on days when classes are held.
Courses

Catholic Jesuit Center offers Bible courses. There are a variety of courses offered each day of the week.
Student Activities

There are also a variety of student activities, such as the Catholic Student Association and the Sophia Choir.
---
For information on the Catholic Jesuit Center for Current Students, please visit Web Piloti.
Please also visit the original Catholic Jesuit Center website.