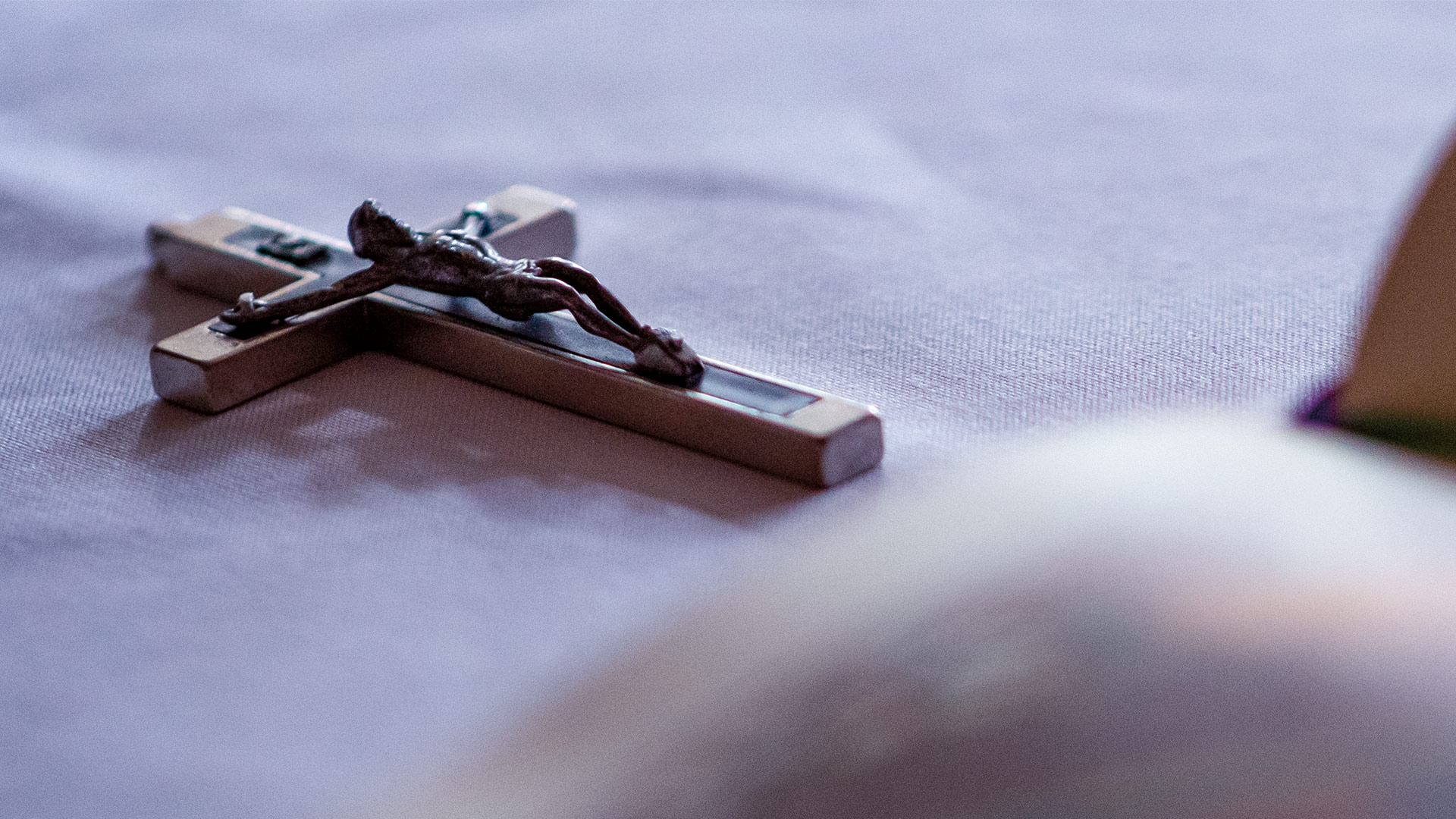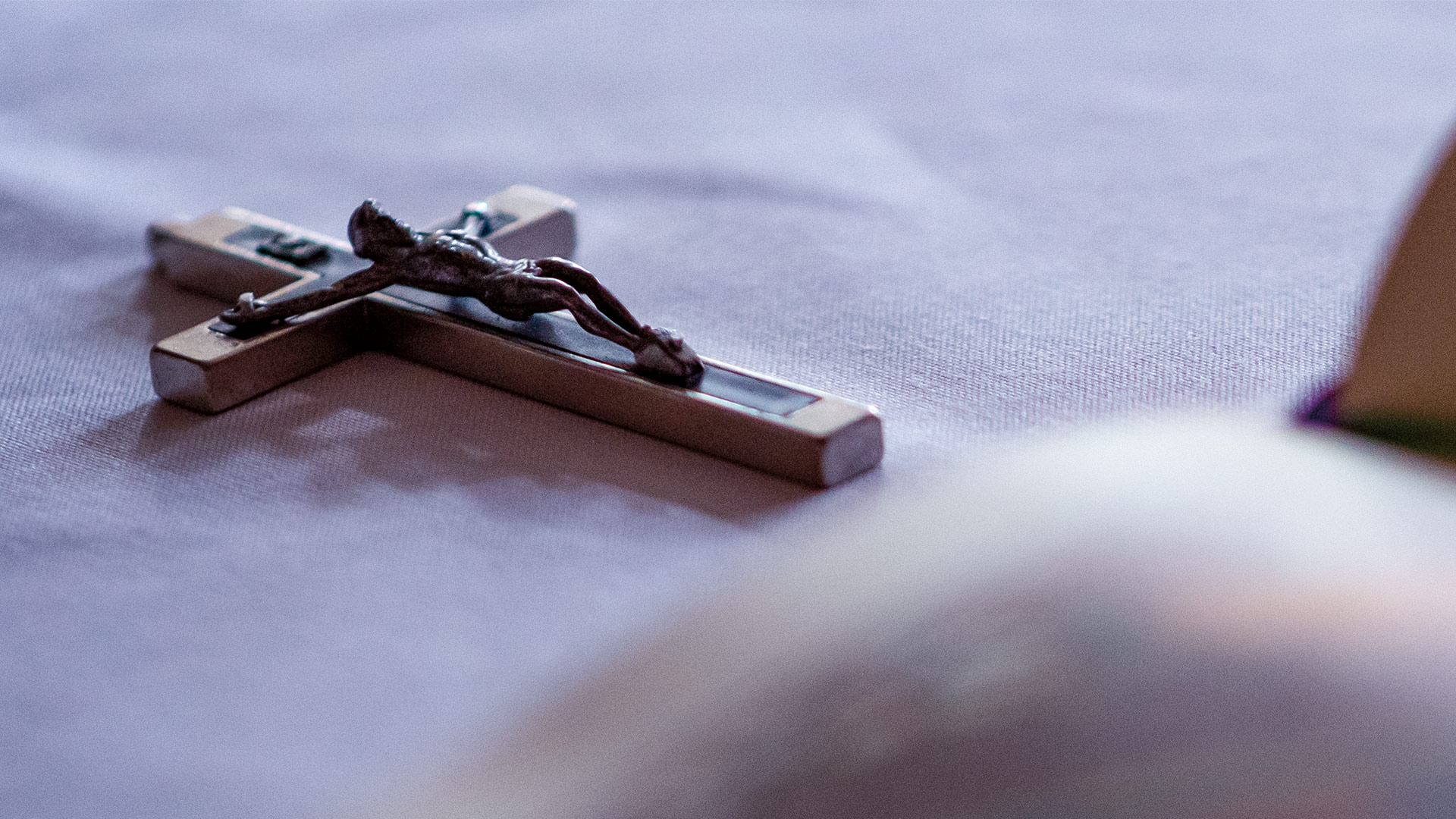 In search for the truth, to view the modern world from a Christian perspective
Learning at Sophia: Faculty of Theology Edition
|The ability to see the world through Christianity cultivated at Sophia
Nurture people who contribute to modern society with fundamental Christian knowledge and culture.

#Sophian at the School of Theology
Sophia University Faculty of Theology is the one and only Catholic theology program in Japan. Students will obtain a degree through systematic study of Christianity or Catholic teachings. While many students come from mission high schools, many do not have a Christian background. Despite its small size, the faculty is rich in diversity in terms of students' ages, nationalities, and religious backgrounds.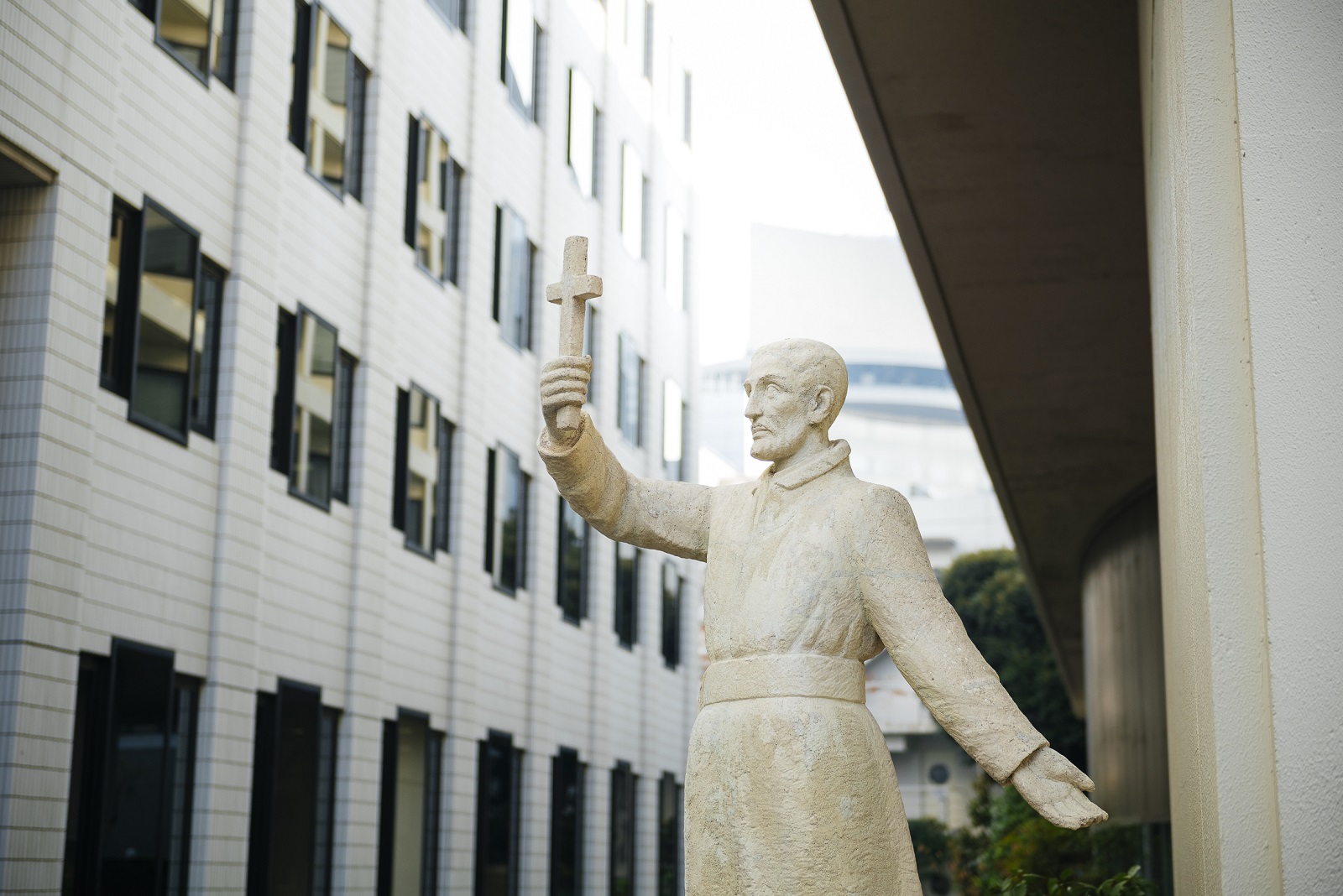 #Perspective
Understanding the world through Christianity
Cherish each and every person as an invaluable being. This is the core value of Christianity. By learning about the Christian influence at the roots of various issues such as human rights and world peace, and by studying the Bible behind works of art such as books, paintings, sculptures, and movies, we can gain a greater and deeper understanding of the world.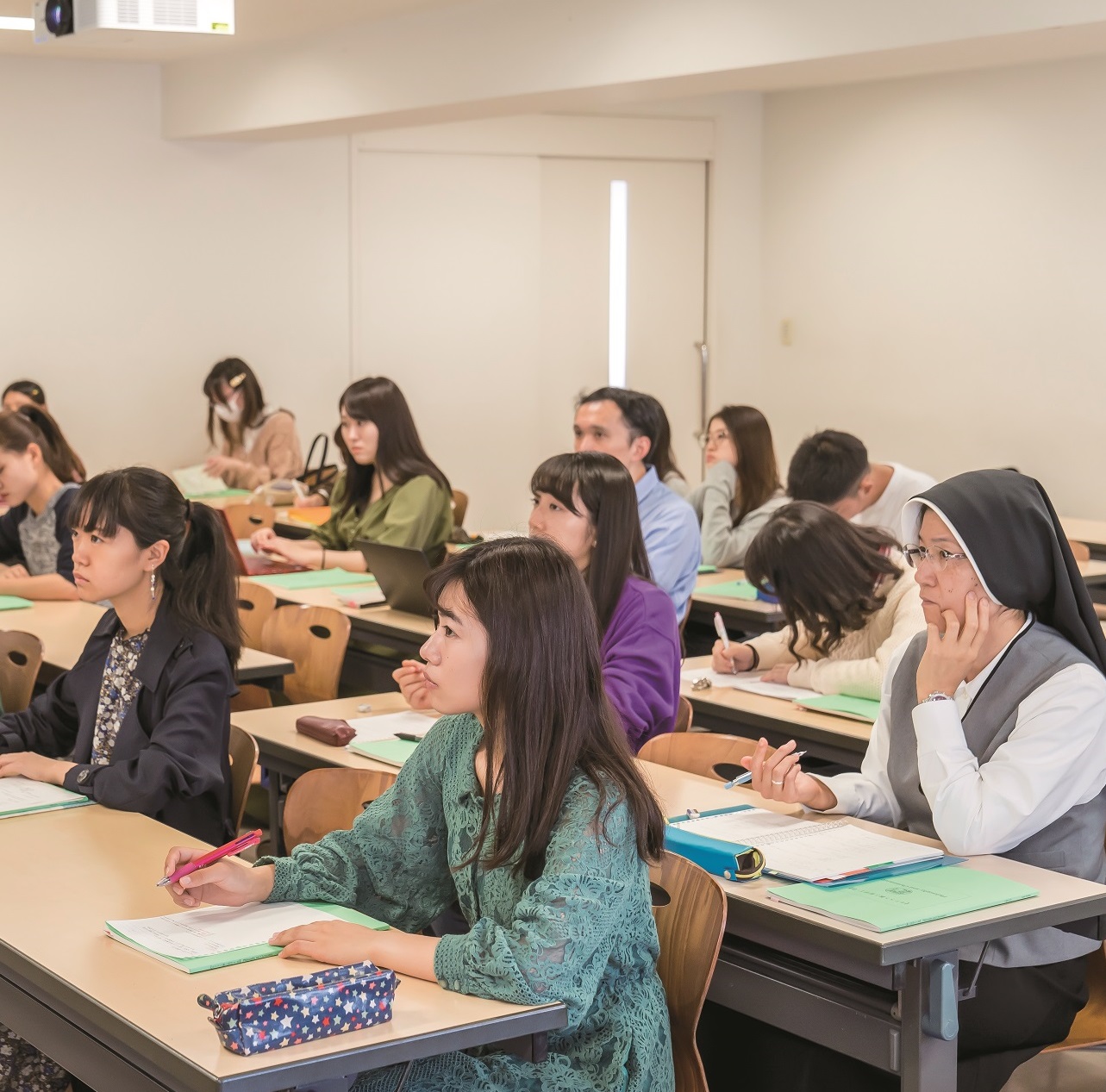 #Vatican
Connecting with Catholic Roots
The Faculty of Theology is part of Sophia University, and at the same time it is part of the Pontifical Academy of Theology, within the worldwide network of Catholic universities and under the supervision of the Vatican's Dicastery for Culture and Education. Pope Francis, who visited Sophia University in 2019, is also a graduate of the Faculty of Theology of the Jesuit University. He is one of the most respected leaders of our time and a role model for us all.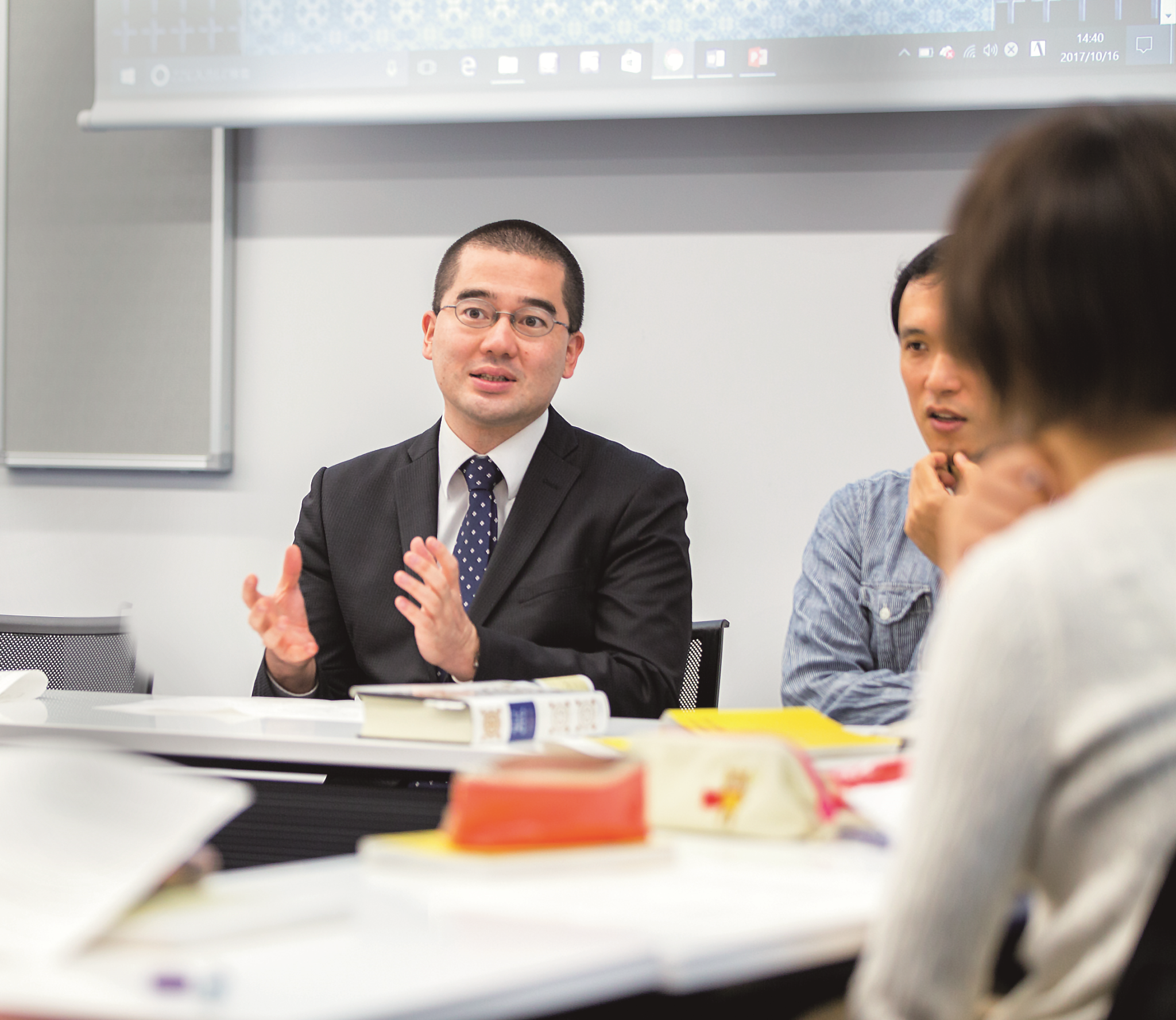 #Dialogue
Communicating with others
Closeness between students and professors is the hallmark of our environment, in which promotes active conversation. Students learn the value of embracing the other in daily interactions, as well as in classes such as Peace Studies, and that dialogue is a key in attempting to approach modern society with a Christian perspective.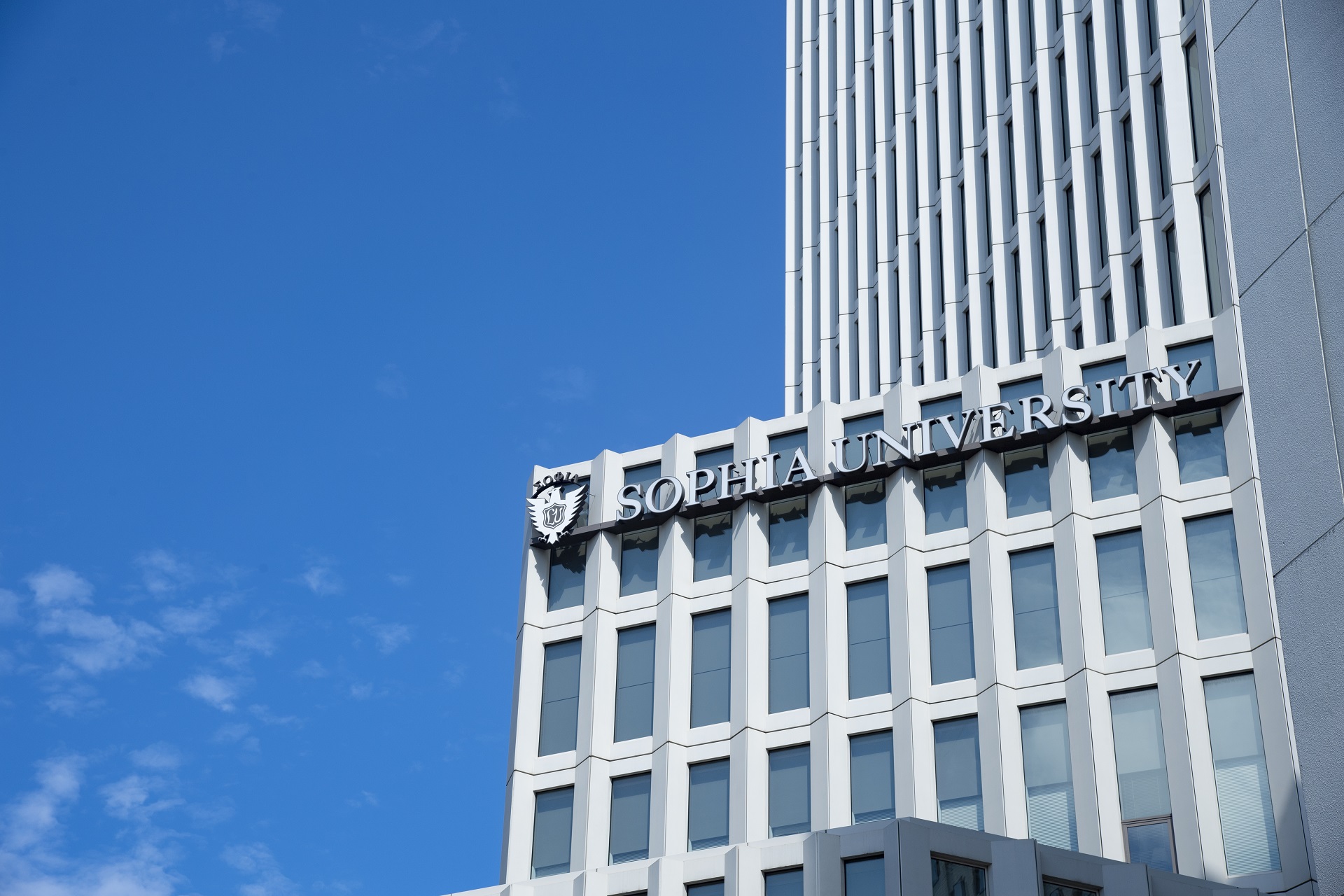 #Sophia Theology
What it means to study at Sophia Theology School
To be exposed and to study religion promote diverse perspectives. When we unravel the history of the world, we find that Christianity has had a great impact. New insights and a deeper understanding of history based on Christianity can lead to creative solutions to various issues of our time.
About the Faculty of Theology
After meeting the fundamental course requirement of the Faculty of Theology, from the third year, each student chooses his or her own field of study and advance their expertise in their field of specialization. Students find their own research topics and further refine their research in the fourth year and compile it into a graduation thesis.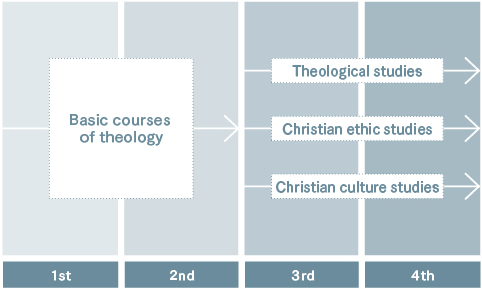 The Faculty of Theology

In the Theology Department, students specialize in Catholic theology. This program is for students who wish to be professionally trained in theology and those who seeks career as the clergy. Students may proceed to graduate school and obtain a degree (STB/STL/STD) approved by the Roman Curia.
Christian Ethics

In Christian Ethics, students study humanity and social justice from the Christian standpoint of view. The program aims to provide the students with the methodology to answer the ethical questions with Christian values.
Christian Culture

In Christian Culture, students study the history and modern significance of Christian culture through the fields of philosophy and the arts. Through this program, students acquire a refined knowledge of Christian culture.
Educational Objectives and Policies
To contribute in building a better world through education and research based on Christian values, with Catholic theological education and research at its core.
To cultivate global citizens with education based on Christian values and to foster clergy and education professionals of the Catholic Church, in order to contribute in building a better world.
The Faculty of Theology sets standards for the skills and knowledge students should acquire before graduation as described below. Those who fulfill the graduation requirements shall be deemed to have acquired these qualities and will be awarded a diploma.

Fundamental knowledge of ecclesiastical theology and its values, the ability to academically approach the various issues faced by modern society based on those fundamentals and the capacity to be committed in practice
In depth knowledge of the "Pro gram" chosen and the ability to analyze and inquire into the various issues pertaining to the discipline.
Academic skills associated with surveys, discussions and presentations for theological research.
The ability to complete a thesis in accordance with the "Program" selected.
In accordance with the Diploma Policy, the Faculty of Theology constructs its curriculum with the following course groups.

Courses that nurture basic knowledge of Catholic theology.
Elective Compulsory Courses for students to pursue in-depth specialized studies in accordance with their individual interests, aligned with the programs students have chosen (Theology Program, Christian Ethics Program, Christian Culture Program).
Compulsory Courses that nurture academic skills associated with research, discussion and presentation required to pursue theological studies.
Compulsory Courses that foster problem-solving skills and presentation skills toward writing a thesis that integrates theological studies.
Specialized Theology Courses aligned to the criteria for acquiring international degrees (STB/STL/STD) commonly granted by pontifical faculties under the authority of the Holy See and courses associated with missionary practices in response to church needs.
The Faculty of Theology mainly addresses Catholic theology in its research and education, and hence welcomes students with the following qualities:
Students with a basic knowledge of Christianity Students embracing a flexible mind open to different cultures and internationality Students who are concerned about human dignity and social justice and are actively engaged in volunteer activities Students who are eager to contribute to the Catholic church and human society.
In order to proactively admit students from various backgrounds, we have diversified our admission procedures. We test not only applicants' Japanese language skills but also their language proficiency in English and other languages, as well as test their knowledge of history, and we lay particular importance on interviews. We welcome transfer students in order to admit a diversity of people from society, including those who wish to become a priest.