Department of Philosophy
Department of History
Department of Japanese Literature
Department of English Literature
Department of German Literature
Department of French Literature
Department of Journalism
Reading and expressing the world created by Humanity
Learning at Sophia – Faculty of Humanities|Humanity Explored at Sophia
Cultivate the ability to discover a theme on one's own, ask questions, and express them

#Sophian
Sophian studying in the Faculty of Humanities
The word "Humanities" can be interpreted as human nature and its cultural values. We read into humanity in different kinds of "texts"—attracting students in various fields of study; literature, languages, journalism, and also those who are interested in delving into philosophical question of humanity.

#Text
Reading and understanding yourself and others
First, we take the time to build up the skills on learning how to read academic texts, emphasizing on the importance of reading the original source to directly confront the author's raw ideas and experiences. Encountering texts of different languages, regions, time periods, students learn to understand others beyond the limitation of time and space, and ultimately, themselves.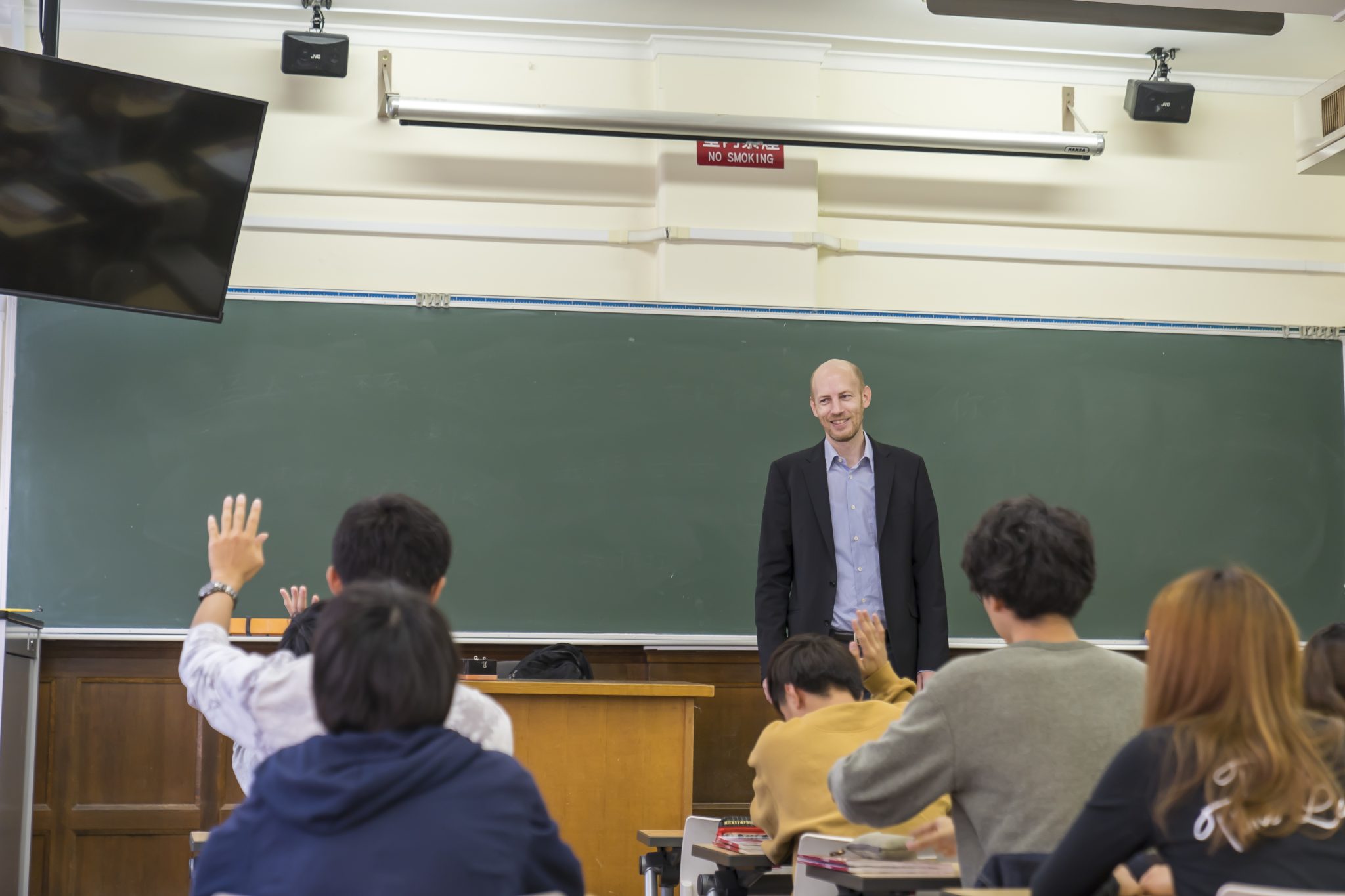 #Expertise
Through small-group, liberal arts education
We value an environment where students can actively interact with those around them, rather than reading into the texts alone. In addition to offering many small-group classes, we also pride ourselves on promoting diversity, having teachers and students from various backgrounds. All faculties are located on the same campus, where students can learn and interact with each other across faculties, which helps them to cultivate a broader and richer perspective.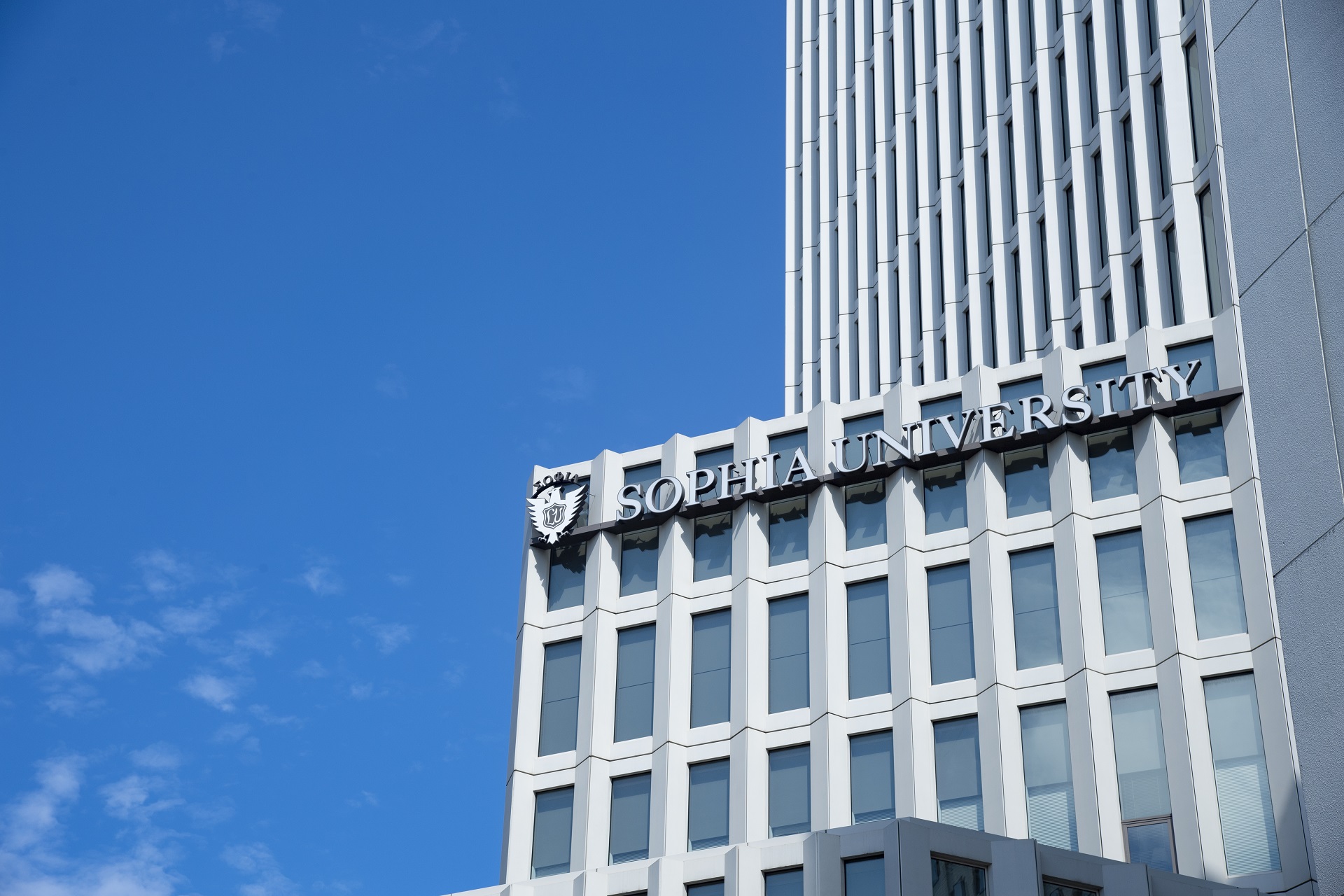 #Sophia Humanities
What it's like to study at Sophia University
Philosophy, literature, history, and journalism studies are the field which consist the most fundamental part of the humanity and therefore the society. Learning to understand people and the world from texts and to develop an imaginative power for others corresponds with Sophia University's educational philosophy of "for others, with others". Students will acquire the ability to analyze complex social phenomena from a humanitarian perspective, to empathize with others, and to think critically.
About the Faculty of Humanities
Cross-Disciplinary Humanities Program
Providing opportunity to study outside of your own department is an effective way for students to gain broader perspectives and a wide range of knowledge. The Faculty of Humanities offers the Interdisciplinary Humanities Program (IHP), which is designed to transcend departmental boundaries, encounter new knowledge, and generate creative learning environment.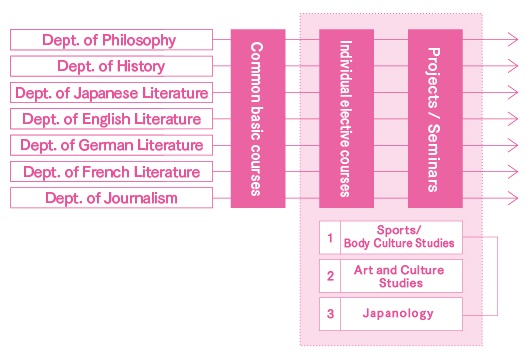 Common Basic Courses

Required courses to acquire the perspective that will become the foundation for this program. Students will explore their interests through lectures given by multiple faculty members to help them choose courses.
Individual Elective Courses

Each student will choose to enroll in one of the three courses which has its own designated subjects. Students will deepen their knowledge in the areas of interest they found in the common courses and prepare to participate in specialized project.
Projects/Seminars

This is a small-group project in which students take the initiative in everything from deciding on the topic and launching a research project to presenting the results.

*There is a selection process for enrollment in the Project Seminar.
Choose one of three courses

Students will explore their interests while taking the "Common Basic Subjects" and narrow it down to one. Students take "selective courses" and "specialized projects" designated for each course. Upon completion, participants will receive a certificate of project completion.
Students can begin specialized studies for each department in their first year
While in the freshmen year of faculty of literature at other universities, students normally start their education from basic courses, Sophia Faculty of Humanities students will start studying their field of interest from their first year. Not only does it allow students to gain deeper knowledge, but also enables them to organize research that is best suited to their individual interests.
Acquire the ability to create your own words in a graduation thesis course
All departments has a "graduation thesis" as a required course. Through the process of reading, analyzing, and re-telling the subject of research in one's own words over a period of one to one and a half years, enables students to consolidate their knowledge with a concrete sense of accomplishment and to enhance their ability in a wide range of areas.
Educational Objectives and Policies
To explore the human condition through advanced specialist education and high
quality academic research that fosters genuine understandings of our world and its people and sustains the spiritual heritage of humankind into the future.
To cultivate the abilities of analysis, comprehension, and expression that underpin a fundamental intellectual capacity to discern the essential nature of our world and its people, and thereby to produce autonomous individuals who believe in self-realization, think independently, and contribute to the world.
The Faculty of Humanities researches philosophy, thought, history, literature, culture, arts, information, the physical body, etc. in association with human dignity, which lies at the basis of humanities. By nurturing knowledge of liberal arts and humanities, we will foster independent humans who can create futures in various areas of society. Furthermore, by harnessing the outcomes of high-level specialized educations and high-quality academic research, we will nurture people who can contribute broadly to society and the world. The Faculty of Humanities sets standards for the skills and knowledge students should acquire before graduation as described below. Those who fulfill the graduation requirements and pass their thesis defense shall be deemed to have acquired these qualities and will be awarded a diploma.

The ability to independently analyze, interpret and evaluate sources and information in which human history and culture are brought together.
The ability to perform in-depth observations of humanity and personality, which are fundamental to liberal arts and humanities and to express one's opinions clearly to others based on adequate evidence
High communication skills based on a deep understanding of a given language (Japanese or a foreign language) and the culture that uses it
The ability to practically and creatively utilize knowledge of liberal arts and humanities in social, vocational and civil life as well as life itself
In accordance with the Diploma Policy, the Faculty of Humanities consists of departments representing different disciplinary specialties. The faculty values the individual interests of each student studying different disciplinary specialties and provides advice based on personal relationships. In order to enable students and faculty members to collaboratively engage in humanities research as "an academic discipline addressing humans," through a consistent high-quality curriculum, the Faculty of Humanities constructs its curriculum with courses aligned to the following purposes

To advise students on the basic features, academic approach and presentation methods of basic humanities research at the freshman orientation
To include in the curriculum specialized education for each field from the freshman year in order to offer a full and consistent educational program through graduation.
To intensively foster students' independence, analytic skills, understanding, expressive skills and communication skills through small-group classes and seminars
To offer intensive and specialized language programs designed by each department in addition to university-wide General Foreign Language Courses
To provide individual advice over a long period of time on students' theses, which is counted as a compulsory course in all departments, and to judge the overall degree of attainment
To offer interdisciplinary programs in addition to departmental courses to provide opportunities for students to extend their knowledge of humanities beyond the disciplinary specialties of their department
The Faculty of Humanities expects motivated students with a deep and broad interest in the various disciplines of the humanities and liberal arts to select a department upon entrance and to actively thrive in their studies in a self-motivated and active manner. Hence, we welcome students with the following qualities:

Students who are eager to pursue liberal arts studies on their own initiative and embrace a sincere attitude towards academics
Students who have a specific interest in the individual disciplinary field that one seeks to study
Students who have acquired the basic skills to address matters critically and express one's thoughts clearly
Students who are equipped with the standard appreciation of culture, knowledge, and language proficiency required to study at university
SPSF (Sophia Program for Sustainable Futures)
Departments within the Faculty of Humanities :
SPSF Department of Journalism