Message from the President
Foundations for Continuing Learning
TERUMICHI YOSHIAKI, President of Sophia University 
All of you visiting this website are no doubt contemplating a major personal choice. I wonder what place that choice to study at university has in your learning journey.
University will not be the final opportunity for learning in your lives. While the contents, formats, methods, locations, and intensities may change, we continue to learn throughout our lives, adapting to changes in society and carving out our own personal changes. At each of those learning junctures, we may absorb that learning as knowledge, test new insights by adding our own interpretations, or even use them to test new creativity with what we have at hand. The outcomes of the learning we seek will differ. It was in this respect that I asked above what place will study at university have in your lives.
At Sophia University, all our faculties are located at our central Tokyo campus. We attract many international students, and many non-Japanese teaching faculty and staff are engaged in the university's operation. We call this learning environment, which is also brimming with opportunities to study overseas, "Global One Campus," and we are confident that it is an educational environment without equal. This environment will enable you to acquire multifaceted perspectives, to view society with and awareness of the issues we face, and to fulfill challenging experiences and practices, which will equip you with creativity and the ability to adapt to international surroundings.
Carving out one's own path in life demands not only the knowledge you accumulate, but also the wisdom you demonstrate. This is something that each of us as individuals will learn and acquire throughout our lives according to our own circumstances, plans, and aspirations at various points in our lives. I believe that study at university should be an opportunity to build the very foundations for that wisdom. I hope that you will design your own personal learning here at Sophia University, the place of learning described on this website.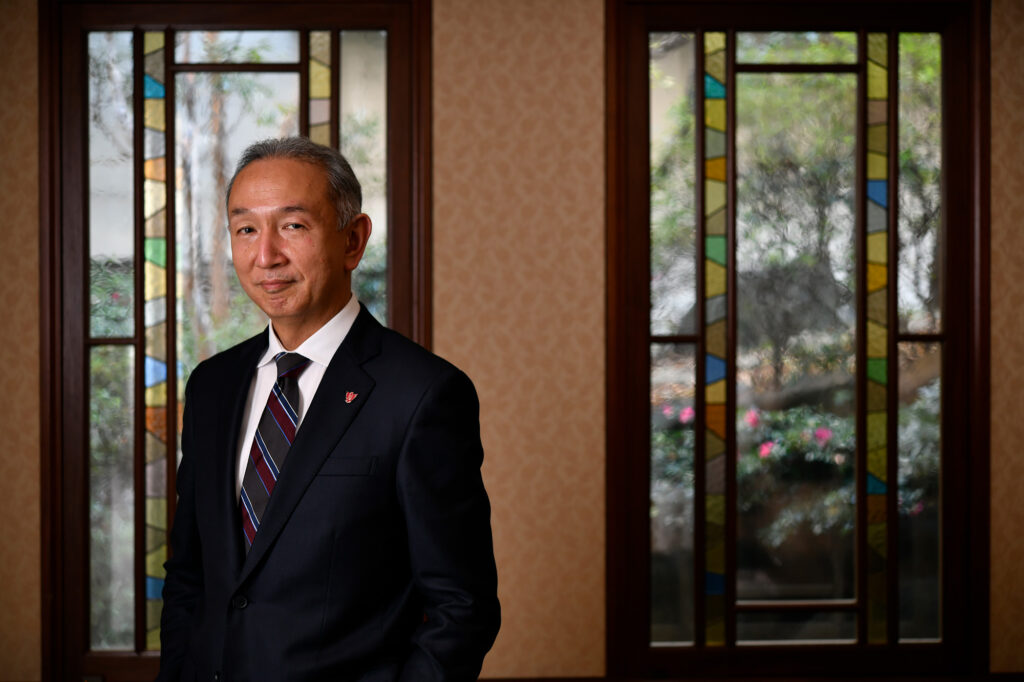 Profile
Born in 1962. He became a full professor of the Faculty of Science and Technology at Sophia University in 2004 and has served numerous administrative and leadership roles: Director of Center for Student Affairs 2005, Director of Admissions Office 2010, Vice President for Academic Affairs 2011, Executive Director for Global Academic Affairs 2014, Director of Human Resources Center for International Cooperation 2015. In 2017, Professor Terumichi was appointed to the President of Sophia University.