Interact actively with many people to cultivate a zest for living on your own terms in Japan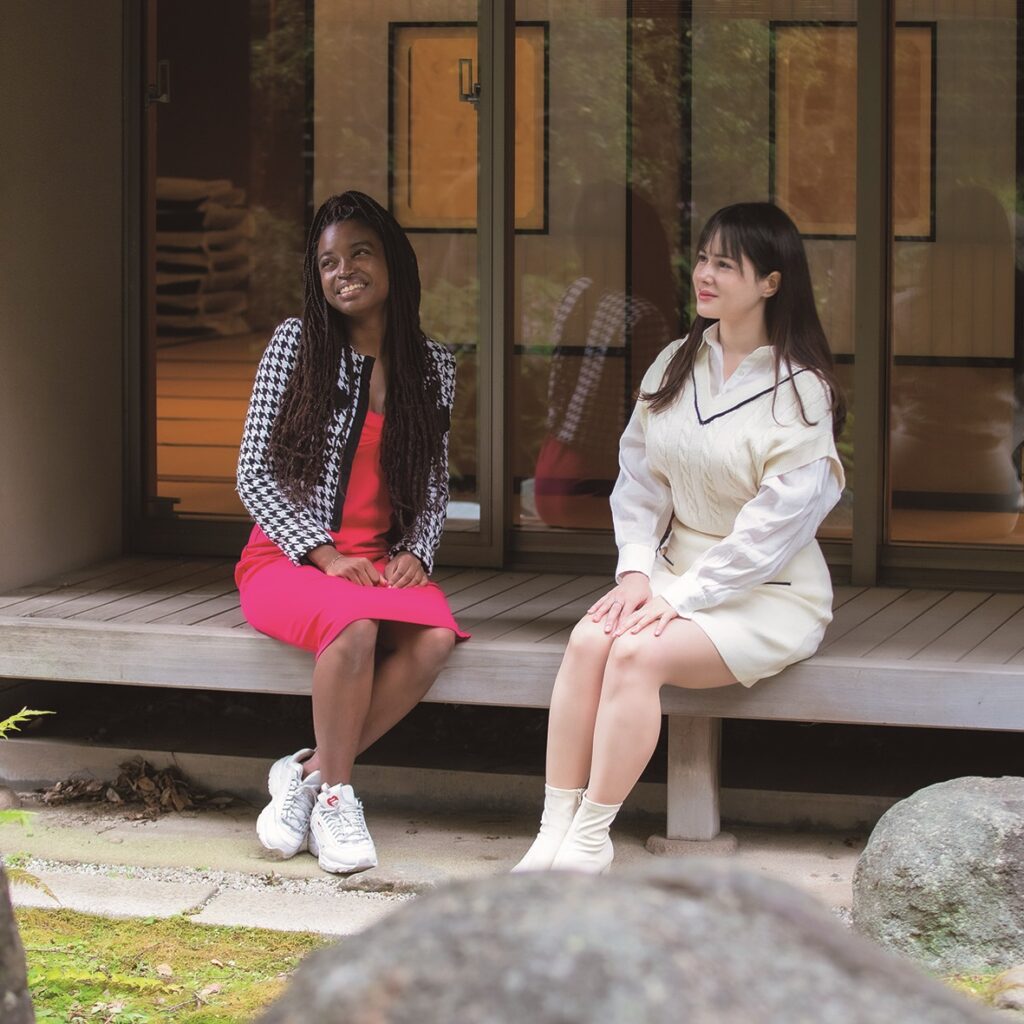 Study abroad, extracurricular activities, clubs, volunteer work, internships – fulfilling their dreams to grow themselves as individuals. Students who have challenged themselves speak about how they've changed and grown from enrollment to the present.
"I can see the future because I have deepened my learning through various classes." (Olha)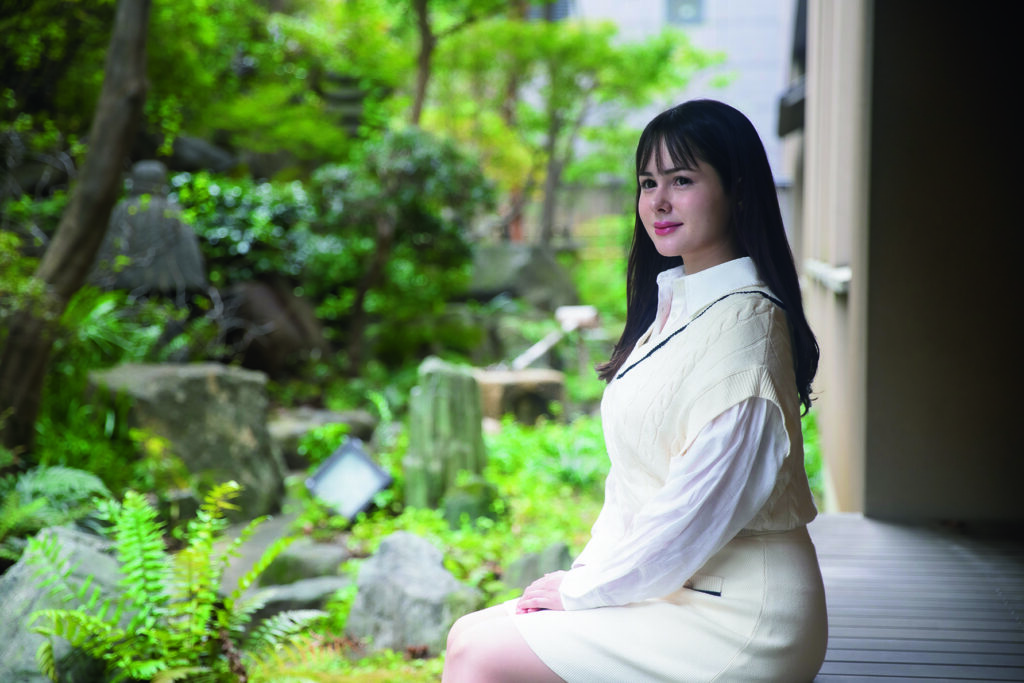 Olha Orel, 4th year student, Department of Education, Faculty of Human Sciences (Offered a job at a major foreign IT company)
Olha My dad is Japanese, so I went to an Asian international school in Ukraine at my mother's wish. I became interested in Japan after taking Japanese language classes and learning about Japanese culture, and I enrolled in a one-year preparatory course in Japan before entering Sophia University. What about you, Ashley?
Ashley My dad has always been a fan of Japanese culture, especially anime. I also fell in love with it because of that, and I very much wanted to enter a Japanese university. While checking the Internet, I found the Department of Liberal Arts and came from Canada to study.
Olha Japanese amine was also popular in Ukraine! I used to watch it all the time when I was in middle school.
Ashely Really? Olha, how did you end up in the Department of Education at Sophia?
Olha Sophia attracts students from all over the world, which makes it very appealing because it allows me to experience diverse cultures even though I'm in Japan. I chose the Department of Education because I can learn about Japanese society extensively, and it also offers the opportunity to take courses in other faculties. I wanted to take many classes that interested me, and I thought I would learn more if I studied with Japanese people and wrote papers in Japanese.
Ashley What classes did you enjoy?
Olha I enjoyed the Department of Management classes, such as the science of consumer behavior and marketing strategies. I may be assigned to the marketing department at my workplace, so I think it will also be useful in my job.
"Career courses for international students are unique to the globally minded Sophia." (Olha)
Ashley So, you'll work in Japan. I haven't decided on my future yet, but I want to work in Tokyo, which has many cafés I love. It's about time I start thinking about job hunting.
Olha My future is gradually taking shape because I studied various subjects at Sophia. I think it's best to start job hunting early. First, I recommend taking Dr. Kubota's career courses* for international students because you can learn a lot from experts who support international students in finding employment.
Ashley I had no idea. Can I participate anytime?
Olha There are classes, so I think you can take them in the spring and fall. After that, you should analyze your personality and skills, and after learning about the industry, practice a lot! I had my application forms and interview reviewed by senior students and practiced at the Career Center.
Ashley Thank you so much. I'm really worried…
Olha I was also worried and had no confidence either. Initially, I thought I would work for a Japanese company and submitted many application forms, but I was rejected because I had no idea how to fill them out. So, every time I was rejected, I would think about why it didn't work and analyze it.
Ashley I see that analysis is important. Do you have other job-hunting strategies that you used?
Olha I also used groups that support job hunting and apps that can help you prepare for job interviews. There are websites for job hunters, so you might want to look into them. I know it's tough getting ready for job hunting, but how is your student life at Sophia?
*2022 Spring/Fall Career Planning Seminar for International Students
"The amount of experience increases as you meet people from many countries and learn." (Ashley)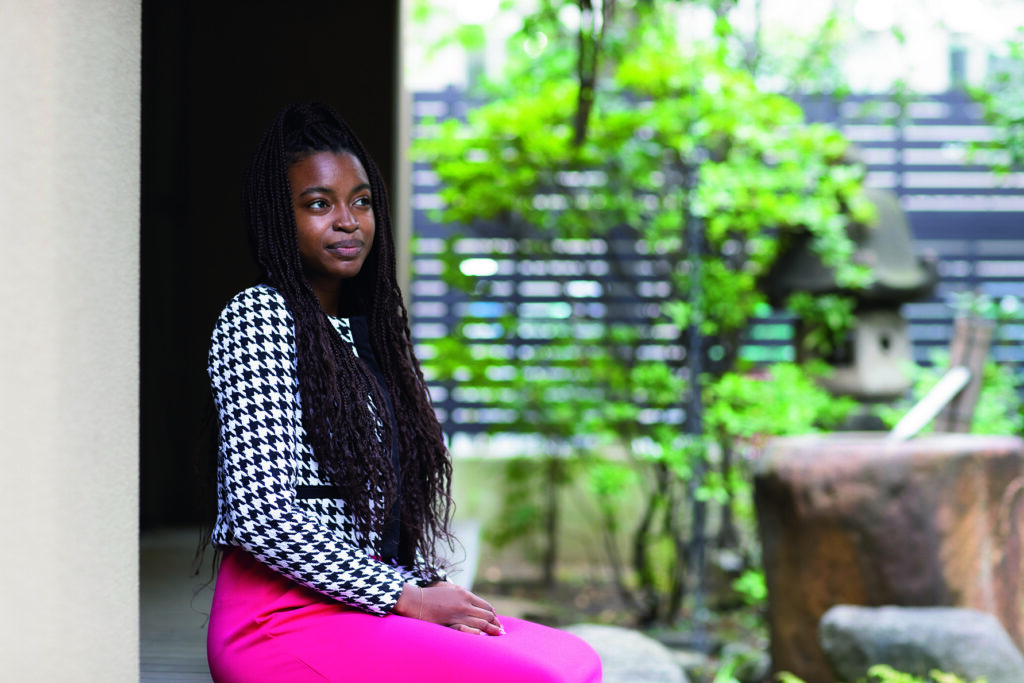 Latoya Ashley Dawkins, 3rd year student, Faculty of Liberal Arts
Ashley I'm in Coco Eco, which focuses on environmental issues in fashion, and Hult Prize, which runs entrepreneurial competitions to solve social issues, both of which are environmental-themed clubs. I can learn a lot, I've made many friends, and it's also been good for my Japanese language study.
Olha Have you always been interested in fashion?
Ashley Actually, I was not interested in it when I was in Canada. I fell in love with it when I saw various fashion styles in Shimokitazawa and Koenji. I even want to join more fashion clubs!
Olha I was in an international exchange club and a cooking club during my freshman year, but the COVID-19 pandemic made it hard for us to get together. Besides the clubs, I worked part-time in restaurants and taught languages. I'm especially good at teaching English and Russian, so it was a lot of fun.
Ashley I also teach English part-time to people from three to 80 years old, just like you!
Olha I guess I had a fulfilling student life, but I probably should have joined more clubs during my freshman year. I plan to travel, get a driver's license, and have fun with the rest of my free time. I hope the international students coming to Sophia will enjoy their lives at the university fully.
Ashley At Sophia, you can meet people from many countries, there are many clubs, and you can have fun experiences even if you are an international student.
Olha That's right. It's a global university, so everyone is very accepting, and you'll make many friends. Since they have come all the way to Japan, I think international students could enjoy their stay even more if they do their best to integrate themselves into Japanese society and gain cross-cultural understanding. Also, I think the preparatory classes for job hunting for international students are unique to Sophia, so I hope they use them for their future.
[Kioi-tei]
Formerly the Fukudaya, a high-class ryotei (Japanese-style restaurant) where political and business tycoons and celebrities used to meet, this venue retains the ambiance of its former days. It exudes a rich atmosphere and offers a glimpse of Japan's good old culture.