Communication with care for others offers hints for mapping your future
Study abroad, extracurricular activities, clubs, volunteer work, internships – fulfilling their dreams to grow themselves as individuals. In these seven conversations, students who have challenged themselves speak about how they've changed and grown from enrollment to the present.
Communication using my weakness as a strength has widened my field of view (Takahashi)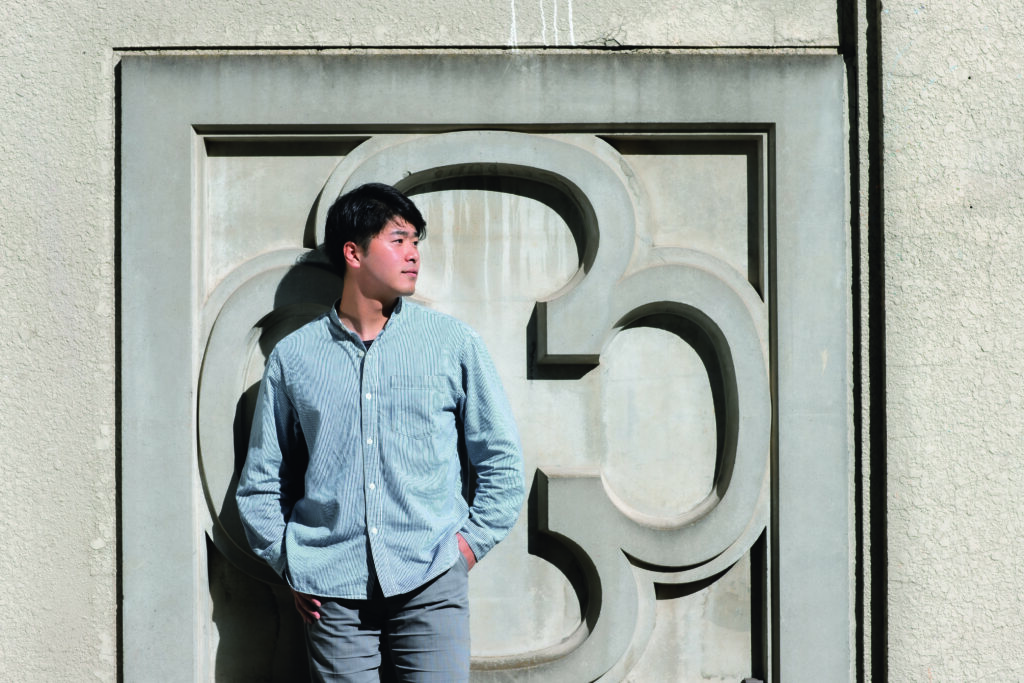 Kota Takahashi, Department of Economics, Faculty of Economics (Offered a job by Mitsui Fudosan Co., Ltd.)
Takahashi: When I was a freshman, I was a member of the Freshman Week committee to recruit new students. It was quite a task to improve the allocation of booths on the Main Street and in Building No. 9 to make it easier to understand that there were sports clubs, cultural clubs and other clubs (circles), and to coordinate Freshman Week after hearing from each group.
Kawanishi: As a first-year student, you 'didn't know anything, did you?
Takahashi: That's right. There were conflicts between groups, and I realized the importance of communication. I think it was easier for them to speak up because I was a first-year student.
Kawanishi: They wanted as many people to join as possible, and everyone was desperate to recruit members.
Takahashi: We penalized groups that were absent without notice from the explanatory meeting or did not meet deadlines for submissions, so that we could give them a proper explanation. The fact that you must talk to people in order to get to know them was something I took as a lesson from this committee and in the rugby club I belong to.
Kawanishi: I am the representative of the Future Center Project, one of the "faculty-teacher collaborative innovations" that faculty members and staff are working on to improve the university. I was involved in the renovation of Building No. 9 to create a place for communication. I also plan various events such as "U-Talk" events, where teachers talk frankly, unlike in class.
Takahashi: I did not know about that project, although I thought Building No. 9 had a bright atmosphere. The lighting was different from other cafeterias.
Kawanishi: Originally it was dark and unattractive. We gathered ideas from faculty, staff, students, alumni and experts to make it a wonderful place for everyone to gather. What we emphasized at that time was to have people give their opinions responsibly on a face-to-face basis. We had to make sure that the voices of the silent majority were heard.
Takahashi: In that sense, as the tactical leader of the rugby team, I also tried to talk with various members of the team, from the national level to beginners. I think I was very conscious of the practice menu and tactics to find a landing point that everyone could agree on.
Understand each other's position and express your feelings politely. (Kawanishi)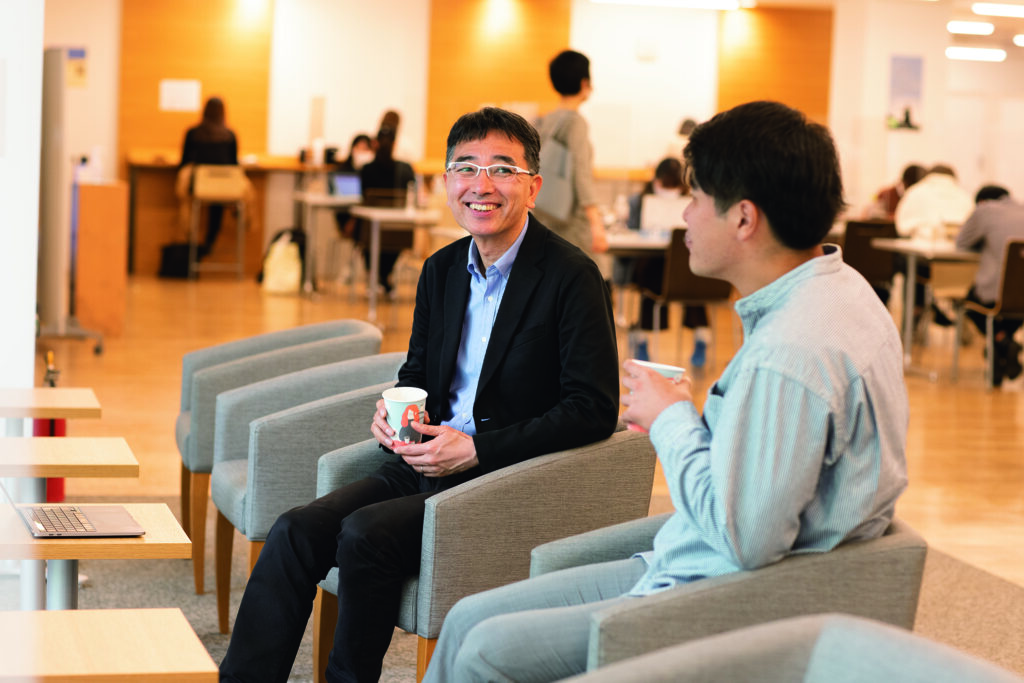 Prof. Satoshi Kawanishi, Department of Economics, Faculty of Economics
Kawanishi: Even if it is not the tactic you want, once you win a game with a tactic that the team agrees with, everyone can be happy.
Takahashi: That's right. People thought of me as a friendly leader, so I tried not to intimidate the junior members who were beginners. I was very grateful for the fact that they would sometimes give me opinions that cut to the essence of what I was thinking, which helped me to look at my own ideas objectively.
Kawanishi: There are all kinds of bosses in a company, but those who talk frankly are trusted by those below them, and I think you will be an excellent boss. By the way, what do you think are the unique strengths of an economics student?
Takahashi: Even if it is a humanities major, I'm confident in my ability to handle things mathematically!
Kawanishi: Excellent! I am glad to hear that. Although the department is strong in mathematics, we are increasing the number of English subjects as most of the students are not very good at it. When I meet graduates, they tell me that they should have studied English more.
Takahashi: I was not good at English, so I struggled a lot in my first and second year classes.
Kawanishi: I think being able to do mathematics is what makes the Department of Economics unique, but if you can speak English you will have more opportunities. Have you found a job?
Takahashi: Yes, I have. I applied to a series of finance jobs in order to put what I had studied to use, but in the end, I decided to work for a developer. I was aware that when you build a facility, you need to communicate with various people, including the government, landowners and neighborhood residents, and proceed in a way that maximizes everyone's interests. So I thought the "Future Center Project" you mentioned earlier was very interesting.
Kawanishi: It's easy to fall into the trap of "thinking you have communicated" something, so it's important to try to understand the other person's point of view and mutually communicate. Your story about the Freshman Week could have caused trouble in some cases but, with regard to people who are upset that they are not being treated well, I hope that you will continue to create a dialogue and politely convey your feelings in talking with each other.
Takahashi: During my time as a student, I practiced self-disclosure and tried to understand the other person and bring out 'their story while showing my own vulnerability. Through dialogue, I broadened my perspective. As the president of the company that offered me a job has suggested, I would like to gain more depth as a human being and broaden myself in the future. If the other party feels that I am someone they would like to talk to, the number of contacts and the total volume of dialogue will increase, so I want to work hard at whatever I do.