Catching up with information and making a move enrich student life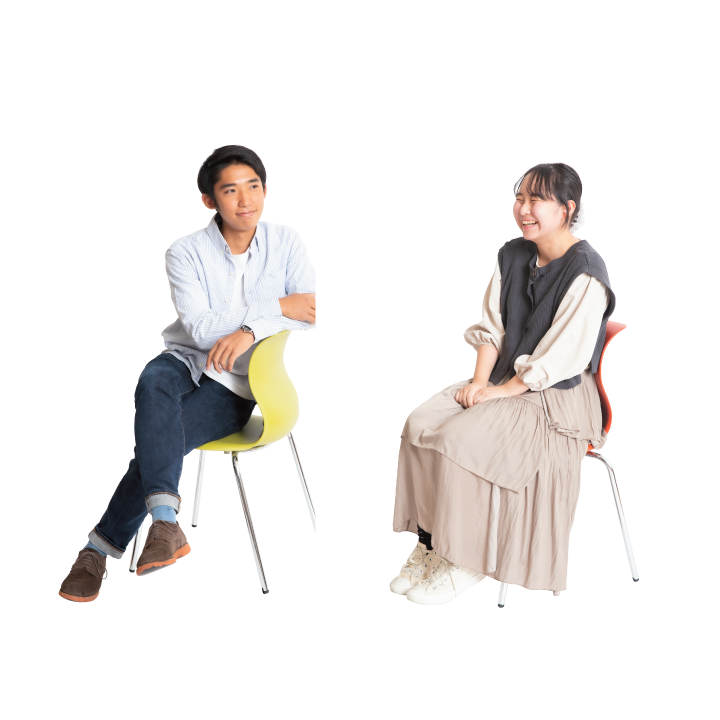 Study abroad, extracurricular activities, clubs, volunteer work, internships – fulfilling their dreams to grow themselves as individuals. Students who have challenged themselves speak about how they've changed and grown from enrollment to the present.
There are so many choices, take actions to make your four years suit you the best (Nojima)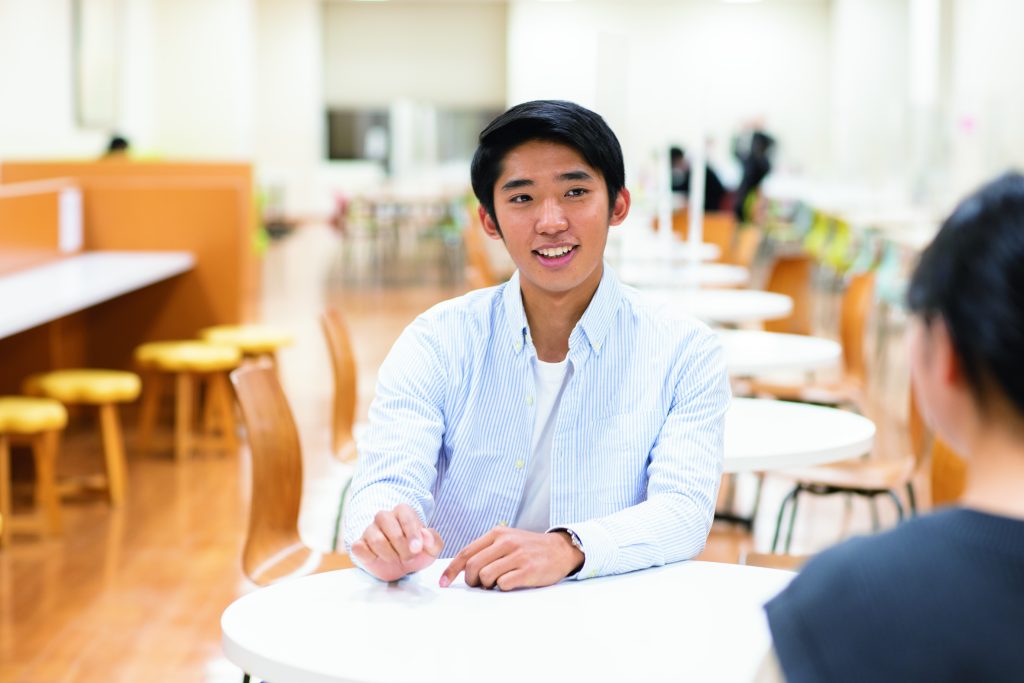 Riku Nojima Department of International Legal Studies, Faculty of Law, 4th year student, (Offered a job by Dentsu Inc.)
Kano: When you start something new, sometimes we hesitate, but what motivates you, Nojima san?
Nojima: When I studied abroad in high school, I was the only Asian. When I joined the wrestling team, I was bullied because I had taken a regular spot from a guy in the same weight class. I didn't want to be defeated by this situation, so I thought about what I could do here, and after steadily building trust by applying my judo techniques, in which I was a black belt, to wrestling, I came in third in the tournament. I burst into tears the moment the bullies congratulated me, and I knew I could do anything now, and I knew I had done it.
Kano: That is a very valuable experience. This is a great lesson for me to learn. Thank you.
Nojima: I think there are many lessons to be learned once you are out in the world, and I think that the tough and painful experiences can be a turning point and help you grow as a person. At that time, I reaffirmed my identity as a Japanese and an Asian, so when I studied abroad in college, I wanted to communicate about Japan.
Kano: In order, what did you do? 
Nojima: I started a judo club. I persuaded professors to establish the club, negotiated with private dojo for a place to practice, and involved local students to build a foundation so that the club could survive over the long term. Looking back, I was very conscious of "what can be done now or never." Kano-san, I heard that you are active in the Student Press Club. What made you decide to join?
Kano: I had read an article about the Student Press Club on the Sophia University Official Line when I was in high school, but I had no idea that I was going to join. I was asked by a senior in my dormitory and the previous editor-in-chief to do an interview at the entrance ceremony, so I spoke with them, took a tour, and decided to join.
Nojima: Did you always like writing articles?
Kano: Not at all, absolutely not at all (laughs). The decision was made because the senior members were very welcoming and the atmosphere was very friendly, and if there was anything I did not understand, I could always go and ask them. There are many seniors who are active, and they give me a lot of advice and support.
Nojima: You have to take good care of your senpai (seniors). I was inspired by a senior student in my department who was a good friend of mine to start a judo club, and I also visited alumni when I was job hunting. I was very fortunate to have those senpai around me.
Kano: I will cherish them! I wanted to challenge myself in various ways after entering Sophia, so I also participated in an international organization program in Geneva, which I was originally interested in, during my summer vacation. It was interesting to be given the opportunity to think about international issues from different perspectives, including those of current employees and people from the Permanent Mission of Japan.  While looking for what I can do now online, hearing your story made me want to study abroad as well.
I want to make many challenges whatever interest me and bring my dreams come true. (Kano)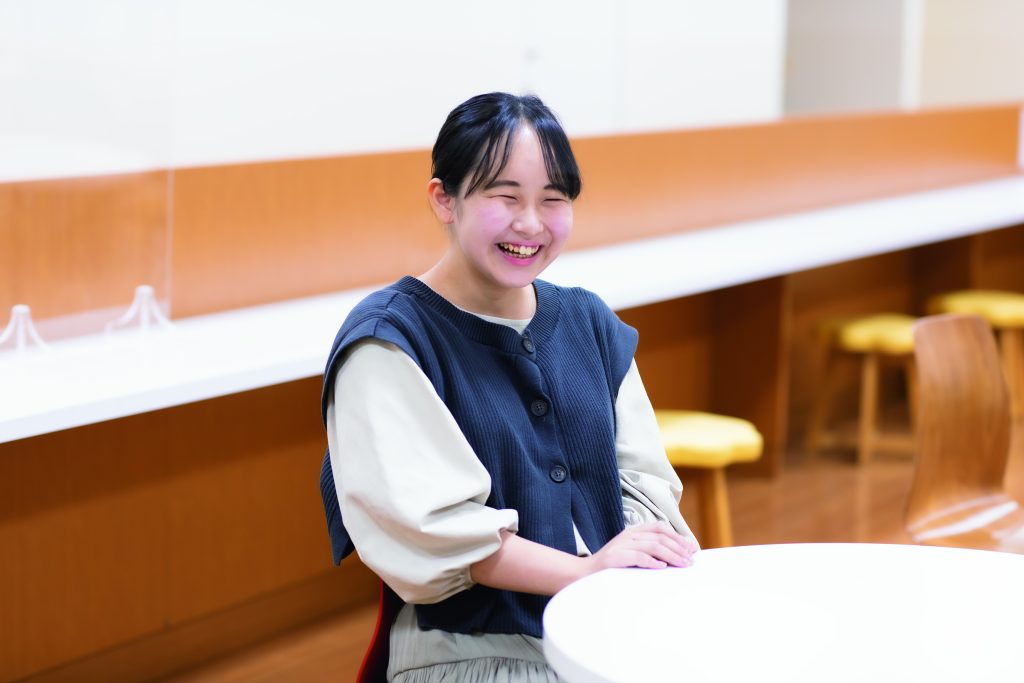 Hibiki Kano Department of Global Studies, Faculty of Global Studies, 1st year student
Nojima: It is easier to study abroad when you are a young student with a plenty of free time. When you visit the Center for Global Education, they will help you make a plan together, for example, determining by when you need to get a TOEIC or TOEFL* score or score needed. Not only studying abroad, but if you have a plan for the next four years, you will be able to balance your studies and other things you wish to do without much stress.
Kano: Yes, thanks for the great advice. Had your job search gone as you planned?
Nojima: I originally hoped to become a diplomat, but through my experience overseas, I became interested in promoting the beauty and traditional culture of Japan, which led me to Dentsu. I would also like to work to build a sustainable society that only Japan can achieve. Now, after job hunting, I am working with farmers in Ehime because I thought the best of Japan can be found in the rural areas and I wanted to properly understand about the side of the producers.
Kano: You went a completely different direction, I see. I am in the process of exploring what I am interested in. I am interested in international organizations, but I am still trying to figure out what kind of expertise is needed and what I can do when I enter the workforce.
Nojima: I think it is important to proactively participate in those programs such as the program for international organizations that I mentioned earlier, because there is a great deal to be gained from the top-notch people who come to Sophia to give lectures. I also connected with a former ambassador to the U.S. at a symposium where I spoke with diplomats who had graduated from Sophia, and it was a great experience to accompany him to a special seminar.
Kano: That's right. For example, "UN Weeks" is also widely publicized on the university's website and on posters displayed around campus and getting information from Sophia's official line is a good opportunity to get started.
Nojima: By taking the initiative and checking who is coming by registering yourself, you will be able to make your time at university personalized. Sophia offers many options, so I hope you will take on the challenges that you can only try now and spend your four years with absolutely no regrets.
Kano: I would like to try my best here at Sophia because I think there are many programs, study abroad programs, and other good things at Sophia where dreams become reality.
* "TOEIC" in this page refers to the TOEIC® Listening & Reading Test, and "TOEFL" refers to the TOEFL® iBT Test.