A single encounter can be the inspiration to put our new knowledge into action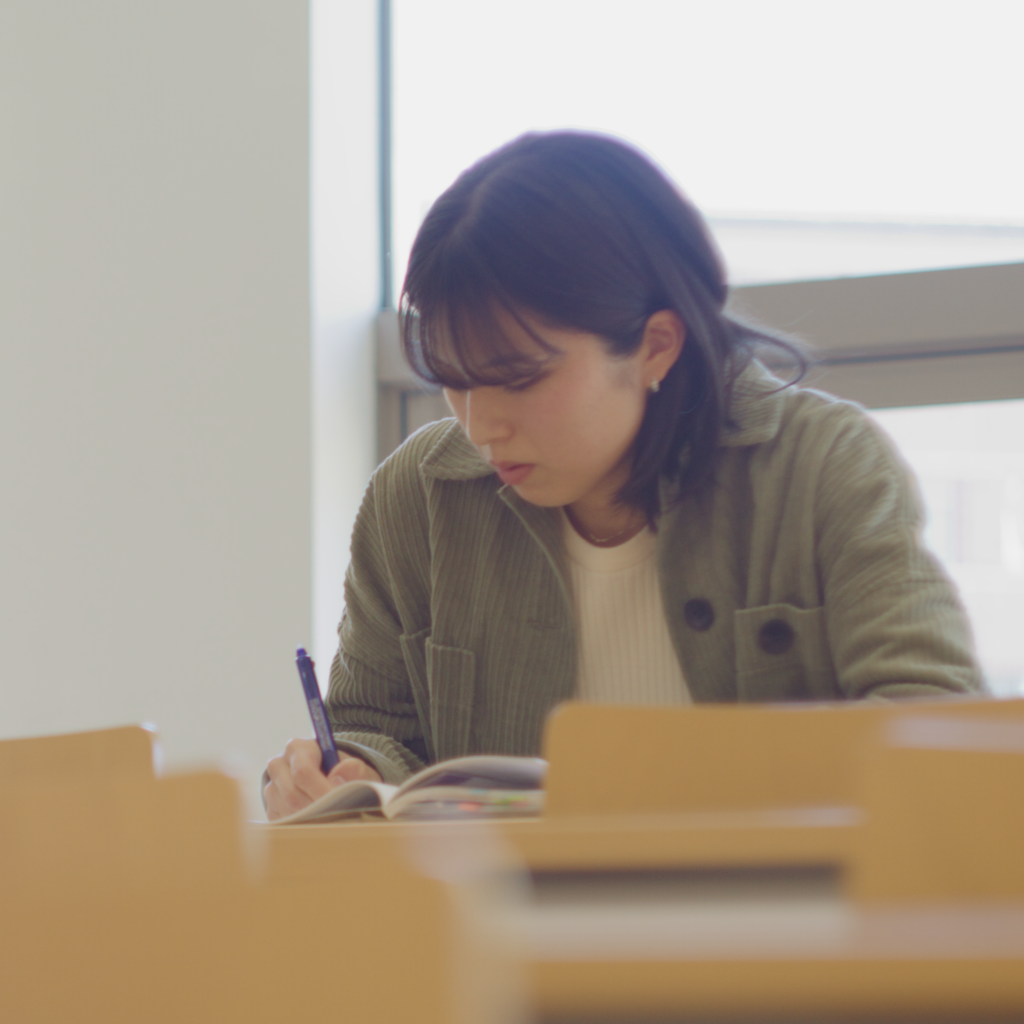 Kaho Masuda, a fourth-year student in the Department of French Literature says, "Seeing someone being so honest and upfront about their dreams was incredibly inspiring to me." This interaction changed her perspective and was the catalyst for making a fresh start on the path to achieving her dreams.
Studying classic literature connects humanity across cultures and generations
My interest in foreign literature began at a young age. As a child, my favorite movie was Disney's Beauty and the Beast. After watching it in Japanese, and then again in English, I learned that the story was based on the fairy tale "La Belle et la Bête," written by French author Gabrielle-Suzanne Barbot de Villeneuve in 1740. It was then that I decided I wanted to study French literature so that I could read my favorite childhood story in its original text.
Literary works are filled with subtexts that offer a glimpse into the author's way of life and beliefs. Even if the period in which the work was written is far removed from our modern life, connections can still be made that transcend centuries. This concept applies to works written in different languages as well, as there is a universality to the human condition that can be felt across cultural boundaries while still offering new perspectives on life in other countries. This is the best part about studying literature in a foreign language. It is why I chose to enroll in the Department of French Literature at Sophia University, as it would provide an environment where I could realize all of my goals.
Before entering university, I imagined that classes would be large, one-sided lectures where the professors spoke to us, but when I started classes at Sophia, it wasn't like that at all. The classes were intimate, and I was able to form personal connections with the professors.
In my first year, I had the opportunity to go to Paris for a month of language training, and even though I knew that I would be with other students who would be able to support me, I was still very scared to travel abroad. Before I left on my trip, I met with one of my professors who studied in Paris and confessed to her that I was anxious. The professor gave me advice about what to expect and even gave me recommendations on where I could eat at some delicious restaurants. This conversation calmed my nerves, and thanks to the professor, I had a very enjoyable trip.
Besides the supportive professors, Sophia University also has many diverse and motivated students studying a wide range of topics. Even within the Department of French Literature, many students study not only the culture and art of France, but also countries that speak French worldwide, including many places in Africa.
Outside of the department, Sophia is full of students with different goals, including those aiming to attend graduate schools abroad, those aiming for jobs in Japan, and students working hard toward their dreams while engaging in both internships and studies. I feel that my understanding of diversity is growing as I get to form friendships with people who have different ideas and goals from my own, instead of building walls between us that keep us separated.
Combining theory and practice makes learning goals achievable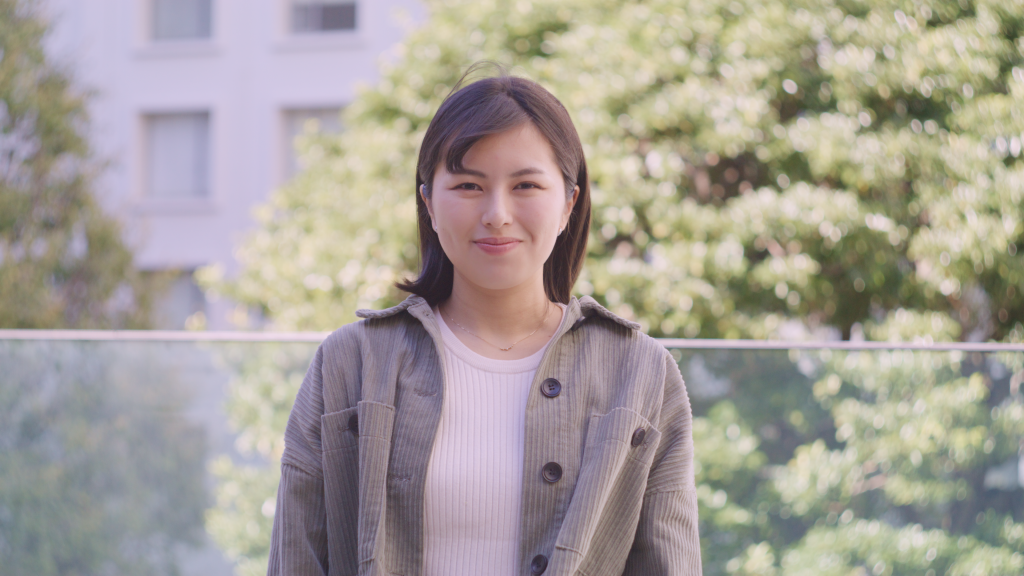 In my second year, I took a class that focused on French grammar, which was a turning point for me in my studies. Before this class, I had many disjointed pieces of grammar floating around in my head, but this class allowed me to finally connect them together and make sense of all the different grammar rules I had learned.
Thanks to this, I was able to put aside any self-conscious feelings I had about my French speaking abilities and successfully went on an exchange program at the University of Laval in Quebec, Canada, during my junior year.
Since Quebec is a bilingual city that speaks both French and English, I chose to study there over France. While working hard on my French, the only class I took in English was economics, which ensured that my English skills would not slide while I was focused on learning another language. Despite being the only Japanese student in my classes, I had a great time, thanks to the kind locals and other exchange students from different countries.
During my study abroad program, I had an unforgettable conversation with another student about her plans after graduation. When I asked why she was studying French, she answered that she wanted to learn French to work in the medical field in Africa.
Seeing someone being so honest and upfront about their dreams was incredibly inspiring to me, as up to that point, there had been times when I had been too embarrassed to try something new because I thought that I would fail. After talking with her though, I realized how important it is not to give up before you even start something, and being open to trying new things and taking on new challenges helps us grow and ultimately reach our dreams.
After I returned to Japan, I wanted to put what I had learned into action. With this in mind, I discovered the French-language competition sponsored by the Maison Franco-Japonaise. My old mindset would have been, "I'll fail, so why try anyway" and I would not have even entered the competition.
However, with the new confidence I gained from studying abroad, I decided to give it a shot. I worked with a French professor to perfect my pronunciation, and after much practice, I won the competition, which included the privilege of attending a language school in Paris for one month.
Through this process, I learned that if you have your heart set on a challenge and put in the effort, you will be rewarded for your hard work. Out of all the experiences I had during my time at university, I believe that this was the most important lesson I learned.
Communicating in one's native language allows for deeper connections to be made
Currently, I am working on my graduation thesis based on a work by Molière entitled "Tartuffe," which satirizes 17th century French Christian society. Despite the work being written in a time and place far removed from modern Japan, I was surprised to see how the flaws in humanity depicted within it were so relevant to today's society. It's a work that makes you interested in literature.
After graduation, I would like to continue using the French I have studied so hard over the past four years in my career. Being able to speak French with native speakers will allow me to build up both personal and business relationships.
Therefore, I would like to continue improving my French to a business level and foster fruitful relationships with many people. Being able to share new experiences with so many people that have different ways of thinking and cultures from me was very enjoyable, and I want to continue making those kinds of connections even after entering the workforce.
※Please note that the content of this article is current as of November 2021