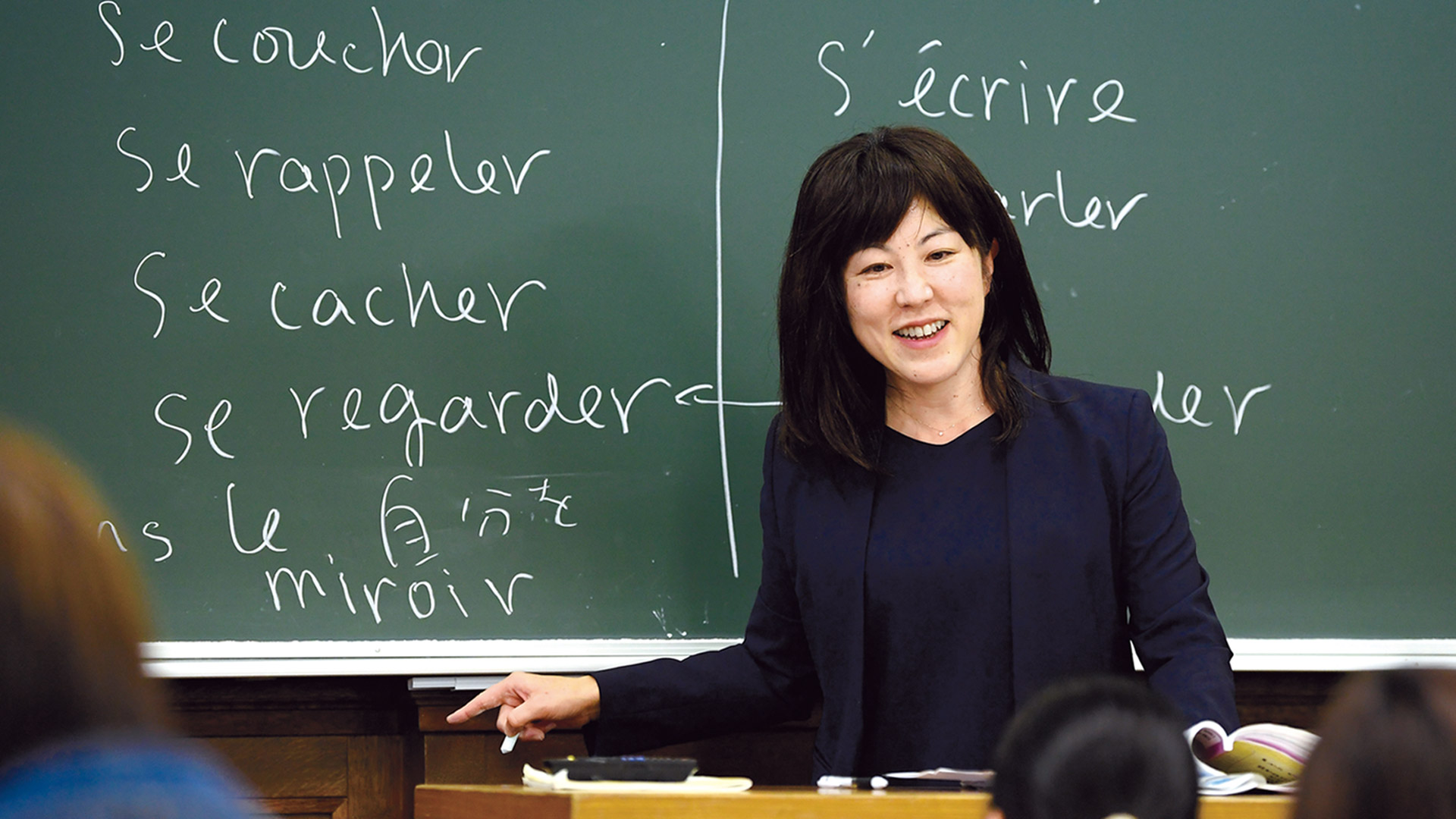 Aiming to acquire "practical French" and a comprehensive understanding of French literature
Department Features
Through a comprehensive study of French studies and literature, students will learn the research method of language and culture, as well as experience the process of critical thinking through independent literature collection and reading
One of the characteristics of French literature is that literary scholars strive to master their humanity while fighting against common sense and conformist ways of society. Therefore, our goal is to nurture individuals who are not only proficient in French and well-versed in French culture, but who also have a critical and problem-solving mindset in any society, as well as international researchers.
Curriculum
In the first and second years, students concentrate on improving their language skills while developing basic skills in literary research. From the third year onward, students thoroughly master the four language skills in "Specialized French". In the area of specialization, students are divided into three groups: "French Literature Studies" and "French Culture Studies," in which they study artistic works of various authors and periods, and "French Studies," in which they deepen their understanding of the language using artistic works and texts from the press as teaching materials. Students choose from a variety of subjects related to literature, language, art, film, theater, thought, and society. Each student finds his or her own theme, and under the careful guidance and communication of the faculty members in charge, they discuss and deliberate on the theme, leading to their graduation thesis in their fourth year of study.
* Please refer to the syllabus for more information on the courses.
Course Examples
Studies in French Literature I

This lecture will consider Pascal's observation of mankind through reading the chapters of his Pensées (1670). Through the chapters, we will highlight Pascal's view of mankind that the sense of "emptiness" and "wretchedness" is directly connected to the greatness of mankind.
Studies in French Literature VII

Students will read excerpts from modern French literature, exploring what fragrance and smell are and what literature has expressed by depicting them. We will consider the social context of the changing sense of smell and the emotions, memories, and concepts of life and death that are linked to smell.
Seminar

How have diaries and letters changed in an age when smartphones and social networking services are central to communication? This lecture will deepen the student's understanding of what an "autobiography" is, by analyzing the difference between stories and autobiographies, and using autobiographical comics as subject matter.
Seminar in Literature Research B

Each student will express in his/her own words the appeal of a work of French literature that he/she finds "interesting" and discuss its appeal among the participants. In addition, we will read a part of the work in French to deepen our understanding of the work and discuss how it relates to other works.
ENG-FRENCH Translation I, II

Students will learn to translate from English to French using a wide selection of texts from a wide range of literary and journalistic sources. Students will learn to translate texts, focusing on key points such as grammar and vocabulary, and at the same time deepening their understanding of how to translate better.
History of French Art I, II

After acquiring a systematic knowledge of the historical positioning of impressionist paintings, the characteristics of each artist, and biographical facts, students will actually analyze works of the art multiple times to steadily develop their ability to analyze works of art.
Available Teaching Licenses and Subjects
First Category Teaching license for Junior High School (French)
First Category Teaching license for High School (French)
Curatorial courses are available.
Educational Objectives and Policies
To provide comprehensive training for applied proficiency in the French language across the four fields of reading, writing, listening, and speaking, and to cultivate profound understanding of French literature and other aspects of French culture.
To produce graduates capable of taking active roles in the international arena, equipped with advanced proficiency in the French language, familiarity with French culture, pluralistic outlooks, and openness to difference.
With an aim to foster human resources with multifaceted thinking skills, a critical mind, and creativity through acquisition of the French language and learning about various cultural and social phenomena with a focus on literature from the French-speaking world, the Department of French Literature sets standards for the skills and knowledge students should acquire before graduation as follows. Those who fulfill the graduation requirements shall be deemed to have acquired these qualities and will be awarded a diploma.

Interest and understanding of literature, arts and culture
French language proficiency that can be used in work, research and social contribution
The thinking skills to objectively and multidimensionally analyze information and knowledge actively acquired.
The ability to appropriately structure one's opinions or outcomes of research in oral and written presentations, and the expressive skills to communicate them in a comprehensive way.
The comprehensive skills to self-motivatedly identify research questions and find answers on one's own.
In accordance with the Diploma Policy, with an aim to enable full-time faculty members to continually support the intellectual development of students and enhance their abilities while respecting their individualities, the Department of French Literature constructs its curriculum with courses aligned to the following purposes:

During the freshman and sophomore years, to foster balanced reading, listening, writing, speaking skills through small-group French classes. Furthermore, to have students acquire the knowledge and methodologies required for Humanities studies, as well as the techniques and academic literacy needed for oral presentations and thesis compilation
For juniors and seniors, to empower students so that they can pursue cultural and social phenomena in accordance with their individual interests by offering courses for the acquisition of advanced and practical French language proficiency and courses covering various disciplines, including fine arts, performance arts, films, thought and society, in addition to careful reading of literary text and literary studies,
To have students comprehensively utilize the various knowledge and analytical skills acquired during their four years of enrollment by requiring the submission of a thesis as a compulsory course
To maintain consistency among the educational targets set up for the four years of learning, as well as to give importance to the continuity and potential of the educational program. Also, to focus at all stages on practical education with an aim to further develop students' resource collection skills, reading comprehension skills, expressive skills and cooperativeness, instead of communicating knowledge in a one-sided manner.
To foster human resources who have acquired advanced French language skills and knowledge on the culture and society of France and the French-speaking world, and who can contribute to the collection and communication of information in languages other than Japanese and English and to developing mutual understanding and closer cooperation among societies with different cultures.
The Department of French Literature expects each student to acquire French language skills and deepen their understanding of humans through studies of cultural aspects, including the literature, of French-speaking countries; and therefore, we welcome students with the qualities described below:

Students interested and motivated to learn the French language as well as the literature and culture of French-speaking countries, to nurture flexible and logical thinking, and to appreciate what is different from oneself
Students who are equipped with the common sense and linguistic skills required to listen to lectures on the Humanities, appreciate works of art, read and summarize books and academic papers, and present one's observations both orally and in writing
Students who are self-motivated to think and learn on one's own initiative, and simultaneously acknowledge the significance of mutual learning through dialogue and collaborative work with other
Faculty Members
Michael DESPREZ Professor
Soichiro JITTANI Assistant Professor