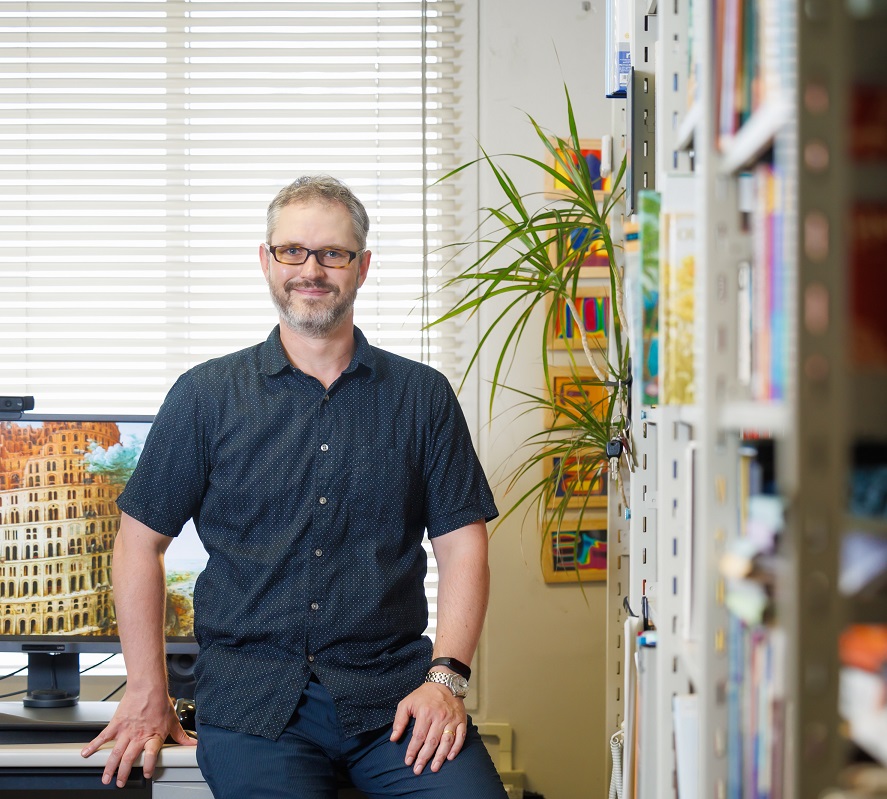 Associate Professor Richard Pinner of the Faculty of Humanities specializes in foreign language learning with a particular focus on authenticity and motivation to enhance learning effectiveness. The teaching method called CLIL integrates language learning with other topics. Current and relevant issues which resonate with students are discussed in the process of language learning.
Applied linguistics is the science of how people use language in different ways. I specialize in foreign languages rather than native languages. I look at different aspects of foreign languages including teaching and learning.
My research is classroom-based. Instead of using questionnaires and statistics, I work directly with students and teachers in the classroom. I observe classes and sometimes record classes including my own. Using yourself as a research subject in your own place and context is called autoethnography. Researching how I think and feel as I interact with my students gives me an opportunity to reflect and learn about my own teaching. In classroom-research, I am always careful that any data collected doesn't interfere with teaching. Research should add to the teaching and not take away from it.
The challenge of using my own classroom is a lack of diversity in research subjects. As I teach university students, most of my research is naturally just on these students. In fact, I am interested in language education not just at the university level, but at all levels in Japan, including elementary, middle, and high schools, cram schools, or juku, and English conversation schools. A lot of interesting research can be done in those areas.
Authenticity and motivation are key to language learning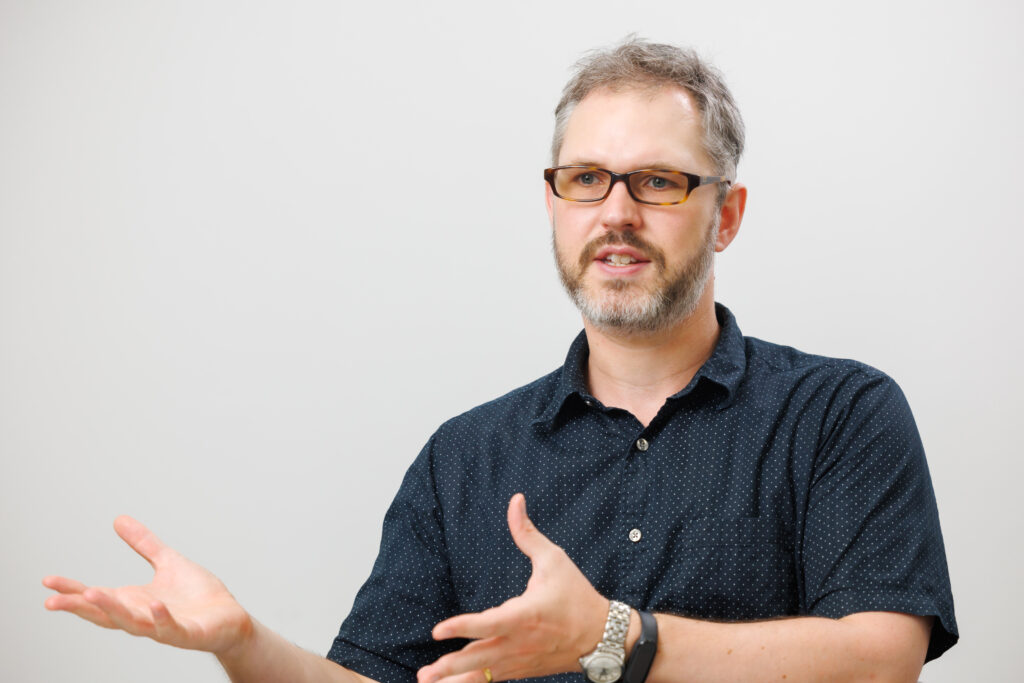 The concept of authenticity in language learning is one of my research focuses. Authenticity is often associated with the best version of things. Therefore, authentic language is often wrongly perceived to belong only to native speakers. However, the definition of authentic English is complex. About 350 million people speak English as their first language while two billion others speak it as a foreign language. If authentic language is defined as that which is spoken solely by native speakers, the reality of the two billion English as a second language speakers would not be taken into full account. I reassess the meaning of English authenticity and find a way to create a meaningful relationship between native and non-native English speakers.
My definition of authenticity is a relationship between people. Authenticity happens when actions match beliefs. If you act accordingly to the way you believe things should be done, then you are doing so authentically. In language teaching, if you focus on grammar and vocabulary to teach for the test even though you believe in a communicative teaching method, then your teaching becomes inauthentic. Authenticity bridges the gap between students and teachers, facilitating learning and teaching. If a bridge is successfully built, that's authentic, but without a bridge, there is only a gap in authenticity.
When authenticity bridges the gap in the classroom, teachers and students both feel motivated. Authenticity and motivation are inseparable. Creating a motivated classroom can be a challenge, but one way of motivating students is to personalize the classes. By discussing their learning objectives, teachers can develop ideas to personalize the contents for the students. This creates a more authentic learning experience, which eventually stimulates the motivation of both students and teachers in a motivation-feedback loop.
Professor Makoto Ikeda, my colleague in the English Literature department, introduced me to a teaching method called CLIL (Content and Language Integrated Learning). CLIL mixes language learning with other topics of students' interest. We discuss issues such as the environment, feminism, LGBTQ issues, and literature in the language the students are studying. It keeps them motivated and provides a more authentic experience.
One challenge that teachers face in CLIL teaching is to stay current and relevant when choosing topics. Teachers can be flexible in their selections, but issues discussed need to create authentic links with students to stimulate their motivation. Teachers must try different approaches to ensure the topics relate to all students.
New research interest for languages in digital culture
My new research is in language and technology. The impact of smartphones on communications is an intriguing subject. It is commonly believed that smartphones are ruining face-to-face communications. However, conversations are sometimes augmented by smartphones. Rather than labeling their impact on communications as good or bad, my research aims to depict the changes brought about by smartphones on communication. They are simply facilitating a new communication style.
Language on the Internet is another area in the study of digital linguistics. I am interested in all aspects of online languages – internet slang, memes, viral videos, and trolls. I am teaching two classes on language in digital culture and would like to further my research in this area.
The book I recommend
"Complexity in Classroom Foreign Language Learning Motivation"
by Richard J. Sampson, published by Multilingual Matters Ltd.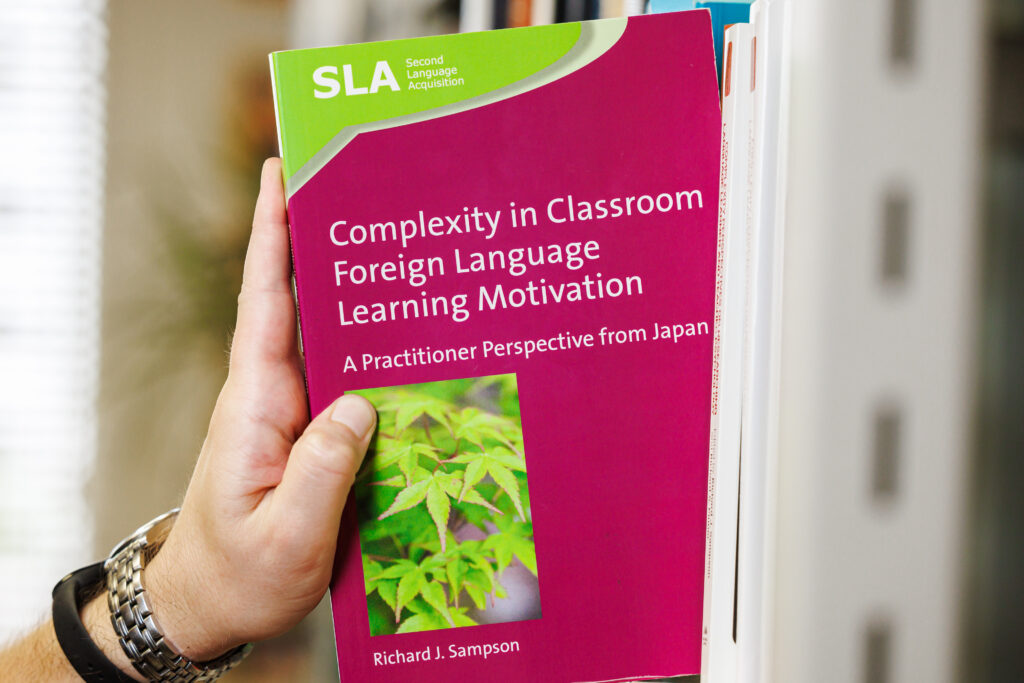 The author is a colleague and a good friend. As we were writing books on similar topics at the same time, we supported each other during the process, becoming a team. The book is about his experience of teaching English at a Japanese school called Kosen. He shares his efforts to get students engaged in English which reminds me of what I do.
Richard Pinner

Associate Professor
Department of English Literature
Faculty of Humanities

Richard S. Pinner received his Master's Degree (M.A.) from King's College London and his Ph.D from the University of Warwick. With nearly 20 years of experience as a language teacher and teacher trainer, he is the author of three research monographs and has published articles in journals such as TESOL Quarterly, ELT Journal, English Today and Language Teaching Research. He is particularly interested in the areas of authenticity and motivation in ELT and Content and Language Integrated Learning (CLIL). He currently works for the Department of English Literature and also teaches in the Graduate School of Languages and Linguistics at Sophia University, Tokyo.