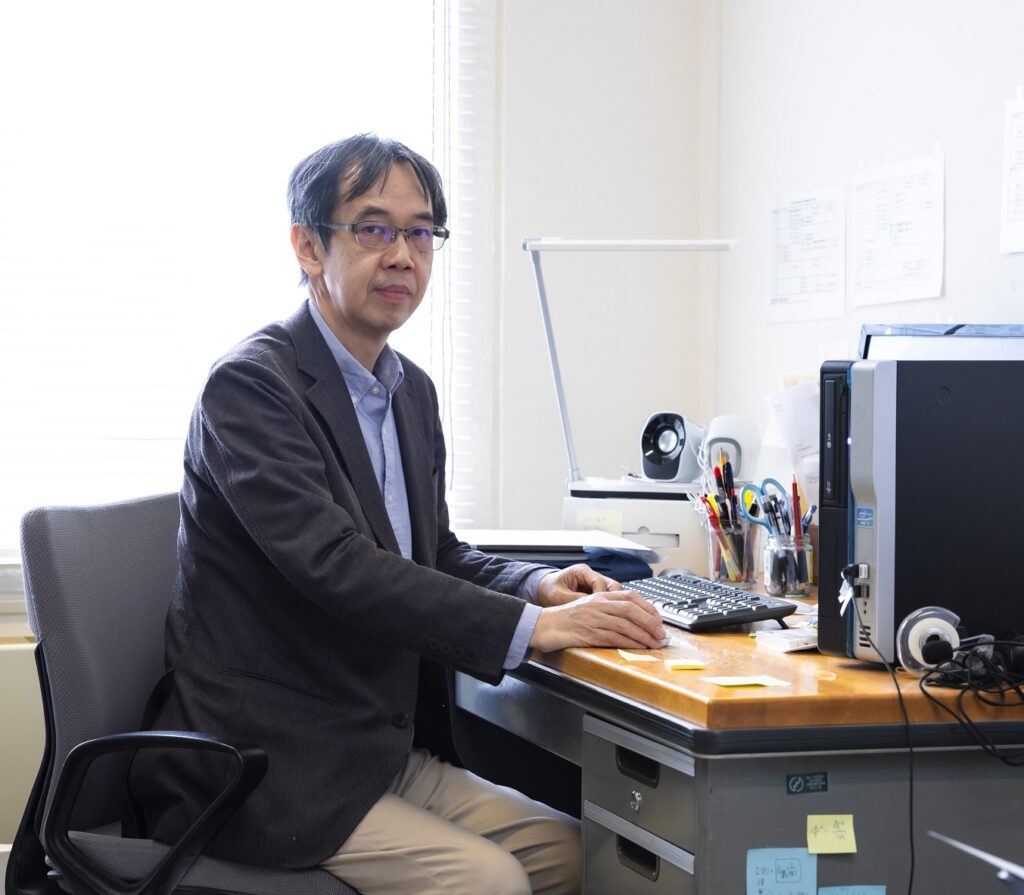 Public opinion polls ask citizens about their thoughts on all kinds of public issues, including politics, economics, and daily life. Professor Hisanori Watanabe from the Faculty of Humanities undertakes research in accurately understanding a wide range of public opinions without overlooking the voices of the silent majority. What is the significance of his research?
The media conducts public opinion polls to accurately understand the thoughts of citizens about topics regarding politics, economics, and daily life.
Until 2010, I was working at a major commercial broadcaster in Tokyo, where I analyzed viewership and conducted various surveys regarding issues such as consumer behavior of viewers and their political awareness. Using my many years of experience in investigating and analyzing polls and viewership, I am currently undertaking research on how to conduct reliable surveys with greater objectivity.
Today, anyone can freely express their opinions through social media, and some people may think such surveys unnecessary. However, we cannot understand the overall trend of society if we only pick up the voices of assertive and vocal people. To me, the mission of public opinion polls is to gather the opinions of the silent minority, and show them as objective statistics to society.
Are public opinion poll results fair?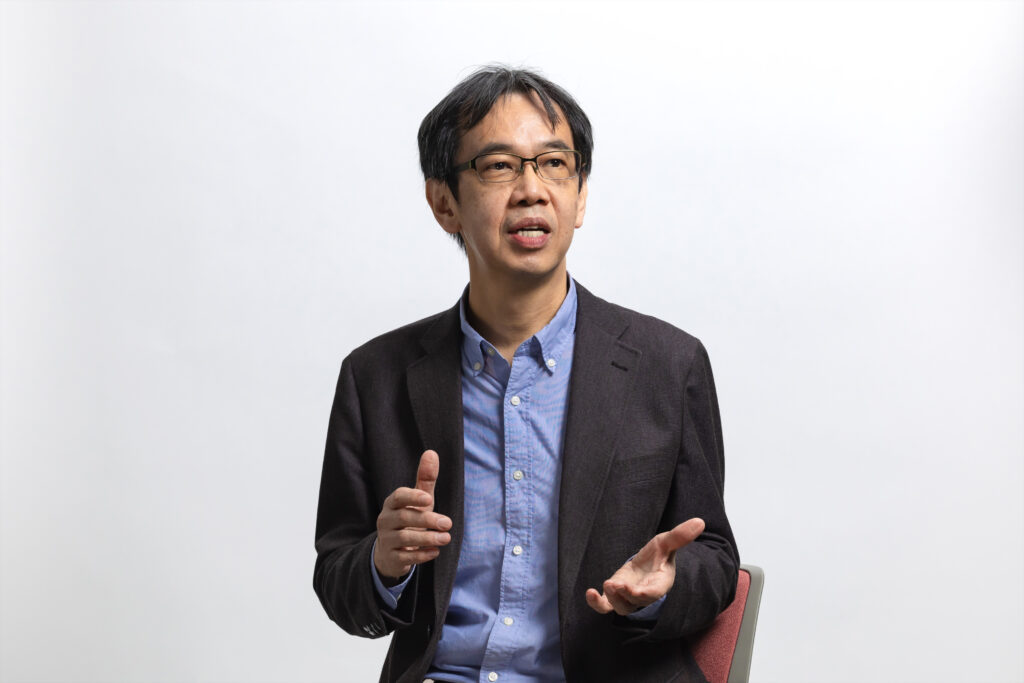 I first encountered public opinion polls in graduate school, when I applied for a part-time job at a research company called Public Opinion Research Center. My next part-time job was at Tokyo Broadcasting System Television, where I conducted media surveys as well as going on from there to investigate matters such as lifestyle trends and consumer behavior.
For example, the type of residence that a particular viewer lives in, and his or her preferences in food, fashion, and leisure. Collecting and analyzing the data of individual consumers from various aspects allows us to see the kind of programs that are watched by people living certain lifestyles.
Currently, I mainly undertake research that compares and studies the results of public opinion polls conducted by various media. While polls may seem fair, actually, their results fluctuate according to the wording of questions and choices, and at times, these results may even be distorted.
Take the poll on collective self-defense, which was a topic some time ago. A newspaper company offered the choices of "Should be allowed to fully exercise," "Should not be allowed to exercise," and "Should be allowed to exercise to the minimum extent necessary." When you qualify a choice with "to the minimum extent necessary," voters without strong opinions will choose it as they will think it cannot be helped if necessary.
By mixing in a choice that uses the wording of those acceptable to the idea and making it look neutral, the responses of people on the fence were controlled. This is a problem, as it gave the result showing a majority being acceptable to the exercise of collective self-defense.
Democracy is protected by knowing and understanding the thoughts of others
Recently, with the rise of social media, it has become more difficult for mainstream media of the past—such as television and newspapers—to shape public opinion. Social media makes it difficult to pick up the neutral voices of a majority because the opinions of highly vocal people stand out and are easily amplified.
There is a real need to shape public opinion by increasing opportunities for people to encounter television and newspaper reports based on fair polls. In particular, the younger generation tend to prioritize topics that are shared with friends that have similar values, and I am concerned about the decline in their interest regarding politics and public issues.
In modern times, it is easy for gaps to widen and division to occur. To uphold democracy, we must strive to know and understand the thoughts of others. Therefore, conducting polls that accurately understand public opinion and announcing those results is crucial.
The book I recommend
"Yoron Chōusa towa Nandarōka" (What Are Public Opinion Polls)
by Hiroshi Iwamoto, Iwanami Shinsho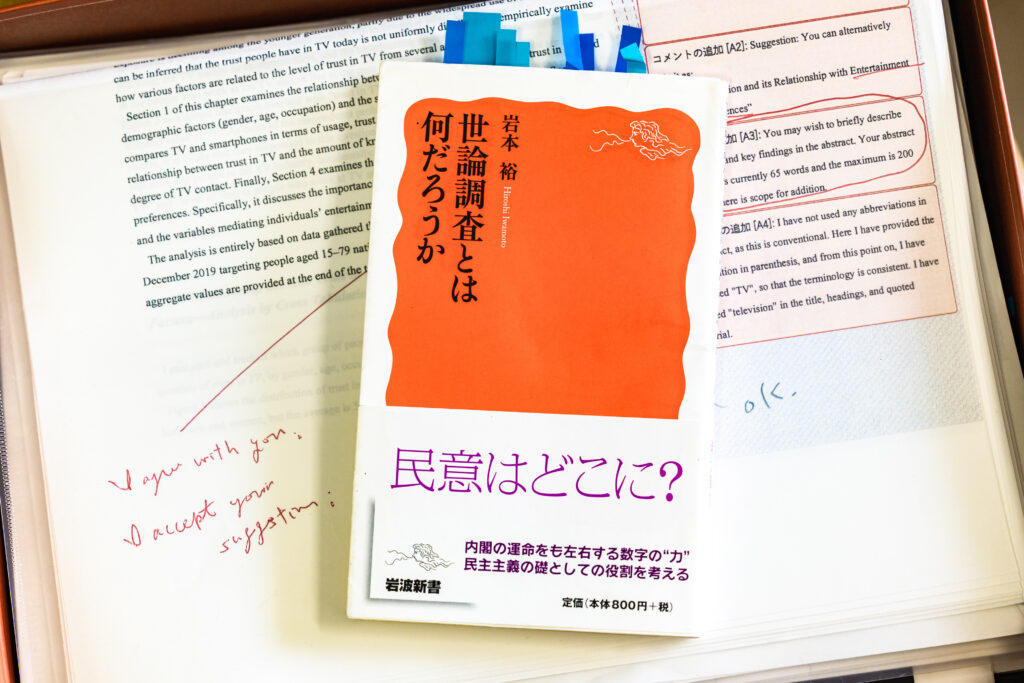 The author used to work as a researcher at NHK Broadcasting Culture Research Institute (NHK is Japan's only public broadcaster). For Japanese citizens and voters who are neither for nor against an issue, what are their choices, and what do they choose? This book allows you to understand public opinion polls which play a fundamental role in democracy.
Hisanori Watanabe

Professor
Department of Journalism
Faculty of Humanities

Graduated from the Department of Social Psychology, Faculty of Letters, University of Tokyo, and received his M.A. in Social Psychology at the university's Graduate School of Humanities and Sociology. Worked at Tokyo Broadcasting System Television before assuming his current position in 2010.