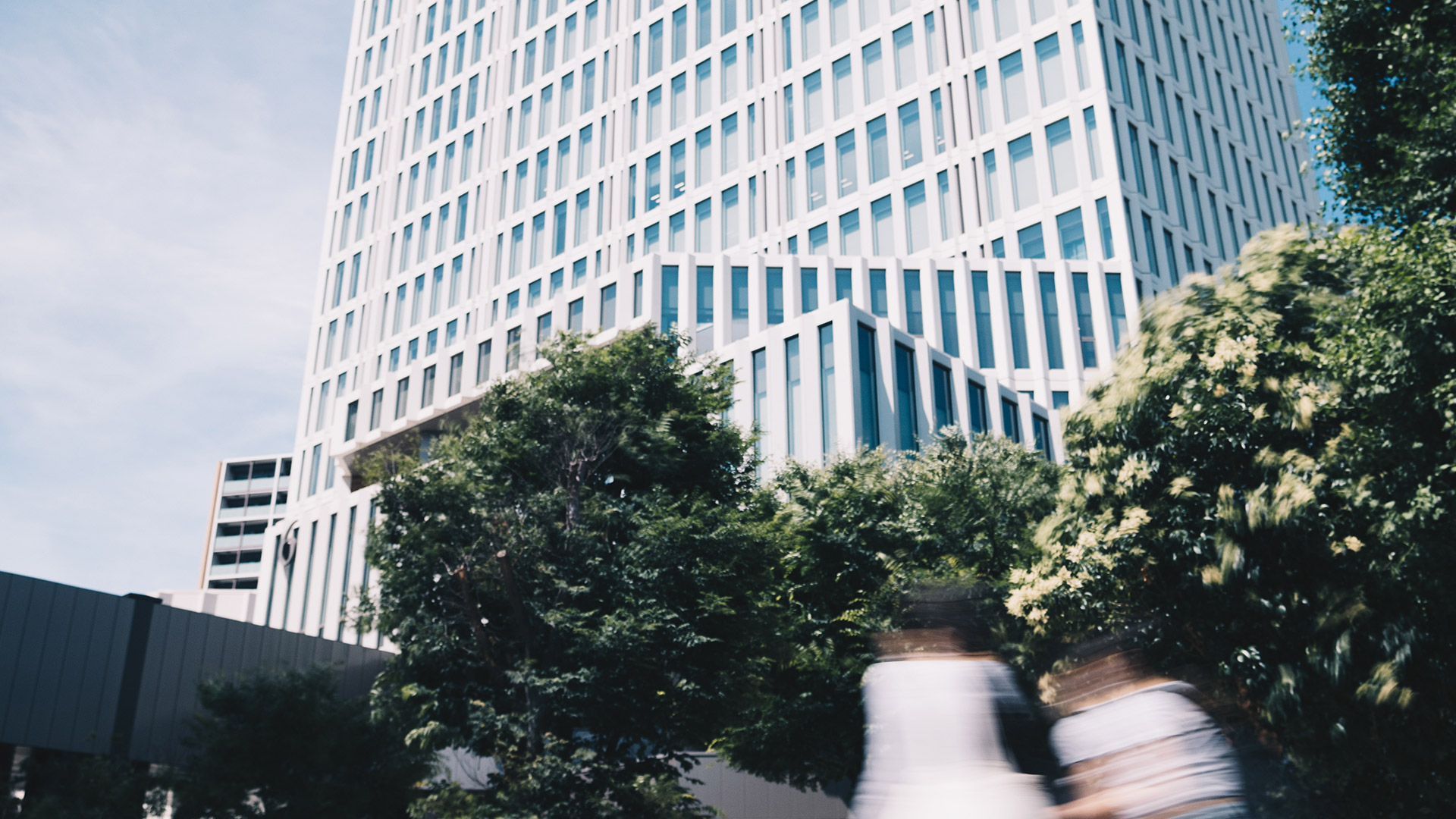 Training legal experts in collaboration with outstanding business professionals

As a professional graduate school, the Department of Juris Doctor Program (Law School) aims primarily to nurture personnel who will become legal professionals (judges, prosecutors, and lawyers) in the future. By providing a new type of legal education that embodies a bridge between theory and practice for people with diverse backgrounds, we aim to nurture legal professionals who can contribute to society from a broad perspective, can think legally from multiple perspectives, and are truly sought after by society.
Even if they do not practice law, the program aims to nurture legal professionals as "Juris Doctor" who will be active in various fields, such as international organizations, public service, and corporate legal departments. Many of our graduates have gone on to become lawyers, judges, prosecutors, corporate lawyers, and other legal professionals in a variety of fields.
Curriculum
The curriculum consists of five categories: Basic Legal Subjects, Basic Legal Practice Subjects, Fundamental Law and Adjacent Subjects, Advanced and Developing Subjects, and Research Thesis, and is designed to organically link theoretical education with practical education and to enable students to acquire basics and applications of law in a step-by-step manner. The curriculum also features a variety of courses in the areas of international relations law and environmental law, especially in relation to the Department of International Legal Studies and the Department of Legal Studies of the Global Environment in the Faculty of Law at Sophia University, which is the foundation of the Law School.
Based on the basic system of legal education, the curriculum is unique and advanced, with a focus on the needs of modern society, and is ideal for acquiring the total skills required of future legal professionals.
Granted Degree
Professional Degree Course: Juris Doctor
Program Features
Cultivating Humanistically Rich Legal Professionals
Based on Sophia University's educational spirit of "for Others, with Others," the program provides a flexible and attentive education for legal professionals with high ethical standards and a rich sense of humanity, as well as specialists in international relations law and environmental law through flexible and detailed education.
Distinctive Educational Programs
Through classes such as the "Environmental Law and Policy Program," the only one of its kind among law schools in Japan, which fosters legal professionals with a strong commitment to environmental law, the "International Arbitration and ADR" workshop, which includes mock arbitration and mediation, and a substantial externship and legal clinic, the program provides many opportunities to develop a clear sense of professionalism and problem consciousness. The school provides many opportunities for students to gain a clear sense of professionalism and awareness of the issues involved.
Balanced and Optimal Curriculum
The program offers a well-balanced distribution of basic legal subjects that serve as a foundation for legal education, basic law and related subjects that broaden students' perspectives, advanced subjects that meet the needs of the times, and practical subjects that enable students to apply the knowledge they have learned. Through collaboration between researchers and practitioners, we cultivate balanced thinking, deep insight, and flexible logical thinking skills essential for legal professionals.
Educational Policies
The Law School aims to train human resources capable of thriving as a legal specialist in the future such as a judge, prosecutor, or attorney. Human education rooted in Christian humanism is applied to legal ethics, adjacent sciences, and basic law subjects to foster legal specialists extensively contributing to society. What makes us unique is our way of cultivating legal specialists for the 21st century through multi-faceted approach to international issues and environmental laws and policies.
The Juris Doctor Program sets standards for the skills and knowledge students should acquire before graduation as described below: Those who fulfill the specified graduation requirements shall be deemed to have acquired these qualities and will be awarded a diploma.

The expertise, thought and skills required of a lawyer (judge, prosecutor, or attorney) who works widely in society
The ability to understand global issues, especially issues associated with international relations and law and environmental law, which are featured in this program; and to engage in specialized debate on how to solve issues
The ability to contribute to society as a lawyer with the responsibilities and ethics of an expert founded upon Christian humanism
The ability to take leadership as a lawyer with high legal skills supported by extensive intellectual curiosity and communication skills in addition to expertise
In accordance with the diploma policy, the Juris Doctor Program constructs its curriculum with courses aligned to the following purposes:

Expose students to the ethical education and basic legal practice education expected of a jurist in the first half of the curriculum and offer full-fledged Practical Courses in the latter half, to achieve a phased connection of theoretical studies with practical studies.
Have students acquire the professional legal knowledge and thinking required for legal practice by taking a balanced combination of basic courses in law and legal practices, as well as applied and advanced courses through their three years in law school.
Have students acquire the sense of responsibility and morality of a jurist through Practical Courses such as Legal Ethics; and have them acquire the qualities of a jurist with high respect for humanity by taking a wide variety of courses, including Basic Jurisprudence.
Have students acquire a broad knowledge of international law and environmental law by taking associated courses.
Grades will be assessed employing a strict and fair method based on unified assessment criteria, thereby maintaining and guaranteeing a certain academic level among graduates.
Juris Doctor Program (Law School) seeks students with the following qualities:

Students with a clear and eager vision of contributing to society as a lawyer after acquiring a "Juris Doctor" degree
Students who understand Sophia's educational principle of "Men and Women for Others, with Others" and can contribute to society as a lawyer rooted in Christian humanism
Students with the determination and qualities to become a true lawyer embracing the wisdom to be able to live up to the philosophy and demands of "Lux Veritatis," depicted in Sophia University's school emblem and song, and remain unsusceptible to trends, as well as an insight into the true nature of matters
Faculty Members
Tomomitsu IWASHITA Professor
Shoichi TAGASHIRA Professor
Yasuyuki NAGASHITA Professor
Yumi SATO Associate Professor
Sakuya HAYAKAWA Associate Professor
〈 Technical Teacher 〉
Yoshifumi ASAYAMA Professor
Masataka IWASAKI Professor
Hiroyuki SHISHIDO Associate Professor