All the learnings, challenges and experiences at Sophia will come alive in society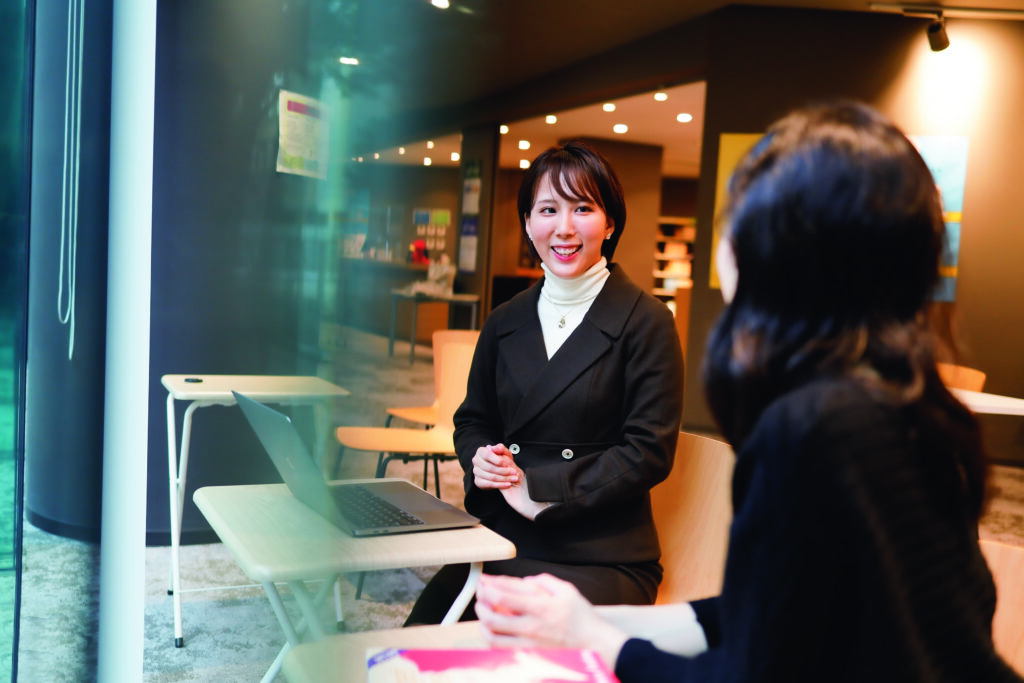 Study abroad, extracurricular activities, clubs, volunteer work, internships – fulfilling their dreams to grow themselves as individuals. Students who have challenged themselves speak about how they've changed and grown from enrollment to the present.
You only live once. Be proactive and take on any challenge. (Kojima)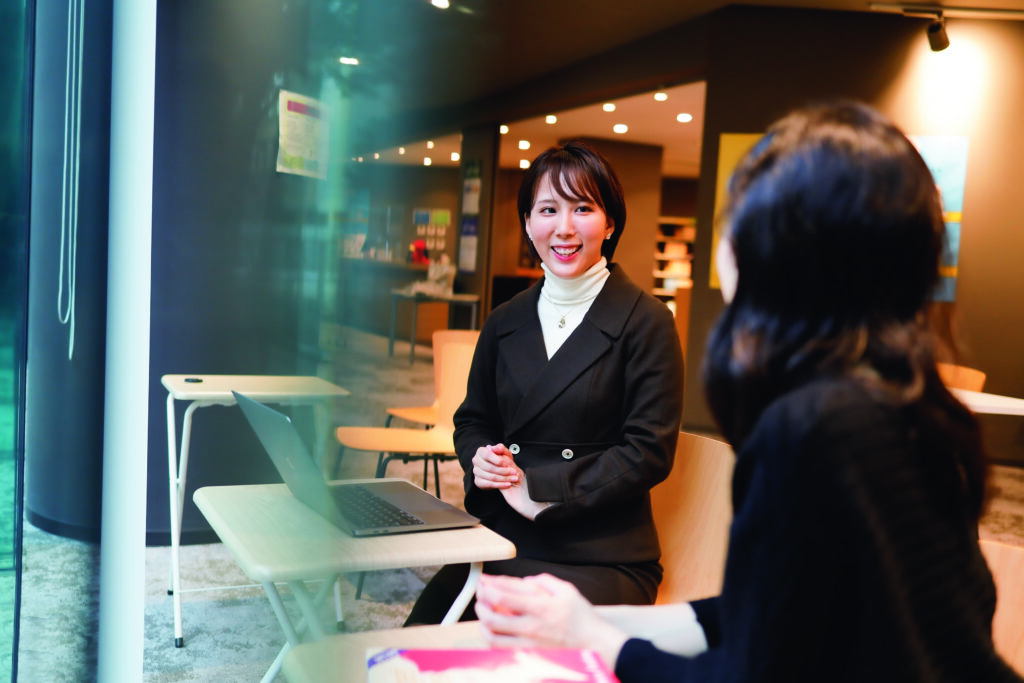 Aya Kojima, Maruha Nichiro Corporation, Bachelor of Global Studies, Department of Global Studies, Faculty of Global Studies (2018), Master of Global Environment Studies (2020)
Yamamoto: I have recently started job hunting. There are two main core values with my job hunting. One is that I can be involved with different people and go to different places, and experience large changes. The second one is that I have the opportunity to work abroad. However, I have not yet focused on a specific industry and am still looking at variety of industries. Kojima-san, did you decide to go to graduate school from the beginning?
Kojima: I was always interested in the UN or NPO, but it was food issues that caught my eye while studying international politics as an undergraduate. To study environmental threats, one of the primary causes of food issues, I decided to go on to the master's program in global environmental studies.
Yamamoto: What made you to work for Maruha Nichiro instead of the UN or NPOs?
Kojima: When I studied about CO2 emissions, I realized the changes should be made by the company first. Thereby, I wanted to be the one to make a change to the society from the company's side. It is the UN that decides on treaties, but the companies are the ones to actually work on them. My core value for job hunting was environmental issues and our company is actively involved in donation for food loss reduction. However, most of all I liked are the atmosphere of the company and the personalities of the employees.
Yamamoto: Please tell us more about your company's atmosphere and the employees' personalities!
Kojima: At the final interview I was asked what had made me angry recently. I answered, "I was angry as my mom said to go and fail the interview since I didn't make the bed." Then at the very end of my interview, the senior executive who is now a president of the company said, "Please tell your mother that you passed the interview and now have a job offer." That's when I thought I would definitely join the company with a sense of humor.
Yamamoto: Being offered a job on the spot like that, it's so dramatic! Are there any key factors to recognize a good personality?
I want to look at different companies and pick what fits me the most (Yamamoto)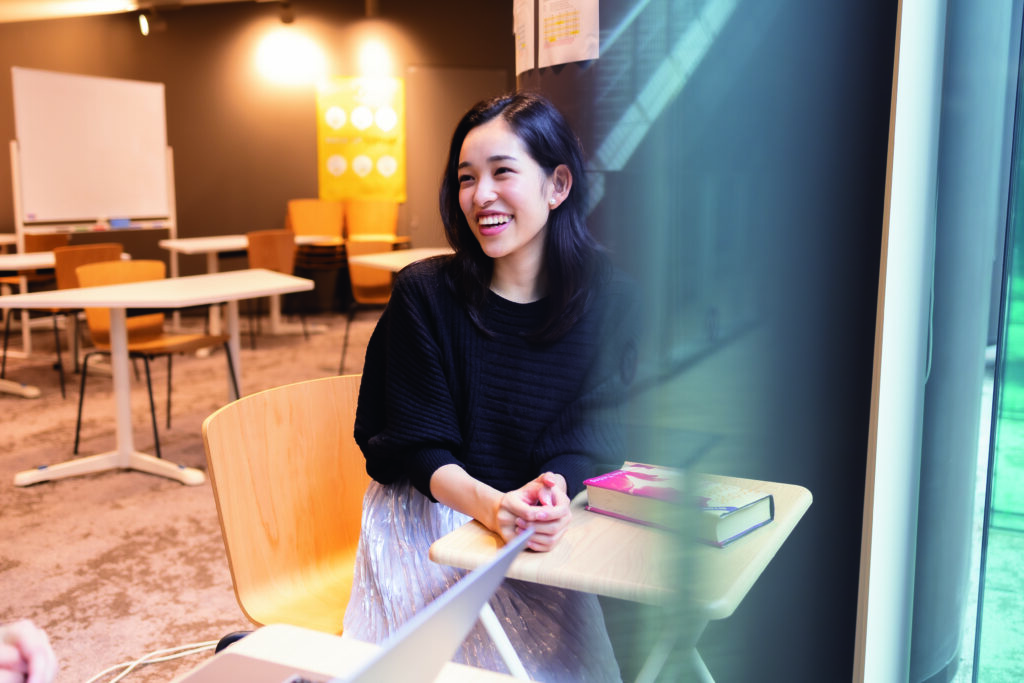 Natsuho Yamamoto, Department of English Studies, Faculty of Foreign Language, 3rd year student
Kojima: It is somewhat hard to describe good personalities with words. When I participated in internships at other companies, I felt it hard to speak up or remain at the company. So, I would say it is to feel comfortable and happy in the place. Have you done any internships?
Yamamoto: I have been doing a long-term internship since I was a freshman at a company started by an alumnus of the English Department. During a short-term summer internship at a manufacturer that I had not even considered before, I unexpectedly had so much fun and this broadened my horizons. I would love to hear about your internship experience!
Kojima: I was flustered to hear the stories of how alumnus and those who were offered work had worked so hard at job hunting at Yotsuya Kai(*). Then I was invited to do a long-term internship as a tele-appointment sales agent, which I started immediately. I did not do many internships, but I felt it would be a waste not knowing about small business and ventures, so I guess I tried to look them to some extent.
Yamamoto: So, it's important to feel what fits the most by looking at many companies. Can I ask you about your days in university? I started cheerleading in university and I found it so great to be on the stage together with teammates unlike being an assistant manager in high school. It was hard at the beginning, but everyone around me has supported me.
Kojima: My memorable moment would be when I went to slums in the Philippines as a volunteer to teach music in the summer holiday of my 3rdyear. Realizing the shortage of music instruments, I participated as a volunteer the following year and donated guitars, pianicas, recorders and other instruments that I had collected. Through this experience I thought about the next time and how I would make the most of it, even if I failed. I was also a member of light music circle and did many part-time jobs. I wanted to experience as much as I could since we only live once.
Yamamoto: That's right, you only live once! Now, I am eager to try anything after hearing your talk. How did your studies at Sophia help you after you started working?
Cherish the community outside of your field because there is so much to learn (Yamamoto)
Kojima: I had always sought for "Why" since there were many opportunities for discussions and presentations, and I could not convince the professors of my opinions just by a talk based on my research. Thanks to this practical experience repeated many times, I have gained the strength to not hesitate in public. I have also learned to think how to make things better by accepting all the opinions from different countries. Especially, people from abroad respect their own opinions.
Yamamoto: You can say that again. People who do not share their opinions would be treated as if they are sleeping or they don't exist, especially online. That is why I really think speaking up is very important.
Kojima: I hope you will actively participate in lectures while you are still a student since Sophia University is known for its reputation of being one of the most global universities in Japan and has strong connection with the UN. I would also recommend the study abroad program if you have chance! Now come to think about it, I do regret not joining the program since my friend who studied abroad from the second semester of the freshman year improved her English skills, and I was also able to see how much she had grown through that experience.
Yamamoto: There is a program which offers you a chance to visit the United Nations Headquarters, right? I was planning to apply for it once I took the United Nations English Proficiency Test during my sophomore year. Unfortunately, I lost the chance due to the COVID-19 pandemic, and I regret I hadn't just tried to apply. I really hope freshman join circles or clubs or any other community that's new to them! There is so much to learn meeting people, and I believe working together makes friendships become stronger.
*Yotsuya-kai: Sophia University job hunting support organization established in 2017. It is a platform to connect Sophia students with its alumni from various industries. The organization holds group discussion lectures and seminars.