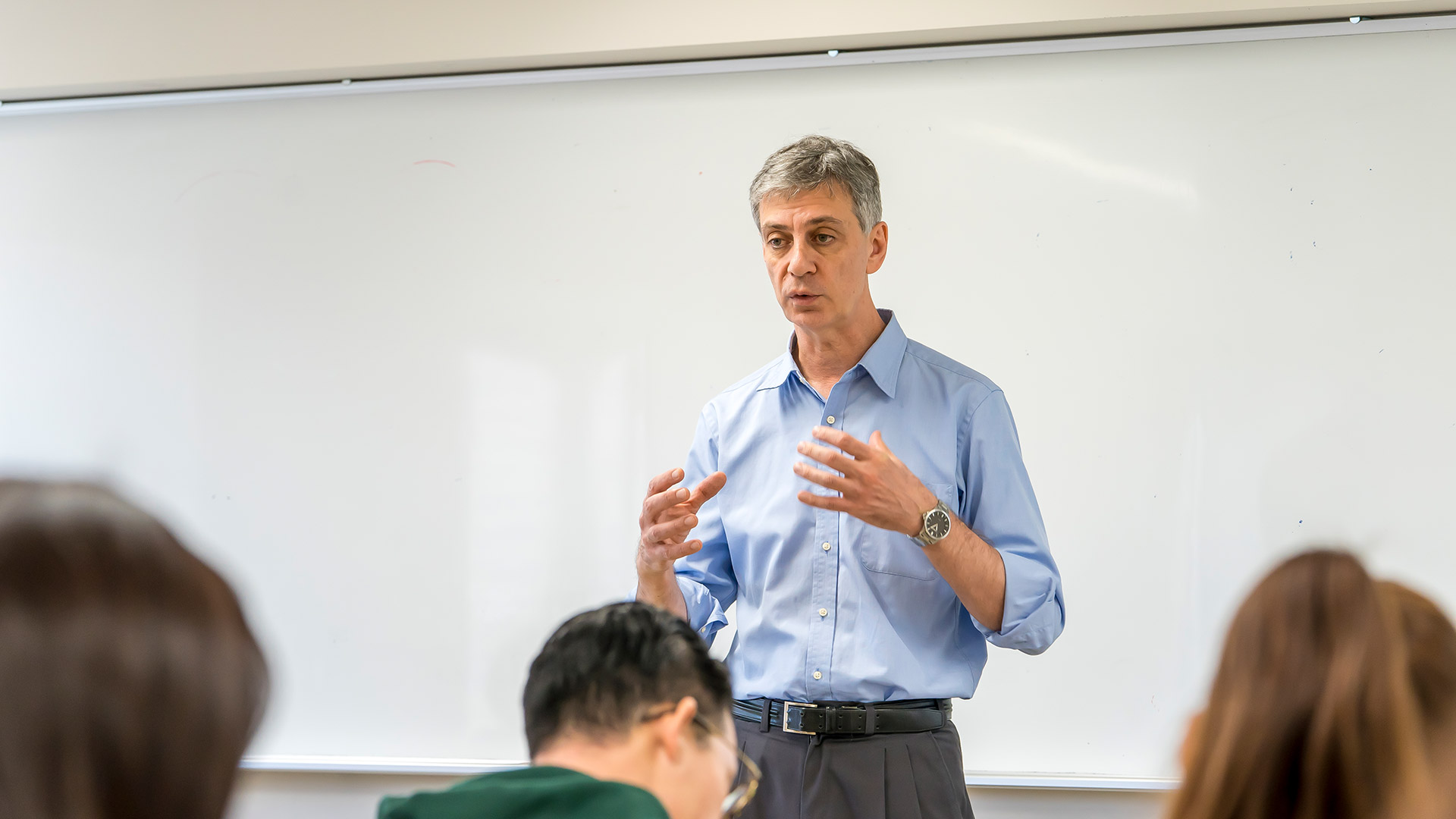 Study biblical and Christian beliefs, ethics, and tradition to consider real ideals of mankind and society
Department Features
The Department of Theology was established in 1958 to train priests. Today, it is open to all who wish to study Christian ethics and culture, and graduates can pursue a variety of career paths. Students undertake a systematic study of biblical and Christian traditions, consider what these traditions teach us with respect to the world we live in, and seek to acquire solid values in today's chaotic society and look for the true ideal of human beings and society.
Our ultimate aim as the only theology department in Japan is to produce priests, ministers, and teachers of religious studies who will make a meaningful contribution to our modern society.
The only Pontifical Faculty of Theology in Japan
Along with the theological faculties of traditional Jesuit universities in the world, Faculty of Theology at Sophia University is accredited as Pontifical Faculty of Theology and is open to students to receive certain degrees in Sacred Theology, STB/STL/STD.
Curriculum
During the first and second years, students focus on subjects related to the Old and New Testaments, the basics of Christian doctrine, the relation between Christianity and philosophy, and the history of Christianity to gain a basic understanding of Christianity. From the third year, students focus on further advanced and specialized studies building on the basis developed in the first two years. Specialized studies are divided into three fields: "Theology" for doctrinal studies and church history, "Christian Ethics" for bioethics and social ethics, and "Christian Culture" for Christian ideology and art. Finally in the fourth year, students write a graduation thesis on the results of their research, under a theme of their own choice based on their studies conducted in the three years prior.
* Please refer to the syllabus for more information on the courses.
Course Examples
Jesus Christ I

The term "Jesus Christ" is a theological assertion concerning Jesus of Nazareth, a real historical figure, rather than a proper term. We will explore the nature of Jesus of Nazareth as seen in the New Testament.
Christian Literature I

Through Japanese and Western literature inspired by the Christian tradition, students will explore the connections of theology and literature to deepen their understanding of Christian culture and faith. At the same time, students will acquire basic methods of analyzing literature.
Christian Worship

Students will learn about the genesis and development of Christian worship, the symbols used in worship, and the essential nature of human religiosity and the importance of ritual in our lives. Students will also deepen their understanding of Christian art, architecture, and music.
Study on Peace

By studying current global issues (war, civil conflict, terrorism, disease, etc.) with literature and DVDs, we will consider what "peace" means and ways to build a world of peace.
Catholic and Protestant

We examine the differences and similarities among the doctrines of denominations including Roman Catholic Church, Protestant Church, and Anglican Church, and consider ways to deepen mutual understanding and the nature of dialogue for the future.

 
Eschatology

Considering the eschatological end means meditating on the ultimate meaning of life, which leads us to the core of a religious outlook toward the world. While exploring these ideas, we will investigate the origins of hope in Christianity.
Available Teaching Licenses and Subjects
First Category Teaching license for Junior High School (Religion/Social Studies)
First Category Teaching license for High school (Religion/Civics)
Curatorial courses are available.
Educational Objectives and Policies
To contribute to the innovative development of Christian values by providing education on Catholicism based on its historical evolution with theology at its core, Christian ethics, and Christian culture.
To develop global citizenship personnel and clergy/teachers with an education based on Christian values to contribute to the Catholic Church and the international community.
Department of Theology at Sophia University stipulates four types of knowledge and skills as degree requirement learning goals to be accomplished by students before their graduation and degrees are approved as follows:

The ability to acquire a solid grounding in Catholic theology and its values as well as the ability to approach issues in the modern world academically and make a practical commitment based on this grounding.
The ability to analyze and discuss issues in the field of students' choice as well as well versed in their areas
Academic skills in research, discussion, and presentation on the study of theology.
The ability to complete a graduation thesis on a topic of students' field of study.
Based on diploma policy of Department of Theology at Sophia University, curriculum of the department of theology is laid out as following groups of courses:

Courses to cultivate a basic knowledge of Catholic theology
Compulsory elective courses that allow students to deepen their studies based on their interests and specialization along with the "field" of their choice: Theology, Christian Ethics, or Christian Culture
Mandatory courses to develop academic skills in research, discussion, and presentation for the study of theology
Mandatory courses to develop problem-solving and presentation skills in preparation for writing a graduation thesis
Specialized theological courses required for the international degrees (STB/STL/STD) approved by the Pontifical Council for Theological Studies as well as courses related to missionary practice to respond the needs of the Church.
Department of Theology focuses mainly of Catholic theology thereby we accept following students:

Students with basic knowledge of Christianity
Students who are open-minded with different cultures and internationalism
Students who have concerns for human dignity and social justice as well as who are engaged in volunteer work or other activities
Students who wish to contribute to the Catholic Church and to society

In order to actively accept students with diverse backgrounds, we have established multiple examination systems, and in addition to Japanese, we conduct examinations of English and other language skills and knowledge of history, and emphasize interview examinations. In addition, in order to accept a diverse range of people from society, including candidates for the priesthood, we have established a transfer admission quota.