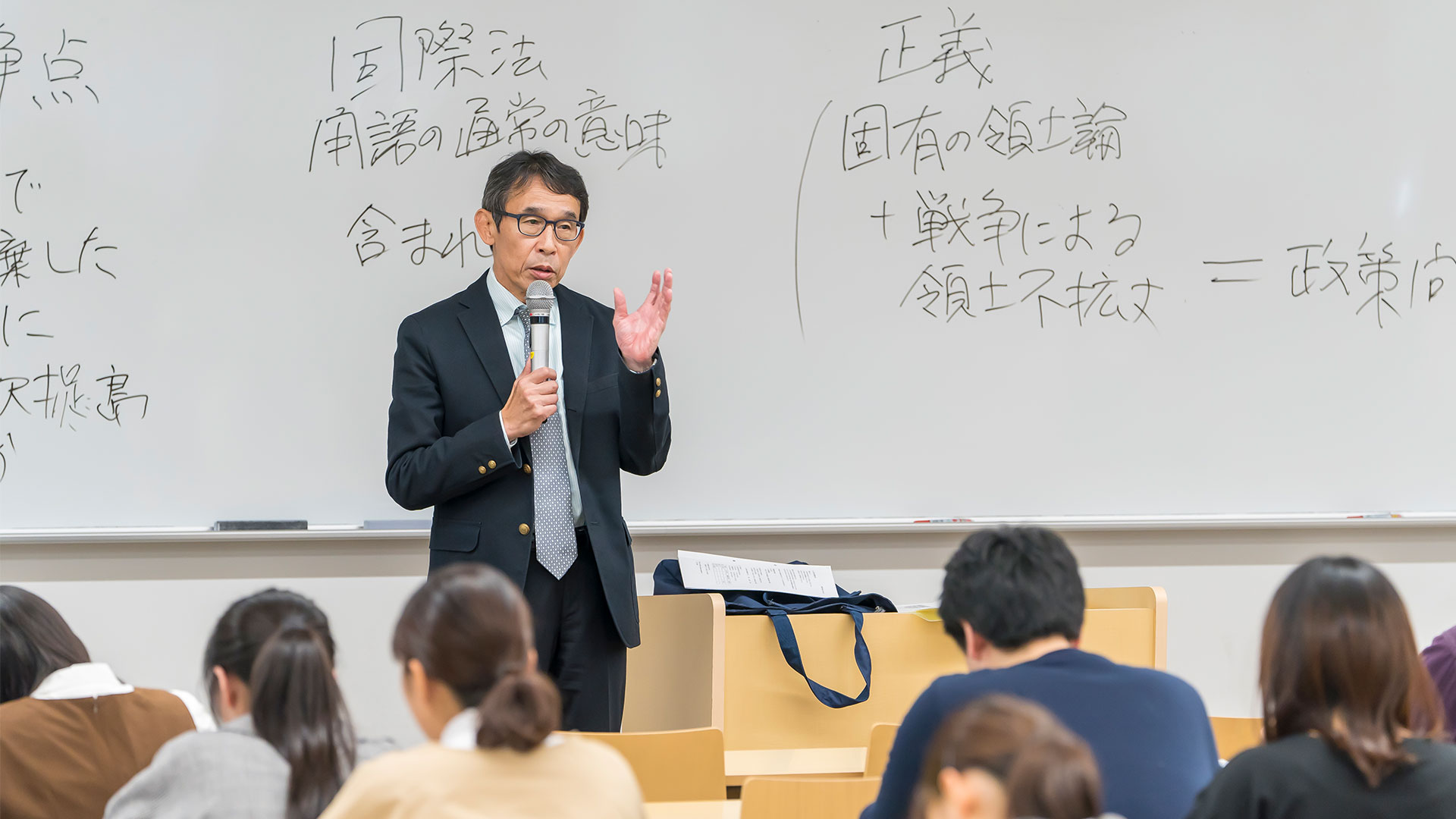 Focusing on legal and political issues in an increasingly complex and sophisticated international society
Features of the Department
With the globalization of the economy and the development of science, technology, and information and communication, all events in today's society bear some form of internationality. In the Department of International Legal Studies, students study law on international relations in order to acquire the ability to analyze various problems in the international community. On top of the strong foundation in domestic law, students will study international relations from the perspective of political science and will be trained to become diplomats, officials of international organizations, international lawyers, and international legal affairs staff in corporations, who will be active players in the international arena of the future. Of course, language skills and cultural education are also important in the international context, and we provide a well-balanced arrangement of courses to meet such demands.
[International Law] Legal Solutions to Complex and Diverse International Problems
The issues that the international community needs to address are becoming increasingly complex and diverse. Issues such as human rights abuses, taxing global conglomerates, space exploration, creating a decarbonized society, countering infectious diseases, cyber-attacks, and the proliferation of weapons of mass destruction immediately spring to mind. States address these issues according to their own policies, sometimes invoking sanctions against the source country, while at other times agreeing to create a cooperative framework for international regulation. We will consider the ways in which the law of international relations can be involved in and contribute to the resolution of these issues.
[International Politics] International Structural Change and Major Shifts in the World Order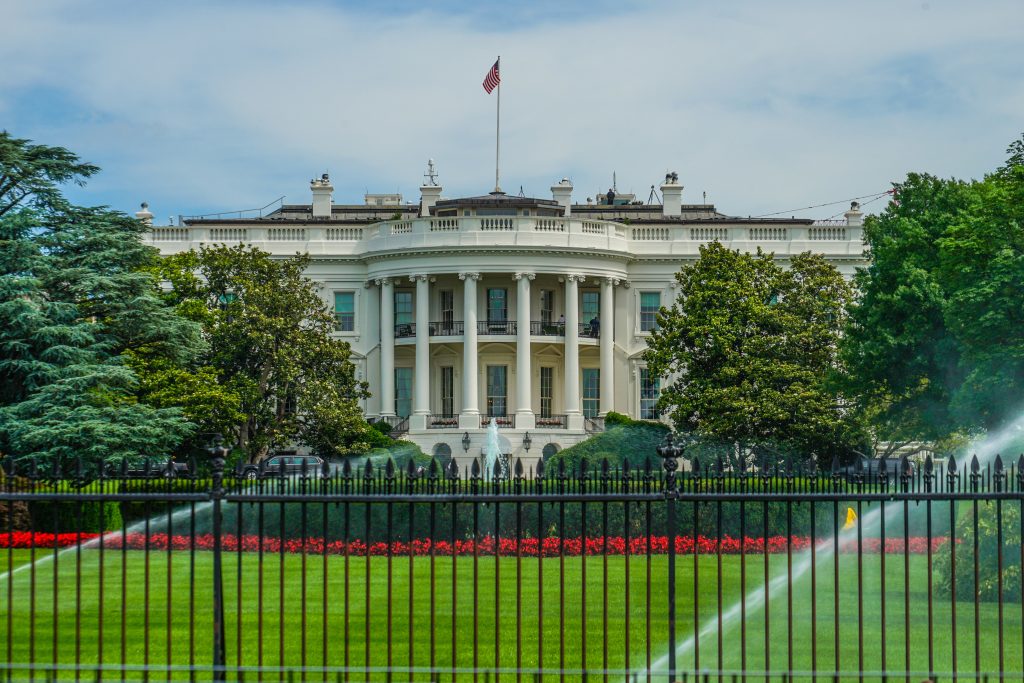 We are currently living through a critical turning point in international relations. The events described as the U.S.-China confrontation, the new Cold War, etc., is of major significance. Since World War II, the United States has adhered to the principle that a liberal and democratic international order is the only way to peacefully unify the world and has tactfully put this into practice in diplomatic relations. However, as a result, China and Russia, with their increased power, are now trying to compete with the liberal world, not only in military, economic, and business affairs, but also in the sphere of social life. How do we react to these emerging powers? Conflict or coexistence? This is the challenge we face.
Curriculum
In the first year, students learn the basic method of studying law and political science, take basic law courses such as The Japanese Constitution and General Provisions Civil Code, and then deepen their study in international-related courses such as International Law, International Private Law, International Business Law, and Common Law. In addition to basic legal studies, students will acquire the ability to systematically understand diverse world events and international relations from diverse perspectives with courses such as Political Science and International Politics. After special lectures by invited lecturers from the Ministry of Foreign Affairs and other ministries who have practical experience, students are exposed to real-life law and politics, and in the compulsory Seminar in the fourth year, they hone their abilities to tackle specific issues.
* Please refer to the syllabus for more information on the courses.
Course Examples
International Law

Students will learn the historical background of international law, the structure of which differs greatly from that of domestic law, and the concepts and systems that form its basic structure, such as: its structural formation, the subject matter of international law, the basic rights and obligations of states, and state jurisdiction.
International Private law

Students will learn the basic concepts and theories of private international law, which is the domestic law governing relationships between private parties such as international marriage and international contracts, and deepen their understanding of the purpose of the articles of the General Rules of Law.
International Dispute Settlement

Students will learn how international law is involved in the various international disputes that Japan and the international community face, examining the process and means of handling such disputes, as well as compulsory measures and international tribunals, and using specific examples of disputes as their subjects.
Political Science

The course aims to analyze various social phenomena from a "political science perspective" and to understand the characteristics and usefulness of the analytical framework of political science, distinct from that of law and economics. Students will acquire the ability to understand complex social phenomena from a political science perspective in a systematic manner.
International Bussiness Law I, II

Using domestic and foreign precedents, case studies, and actual contracts as subjects, students will comprehensively study legal issues related to commercial transactions, with a focus on international sales contracts, from a variety of angles, including applicable laws, entities, contracts, regulations, and dispute resolution.
International Economic Law

This course is designed to provide students with an overview of the legal system and policies of the modern international trade regime, with a focus on the GATT (General Agreement on Tariffs and Trade) and the WTO (World Trade Organization), and the ability to understand the interpretation of individual articles.
Available Teaching Licenses and Subjects
Law students are not eligible to take teaching courses.
Curatorial courses are available.
Educational Objectives and Policies
To acquire analytical skills in international relations based on law and political science, as well as language skills and a broad range of knowledge essential in the international arena.
To train UN officials, diplomats, and other professionals who aim for international careers, international lawyers, and researchers who can respond to the growing demand of international academic exchange.
The Department has established the following abilities and knowledge that students should have upon graduation, with the aim of cultivating human resources who have acquired the following abilities in order to build an international society that fully embraces the universality of human rights, the equality of sovereignty of each country, and regional diversity. Upon completion of graduation requirements, students are recognized as having mastered these requirements and are awarded a degree.

The ability to have a broad interest in various issues in the international community and the intellectual curiosity to search for and acquire the knowledge necessary to consider these issues.
The ability to analyze issues in international society based on legal and political thinking skills
The ability to understand the particularities of each region of the world and to adapt to the various norms of different legal cultures and political cultures.
The ability to communicate ideas in an international setting, using state-of-the-art legal and political knowledge.
The Department organizes its curriculum in accordance with the Diploma Policy as follows

To provide students with a literacy in law and political science, and to acquire the basic methodology for setting up and examining given issues in a legal and political science context.
Systematic educational building of theories of domestic law and politics, international relations law, and international politics, which will function as a basic formula for analyzing various issues in the international community.
In small-group, seminar-style classes, students will apply the theories and methods they have acquired to specific problems in the international community to provide an insight to propose
Nurture the ability to communicate the results of research with extended global consciousness.
In this department, faculty members and students will work together to analyze international relations from legal and political science perspective and seek solutions. To this end, we accept students with the following traits

Strong interest in recent international issues such as diplomacy, security, conflict, refugees, commerce, marriage, and so on.
Observational and analytical skills to inspect the cultural and political situations in different regions of the world without
Competent level of language proficiency that will serve as a foundation for building international careers.
Faculty Members
Atsuko KANEHARA Professor
Shigeki KUSUNOKI Professor
Naoko MATSUMOTO Professor
Tetsuo MORISHITA Professor
Fumihiko AZUMA Associate Professor