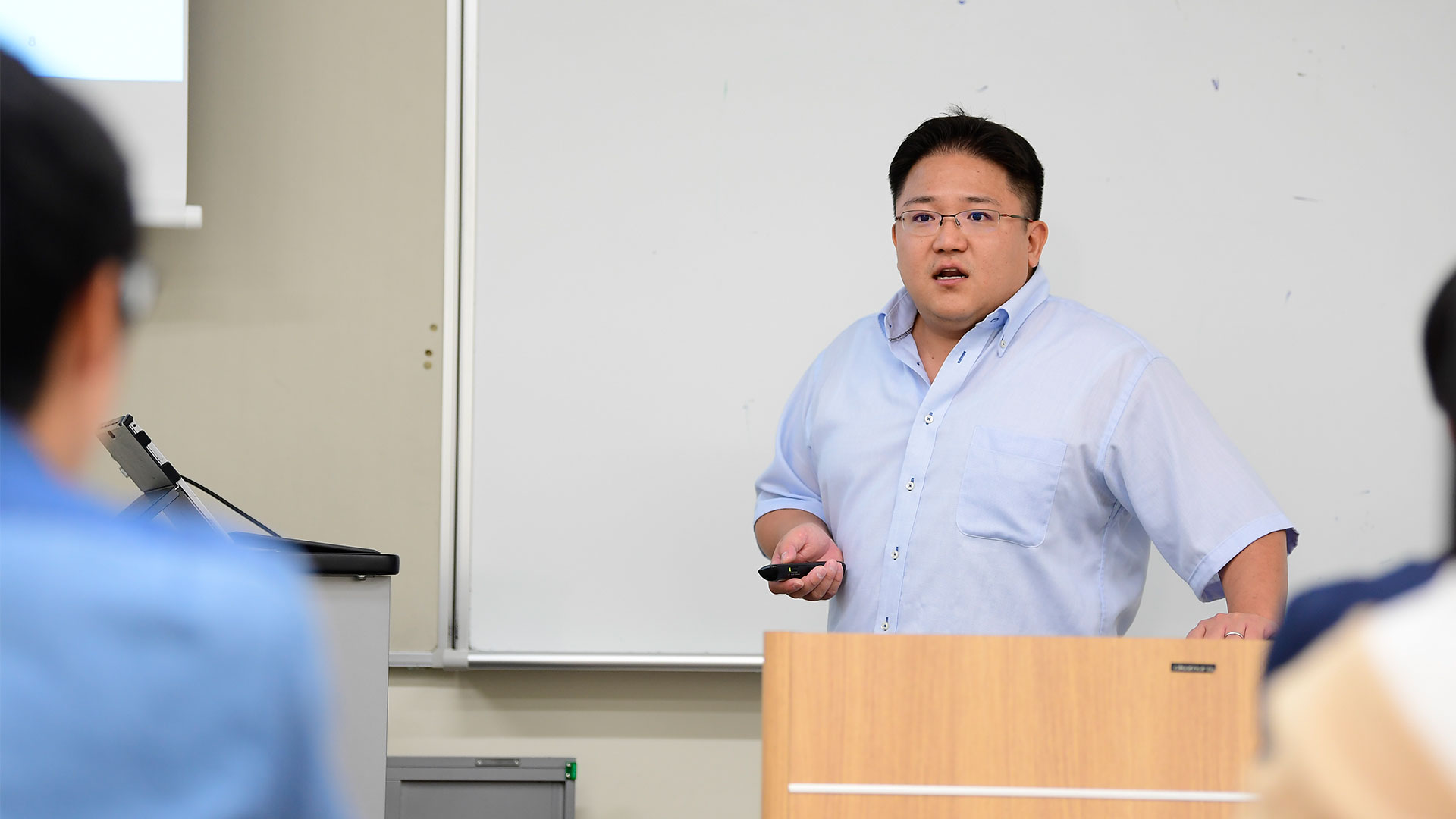 Explore the mechanisms of all social phenomena with intellectual curiosity and unique perspectives
Department Features
In order to realize a fair and free society, the Department of Sociology aims to elucidate the mechanisms that produce various inequalities and injustices, and to explore social institutions and social consciousness in which diverse values and lifestyles can coexist. For the sake of human dignity, based on the perspective of the interrelationships between society and the people in it, the program targets various social groups and social systems, from human birth to death, and fosters the acquisition of theoretical and empirical knowledge and its application to actual society. With an emphasis on international perspectives and liberal humanity, the program cultivates people capable of comprehensively analyzing new social phenomena and social problems, and of conceptualizing and proposing policies and practices from a constructive perspective in government, business, and local communities to improve social systems and the social environment.
The Department of Education offers a degree program with the SPSF (Sophia Program for Sustainable Futures) and instruction in English.
Bachelor's Thesis Themes
Past students have worked on the following topics for their bachelor's thesis (excerpts)
Vegetarianism as a countercultural movement
Cashless society
Revitalizing local communities through music
Urban development in Ginza
The customer service industry and women
Ethnical business
Employment gap
Professional status of stage actors
Job hunting by students graduating from overseas universities
"Desirable" actions in modern society
Single-parent households and their gender roles
The social construction of "reality" in the early Showa Period
Heterosexuality in the drama scene
Relationships between stuffed animals and people
Fashion
Curriculum
In the first and second years, students first learn sociology from basic theories, gradually deepening their sociological perspectives and thinking. In addition, students acquire skills to collect data which is necessary for conducting research about society. In the Research Exercise classes, students will develop the ability to apply and analyze various social phenomena as specific themes. The Research Exercise classes are also an opportunity to prepare for the Seminar classes in the third year and beyond, which involve group activities such as joint research and debate. Specialized courses that delve into various aspects of society are offered in the second through fourth years. In the fourth year, students consolidate the knowledge and thinking they have cultivated up to that point and prepare for their graduation thesis and seminar papers.
* Please refer to the syllabus for more information on the courses.
Course Examples
Cultural Sociology

The themes of this course will be self-help seminars, esthetic clinics, fortune telling, and other forms of "self-discovery" and "healing" that are deeply related to personal identity (i.e., spiritual culture), and will examine their reality, social background, and relevance to the lives of modern people.
Sociology of Sexualities

This course aims to reexamine the "common sense" of modern society regarding gender roles and gender differences, to understand that these are "created" in modern society, and to develop a perspective that captures the reality of diversifying sexes.
Sociology of Aging and Generation

This course will consider what aging means in today's society with its increasing longevity. We will discuss the current situation and problems of aging with declining birthrates, family and inter-generation relationships, social relations, and various issues surrounding aging.
Sociology of Globalization (Taught in English)

This course examines the impact of the phenomenon of globalization on societies and people from multiple perspectives—economic, political, and cultural—at the global, organizational, national, and individual levels. Classes will be taught in English.
Work and Employment in Japan

From the perspective that the contemporary world of employment and labor has been constructed at the intersection of industrialization and the emergence of civil society, we will consider issues such as work-life balance, informal employment, and social inequality regarding gender.
Sociology of Happiness (Taught in English)

Students will study concepts related to happiness and consider the extent to which methods of measuring individual and societal wellbeing can serve as indicators of the quality of a society. We will compare different societies and consider the impact of culture on our understanding of happiness. The course will be taught in English.
Seminars

Seminars are offered in the third and fourth years. A variety of seminars based on each faculty member's area of expertise are offered.
Social Research Seminar

Over the course of a year (spring and fall semesters), we plan, conduct, analyze, and report on social surveys. The Department of Sociology offers Social Researcher certification.
Available Teaching Licenses and Subjects
First Category Teaching license for High School (Civics)
Licenses
Child Guidance Counselor
Child Welfare Officer
Child Independence Support Specialist
Social Researcher
Curatorial courses are available.
Educational Objectives and Policies
To cultivate critical interest in human society, and the capacity to comprehend the mechanisms of social phenomena through the use of sociological approaches and empirical analysis.
To produce graduates equipped with sociological insights and methodological knowledge who are capable of employing an international outlook and humanitarian approach in proposing problem solving solutions in practical settings.
With an aim to foster individuals with the following qualities to achieve a fair and equitable society that protects human dignity, the Department of Sociology sets the following standards for the skills and knowledge students should acquire before graduation. Those who fulfill the graduation requirements shall be deemed to have acquired these qualities and will be awarded a diploma.

An interest in various social issues and the ability to understand social phenomena through a sociological approach
The ability to understand and analyze the mechanisms of social phenomena using basic theories and empirical methods.
The ability to understand the characteristics of the various dimensions of modern society as they relate to social structure and social change.
The ability to understand diverse others and to propose sociologically-informed solutions for creating an inclusive society
In accordance with the Diploma Policy, the Department of Sociology's curriculum consists of courses aligned with the following objectives.

Through small-group seminars, have students acquire basic sociological perspectives and knowledge of methodologies necessary for developing sociological research interests.
With regard to "theory and methods" as the basic tools of sociological analysis, have students acquire, through exposure to sociological theories, logical thinking skills and the ability to conceptualize a research interest and model its research design; and through quantitative or qualitative research skills acquired through courses in social survey methods, the ability to analyze social phenomena.
To apply the theoretical and methodological knowledge acquired to specific areas of modern society to deepen one's understanding of the structure(s) and change(s) within such areas.
To foster the ability to develop research questions based on individual concerns, and while maintaining a global outlook that respects human dignity, perform sophisticated analysis and engage in critical discussions.
In order to achieve our aim of fostering individuals who qualify for a degree, the Department of Sociology welcomes students with the following motivations and interests:

Possesses an interest in a wide range of social disciplines, including politics, economics and history, that will assist in deeply understanding diversified relationships among society, culture, and individuals.
Possesses both the ability to think logically and a proactive attitude towards communication, and a strong motivation to build on such abilities to foster a rich imagination that considers others and society.
Possesses a future vision of contributing in one's own way to realizing a fair society based on mutual understanding in which all members are respected.
Faculty Members
Jun IMAI Professor
Rokuro TABUCHI Professor
Masayuki FUJIMURA Professor
Carola HOMMERICH Professor
Yukari ISHII Associate Professor
Hiroe SARUYA Associate Professor
Ralph Ittonen HOSOKI Assistant Professor