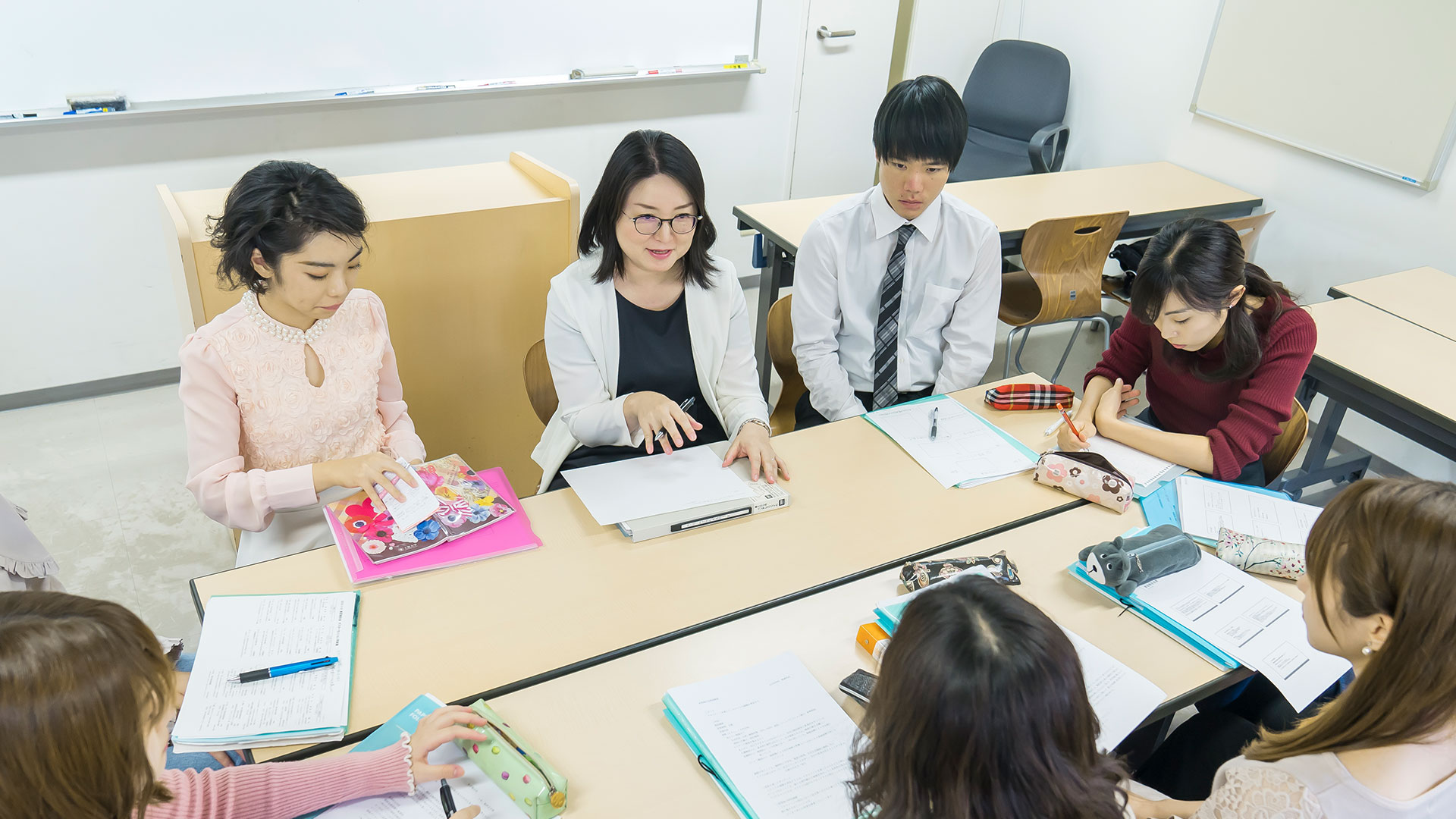 Study the "human dignity" in social and cultural contexts and envisioning the design of the welfare societies of the future
Department Features
The Department of Social Services aims not only to train professionals skilled in social services, but also develop leaders who will help to build a prosperous welfare society through creative approaches by designing a welfare society where all people can lead decent lives, formulating policies and managing operations,and nurture professionals, researchers, and educators in Social Services. To achieve this goal, we offer a curriculum that enables young academics to learn welfare theory and integrate those theories into practice through courses like field practical exercises (elective courses). Students will acquire a wide range of knowledge and education, which can lead them to a successful career in the community and welfare field, and also in general business, government, NPOs, and other organizations.
About on-site training
The Department of Social Services offers on-site practical training in facilities for the elderly, children, people with disabilities, and people in need (enrollment in practical training is optional). In the Social Work Field Practice Seminar and Seminar on Social Work Practice programs, department alumni are invited as guest speakers to talk about their in-field experience in the medical welfare area, policy-making, and management. In the Seminar on Social Work Practice II, students receive practical training at international NGOs, overseas welfare facilities, etc. as advanced practical training.
Fieldwork destinations for the Seminar on Social Work Practice
Community comprehensive support centers
Intensive-care facilities for elderly people
Orphanages
Mother-and-child living support facilities
Child development support centers
Disability welfare service offices
Disability support facilities
Council of social services
Welfare offices
Hospitals, etc.
Curriculum
The program focuses on seminar-style learning each year, starting with the Basic Seminar in small groups in the first year, and including Seminars in the second through fourth years. Students can deepen their research by discovering their own interests and themes from among the various faculty members' areas of expertise.
The field is largely composed of social services subjects, medical welfare subjects, and welfare policy administration and management subjects. While gaining a broad understanding of social services, students acquire practical knowledge that can be utilized in clinical fields of social services and in policy advocacy and administration according to their own interests and goals. In the fourth year, students will conduct their own graduation research through the Comprehensive Exercise in Social Services Practice and Theory and the Thesis Exercise.
* Please refer to the syllabus for more information on the courses.
Course Examples
Study of Welfare Policy

Social policy is not just about social security and welfare, but also about designing society itself. In order to make policy recommendations from a broader perspective, we will look at employment, housing issues, and education to deepen our study and analysis of social welfare.
Social Security I

This course provides an overview of social security, one of the major policy issues in contemporary Japan. Studying its concept, history, ideology, and content, we aim to grasp a complete outline of social security. The course also covers and studies related laws and regulations used as legal and administrative tools.
Support for Needy Persons

Poverty inherently has a social aspect, relating to housing and employment policy and stigma. Looking at the social background, history, and policies that lead to impoverishment, students will learn how to provide support for people in need.
Social Welfare for Handicap

In order to understand how society perceives disability and how it affects the lives of people with disabilities, and to find ways to support them, students study the history and philosophy of welfare for people with disabilities, as well as various systems and laws, including the Convention on the Rights of Persons with Disabilities.
School Social Work

Students will learn how to support children and families from the perspective of school social work, and how to collaborate with various professions and agencies in response to poverty, abuse, developmental disabilities, truancy, bullying, etc., in light of the current situation at schools.
Available Teaching Licenses and Subjects
First Category Teaching license for High School (Civics, Welfare)
Qualifications
Qualification to take the National Qualification Examination for Social Workers*
*Certification as a social worker also can be used for:
Family support counselor, foster parent support counselor, child welfare officer, child guidance counselor, child life support worker, child independence support specialist, welfare officer for the physically disabled, life support counselor, etc.


Curatorial courses are available.
Educational Objectives and Policies
To develop the ability to envision a new welfare society where human dignity is fully upheld, and to use policy making and operational management as a method to build it.
To cultivate leaders who promotes new forms of welfare in the social services field, in local communities, and in government.
To achieve the Purpose of Human Resource Development stated above, our department has established the abilities and knowledge that students should have acquired at the time of graduation as follows. Upon completion of graduation requirements, students are recognized as having mastered these requirements and are awarded a degree.

A spirit and attitude that emphasizes human dignity with understandings on the basic concepts and values of Social Services studies
A broad perspective and a deep understanding of others and society, with a clear concept on various areas of Social Services
Applicable nowledge and skills in Social Services policy and administration
Applicable knowledge and skills in clinical social work
Excellent communication skills, professional knowledge and practical skills, and the ability to apply them in the field of Social Services.
In line with the Diploma Policy, the Department organizes its curriculum with courses that incorporate the following objectives

Basic concepts and values of Social Services through required courses.
Social Welfare courses to gain deeper understanding of others and society from a broad perspective.
Courses related to welfare policy and administration, to learn about Social Services policy and administration, and acquire related knowledge and skills.
Courses related to clinical Social Services to learn about clinical Social Services and acquire related knowledge and skills.
Courses related to exercises and practical training, to acquire communication skills, specialized knowledge, and practical skills through small-group discussions and group learning.
We hope to accept students who:

Are self-driven, with a deep interest in human dignity and an aspiration to contribute to the development of society, the world and the local communities.
has basic knowledge about society and welfare, and creativity ideas to build a new welfare society, and skills to solve problems while communicating with others.
Looks to pursue an active in a variety of settings, including in the field of Social Services as well as in government agencies and industry, and to exercise leadership in designing and creating a new welfare society with sufficient policy making/managing skills after graduation.
Faculty Members
Katsura MARUYAMA Professor
Natsuko KABURAKI Associate Professor
Kozue SHINDO Associate Professor
Sachiko TAKASE Associate Professor
Hiroya HIRANO Associate Professor