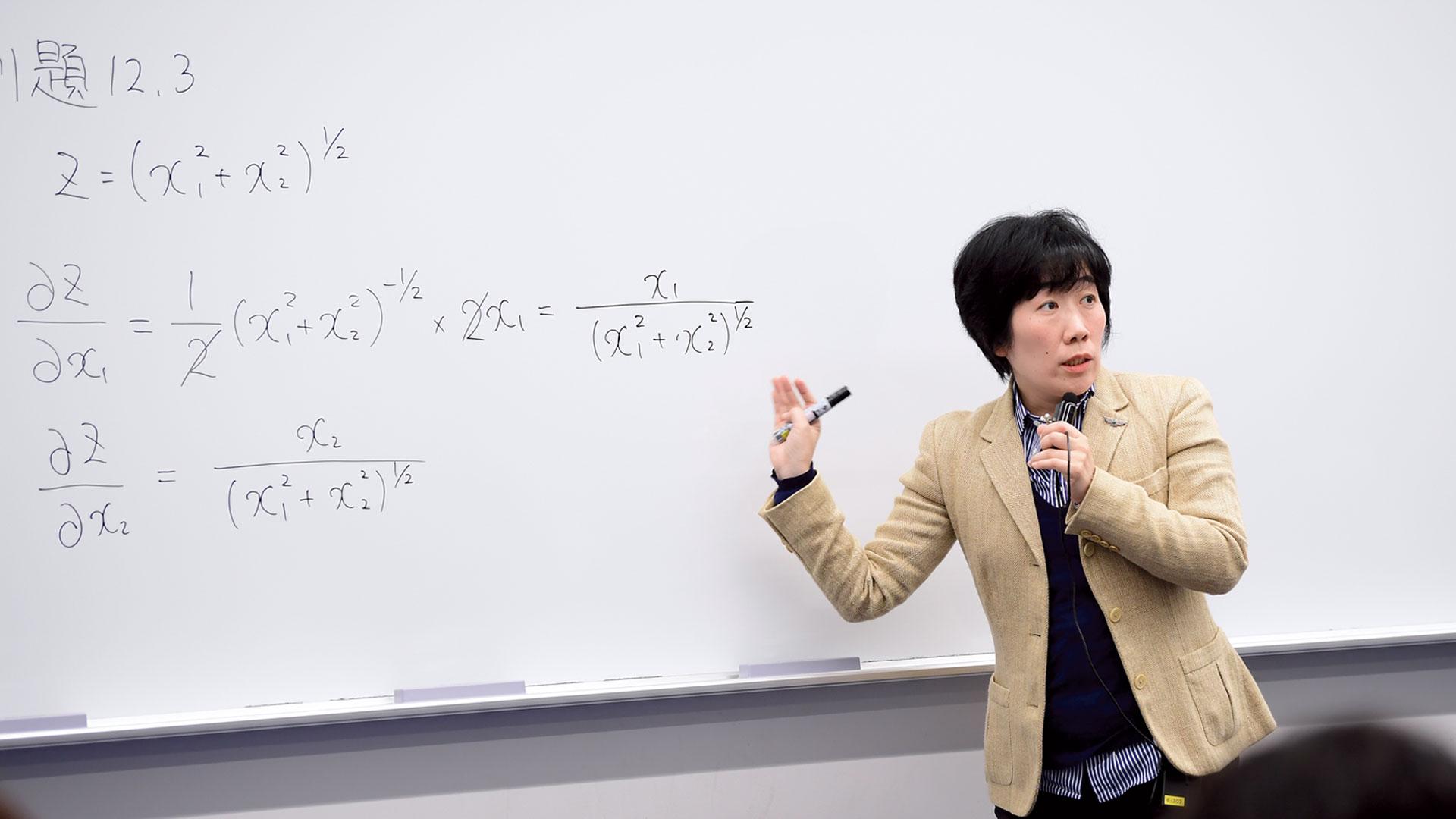 Discover the simple essence behind diverse social and economic phenomena
Department Features
Logical thinking and the habit of grasping economic realities through solid numerical data is essential in studying economics. To acquire this ability and habit, the Department of Economics first focuses on basic economics courses, mathematics, statistics, and other mathematical subjects to master economic thinking. Through a variety of specialized courses, students will deepen their understanding of economic issues facing modern society, such as finance and public finance, international trade and economic development, urban issues such as housing and transportation, healthcare, pensions, and environmental issues, and gain the ability to analyze each phenomenon theoretically and empirically. Through these efforts, students will become able to analyze and evaluate social phenomena from an economic perspective.
The Department of Economics offers a degree program with the SPSF (Sophia Program for Sustainable Futures) and instruction in English.
Courses using English offered by the Department of Economics: 40%
We encourage students to learn economics in English. Students who have completed a number of economics courses in English with high grades will receive a Certificate of Completion for the English Special Studies Program. The path to becoming a global workforce begins in daily classes.
Courses to develop theoretical and statistical analysis techniques: 30%
Economics is a behavioral science that enables the elucidation of the decision-making structures of people, companies, and organizations hidden in numerical data, and the prediction of prospective behavior through data analysis using mathematical model analysis and statistical models.
Curriculum
The curriculum is designed to build an efficient and systematic understanding of economics, beginning with introductory courses in the first and second years, followed by basic courses and specialized courses in the second and subsequent years. In addition to the core economics courses, elective courses are offered in management and law, enabling students to cultivate a broad understanding of the economy from a practical perspective in addition to theory. In the third and fourth-year Seminar courses, students aim to acquire the ability to apply the theoretical study of economics in order to understand the essence behind various actual social and economic phenomena in a small-group education system that provides attentive guidance to each student.
For broader career choices in the international scene, we offer a wide variety of courses taught in English. Join Faculty of Economics, Economics in English Program and achieve high grades in academic disciplines taught in English, becoming a globally versatile professional.
* Please refer to the syllabus for more information on the courses.
Course Examples
Introduction to Economics

This program provides thought training on using economics in a practical way in English to decipher the mechanisms of real-world problems. The class format, centered on group discussions, will help students develop a proactive attitude toward learning economics.
Economic Development

As was Japan a few decades ago, the world is still full of countries that have yet to achieve economic prosperity. Students will deepen their understanding of the global economy by learning how Japan has transformed to become one of the most developed countries in contrast with struggling nations in Africa.
Environmental Economics

Economic activity creates environmental problems as byproducts, which entail significant financial sacrifices. We will consider how to design policies that encourage consumers and businesses to change their behavior while minimizing these costs.
Behavioral Economics

Behavioral economics is the study of economics based on the analysis of actual human behavior. Through understanding the profound mechanisms of human behavior, more advanced than that of animals yet with diverse limitations, students gain new perspectives on society and its economy.
Economics of Social Policy

Students will learn intermediate microeconomic theory, in particular, decisions of individual consumers and individual firms under perfect competition without externalities and information asymmetries, which will help them understand the effects of social policy. Students will be able to formulate optimal behavior of consumers and firms in perfectly competitive markets into an economic model, solve the model, and find the resulting resource allocation.
International Finance

Modern economies are highly interconnected and global investors shift capital across countries with unprecedented ease and speed. This course covers basic concepts and tools needed to understand the functioning of international financial markets and the global economy. We develop frameworks for the analysis of current account balances, international capital movements, exchange rates and also examine the international implications of monetary policy decisions. We apply these models to the analysis of current policy questions in international finance.
Available Teaching Licenses and Subjects
First Category Teaching license for High School(Civics, Commerce)
Curatorial courses are available.
Educational Objectives and Policies
The department emphasizes in-depth education through small-group learnings such as seminars and lectures in English, and strong basic education such as micro and macro-economics, to logically and empirically analyze economic issues in contemporary society.
To develop human resources who can analyze daily social problems and phenomena from an economic perspective and utilize their ability to evaluate society with unique approaches in an international arena.
The department has established the following abilities and knowledge that students should have upon graduation. With completion of graduation requirements, students are recognized as having mastered these requirements and are awarded a degree.

The ability to understand and explain the concepts and ideas of microeconomics and macroeconomics with precision and logic.
The ability to construct original "Model" as a conceptual device based on knowledge of economics, to understand real issues in contemporary society, and to think about ways to solve problems.
Ability to perform data-based statistical analysis of diverse socioeconomic phenomena, using knowledge and skills in information processing.
High level of communication skills as well as leadership skills to actively contribute to solving various problems in international settings.
High level of expertise to play an active role in today's society making the most of each student's individuality (knowledge, abilities, interests, etc.)
The Department organizes its curriculum as follows for the purpose of achieving the Diploma Policy.

Through mandatory courses (Group A courses: Introduction to Economics, Microeconomics A, Macroeconomics A and B) taught by several full-time faculty members, students will acquire basic knowledge of economic theory in depth.
Students will learn how to describe and analyze socioeconomic phenomena as "models" and acquire logical thinking skills in "Economic Mathematical Analysis I and II," a course in economic mathematics to learn knowledge of mathematical analysis, which is the basis of model construction, and in elective required courses that are advanced courses for microeconomics or macroeconomics.
Through courses related to information processing (Statistics I and II, Econometrics I and II, Data Analysis Exercise, etc.), students will acquire statistical analysis skills based on data.
Active learning seminars and exercises (seminars) involve small-group discussions and group learning to help students acquire communication skills to solve problems in cooperation with others.
In order for students to acquire English communication skills that will enable them to play an active role in the international settings, the Faculty of Economics will offer specialized courses offered in English (ECOE: Economics Courses Offered in English) as elective courses and will certify students who meet certain conditions in the program. The Faculty of Economics, Economics in English Program will be established to certify students who meet certain conditions.
Based on the common basic knowledge and abilities targeted in the Diploma Policy, in order to further support each student in acquiring expertise suited to his/her own characteristics and interests, students will be able to select a variety of specialized courses including business administration and courses from other departments in other faculties, in addition to more specialized courses in economics. The program is designed to provide students with the opportunity to acquire a wide variety of specialized courses.
The educational goal of the department is to cultivate the ability to think logically in order to solve real problems faced by modern society. The nature of this study is to make full use of models constructed from an economic perspective; "mathematical thinking" is essential to the logic of economics. For this reason, the Department of Economics requires mathematics as a required subject in addition to Japanese and foreign languages (English, etc.), which form the basis of logical thinking, as entrance examination subjects, and accepts highly motivated, outstanding students.

We are looking for students who have a high level of interest in the various issues of modern society and a high level of motivation to make a contribution to society.
We seek students with competent language skills (the ability to organize and express one's own thoughts in words and to understand the thoughts of others) and mathematical thinking skills, which are the foundation of logical thinking.
We expect students to be able to act independently, understand others through dialogue, and collaborate with others in the Department of Economics.