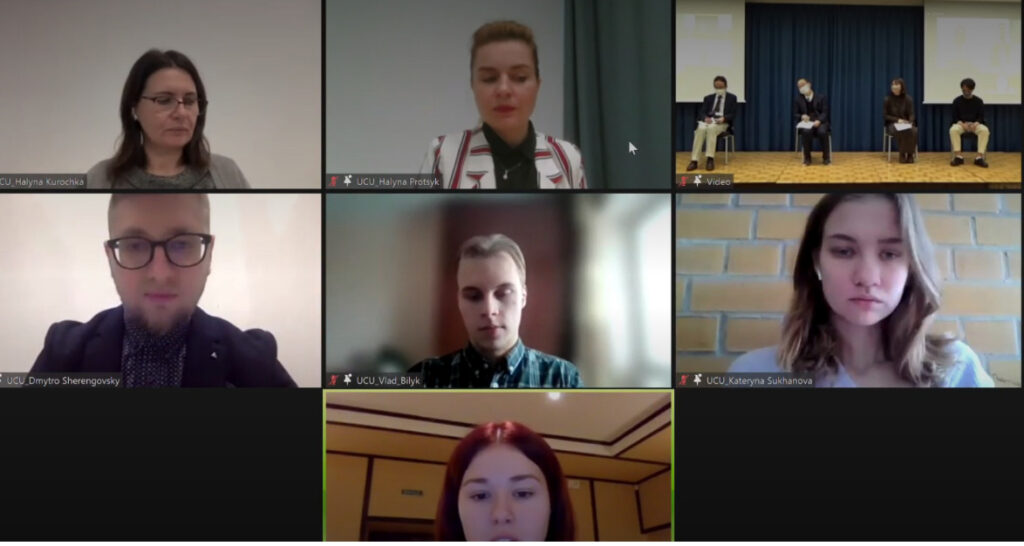 A lively Q&A session was held both in-person and online
On December 16, 2022, faculty and students from Sophia University and the Ukrainian Catholic University (UCU) co-organized an online symposium, held in a hy-flex format combined with an in-person presentation at the International Conference Hall on the 17th floor of Building 2 at Sophia University Yotsuya campus.

Tetsuo Morishita, Vice President for Global Academic Affairs, opened the symposium by addressing, "UCU and our university, sharing the foundation of Catholicism, are currently preparing to conclude an academic exchange agreement. This symposium is highly significant for sharing our views and ideas on how to achieve a better world".

The symposium was moderated by UCU Professor Halyna Kurochka. Faculty members from Sophia Institute of International Relations and UCU gave keynote speeches first. Four speakers, two from each university, spoke on the theme of "Peace for All: Achieving Sustainable Peace".
Professor Dmytro Sherengovsky, Vice President of UCU, discussed modern complex warfare, illustrated by Russia's invasion of Ukraine, and Professor Tadashi Anno, Director of Sophia Institute of International Relations, spoke about security dilemmas, referring to the example of Japan during World War II. In addition, Professor Daisaku Higashi of the Center for Global Education and Discovery focused his lecture on how to end the war between Ukraine and Russia. UCU Professor Halyna Protsyk closed her presentation with specific figures on the food, energy, displaced people, and other problems caused by this war, and then proposed what can be done toward achieving global unity.

This was followed by presentations by student representatives from both universities: three student delegates from UCU introduced student life that continues even during wartime, presenting photos of Luhanshik, Donetsk, Mariupol, and other cities in Ukraine. From Sophia, Shuto Hara (SPSF second-year, Faculty of Global Studies) and Yumi Nishikawa (second-year, Faculty of Liberal Arts) presented their perspectives on the war in Ukraine. In their presentation titled "Students' Perspective on the War in Ukraine", they discussed possible support from Japan with regard to the war in Ukraine. After the students' presentations, a Q&A session was held with all the speakers.

The symposium was attended by nearly 100 people from both universities, including students of Professor Higashi's class "Learning Sustainable Development Goals (SDGs)," with a keen interest in the lectures and presentations. The symposium concluded with a pledge to continue further interactions between the two universities in the future.