On October 23, 2023, a delegation of 26 members from the German state of Rhineland-Palatinate, including Chancellor Malu Dreyer, and representatives from various sectors of politics, business, academia, and media, visited Sophia University. There are two partner universities of Sophia University in the state, Ludwigshafen University of Economics and Trier University, and there have been extensive exchanges in terms of both research and education. The visit was made possible through the mediation of Professor Frank Löwekamp of the Ludwigshafen University of Economics in order to promote Sophia University to a wider audience in the state and to provide opportunities to build a more multifaceted relationship.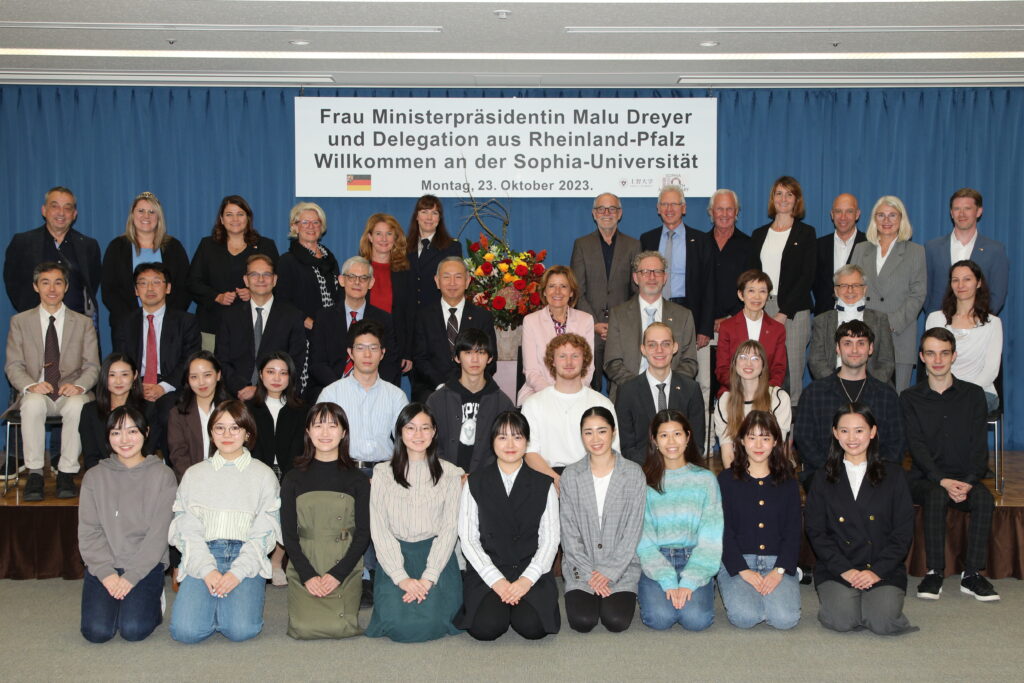 Group Photo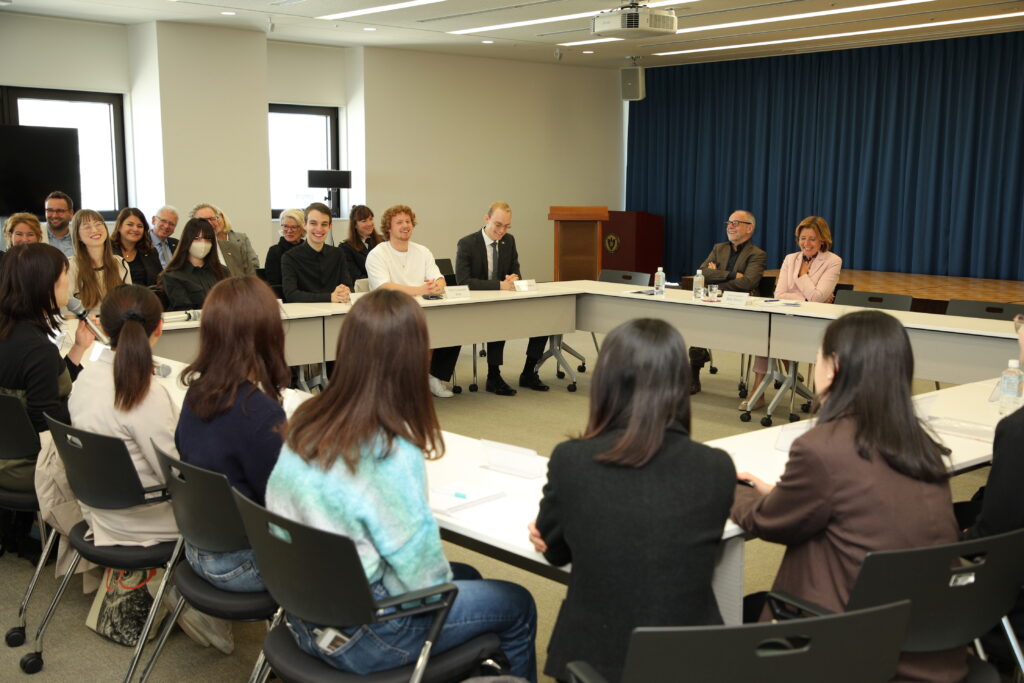 Discussions with students
The discussion started with Minister President Dryer, Prof. Andreas Regelsberger of the University of Trier, Sophia University Dean of Faculty of Foreign Studies, Prof. Goro Kimura Christoph, and Department of German Studies Prof. Ken Kawasaki and Prof. Angela Lipsky, discussing topics such as immigration and energy policy, nursing care issues, and disaster prevention measures in Japan and Germany.
This was followed by a speech by 11 students from the Department of German Studies on topics such as the reality of female students in Japan, their experiences of job hunting, and the differences in views on employment between Japan and Germany and the questions were raised by the Minister and other participants. In addition, with several students from the Department of German Studies participated in a Q&A session with the Minister regarding the state of German politics in a relaxed manner, accompanied by students from the same state.
Finally, a discussion was held with President Yoshiaki Terumichi, Vice President for Student and General Affairs Atsuko Nagai, and Professor Sven Saaler of Faculty of Liberal Arts. President Yoshiaki Terumichi spoke about Father Joseph Dahlmann from Koblenz, Germany, who was a key figure in the establishment of Sophia University, and the close ties between the university and Germany to this day, stating that he hopes to develop all aspects of the relationship with the two universities, the state, as well as Germany. Then, topics ranging from social issues common to both Japan and Germany, including the aging society with a declining population and the issues related to migration, were discussed, leading to a cordial end to the meeting.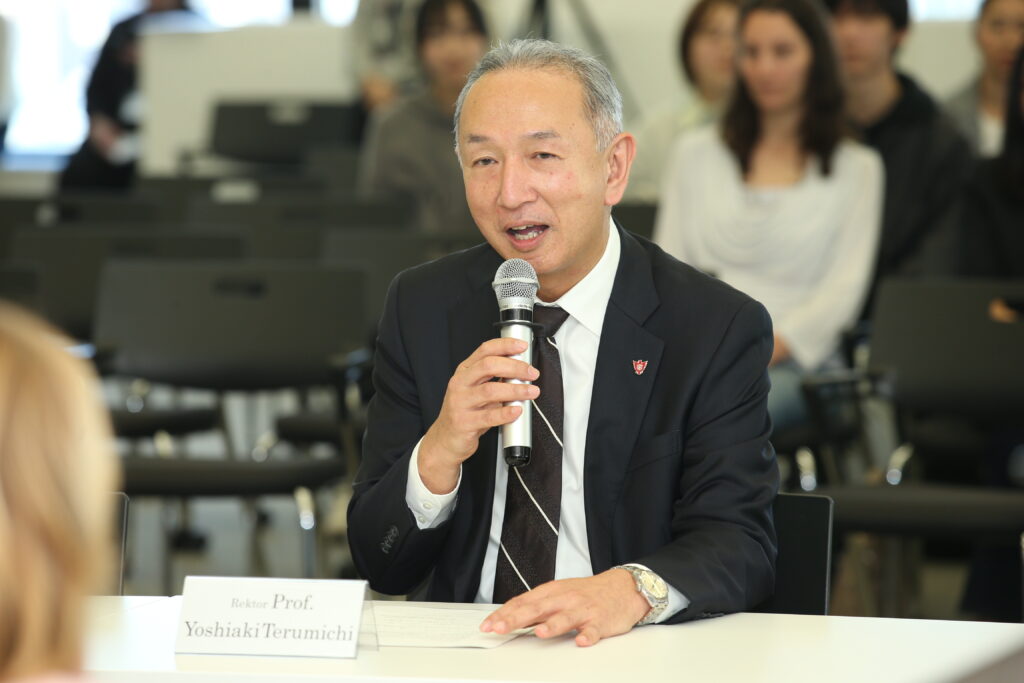 President Terumichi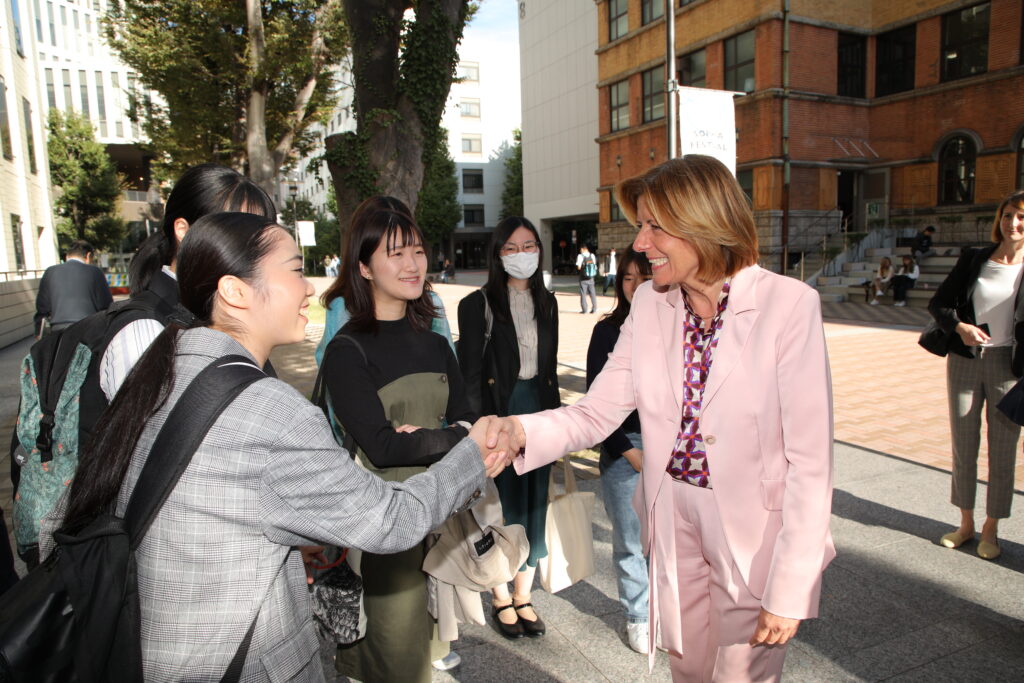 The Minister President Dreyer