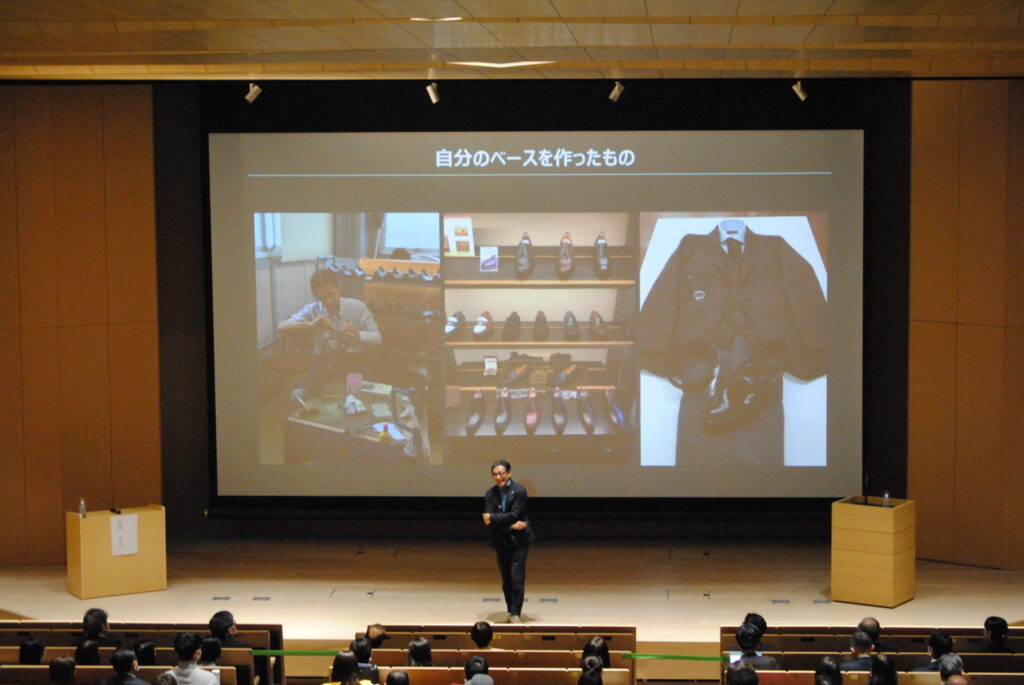 On January 31, Mr. Takafumi Minaguchi, CEO of Starbucks Coffee Japan K.K., (alumnus, Faculty of Law) visited Sophia University to give a lecture. About 700 students, guarantors, and alumni attended. The lecture was conducted in a hybrid format combining in-person and online, drawing a great interest.
In his lecture titled "Connecting with People, Community, and the Earth for Meaningful Growth," Mr. Minaguchi spoke passionately about his life and career path to date, including his time as a student at the university, his various initiatives at Starbucks centered on brand strategy, and his thoughts on life as a corporate leader and as an individual, including his ties with people, community, and the earth.
Mr. Minaguchi mentioned that Starbucks values "warm relationships with people" and "how and what centered on 'why' (mission)" as what Starbucks place high priority now and in the future. Furthermore, as CEO of an era undergoing rapid changes, he emphasizes "curiosity," " persistence," "dedication," and " being true to who you are" are all very important. He concluded his speech by expressing that making contributions with purpose creates great power and enriches one's life and mind, which is in line with the university's educational spirit of "For Others, With Others".
During the Q&A session after the lecture, Mr. Minaguchi responded to each question from participants as in "How do you spread your philosophy, mission, and values within your company," "What beliefs and mindset are most important to you as an executive," and "Things to do as a student," and more with specific episodes related to his life experiences.
Participants commented, "I could understand why Starbucks has always been a brand loved by people from his personality and the stories of CEO Mr. Minaguchi.", "I was convinced of the great popularity of this company because it not only pursues profits, but also makes social contributions and addresses environmental issues while providing a cup of coffee with all its heart and soul.", "I was impressed by the company's commitment to the community, its efforts to build relationships with people, and its belief in providing customers with a pleasant stay, rather than simply offering coffee."