The joy of realizing my dreams and expanding my horizons through the learning of languages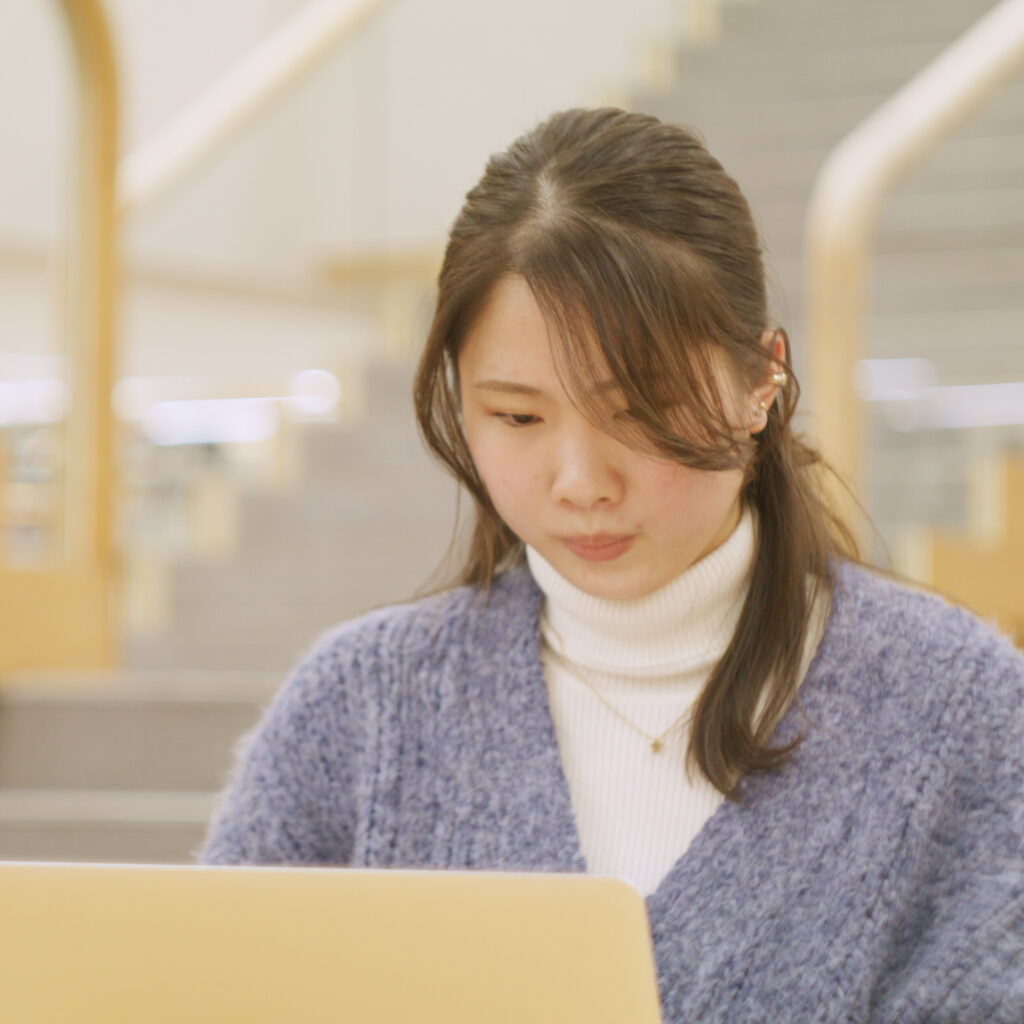 Kanako Amada, a fourth-year student in the Department of French Studies, says, "There's no greater feeling than when you can use a language acquired through hard work in practical situations. In these moments, you can truly see how much you've grown." As a senior majoring in French, Kanako is committed to learning a challenging language and hopes to work abroad in the future.
The Freedom to study any language you want
In addition to English, I've always wanted to learn another language. Sophia University was the ideal university for me, as it belongs to a worldwide network of universities. This global connection provides many opportunities to study new languages by interacting with international students and foreign professors. I chose the department of French Studies as I have always loved French culture, including fashion and cuisine. And since French is the official language of many international organizations and is spoken in many countries around the world, there are practical applications for learning the language, too.
At Sophia University, any student can study any language they are interested in, regardless of their department. I am in the French department, but I also took classes in Indonesian and Italian. It's rare to find a university that allows students to study more than one language, and this flexibility in building your own learning path is one of the most appealing aspects of studying at Sophia.
I also had the opportunity to experience a variety of languages at the Language Learning Commons (LLC) through small group lessons and Language Exchange, a program in which students discuss language and culture with partner students. At the LLC, I could learn languages in an informal setting while enjoying casual conversation.
The department of French Studies is small, with only about 70 students, and the atmosphere is so familiar that the professors know all the students' names. When I pass by professors on campus, I greet them in French and can naturally start a conversation with them. The Yotsuya campus, located in the center of Tokyo, is easily accessible to cultural spots within the city, so sometimes the seminar professors and the students visit art museums together and discuss their feelings in French.
Learning a new language opens up new opportunities across the world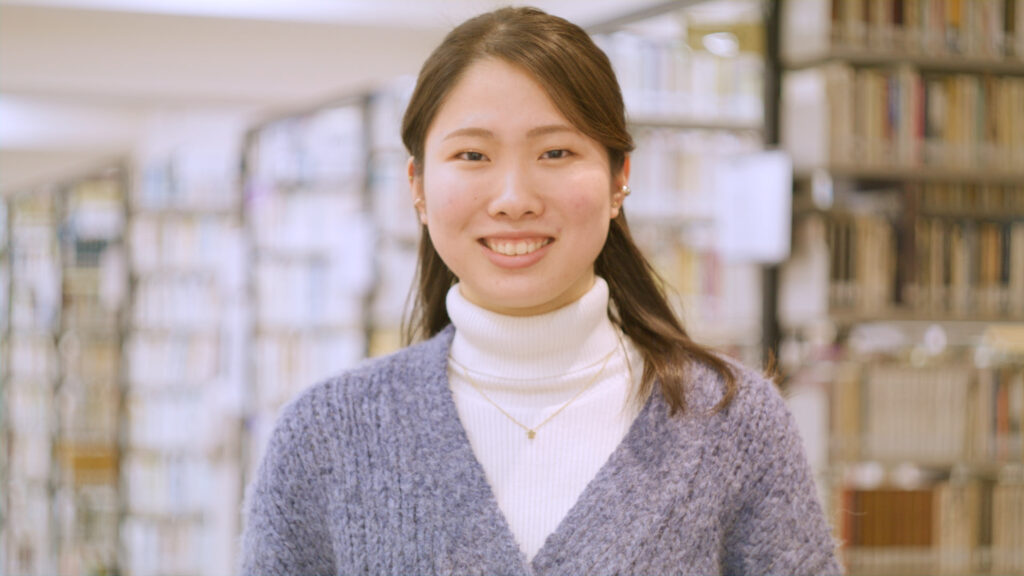 Despite the romantic image that the French language carries, learning French takes a lot of effort. It's a complex language to grasp, and in my first year, I had six classes a week, several assignments, and monthly tests. While it was a demanding schedule, there's no greater feeling than when you can use a language acquired through hard work in practical situations like traveling. In these moments, you can truly see how much you've grown. The more you learn a language, the more your world expands, allowing you to talk to and meet new people. For me, that is the fun of learning a foreign language, and it motivates me to continue my language studies.
Compared to when I first began my studies at Sophia, I have now learned to consider topics objectively. Studying the French language while learning about new cultures and values that differ from those in Japan has opened my mind to new perspectives and made me more understanding of others. In particular, I took a class that discussed various social issues in French, which was an excellent opportunity to develop the ability to look at a single event from multiple perspectives while expanding my language abilities.
France is a country where discussion is deeply rooted in their culture. In learning French, students are required to understand that culture and develop critical thinking skills to generate discussions. In class, I was often asked questions on topics I had never given consideration to before, so I have developed the habit of thinking critically about questions I'm asked before answering. Sharing my opinions in discussions and presentations, along with receiving feedback from my peers, has allowed me to think for myself and present my thoughts logically.
Important lessons are hidden in unexpected situations
Currently, I am studying French politics and economy. When researching scholarship programs when I entered university, I wondered if national systems and economic issues could create educational disparities. Naturally, I became interested in the differences in the way social systems work. When I compare France and Japan from the political economy angle, I am often surprised to learn how different the two countries are, which is very interesting. I am currently working on my thesis on the French education system, which compares the differences in school and home education between France and Japan.
During the past four years, while working hard on my French studies, I had an experience highlighting the importance of language learning. I live in a dormitory, and one day, an American student who could not speak Japanese complained of severe abdominal pain and was taken to the emergency room by ambulance. I was a passenger in the ambulance, but when I was asked to translate their symptoms and the necessary treatment, my English skills were not good enough to understand the technical terms. Since there is no guarantee that you won't require medical assistance when traveling abroad, I was once again reminded of the importance of learning the local language when living abroad to keep myself safe.
This was a frustrating and concerning experience, but at the same time, a valuable lesson for me, as I would like to work abroad in the future. Language is a necessary tool – not only for expanding my world and gaining the ability to converse with people from different countries, but also to ensure that I can take care of myself and others in critical situations. In the future, I would like to continue studying French and English while using what I have learned in my other undergraduate classes, such as economics and accounting, and strive to become successful on the world stage.
※Please note that the content of this article is current as of November 2021