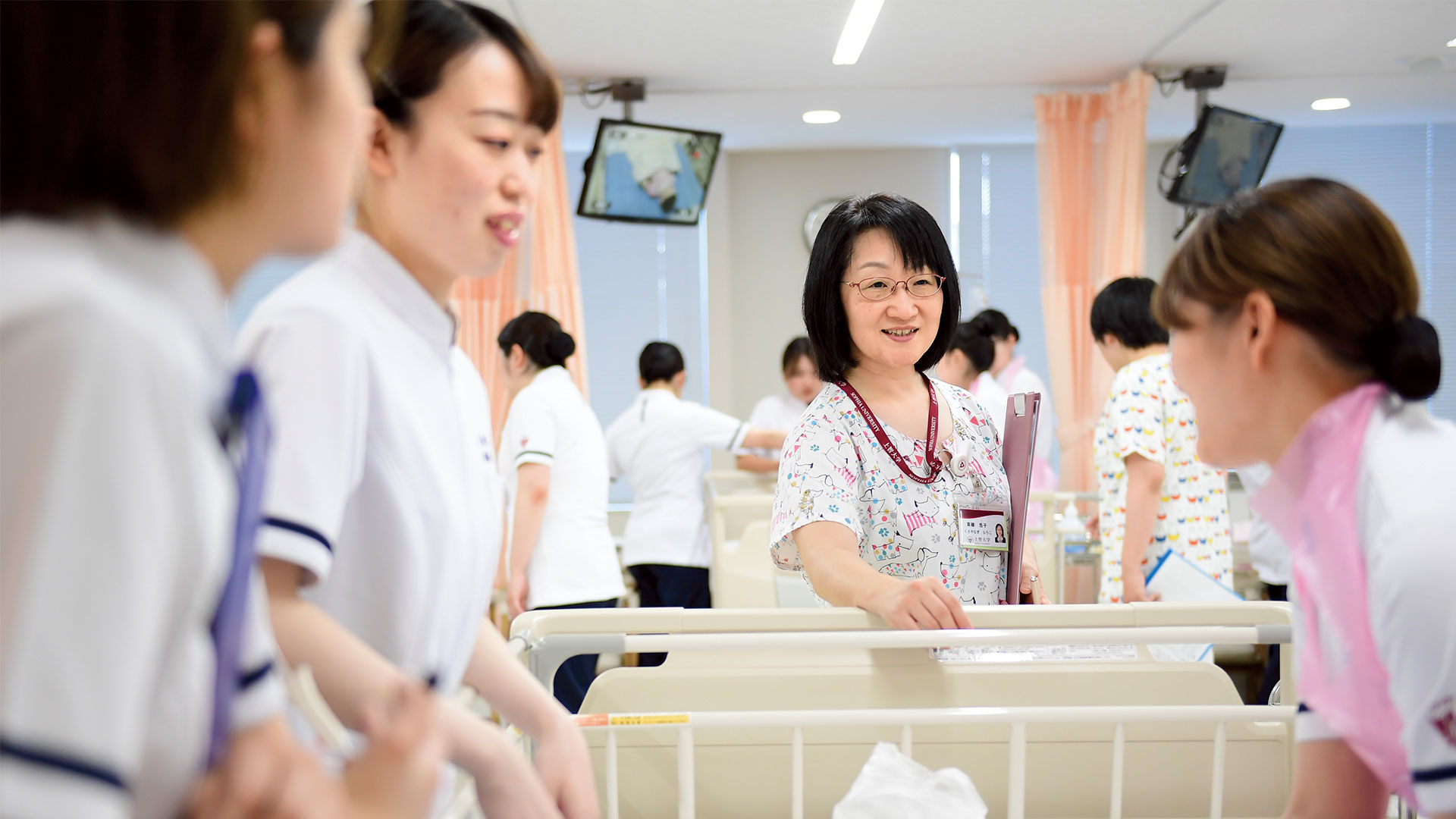 To provide human support in various fields, with broad and deep knowledge in nursing and liberal arts

Department Features
Our goal is to deepen understanding of the humanity that stems from the spirit of Christianity, to nurture a warm and flexible sensibility, to live for others and with others with thorough understanding of cross-cultural interaction from a global perspective. Students will cultivate the ability to promote independent learning by making full use of the ability to think, ask questions, and explore the interrelationships between caregivers and care receivers in achieving quality care. In their endeavors to provide optimal care to each patient, students acquire the ability to practice nursing as "human caring," which enables them to respect the individuality of each person they encounter and to draw out the best in them.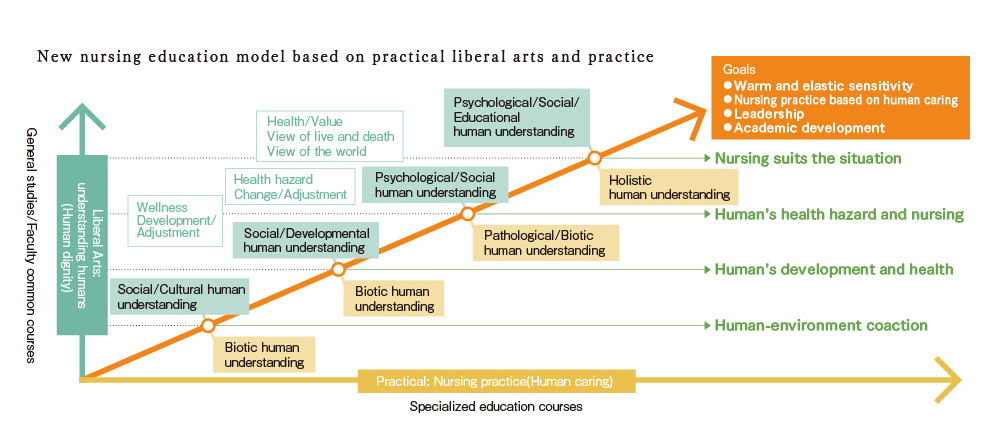 A New Model of Nursing Education Based on Practical Liberal Arts and Practical Studies
Practical training content and training sites
Various types of practical training will be conducted along with the classroom content to provide practical learning. The main training sites are as follows. (Training sites may change.)
Course Title
Practical Training Contents
Fundamental Nursing Practicum
Experience assisting hospitalized patients in their daily lives alongside qualified nurses to get a feel for nursing in the real world.
Adult Health Care Nursing Practicum
Understand the health problems experienced by adults and practice care according to their health conditions.
Gerontological Health Care Nursing Practicum
Understand the health problems of elderly people and practice care according to their health conditions.
Child Health Care Nursing Practicum
Experience practical care for children and their families, in accordance with their level of development, health, and living conditions.
Women's and Maternal Health Care Nursing Practicum
Understand the health of women and their families, care during each stage of normal pregnancy and delivery, and care of newborns.
Home Health Care Nursing Practicum
Care for people with illnesses and disabilities living in the community, people with difficulties in living independently, and their families, from a comprehensive perspective.
Mental Health Care Nursing Practicum
Understand people with mental health disorders from physical, psychological, and social perspectives in an integrated manner, provide assistance using knowledge and skills in mental health nursing, and learn practical nursing care through experience.
Advanced Nursing Practicum
Learn more specialized nursing care through caring for patients who require intensive specialized treatment.
International Nursing Practicum (Asia)
A training program to utilize the four years of study. Practical training will be developed in care settings characteristic of each area to deepen learning.
Integrated Nursing Practicum
Through experiences in the country where integrated practical training takes place, students will gain cross-cultural understanding and learn about international nursing support and the role of nursing.

* Practice sites include Mongolia.
Seibo Hospital

St. Marianna University Hospital

National Cancer Center Hospital

Tokyo Medical University Hospital

Toranomon Hospital

Japanese Red Cross Medical Center

Tokyo Metropolitan Bokutoh Hospital

Cancer Institute Hospital of JFCR

Tokyo Saiseikai Central Hospital

Tokyo Metropolitan Tobu Medial (Ryoiku) Center (TMTMC)

Ogikubo Hospital

Tokyo Musashino Hospital

Yamada Hospital

Seijin Hospital

Tokyo Metropolitan Matsuzawa Hospital

National Rehabilitation Center Seishi-Ryougoen

Tokyo Medical University Hospital

Nippon Medical School Musashikosugi Hospital

*Other facilities in Tokyo include daycare centers, social rehabilitation facilities, nursing homes, midwifery centers, and home nursing stations.
Career path after graduation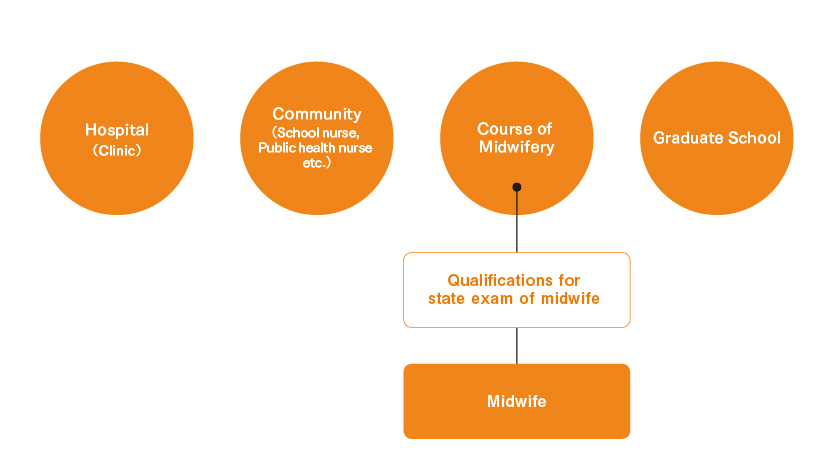 As a nurse or public health nurse, you will not only support the community from the field of nursing, healthcare, medical care, and welfare, but you will also be able to contribute to healthcare overseas beyond national borders or work as a school nurse.
*Midwifery department established
To provide a well-rounded midwifery education, Sophia University offers a one-year program in midwifery for those who have completed basic nursing education at four-year universities.
With a unique curriculum, the program aims to deepen students' understanding of the subject while helping them acquire the knowledge, skills, and attitudes necessary to become a midwife.
Curriculum
The curriculum integrates specialized nursing education with a variety-rich liberal arts education, which is only possible with four years of university. In the first year, students study the fundamentals of nursing at the Yotsuya Campus, along with common undergraduate subjects covering a wide range of areas. From the second year, students will study specialized basic nursing subjects related to human development and health, mainly at the Mejiro Seibo Campus. In the third year, they will focus on human health disorders and nursing, and acquire practical nursing skills mainly through practical training. In the fourth year, students will once again develop their comprehensive liberal arts education at the Yotsuya Campus, and health teacher, school nurse teacher, and international nursing at the Mejiro Seibo Campus to deepen their knowledge of nursing according to the subjects and courses they have chosen.
* Please refer to the syllabus for more information on the courses.
Course Examples
Introduction to Nursing

Students will learn about the concepts, theories, history, related systems, and human understanding that comprise nursing, and deepen their understanding of nursing as a discipline with care as its foundation. At the same time, we develop the ability to look at the role of nursing from multiple perspectives, taking into account society and healthcare as a whole.
Lifespan Developmental Nursing II

Students will learn how to provide development-based assistance by understanding the characteristics of development in adulthood and old age and the changes in physical and psychosocial aspects of aging, as well as the health problems that are likely to occur in adulthood.
Nursing Ethics

Students will learn the basics of nursing ethics, gain a comprehensive knowledge of ethics in medical and nursing care and ethical decision-making processes, and develop the sensitivity necessary for nursing ethics.
Nursing Theory: Interaction of Human and Environment

The course addresses nursing theories by Nightingale, Henderson, Orem, Leininger, and others, and provides background on these theories and examine how humans and the environment interact with each other.
Human Anatomy and Physiology

The course integrates anatomy, physiology, and pathology to teach the structure of the human body, normal functions, and regulation of the organism, and to understand how the body works and what mechanisms are involved in pathological conditions that cause changes in the body during illnesses.
Care Skills II: Helping Art for Daily Living

The course provides the knowledge, skills, and attitudes necessary to assist daily life activities such as breathing, eating, excreting, and sleeping from the perspective of fulfilling basic needs, with the understanding that these activities are rooted in fundamental human needs and demands.
Available Teaching Licenses and Subjects
School nurse teacher 1st class*1
School nurse teacher 2nd class *1, 2
*1 No school classification (junior high school, high school) for school nurse teacher license
*2 A second-class school nurse qualification can be obtained upon application by those who have completed the requirements for graduation from the Department of Nursing and who have obtained a public health nurse license and have mastered the prescribed subjects.
Qualifications
National Nursing Examination Qualifications
National Qualifications to sit for the National Health Nursing Examination
Curatorial courses are available.
Educational Objectives and Policies
To conduct research and education that hones basic nursing practice skills, the ability to promote self-learning, human caring practices, and the development of character and wisdom, with integration of comprehensive liberal arts education and professional education (Practical Liberal Arts).
To help students to become a competent nursing personnel in various fields and to help grow a global leadership, we provide rich education on theory, practice, and research in Human Caring,  active cross-field study, and also with a view to the policy making and management area.
Our education is focused on acquiring  basic nursing practice skills, self-learning, and the practice of human caring, as well as developing one's character and wisdom, by providing a new type of nursing education (practical liberal) that integrates comprehensive liberal arts education with vocational and specialized education. Leading nursing personnel with not only research and practical skills but also deep knowledge in the field as well as complete understanding on human dignity, will be produced through this education. Skills and abilities students should have at the time of graduation are as follows. Upon completion of graduation requirements, students are recognized as having mastered these requirements and are awarded a degree.

Comprehensive view through the broad knowledge of nursing science and ability to look for various responsibility as a caregiver
Insightful perception on human dignity, to embrace others with sincere empathy under any circumstances
Necessary knowledge and skills as a nursing professional and to practice human caring
Critical thinking skills and the ability to accurately identify changing social and human health issues and consider the best means of care
High ambition to achieve personal development as a professional amidst rapid progress in medical field.
In line with the Diploma Policy, our department offers courses that contribute to career building, of which promotes further development on theoretical, research, and practical skillset to tackle various issues in nursing. In addition to basic nursing skills, we offer courses that also emphasizes policymaking and service management, to become a driving force in international community. The following curriculum is designed to develop the qualities necessary for students to achieve abovementioned qualities.

Common courses (Christian anthropology, foreign language courses, and liberal arts courses), to gain an interdisciplinary overview of all academic fields, the rudiments of all learning process in Sophia to take on the caregiving from broader view.
Common faculty courses, which includes Introduction to Comprehensive Human Sciences as well as specialized courses of other 4 departments in the faculty of human science, to learn various approaches to human dignity and deepen their understanding of the
In the first and second years, basic nursing courses are arranged to develop critical thinking skills and to cultivate nursing perspectives on health and the environment, as well as fundamentals of
In the third year, students will acquire professional skills and techniques through specialized education and practical training in "Human Development and Nursing" and "Human Health and Nursing". In addition, subjects such as caring and nursing ethics are arranged to develop basic and practical skills for the practice of caregiving.
In the fourth year, students will take specialized nursing courses related to "place-based nursing" and nursing management to deepen their nursing expertise and to have active self-learning attitude.
We accept students who understand the purpose of this department, are interested in various issues concerning humanity and the society, and are able to think about these issues with flexibility and complexity. We are also looking for students who have a keen interest in academics, who can actively study science, clinical medicine, and policy and management, and who have an inquisitive mind to contribute to the health and welfare of people in a variety of ways and to the development of nursing beyond traditional nursing education.

We accept students who have a keen interest in academics and a willingness to actively study science, clinical medicine, and policy and management.
We accept students who are interested in various health-related issues and who can consider these issues from different perspectives.
We accept students with a clear intention to contribute to the health and well-being of people in a variety of ways.
We accept students with an inquisitive mind who are willing to contribute to the development of nursing science.