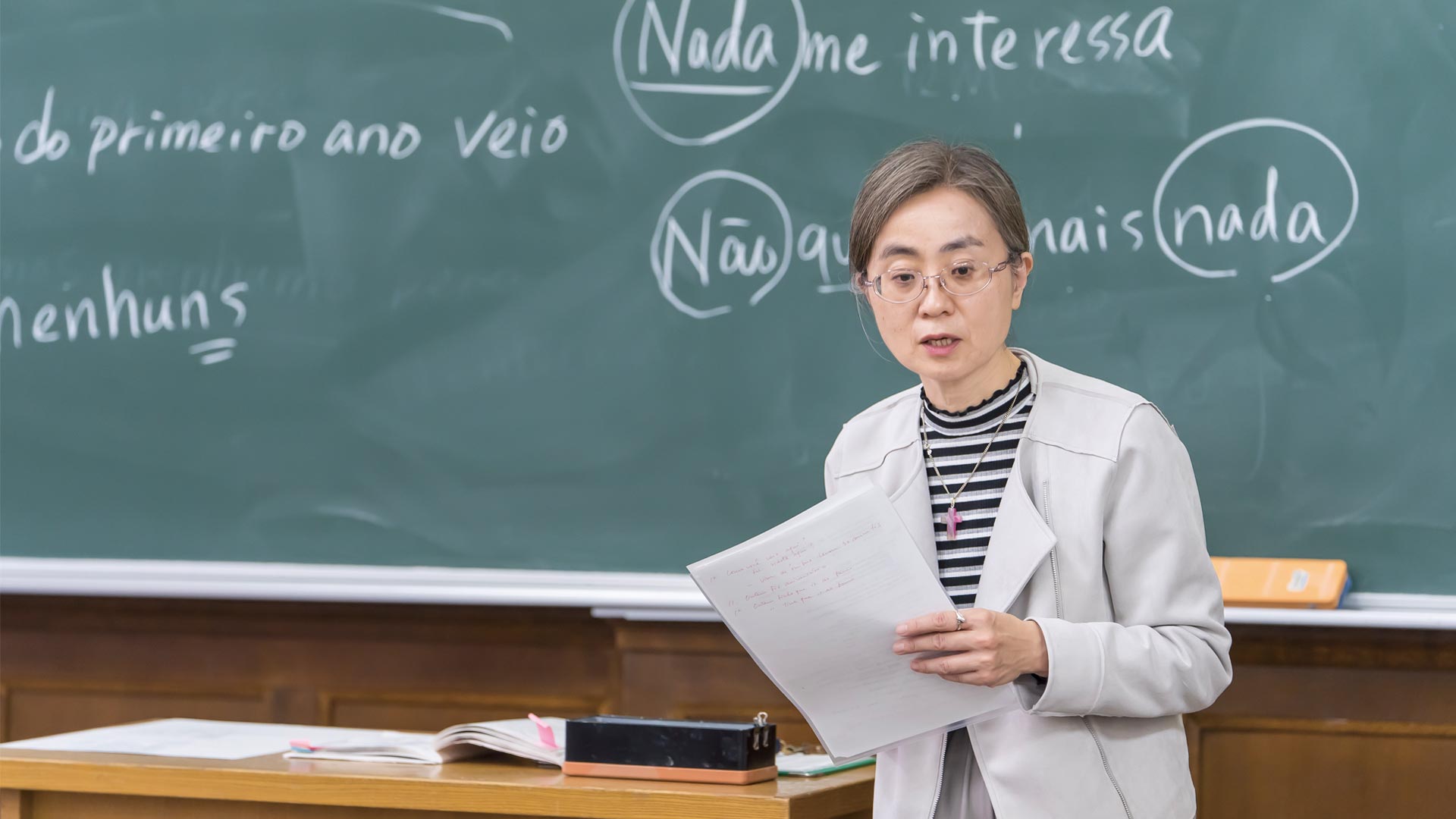 Learn the wisdom of language and area studies, similar to frontier spirits

Department Features
To communicate effectively with people from different cultures, learning their language is essential, but not enough. Intercultural communication also requires knowledge and a sufficient understanding of society and culture. The Department of Luso-Brazilian Studies offers a comprehensive study of Portuguese-speaking regions, not just Portugal and Brazil, but the skills developed in this course can be applied to any other areas where Portuguese is spoken.
What we look for in our students is the courage to explore the unknown. Passion for sailing into the turbulent, ever-changing sea of modern international society mirrors the spirit of Portuguese explorers who led the Age of Discovery 500 years ago. The Department of Luso-Brazilian Studies aims to nurture people who can be active not only in the business world but also in a wide range of fields such as NGOs and NPOs.
Portuguese-speaking countries around the world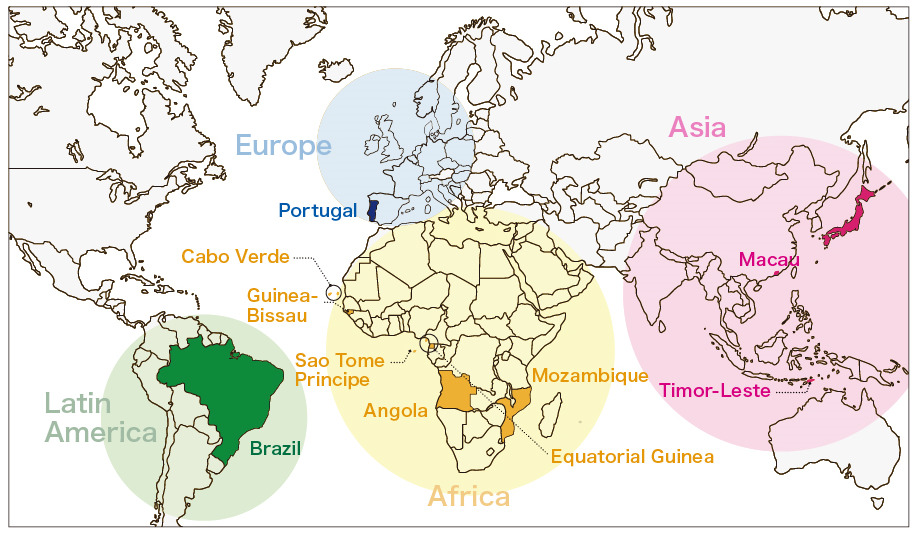 The term Portuguese-speaking countries, which refers to countries and regions where the Portuguese language is spoken, covers four continents on the globe. This is a result of the history of Portugal during the Age of Discovery, when the country's power and culture traveled across the Atlantic, Indian, and Pacific Oceans, eventually ending up in Japan. The Department of Luso-Brazilian Studies offers courses such as Introduction to Lusophone Studies and other courses that provide knowledge about the Portuguese-speaking world in Portugal, Brazil, Portuguese-speaking Africa, and Asia.
Curriculum
In the first and second years, students take Basic Portuguese classes, which consist of six lessons per week focusing on grammar, conversation, composition, and reading, to thoroughly learn the basics of the Portuguese language. The following two courses are Fundamentals of the Portuguese Language and Basic Portuguese Language.
In the third and fourth years, students choose one of nine research courses and focus on a group of highly specialized subjects, along with a series of practical subjects to acquire functional skills with a view to advanced communication and presentation in Portuguese. In the fourth year, students work on their graduation thesis and graduation research as the culmination of their studies in the Seminar.
* Please refer to the syllabus for more information on the courses.
Course Examples
Basic Portuguese I

The course is divided into grammar, conversation, and reading and writing to learn the basics of Portuguese. Students will develop their listening, reading, speaking, and writing skills while learning the vocabulary, expressions, and basic structures necessary to communicate with native speakers.
Basic Portuguese II

The course is divided into grammar, conversation, sentence composition, subject study, reading grammar, and speed reading to acquire functional skills in Portuguese at the intermediate level. At the same time, students will deepen their understanding of the histories and cultures of Portuguese-speaking countries.
Comprehensive Portuguese

The basic skills acquired in the first and second years are developed into practical applied skills. Students present their own ideas and read difficult literature to improve their overall language skills from multiple perspectives and develop the ability to move on to specialized research.
Introduction to Lusophone Studies

Students will learn basic knowledge about research perspectives, methods, data collection, and thesis writing for area studies based on the approaches of geography, history, people, society, globalization, and migration in relation to Portuguese-speaking countries.
Portuguese History

An overview of Portuguese history from the founding of the country to after the Carnation Revolution (April Revolution of 1974). Students will acquire knowledge that will enable them to think from perspectives of both Portuguese history and European history, including that of neighboring Spain.
Brazilian History

This course provides an overview of 500 years of Brazilian history from the colonial period to the present day, and aims to cultivate the knowledge and perspectives necessary to understand contemporary Brazil.
Available Teaching Licenses and Subjects
First Category Teaching license for High School (Portuguese)
Curatorial courses are available.
Educational Objectives and Policies
To cultivate advanced proficiency in the Portuguese language and acquire a broad range of knowledge (basic knowledge of the humanities, social sciences, and the Portuguese-speaking world) as a basis for specialized studies such as area studies and linguistic studies
To train individuals who can contribute to a globalized society and specialists in area studies, language studies, etc., with a high level of proficiency in Portuguese.
The Department has established the following competencies and knowledge that students should have upon graduation. Upon completion of graduation requirements, students are recognized as having mastered these requirements and are awarded a degree.

The goal is for all students to achieve the equivalent of B2 in the European Framework of Reference for Languages (CEFR) (a level at which students can study at universities overseas) upon graduation, and for as many as possible to achieve the equivalent of C1 in the CEFR (a level at which students can study at graduate schools overseas).

Competence in receptive activities such as listening and reading in Portuguese
Competence in productive activities such as speaking and writing in Portuguese
Ability in interactive activities such as conversation and negotiation in Portuguese.
Competence in mediating activities, such as interpreting and translating in Portuguese
Ability to understand the history, culture, politics, and society of Portuguese-speaking countries based on their position and characteristics in the world and their relationship and comparison with Japan
In line with the Diploma Policy, the Department organizes its curriculum with courses that incorporate the following objectives

[First Major, Required Courses (Basic Portuguese I, II)] Students will learn the basics of Portuguese throughout their first and second years of study. Through conversation, composition, grammar, and reading comprehension (reading at lectures and speed), the program aims to improve students' ability to use the four Portuguese language skills: listening, reading, speaking, and writing. Classes are conducted in a variety of ways to meet the objectives of each class, including lectures, oral repetitions, group work, and presentations, but in all classes, independent study by the students is important.
[First Major, Compulsory Subjects (Comprehensive Portuguese)] Using the basic academic skills of Portuguese acquired in the first and second years, students will further acquire practical and applied Portuguese language skills. Classes will be conducted primarily in the form of communication, presentations, and debates. Many of the teachers in charge are native speakers, and therefore the language used is mainly Portuguese. On the other hand, classes taught by Japanese instructors include more advanced literature reading and lectures on advanced grammar.
[The first major, basic courses in the language area] Basic knowledge of the history, politics, economy, society, culture, and language of the Portuguese-speaking countries will be focused on the first and second year of study. The class format is mainly a lecture styled course, supported by a number of group work and presentations activities. In "Introduction to Portuguese Studies", one of the subjects in this course group, students will learn how to write reports and academic papers, which are essential for university study, by writing a report of approximately 6,000 words using regional research methods.
The program seeks students who are interested in the language, history, politics, economy, society, and culture of Portuguese-speaking countries, and who wish to acquire advanced operational skills in Portuguese.
We are looking for students who want to start learning Portuguese in the Portuguese Department. We also accept students who have already studied Portuguese in some form and are sincere about improving their language proficiency through a renewed systematic study of the language.
Based on practical operational skills in Portuguese and English, students are expected to delve professionally into an area or theme of their choice in one of the nine "courses of study" offered by the Faculty of Foreign Languages.
Faculty Members
Atsushi ICHINOSE Professor
Tatsuhiro YAZAWA Professor
Lucila Etsuko GIBO Associate Professor
Nilta DIAS Associate Professor
Ryo MIYAIRI Assistant Professor
Thamis Larissa dos Santos SILVEIRA Lecturer