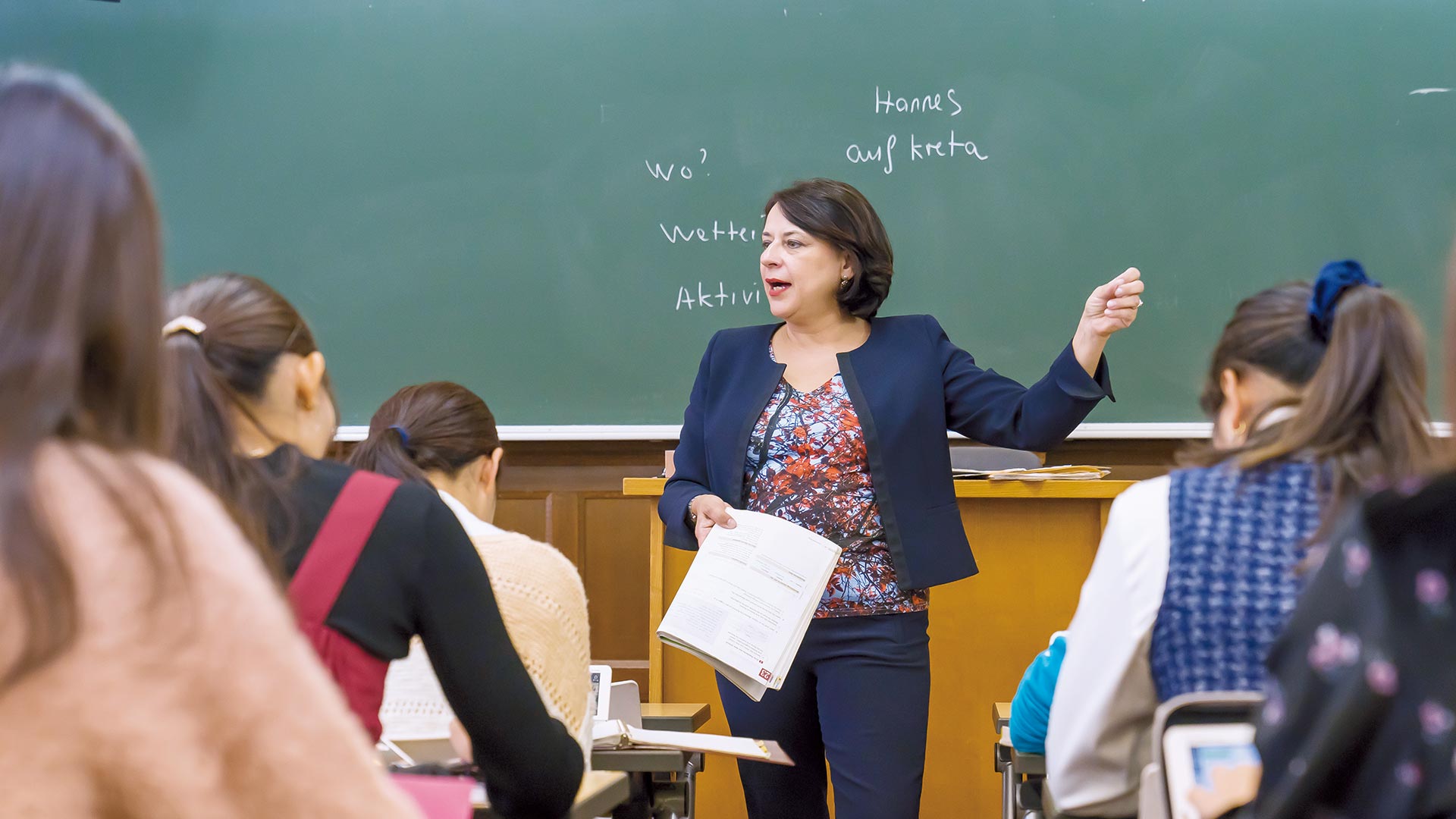 Language instruction to comprehensively improve language skills and a variety of regional studies to approach the present state of the German-speaking world
Department Features
In the Department of German Studies, native German speakers and Japanese teachers work together to provide intensive and efficient German language education. From the first year onward, it uses textbooks published in Germany to offer education focused on communication. In addition, classes cover a wide range of topics such as language, thought, environment, politics, society, and media in German-speaking countries, and students acquire the ability to understand and share the culture, values, and ways of thinking in German-speaking countries.
Our goal is not only to train specialists in German language and area studies but also to develop individuals with strong communication skills and specialized knowledge and methodologies who can play an active role in the international community.
Curriculum
A major feature of the curriculum is the study-abroad program, which enables students to study in a German-speaking country for six months during the fall semester of their second year, earlier than the typical study-abroad period. You can also take advantage of exchange programs to learn more about the language and culture. In area studies, discussion-based classes are held from the first year, using news and magazine articles. In the third and fourth years, we offer a variety of classes such as history, politics, economics, society, environment, culture, thought, music, and art. In addition, through an agreement with a German university, the department has a large number of German students. By learning, discussing, and experiencing the differences in culture and values with Germans, students can hone their international awareness while still in Japan.
* Please refer to the syllabus for more information on the courses.
Course Examples
Basic Seminar in German I a

Students will learn basic German grammar, develop the ability to write simple documents and read documents, and distinguish between appropriate and inappropriate German papers based on grammar.
Basic Seminar in German I b

Students will acquire the conversational and listening skills necessary for daily life in German-speaking countries and cultivate communication skills at a basic level. Classes are taught by Japanese and native speakers on a rotating basis.
Basic Seminar in German II a

The course alternates between intermediate-level grammar class and text reading. The goal is to acquire complex and applied expressive skills, and to reconfirm and reinforce previously learned grammar suitable for short reading comprehension.
Introduction to German Studies A

Students will acquire basic knowledge of contemporary society, politics, and economics necessary for German studies. Students will also acquire the language skills necessary to understand the current social situation in Germany.
Introduction to German Studies B

The purpose of this course is to provide students with basic linguistic knowledge for the study of the German language. Students will write reports following a basic structure and format, and acquire basic writing and presentation skills.
Introduction to German Studies C

The course aims to provide an overview of the cultural, geographical, social, and religious fundamentals of German studies, as well as the practical skills required to facilitate overseas study and other study abroad programs.
Available Teaching Licenses and Subjects
First Category Teaching license for Junior High School (German)
First Category Teaching license for High School (German)
Curatorial courses are available.
Educational Objectives and Policies
To cultivate advanced proficiency in the German language, and impart a broad base of knowledge (of humanities, social sciences, and the basic features of the German-speaking world) that will provide the foundations for specialized research in fields such as area studies and linguistics.
To produce individuals capable of contributing to increasingly globalized societies through advanced proficiency in the German language, and experts in research related to area studies and linguistics
The Department of German Studies sets standards for the skills and knowledge students should acquire before graduations as described below. Those who fulfill the graduation requirements shall be deemed to have acquired these qualities and will be awarded a diploma. The Department aims to have all students reach a level of proficiency equivalent to "B2" (level sufficient to study at an overseas university) under the Common European Framework of Reference for Languages (CEFR) at the timing of graduation and furthermore to have as many students as possible reach a level equivalent to "C1" (level sufficient to study at an overseas university)

Abilities related to receptive activities, including "listening" and "reading" German
Abilities related to productive activities, including "speaking" and "writing" in German
Abilities related to interactive activities, including communicating and negotiating in German
Activities related to mediating activities, including interpreting and translating German
The ability to understand the history, politics, economy, society and culture of German-speaking areas in the context of their global status and comparisons with Japan
In accordance with the Diploma Policy, the Department of German Studies constructs its curriculum with courses aligned with the following purposes:

【Major Language – Compulsory Courses (Basic German I, II)】These courses aim to have students acquire basic German proficiency through lecture-based classes and seminars centered on grammar and reading comprehension, as well as classes where native-speaker and Japanese faculty members collaborate to build further on students' four language skills of "listening, speaking, reading and writing" through practicing in pair work, group work, presentations, etc. In communication classes, the instructor speaks mainly in German. All classes assume proactive class participation and self motivated learning in and outside class.
【Major Language -German III/Advanced reading comprehension】Using the fundamental academic skills acquired in their freshman and sophomore years, students will learn high-level skills to practically use their language skills in their junior and senior years. Comprising mainly oral expression and listening comprehension, German III is taught mainly in German using various methods, including communication and presentations in pairs or groups, dictation to improve listening comprehension skills, etc. In Advanced Reading Comprehension, students will acquire the skills to read specialized text through reading high-level literature on language, thought and culture, and politics and society.
【Major Language – Basic Area Studies Courses (German-speaking world)】These courses aim to have freshmen and sophomores acquire the fundamental knowledge of the history, politics, economics, society, culture and language of the German-speaking world required to learn about the German-speaking world using German. Furthermore, students will acquire fundamental academic skills, including literature searching and report compilation. Students going abroad on Integrated Study Abroad and other programs will be prepared for living and learning at university in the German-speaking world. Classes will not only be delivered in the form of lectures, but also engage students in group work and presentations.
【Integrated Study Abroad】Credits for Basic German II, Area Studies (German-speaking world) and German III can be earned abroad at partner institutions located in the German-speaking world in the autumn semester of the sophomore year. Students returning from Integrated Study Abroad or Student Exchange Programs will take a course designated by the Department as a "Japan German comparative studies" course (including translation and interpretation) under the Faculty's Concentration course, to enhance inter-cultural communication skills and further comparative studies in each field by learning together with international students from the German-speaking world.
Department of German Studies:

Seeks students interested in various issues associated with the language, history, politics, economy, society and culture of German-speaking countries and regions, and motivated to acquire a high level of German proficiency;
Generally seeks students who wish to study German for the first time at the Department of German Studies, but also welcomes students with some experience in learning German who are prepared to be committed to enhancing their German proficiency through renewed systematic learning; and
Expects students to pursue specialized studies in the discipline or geographical area chosen from the nine Concentrations offered at the Faculty of Foreign Studies, supported by their practical proficiency in German or other foreign language.
Faculty Members
Reinold OPHULS-KASHIMA Professor
Takeshi KAWASAKI Professor
Christoph Goro KIMURA Professor
Ryosuke TAKAHASHI Professor
Yukiko SATO Assistant Professor