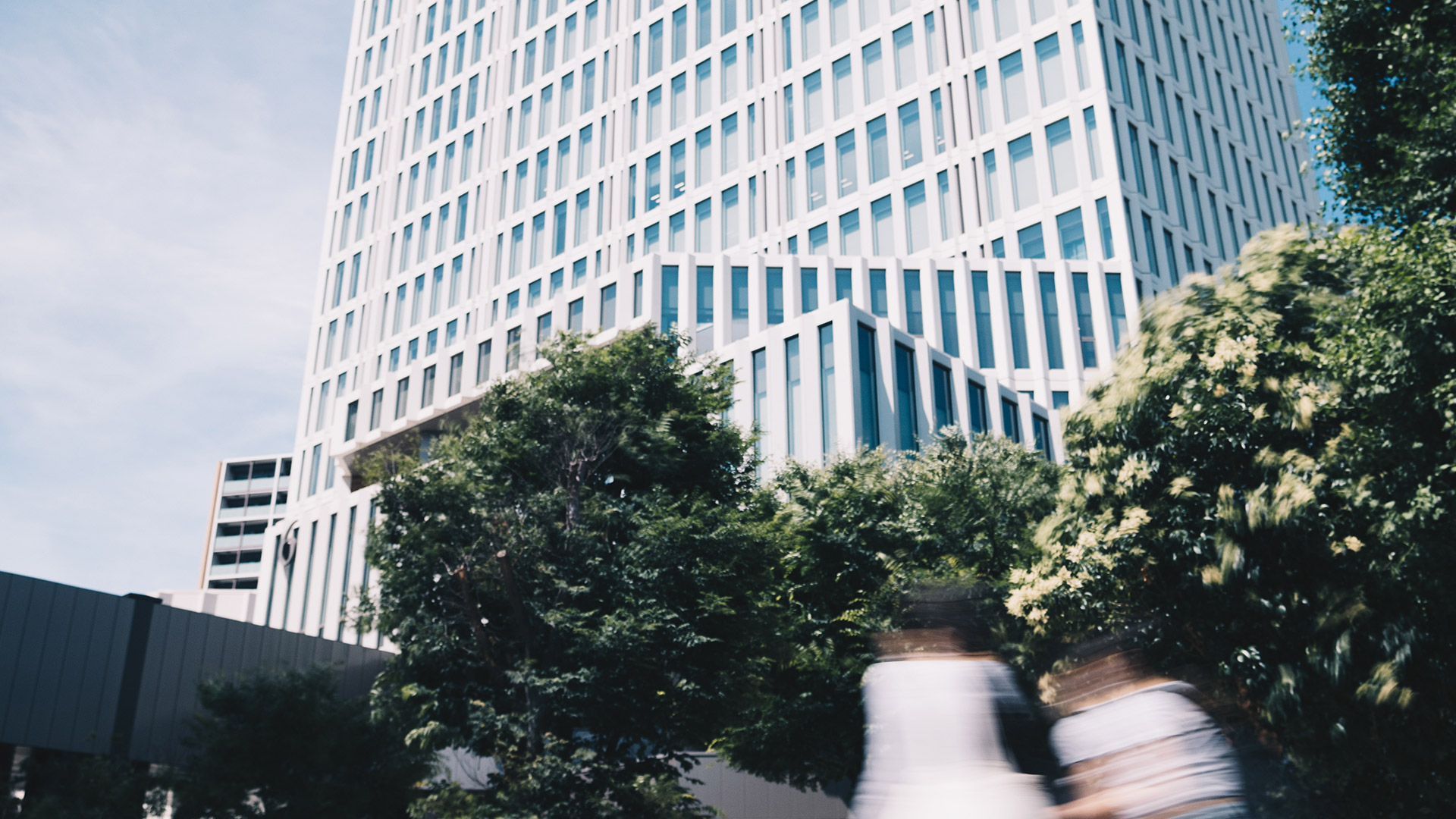 Returning to the Starting Point, Knowing Oneself, Knowing Others, and Pursuing Nursing
We aim to nurture people with research and leadership skills that can be applied in practice, and foster discipline of caring based on human dignity. In the Department of Nursing, "support for symbiosis" is defined as support for the symbiotic relationship between patients, their families, and the community. Based on the key term "support for symbiosis," each specialty area conducts developmental and practical research related to higher-quality caregiving.
Curriculum
The program fuses knowledge from other disciplines with knowledge gained from nursing education, research, and clinical practice, and passes this knowledge on to the local and international community to cultivate individuals who can contribute to society. Students will create practical knowledge by reviewing their past experiences and examining the application of knowledge and theories from other academic fields to nursing science. Those involved in clinical practice will be active in hospitals, welfare centers, and other medical health and nursing institutions, while those involved in research and policy management are likely to be active in institutions, policy think tanks, educational institutions, and research institutes.
Granted Degree
Master's Program: MASTER OF NURSING
Program Features
The Keywords are "Symbiosis" and "Support."
With the keywords "symbiosis," in which various personalities live in mutual benefit, and "support" toward autonomy and independence, we train people who can apply the spirit of "for others, with others" and "human dignity" together with deep expertise.
Practical Guidance with Emphasis on Fieldwork
The Department of Nursing emphasizes fieldwork as an educational method to hone practical skills and provide a sense of what is necessary for research.
Day/evening Course System that Enables Students to Study While Working (Long-term Enrollment System)
Beginning in 2019, most courses are offered after 5:20 p.m. (some will be offered from 3:25 p.m.). We offer a long-term enrollment system so that students, including those currently working in clinical nursing, can balance their studies in a comfortable learning environment.
Selected Thesis Topics
Donor Families' Experiences and Psychological Trajectories During the Organ Donation Process Under Brain Death.
The Portrayal of the Accumulation of Experiences of New Public Health Nurses Working in the Municipality
Field Survey of University Students' Contraceptive Knowledge, Sex Education Attendance, and Sexual Behavior
Health Perspectives and Coping Behaviors for Health Maintenance and Promotion among the Deaf in the Philippines
Nursing Interventions by General Ward Nurses for Mentally Ill Patients with Lifestyle-related Diseases and Dealing with Difficulties in the Process
A Study of Changes in Pelvic Circumference, Low Back Pain, and Daily Living Status with and without Lumbar Exposure During the Early Postpartum Period
Knowledge and Preventive Measures Against Malaria in Mothers
Effective Preparation for Japanese Disaster Nursing Assistance Abroad
Thoughts and Difficulties in the Care Life of Elderly Cancer Patients Living alone who Receive Outpatient Chemotherapy and Factors for Continuing Treatment.
Thoughts of a Mother with a Child with a Cleft Lip and Palate
The Rationale for Nurses' Perception of the End of Life and Subsequent Involvement
A Longitudinal Study of Self-Efficacy and Influencing Factors in Patients After Surgery for Malignant Bone and Soft Tissue Tumors of the Lower Extremities
An Examination of Emergency Department Nurses' Perceptions of and Responses to Patient Advance Directives and Factors Influencing Them
Examination of Health Support for Chinese Students in Japan
The Decision-Making Process for Family Members of Stroke Patients to Choose Home Care
Exploring Home-Visit Nursing Care for the Elderly in the Mountain Valley Region
The Impact of Empowerment Structure on Spiritual Empowerment via Career Design of Mid-career Nurses.
Effects on Posttraumatic Growth of Breast Cancer Patients by the Way They Make Sense of Cancer Incidence
Nurses' Reflection on Assisting Patients with Ventilators
Research on Surrogate Decision-Making Support Desired by Families
The Involvement of Significant Others in Influencing the Self-Concept of Persons with Higher Brain Dysfunction in Adulthood.
The Relationship Between Organizational Identification and Professional Identification in Relation to the Development of Mid-Career Nurses' Successors.
Thoughts of Stroke Patients in the Acute Phase: An Analysis from the Perspective of "Never Give Up" Minds
Midwives' Perceptions of the Experience of Women who Choose to Have a Painless Delivery
Perioperative Nursing Specialties as Perceived by Operating Room Nurses
Educational Policies
With an aim to foster human resources who acknowledge that human care is an academic discipline and are capable of engaging in practical research or assuming leadership, the Master's Program in Nursing sets standards for the skills and knowledge students should acquire before graduation as described below:
Those who fulfill the graduation requirements and pass their thesis defense shall be deemed to have acquired these qualities and will be awarded a diploma.

The ability to appropriately follow the research process and compile the results into a paper with proper structure and logical development
The practical ability and research ability to provide the best available health support in accordance with individual levels of development and health
The practical ability to play a leadership role in clinical practice
The ability to work in and outside Japan with an academic and comprehensive perspective
In accordance with the diploma policy, considering important issues in domestic and overseas healthcare trends, the Master's Program in Nursing constructs its curriculum as follows, in order to pursue advanced and practical research related to high-quality caring focused on "inclusive support."

Offer courses that help develop basic capacities related to nursing studies.
Offer courses that engage students in intensive studies on caring.
Offer courses on specialized areas of nursing that individual students wish to pursue in their research.
Offer courses that support the specialized areas of nursing that individual students wish to pursue in their research
Offer Seminars with the research advisor from the spring semester of the first year for students to acquire the ability to write their thesis and deliver presentations; and schedule opportunities for students to present their research plans and thesis.
The Master's Program in Nursing seeks students with the following qualities:

Students with practical experience in nursing as well as high practical skills and vocational ethics
Students who are eager to contribute to the development of nursing studies and to solving healthcare issues in Japan and overseas through the research in nursing
Students who can think flexibly and analyze healthcare and nursing phenomena logically and objectively