First lecture given by Professor Daisaku Higashi of Sophia University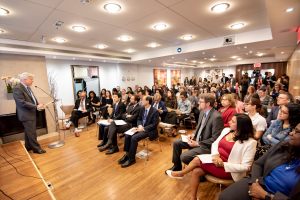 146 participants attended the seminar
Hochschild, UN Assistant Secretary-General for Strategic Coordination
In front of 146 participants, Mr. Fabrizio Hochschild, Assistant Secretary-General for Strategic Coordination, United Nations, made the opening remarks. Based on his numerous experiences as Deputy Special Representative for the United Nations Multidimensional Integrated Stabilization Mission in the Central African Republic (MINUSCA) as well as the UN Resident Coordinator, Humanitarian Coordinator, and Resident Representative of the UN Development Programme (UNDP) in Colombia, he emphasized the criticality of inclusivity in sustaining peace.

(You can see a summary of his remarks and a video of his entire speech at the link above)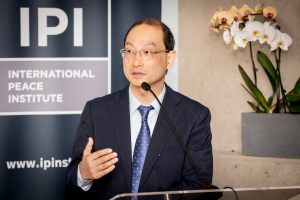 Dr. Daisaku Higashi, professor at Sophia University
Then, Dr. Daisaku Higashi, Professor at Sophia University in Tokyo (Deputy Director of the Center for Global Cooperation and Training, Sophia Institute of International Relations) made a PowerPoint presentation as the first speaker. After explaining his theoretical argument in his book Challenge of Constructing Legitimacy in Peacebuilding: Afghanistan, Iraq, Sierra Leone, and East Timor (Routledge 2015), he shared his current field research on mediation and peacebuilding in South Sudan, Syria, and Iraq.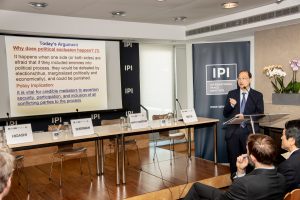 Based on this field research, he made original arguments on how political exclusion happens in the process of peacebuilding and how mediators (including the UN) should deal with local actors to avoid exclusion and enhance the inclusion of all groups in nation-building processes.

(You can see his PowerPoint presentation at the link above)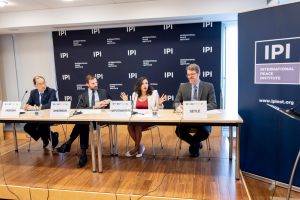 Following the first speech by Dr. Daisaku Higashi, Dr. Conor Seyle, Director, OEF Research, One Earth Future Foundation explored his theoretical argument and analysis based on his co-authored book, Governance for Peace: How Inclusive, Participatory and Accountable Institutions Promote Peace and Prosperity (Cambridge University Press, 2017).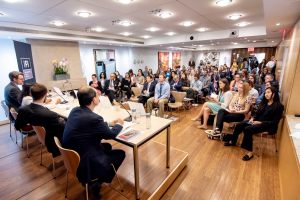 Ms. Hasini Haputhanthri, author of the Sri Lanka case study, IPI's "Local Networks for Peace: Drawing Lessons from Community-Led Peacebuilding,"presented her studies and analysis on the challenges of peacebuilding in Sri Lanka, emphasizing peacebuilding efforts at the local level, which she directly engaged in.

Then, there was very active discussion between the three speakers and the participants on the crucial issues in sustaining peace, moderated by Mr. Jake Sherman, Director of the Center for Peace Operations, International Peace Institute.

(You can see both Ms.Haputhanthri's presentation and the conversation at the link above)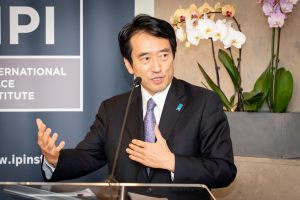 Amb. Kawamura, Deputy Permanent Representative of Japan
Lastly, H. E. Mr. Yasuhisa Kawamura, Ambassador Extraordinary & Plenipotentiary, Deputy Permanent Representative of Japan to the United Nations, made closing remarks and stated, "Efforts to sustain peace must be locally led, nationally owned, regionally anchored, and internationally supported."

He concluded that "this event highlighted the importance of inclusivity in sustaining peace, and today's speakers have provided us new insights through their research and broadened our understanding and inspired us in our work. I wish to work closely with the researchers, IPI, and other UN bodies to find a better solution for sustainable peacebuilding."

(The entire remarks by Amb. Kawamura can be seen at the link above)