Sophia University concluded a student exchange program agreement with University of Luxembourg in 2008 and has enjoyed successful exchange partnership since then (except during the Pandemic). In 2012, Sophia's first European office was set up in the University of Luxembourg to coordinate the sending of students and to provide local advisory support for students, professors on business travel, and short-term program students.
In addition to hosting students for student exchange program during a semester, Sophia have also hosted a group of students from Luxembourg for the Summer Session in East Asian Studies and Japanese Language, a short-term program offered by the university. Unfortunately, the short-term program held in face-to-face format was suspended from 2020 due to the COVID-19, but after resuming the outbound exchange in the AY 2022, the short-term program at Sophia finally welcomed incoming students in the Summer 2023, and ten participants arrived in Tokyo on June 28 after four years of interval.
Before departure, on June 6, University of Luxembourg hosted a "University of Luxembourg Scholarship Ceremony" for the students selected as this year's scholarship recipients. His Excellency Ambassador Matsubara of the Embassy of Japan in Luxembourg also attended the ceremony and presented the award certificates and other prizes. During the Summer Session, the students stayed at the University dormitory from June 30 to July 21 attending classes on Japanese language and East Asian Studies at Yotsuya Campus with other participants. They also enjoyed Rakugo performances in English as a part of cultural experience.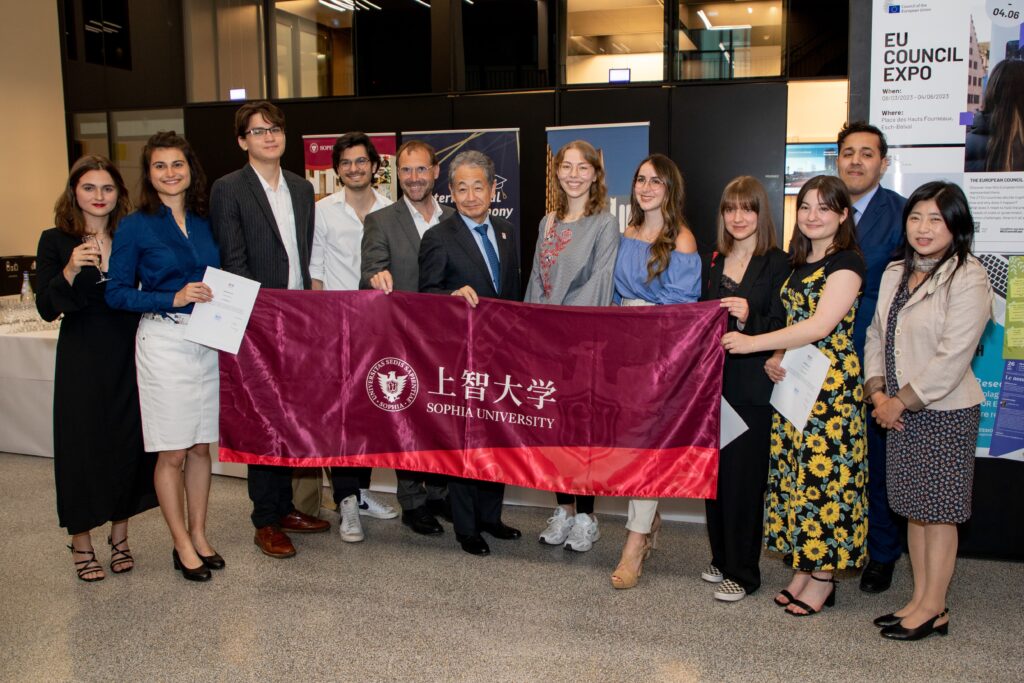 Summer Session Participants and Ambassador Matsubara at "University of Luxembourg Scholarship Ceremony"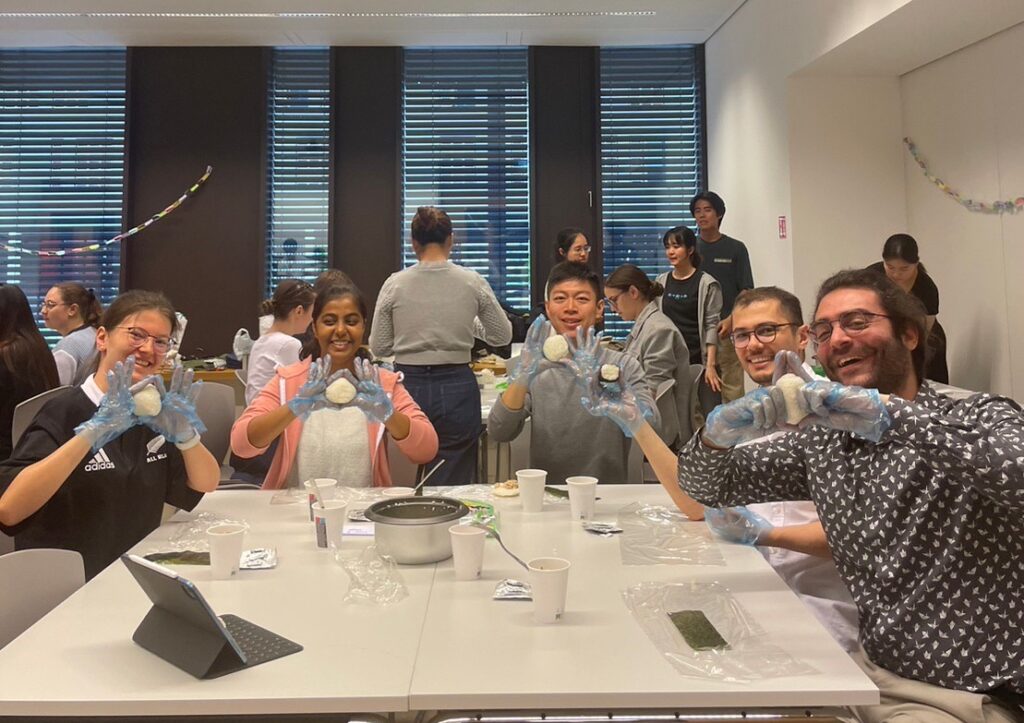 Making onigiri(rice balls)together
From Sophia, five outbound exchange students studied at University of Luxembourg for the AY2022/2023. During their stay in Luxembourg, the students organized two sessions by themselves to introduce Japanese culture to the local students in the University. The first event was held on March 24 to showcase Japanese culture such as calligraphy and origami (paper-folding craft), and on May 19, a cooking class was held where local students made onigiri (rice balls) by themselves and ate with miso soup. While the events were held at night, they attracted many local students.
The Summer Session participants have returned to Luxembourg after a three-week stay, but three Sophia students are scheduled to study in Luxembourg from the autumn semester 2023.
With the full-scale resumption of student exchanges between the universities, Sophia will continue to have active student exchanges, as well as further collaboration with our valued partner in education and research for the coming years.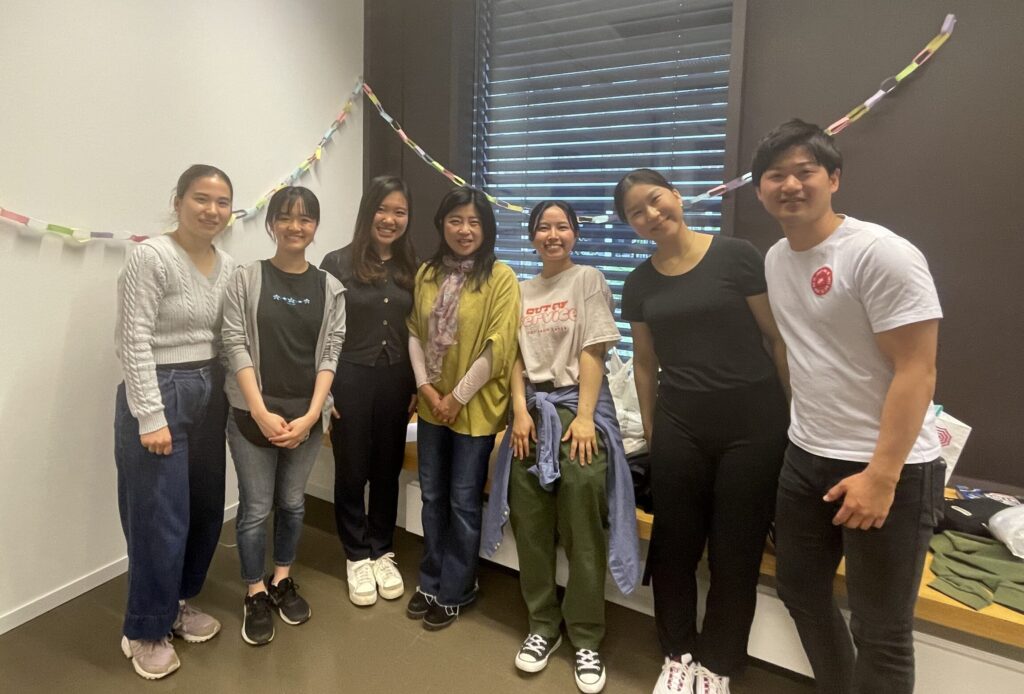 Five outbound exchange students who organized the events together with Sophia alumni and Luxembourg office staff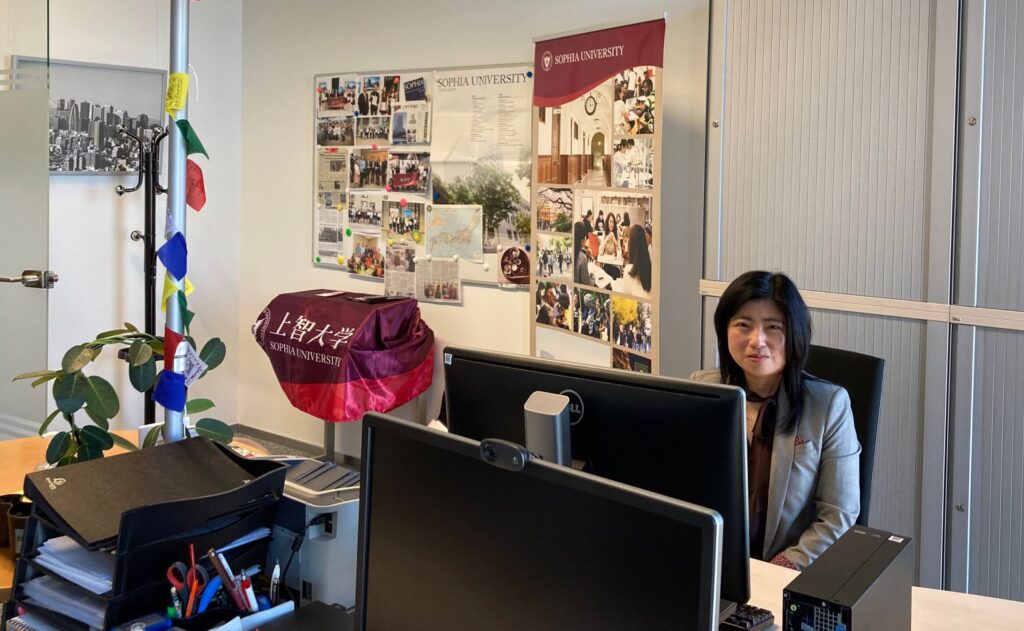 Ms. Matsumura, staff of Sophia Office in University of Luxembourg