The Seminar in International Education Development course, taught by Professor Taro Komatsu, Department of Education, Faculty of Human Sciences, held a joint online seminar with Ukrainian Catholic University (UCU), located in the Ukrainian city of Lviv, Ukraine, this April and May. A total of 10 Department of Education juniors and seniors from Sophia University and 18 students from UCU taking security-related courses participated in the seminar, which was held over three sessions based on the theme "Continuing Education in Emergency Situations."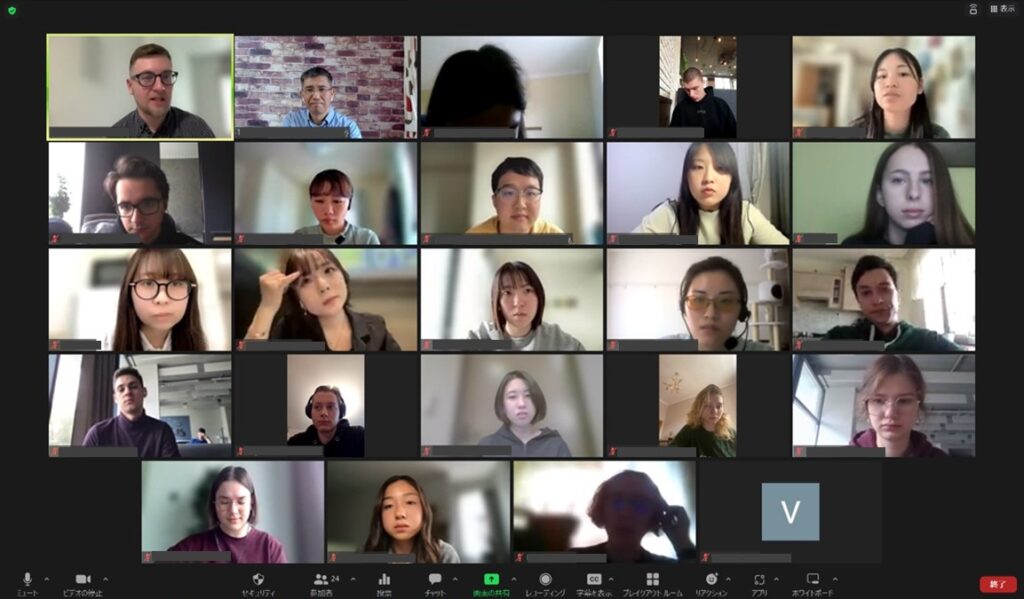 Collaborative Online International Learning
Prior to the seminar, Professor Komatsu and Professor Dmytro Sherengovsky from UCU held a series of preparatory meetings to develop understanding of the learning environment, motivation and interests of each other's students and decide on a theme and content of the seminar. The students who participated in seminar discussed the continuation of education in emergencies, particularly how education could be continued in the face of conflict, natural disasters and the spread of infectious diseases, drawing on their own countries' and personal experiences, as well as existing research results, and wrote a joint essay after the final session.
The tragic situation in Ukraine was also reported
A student from Sophia University reflected, "It was a valuable opportunity for me to learn how and why young people are learning in the midst of the war." A student from UCU said, "I used to dream of studying abroad when I entered university. In Ukraine, however, men are not allowed to leave the country now. Under these circumstances, I was glad to be able to connect with Japanese university students." This joint seminar has provided students on both sides with a precious opportunity to understand that two countries with different geographical, cultural and historical backgrounds can share common issues and that there are many things they can learn from each other's countries and personal experiences.
Reflecting on the seminar, Professor Komatsu said, "Collaborative Online International Learning (COIL) is a mode of learning designed to help students develop the cross-cultural collaboration skills sought after in the global community by getting tasks done through international cooperation. It can allow students to directly connect to universities in regions that are impossible or difficult to visit physically to learn together through collaboration between students in different universities. Several UCU students were unable to attend the third session presumably because an air-raid warning had been put out the night before, resulting in a sudden need to group students all over again and alter the program for discussion. This experience also gave students the opportunity to feel what is actually happening in the world firsthand."