On February 15, the "2022 (3rd) Commemorative Award Ceremony for the Visit of Pope Francis to Sophia University" was held at the Catholic Jesuit Center.
Sophia School Corporation has established the "Pope Francis Commemoration Fund" to perpetuate the memory of Pope Francis' visit to the University in November 2019. The purpose of the Fund is to support efforts to address the various challenges outlined in the Pope's message, "To Those Who Study at the University of the Seat of Wisdom." In order to share and promote the activities that embody the message widely within and outside the university, the Commemorative Recognition Program was established as one of the projects of the Fund.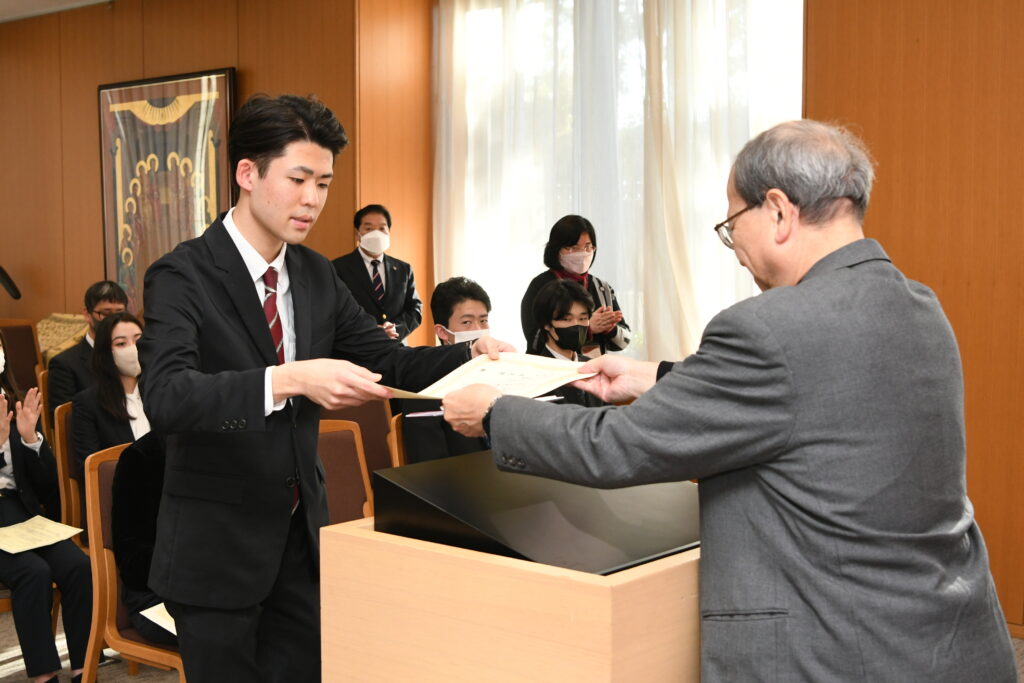 Certificate of commendation and supplementary award were presented by the Chancellor
This year, for the third time, the awards were presented to three individuals and four groups, and each was presented with a certificate of commendation and a supplementary prize by Chancellor Tsutomu Sakuma. After receiving their awards, the winners expressed their joy and gratitude, as well as their determination to continue and expand their activities in the future.
The award recipients are as follows.
【Higher Education Division】
【Individual Awards】
■Tomomi Mitsutake (Faculty of Human Sciences, Department of Nursing / Course of Midwifery, Assistant Professor) :Exhibition "The Weight of Life" and other ongoing activities
■Yuriya Sakai (Graduate of Faculty of Liberal Arts) :ARTISTIC UKRAINE
■Shoko Shimozawa (Graduate of Faculty of Foreign Studies, Department of French Studies) :Support activities to solve various issues faced by refugees at UNHCR
【Group Awards】
■"Meguko" Supporting the Independence of Children in Asia (Group Leader :Faculty of Foreign Studies, Department of Hispanic Studies, Second Year, Tetsutaro Taguchi) :Primary education support activities for children of impoverished families in India and the Philippines
■STP Cambodia (Group Leader :Faculty of Foreign Studies, Department of English Studies, Second Year, Rino Ochi) :English education support activities at Wat Cho Junior High School, Siem Reap Province, Cambodia
■Sophia Refugee Support Group (Group Leader :Faculty of Law, Department of International Legal Studies, Freshman, Mira Brook) :Assistance to refugees and asylum seekers as well as to displaced Ukrainian students at the University.
【Secondary Education Division】
【Group Awards】
■Eiko Gakuen Junior and Senior High School, Love Movement Committee (Group Leader :Senior High School, Second Year, Kenshin Isomura) :
Supporting children's homes for learning, visiting children's homes, hosting children at children's homes, and other activities.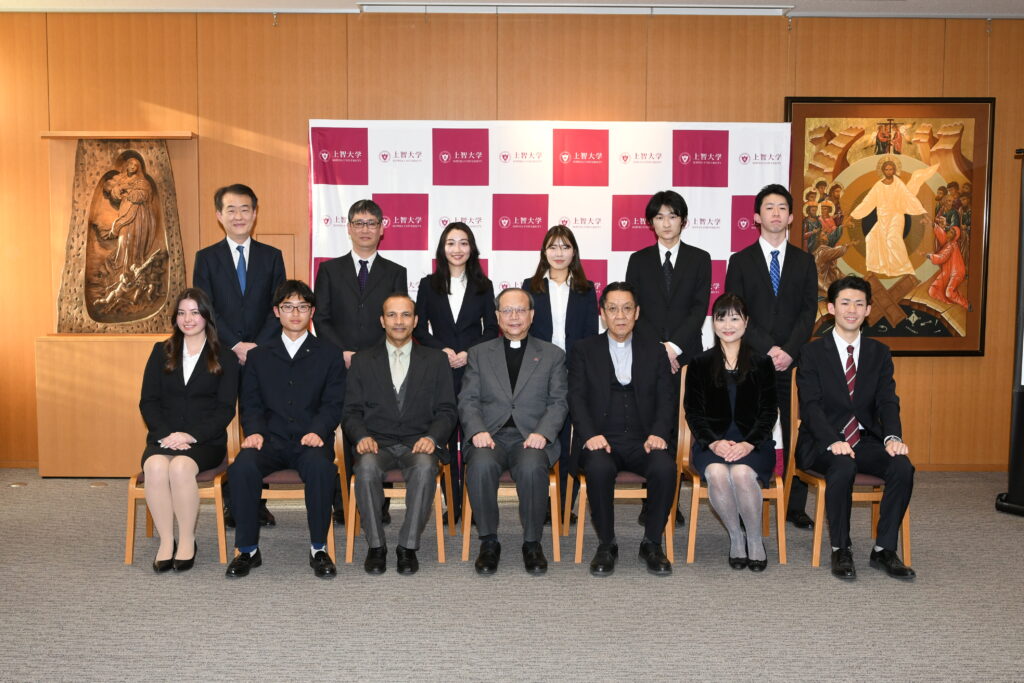 The award recipients and organizations celebrating together with happy smiles