Loving Hands for Indochina Refugees -For Others, With Others-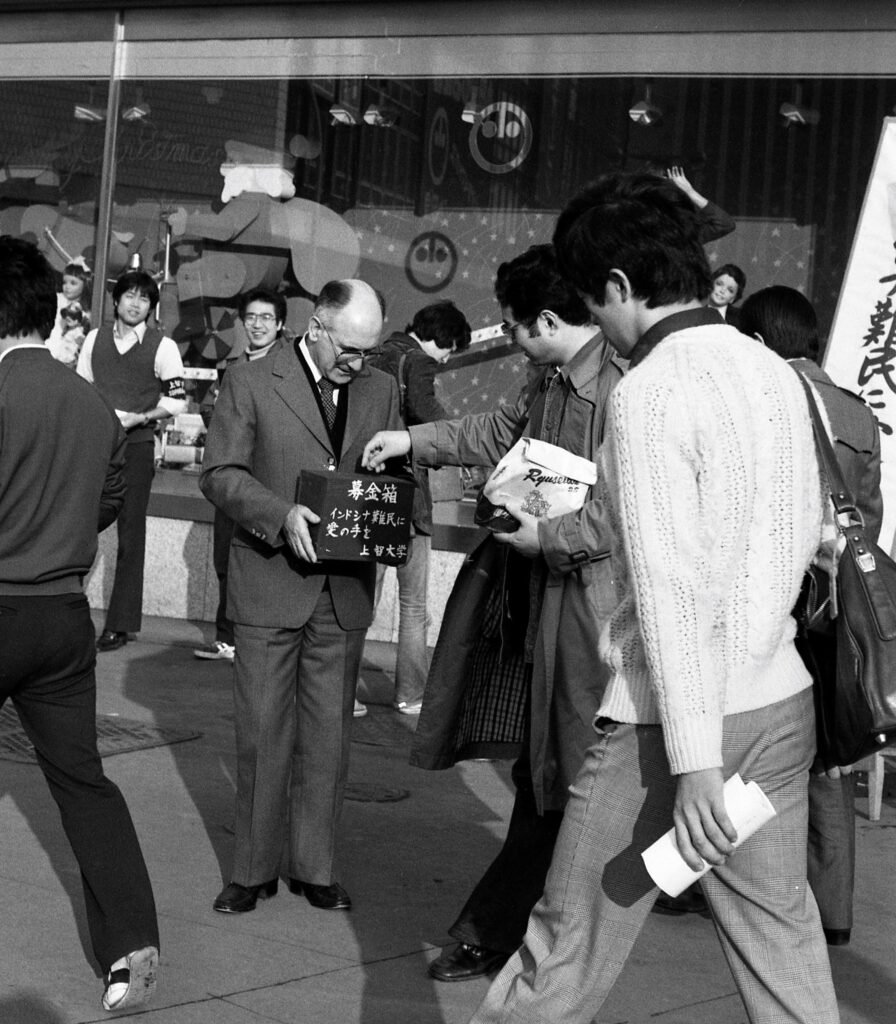 Sophia University responds to modern social issues with the spirit of "For Others, With Others" based on Christian humanism. What activities does the university engage in? The following focuses on how it responded to the Indochina refugee crisis in 1979–1980.
1. Indochina refugee crisis
The three Indochinese countries of Vietnam, Laos, and Cambodia transitioned to socialist regimes after the war in 1975. Consequently, people feeling threatened and fearing for their lives due to the rapidly changing situation began to flee from their countries, some by water and others by land (as Indochina refugees). The situation was complex and harsh for these refugees, as not only the situation of each of the three Indochinese countries but also many other factors, such as the severe difficulties of the refugees' journeys, the domestic and diplomatic conditions of individual host countries, and international affairs, were intertwined in this problem.
The chaos of the Indochina crisis and the issue of refugees were reported in a variety of media. While each country and the international community were required to respond to this situation, calls were mounting also within Sophia University for the provision of relief to Indochina refugees.
2. Loving Hands for Indochina Refugees: relief activities as university-wide efforts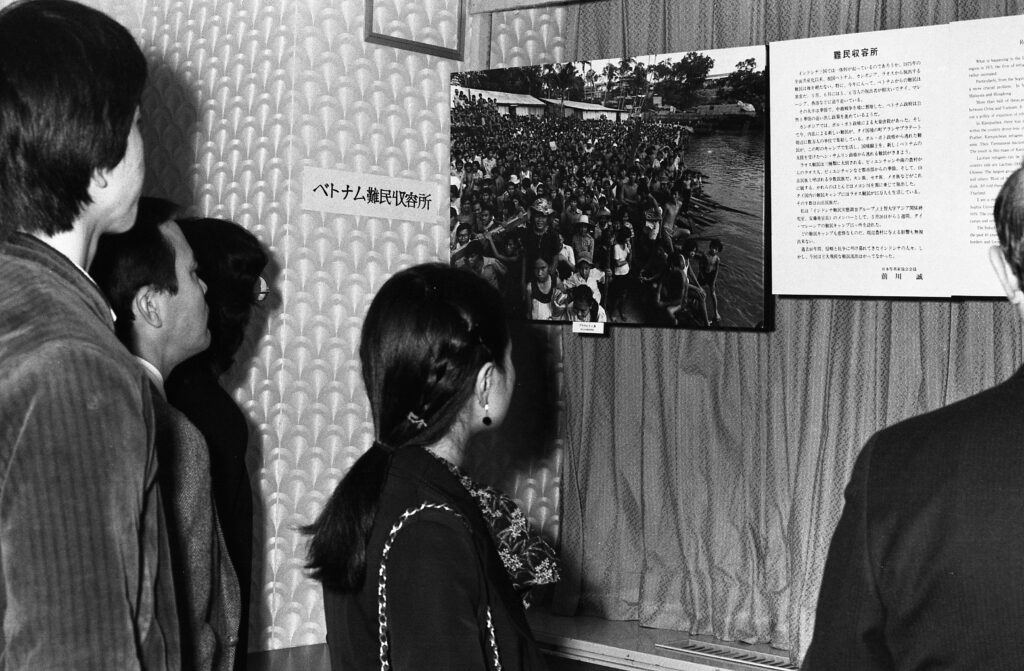 Photo exhibition (December 1979)*
It was decided, in the university council meeting on November 28, 1979, that the university would promote relief activities, while students, faculty members, and campus circles were preparing their relief activities for Indochina refugees. As such, "Loving Hands for Indochina Refugees, Sophia University" was launched on December 1, when the university began its university-wide efforts to address international and humanitarian challenges.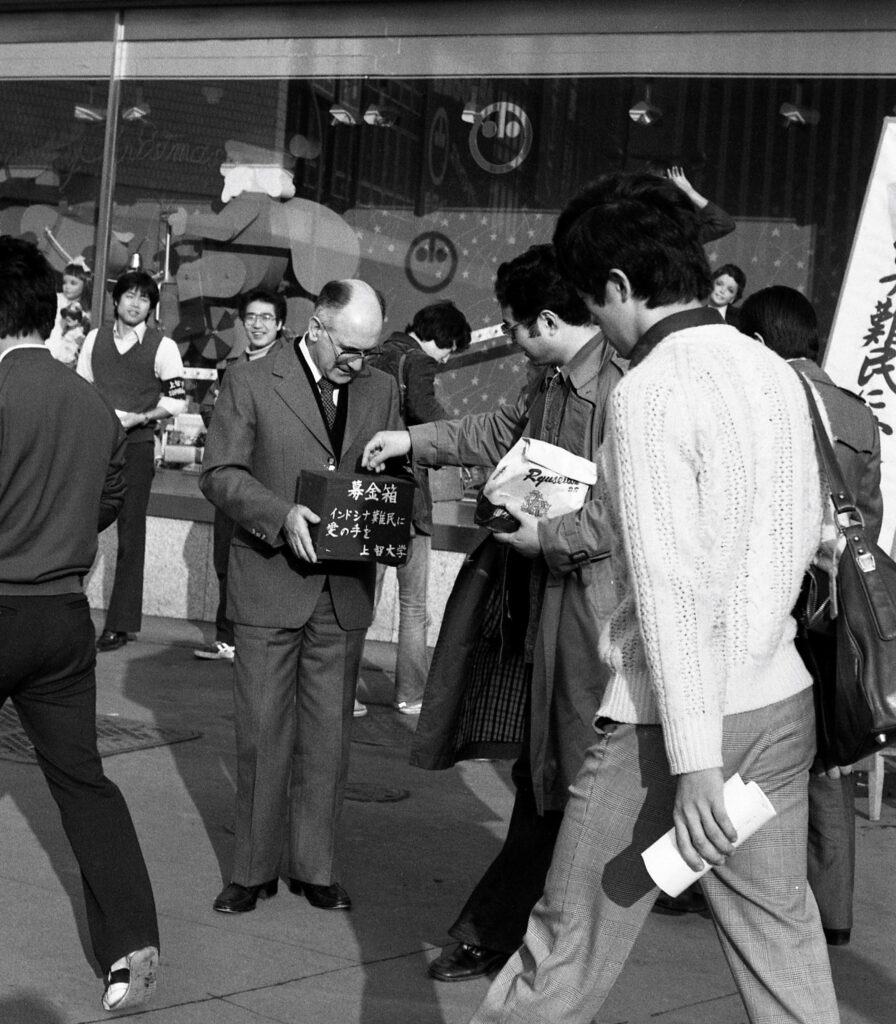 President Pittau calling for donations on the street at Shinjuku (December 20, 1979)*
A lecture meeting and photo exhibition were held on campus on December 5 by Father Isamu Ando, the then head of the Asian Relations Center of Sophia University, who had visited a refugee camp, and Makoto Maekawa, a photo journalist who had accompanied Father Ando to the camp, to communicate the realities of refugees.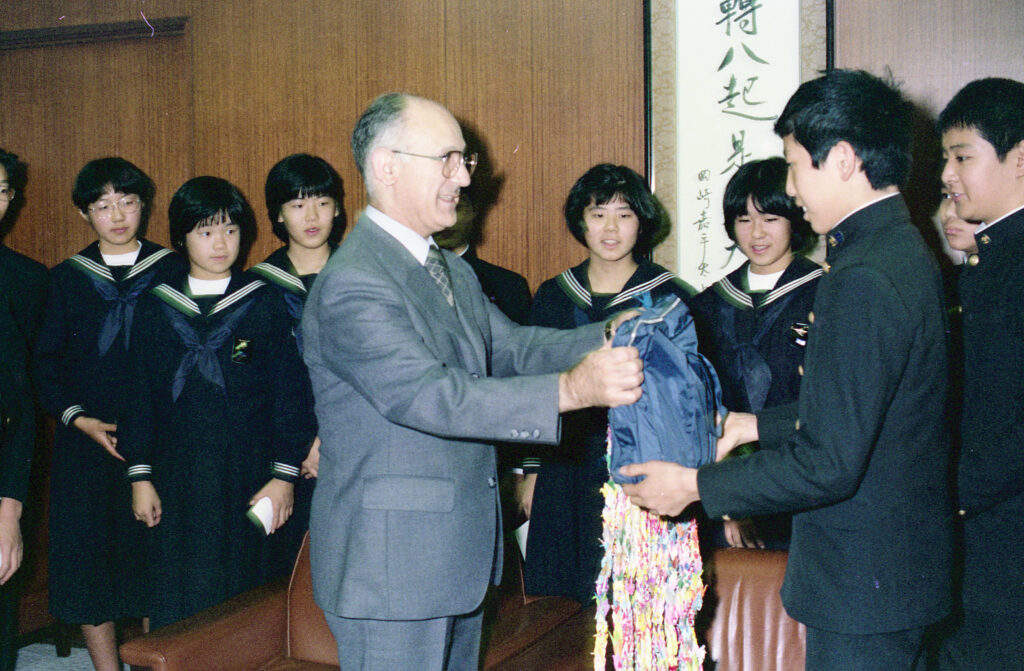 President Pittau receiving donations from students of Kinshi Junior High School in Sumida Ward*
Donation boxes were set up at office counters on campus on December 10, and donations were invited around Main Gate and North Gate and in other places. A street donation drive was carried out in front of Shinjuku Station between December 17 and 22. Father Joseph Pittau, the seventh president of Sophia University (in office from 1975 through 1981), also took to the streets and joined the drive, in which a total of about 400 people participated from both inside and outside the university.
These activities received media coverage, resulting in many donations and messages from external organizations and individuals who joined the cause.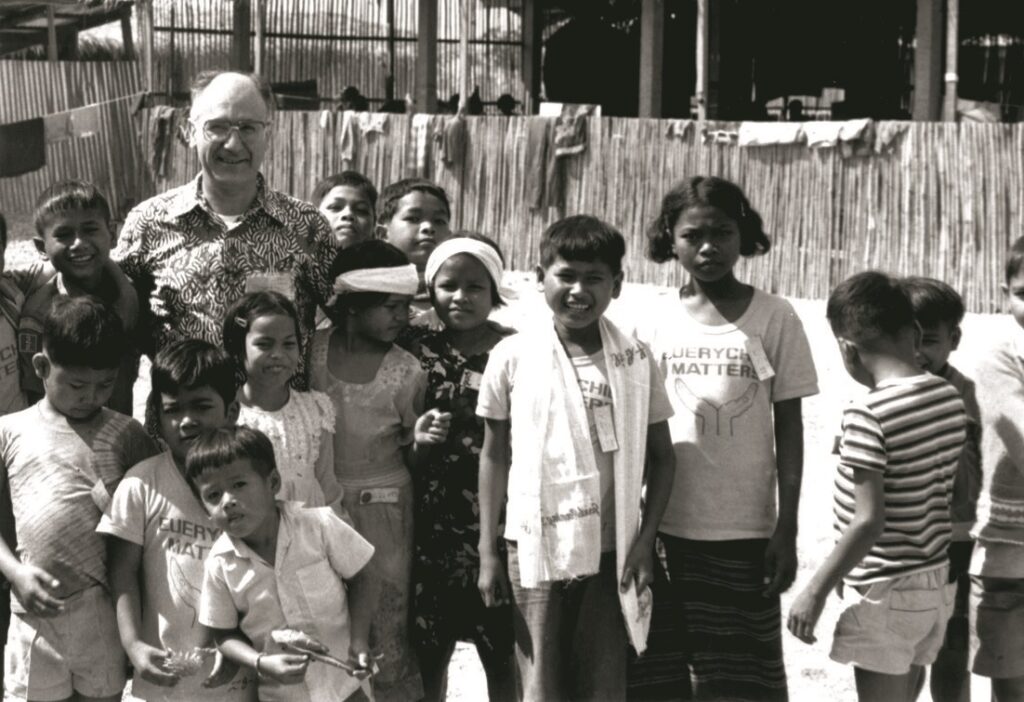 Children surrounding President Pittau, who visited their refugee camp*
President Pittau left Japan on December 27, 1979, to hand 7-million-yen worth of donations to the Catholic Bishops' Conference of Thailand in person. President Pittau and Kiyoshi Watabe, then Assistant Professor of Department of Philosophy, who accompanied him on the journey, used this opportunity to visit Cambodian refugee camps in Khao-I-Dang and Sa Kaeo near the Cambodian border.
The camp in Sa Kaeo included a children's center run by the Catholic Office for Emergency Relief and Refugees (COERR), which was engaged in local volunteer activities, where about 1,200 Cambodian children separated from their families were living. Having seen cheerful children begging him to play with them with smiles on their faces, unlike those sad, lifeless faces of children which he had seen in many pictures (*1), President Pittau was impressed by the smiles which volunteer and support activities had brought to their faces and acutely felt the importance of in-person communication with children.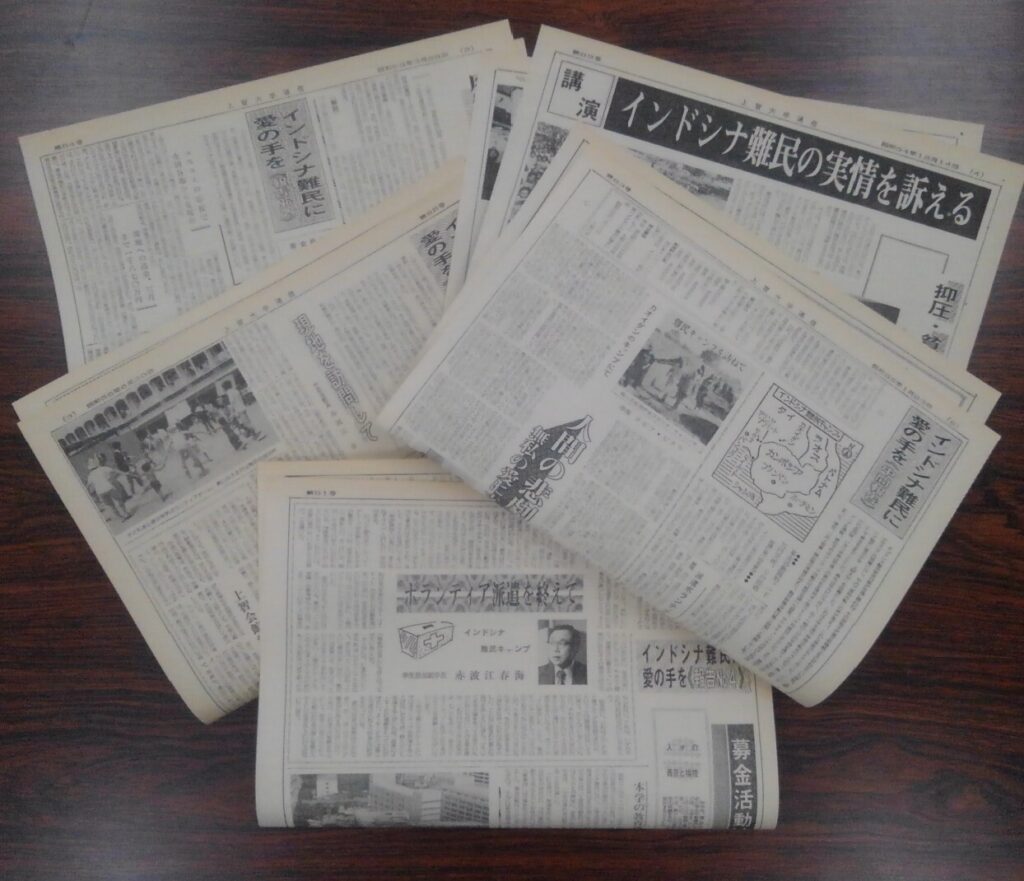 Sophia University News reporting Indochina refugees and developments in Sophia University*
"I thought Sophia University students might be of great help here, for example through playing with the children like their brothers and sisters, taking care of their clothes and washing them, and helping them take showers. They would be sure to be given many things in this atmosphere of love and selfless service while at the same time giving something themselves (*2)." President Pittau, who was exploring the possibility of student volunteers working on site, made arrangements with COERR to send volunteer workers from the university to the camp in Sa Kaeo on a continued basis.
President Pittau and Assistant Professor Watabe held an on-campus session to report on their journey and a briefing session for prospective on-site volunteer workers on January 11, 1980, at the same time as charity fund-raising. These on-site volunteers, including not only students, faculty, and staff of Sophia University but also their parents and students from other universities, were organized into teams with different schedules and attended Khmer classes before departing Japan. The first team (with ten members) left for Sa Kaeo on February 3.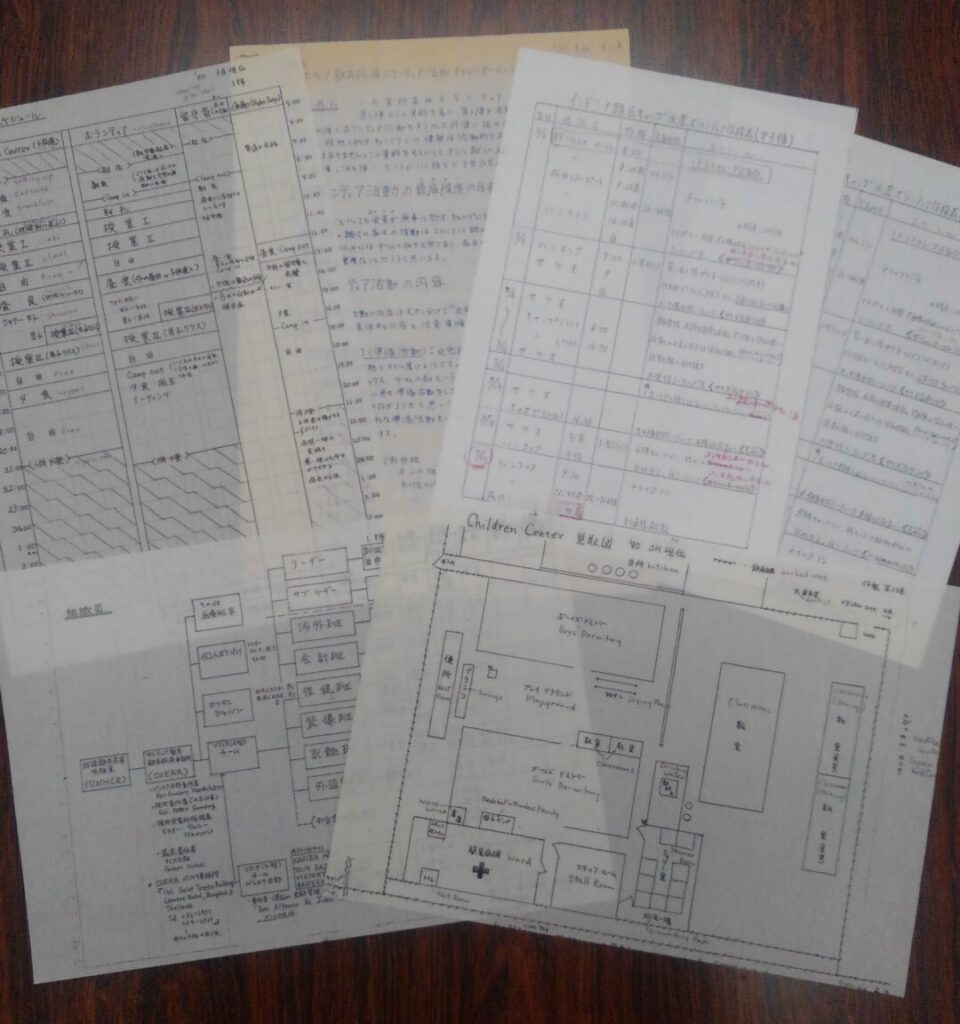 Documents showing the organization of teams, details and schedules of their activities, and so on*
One Sophia team was sent every two weeks to replace the previous team. The first to fifth (departing on March 30) teams worked at the children's center run by COERR in Sa Kaeo, and the sixth (departing on April 13) and later teams worked at transit centers (temporary accommodation facilities for refugees waiting for relocation to another country) and other places under the leadership of the Japanese Volunteer Center (current Japan International Volunteer Center), established in Bangkok in February. The participants experienced and realized many things through spending time and deepening their relationships with children at their destinations, for example by helping them with studies, leading recreational activities, and providing lifestyle support, while considering the distressing memories of refugees and the miseries of war. By the time Sophia University terminated this program in October after sending the 17th team as its final team of volunteers, a total of 152 people had participated in it over eight months.
They raised voices for, extended "loving hands" to, and stood by others in their relief activities for Indochina refugees. Indeed, their activities embodied the educational philosophy of Sophia University, "For Others, With Others."
(*1) "Visiting Cambodian Refugee Camps," Joseph Pittau, 1980 (P. 14)
(*2) Same as above (P. 15)
* Photos and information materials marked with an asterisk (*) are in the Sophia Archives.