On October 3, 4, and 12, four faculty members from the Master's Program in Human Resources Development for Socio-Economic Development (MCIGPD) of the National Autonomous University of Honduras (NAUH) visited the Yotsuya campus.
Sophia University, in cooperation with Koei Research & Consulting Co., Ltd.(KRC), is actively supporting the improvement project for this master's program implemented by JICA in Honduras. The visit of these four faculty members is part of the initiatives undertaken under this project.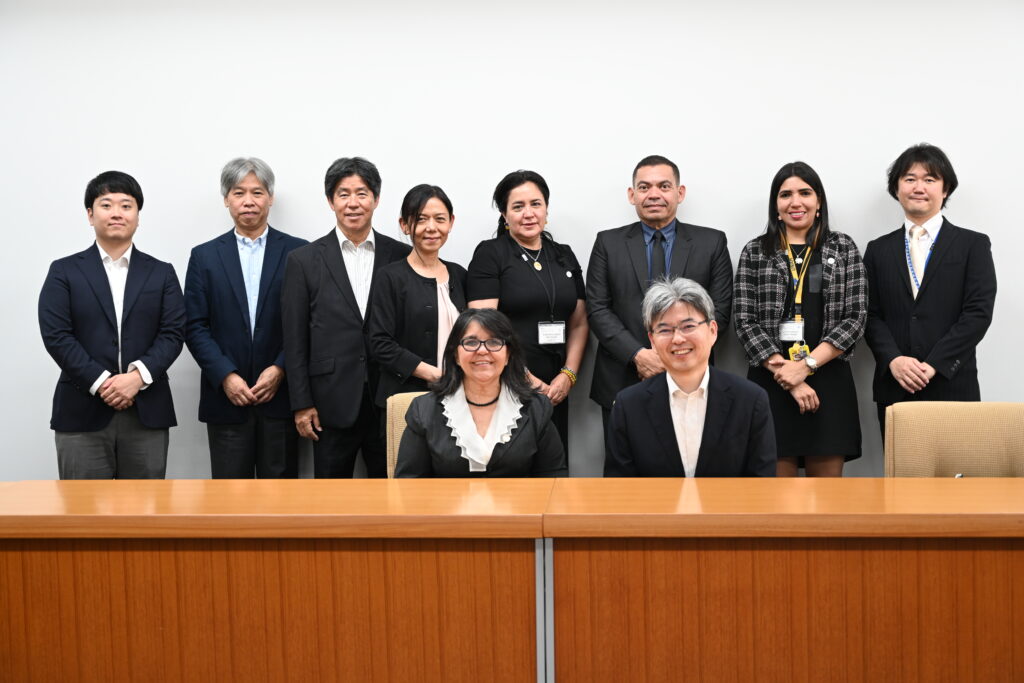 NAUH's faculty and JICA project members with Sophia's Vice President Takashi Irohara (front row, right)
In Honduras, despite receiving development assistance from various foreign governments and international organizations to address the country's myriad challenges, there is a shortage of specialized professionals capable of effectively project managing development initiatives. The implementation of projects faces a lack of personnel with expertise in development projects that could ensure proper project management.
This project aims to restructure the curriculum of the MCIGPD at the National Autonomous University of Honduras. The goal is to improve the training of professionals responsible for socio-economic development projects in the country, contributing to the effective and efficient implementation of such projects. Three professors from Sophia University – Professor Yasuhiro Ueki (Graduate School of Global Studies), Professor Noriko Hataya (Department of Hispanic Studies), and Special Appointed Professor Junko Sazaki – are working together to achieve this goal.
During the sessions at Sophia University, faculty members from Honduras joined Professor Ueki in discussions on identifying areas for curriculum improvement, methods for guiding master's theses, allocation of academic staff, and course structure, among other topics. Drawing on the model of Sophia University's Graduate Program in International Cooperation Studies, which Professor Ueki played a key role in establishing, the participants gained valuable knowledge about the operation of international cooperation graduate schools in Japan.
The NAUH faculty members expressed valuable takeaways, noting that through interactions with professors and Japanese graduate students, they gained clarity on areas in need of improvement. Comments such as "It became clear what we are lacking" and "We want to offer a high-quality master's program tailored to the needs of our country" were shared.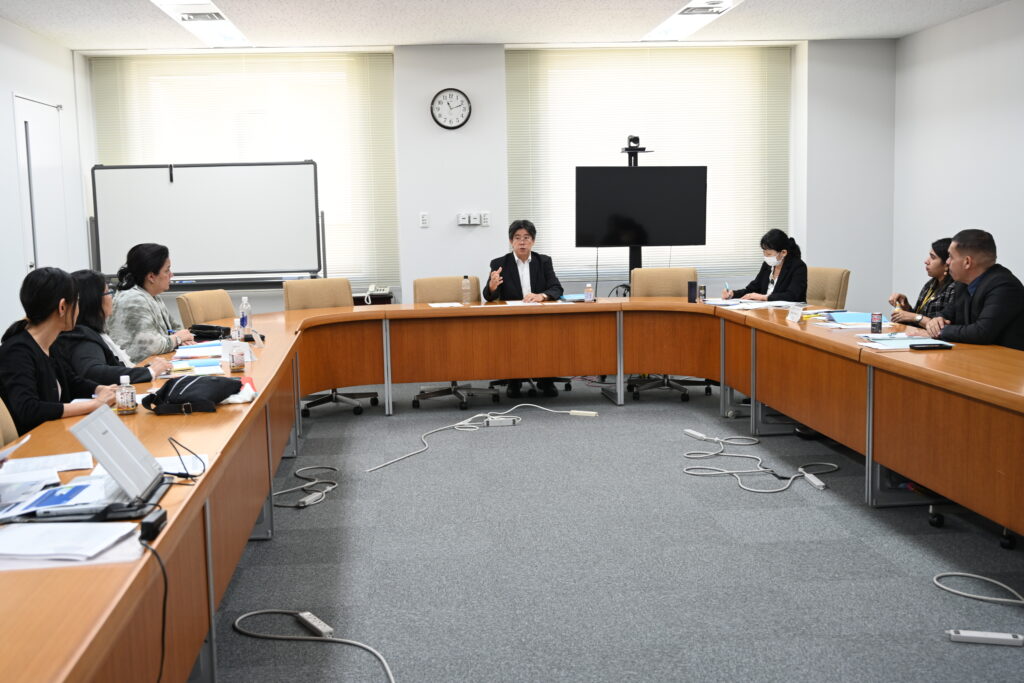 Session with Professor Ueki and faculty members from NAUH
Professor Ueki commented, "One of the problems with NAUH is that there is no requirement to write a master's thesis. Deciding on a topic and systematically conducting research can help increase knowledge, critical thinking and practical skills. Individuals with a master's degree can become a driving force for future social development and educational improvement in Honduras."
He added, " Another challenge is the lack of full-time faculty. Currently, most of the faculty at MCIGPD are external or foreign. The system for training students is inadequate and there is a lack of local professors who can actually supervise students. Developing and attracting capable local faculty is the main challenge in the medium to long term. Developing countries have their own circumstances, and there are many challenges to educating quality students. The approach of advanced countries may not be the best, so it is crucial to explore methods tailored to each country's situation."
In 2016, Sophia University has signed a comprehensive cooperation agreement with JICA for various exchanges in education and research. However, this is the university's first venture with JICA in overseas projects.
In April 2021, Sophia University established the practical course, the graduate program in international cooperation studies, which is aimed at individuals who wish to pursue careers in international organizations and cooperation. Following a proposal from KRC to utilize its expertise, a joint project has been underway since 2021.
The KRC representative stated, "Professors from Sophia provided practical advice from the perspective of training professionals. Their suggestions based on the local realities of Honduras, such as social and cultural aspects and political situations, have been immensely beneficial. While the project is scheduled to end in February 2025, we want to solidify a learning framework with Sophia professors to empower Honduras for self-sufficiency even after the project ends."