On April 1, the 2023 entrance ceremony was held at the Tokyo International Forum. As last year, the ceremony was held in two sessions, one in the morning and the other in the afternoon. This year, 2,824 undergraduate students, 473 graduate students, and 10 midwifery students were enrolled.
The ceremony began with music by the Sophia Philharmonic Orchestra, followed by a blessing by Father Sungil Lee, S.J. (morning session) and Father Juan Carlos Haidar, S.J. (afternoon session) of the Catholic Jesuit Center, who read a passage from the Bible "The Gospel according to Mark" and the Sophia Choir and Sophia Glee Club performed the chorus.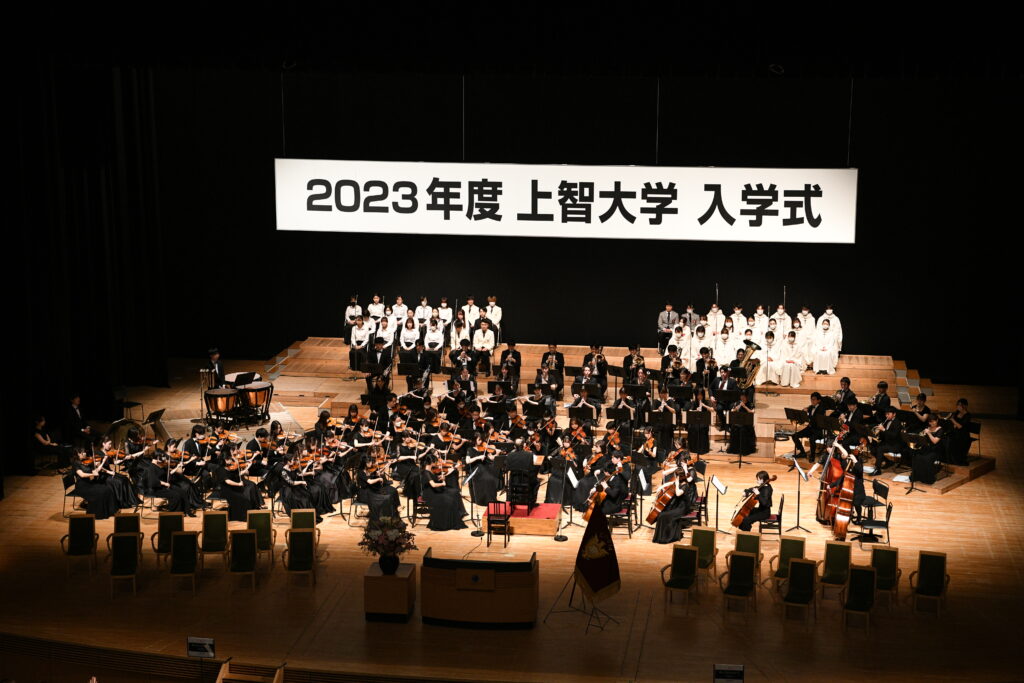 Music by the philharmonic orchestra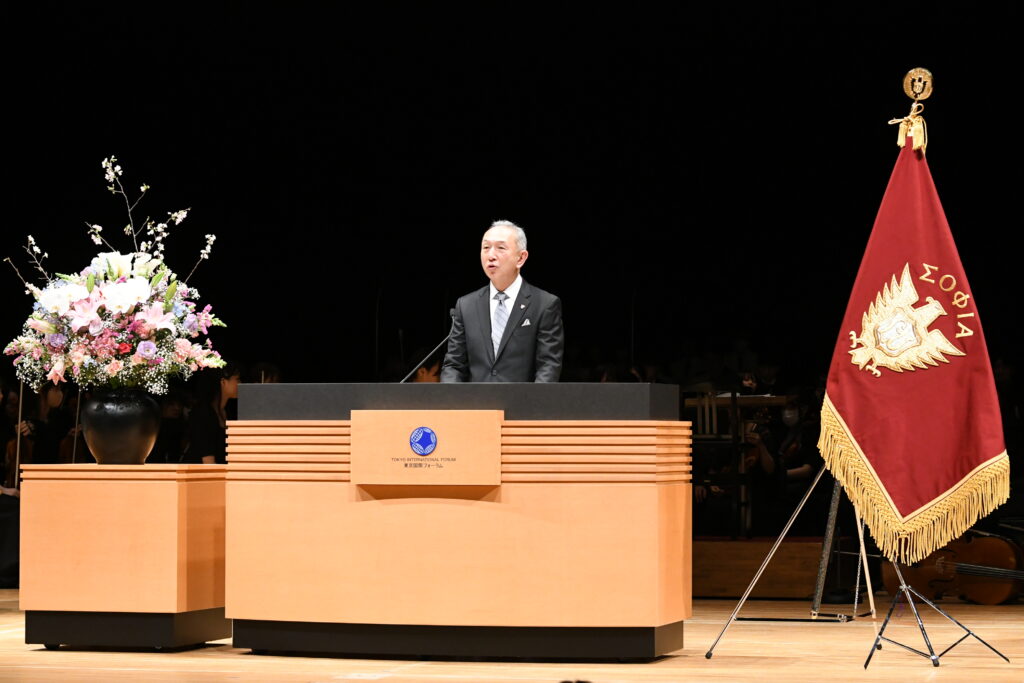 President Terumichi encourages new students in his ceremonial address
In his address, President Yoshiaki Terumichi expressed that, "The state of society is undergoing a period of change, with the turmoil caused by disasters such as Corona and earthquakes, the fragility of the international order exposed by the ravages of war, and the ethics of human society being challenged by digitalization and AI. Against this backdrop, society holds high expectations towards all of you starting new chapter in your lives. I believe that you, who have gathered here today undaunted by the Corona crisis and other challenges, have the ability to design your own learning to refine your individuality, or in other words, to shape your own learning in a creative way. Sophia University's educational spirit, "For Others, With Others," is the most valuable spiritual foundation in this age of globalization and digitalization. I hope that in the unique learning environment of Sophia University, you will grow as Sophians who are there for others, whether for those in need or even for total strangers, and I wish you all the best in your journeys."
In the address by Freshman Representative Ms. Wakaba Shoji (Department of Social Services/ Morning Session) said, "I would like to contribute to building a society where we can live with others for others by applying what I will learn and receive." Mr. Takuya Takahashi (Master's Program in Death and Life Studies / Afternoon Session) expressed "I would like to boldly challenge what I have given up due to the corona crisis and explore new possibilities within myself."
Chancellor Tsutomu Sakuma, S.J. then expressed, "Sophia University is celebrating its 110th anniversary this year. From its earliest days to the present, Sophia University has retained the characteristics of an international university and has responded to the needs of each era with distinctive features and new forms of education. We have a mission as individuals, as members of the human communities, and as inhabitants of the Earth, our common home. We hope that you, who have enrolled in our school today, will be able to become Sophians who embark on a journey that will soon take you all around the world."
Following Mr. Toshio Hamaguchi, Chairperson of the Sophia University Parents' Association, then extended his words of encouragement to the new students, "I hope you will meet wonderful and treasured friends on this campus, and I hope you will enjoy your student life to the fullest."
In the morning session, the 2022 President's Award was also presented, and the recipient, Mr. Taisei Onda (4th year, Department of Russian Studies) , delivered a speech.
The ceremony was moderated by Mr. Yushi Mitsuda (4th year, Department of Global Studies, morning session) and Ms. Aoi Kajihara (4th year, Department of Japanese Literature, afternoon session) of the Sophia Broadcasting Club (SBC). And then, the Sophia Philharmonic Orchestra performed, and the Sophia Amadeus Choir, Sophia University Choir, and Sophia Glee Club sang alma mater to close the ceremony.
Click here for the full text of President Terumichi's ceremonial address.
Click here for the full text of Chancellor Sakuma's congratulatory address.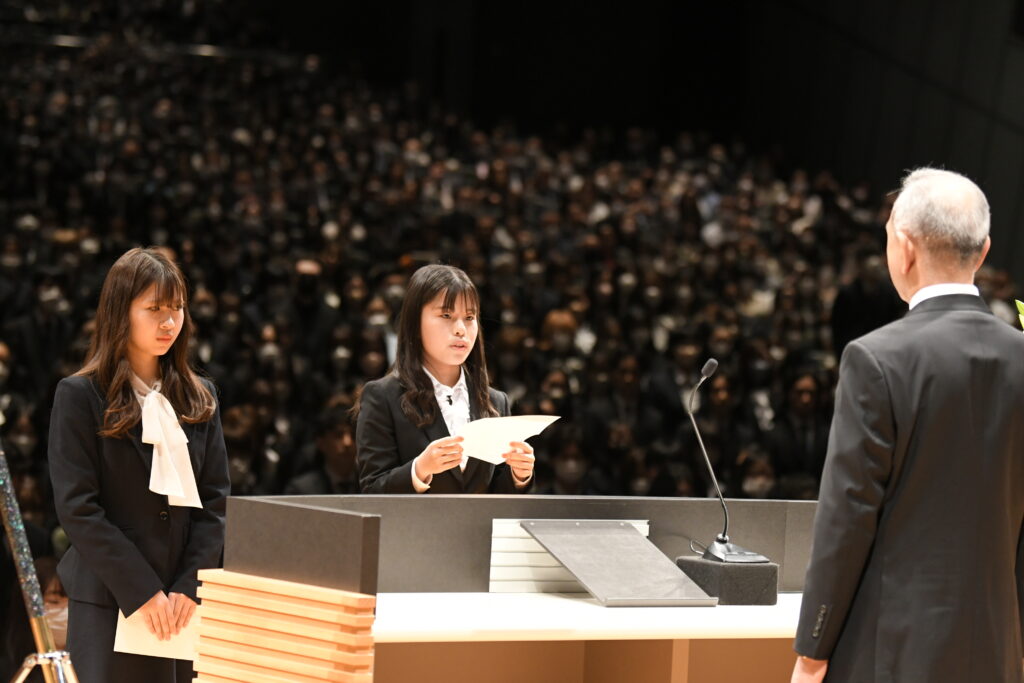 New student representative's speech (morning session)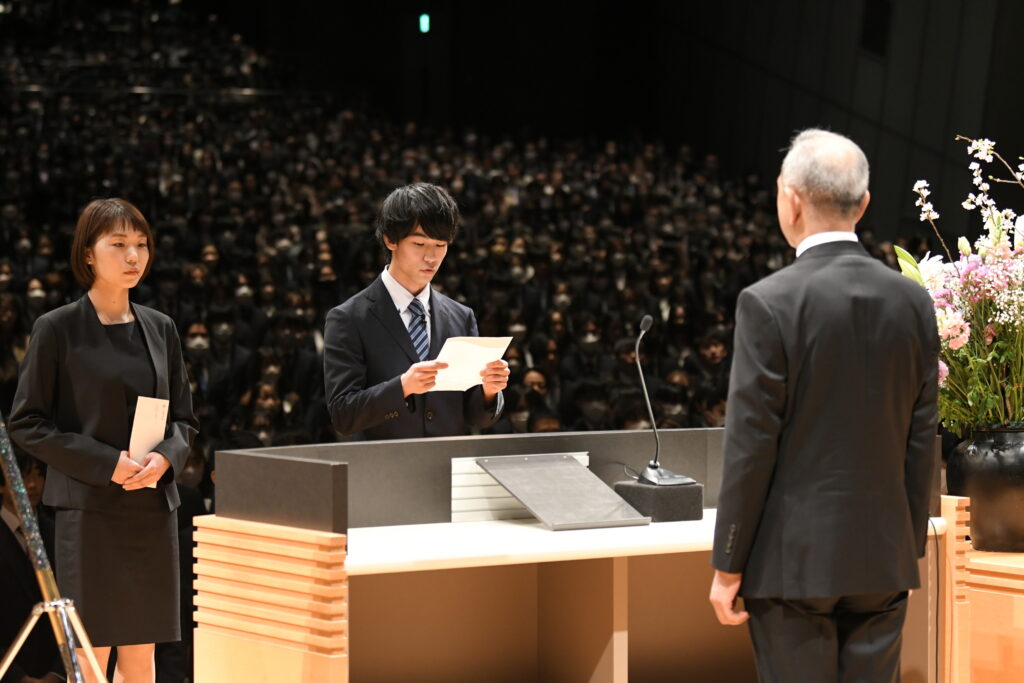 New student representative's speech (afternoon session)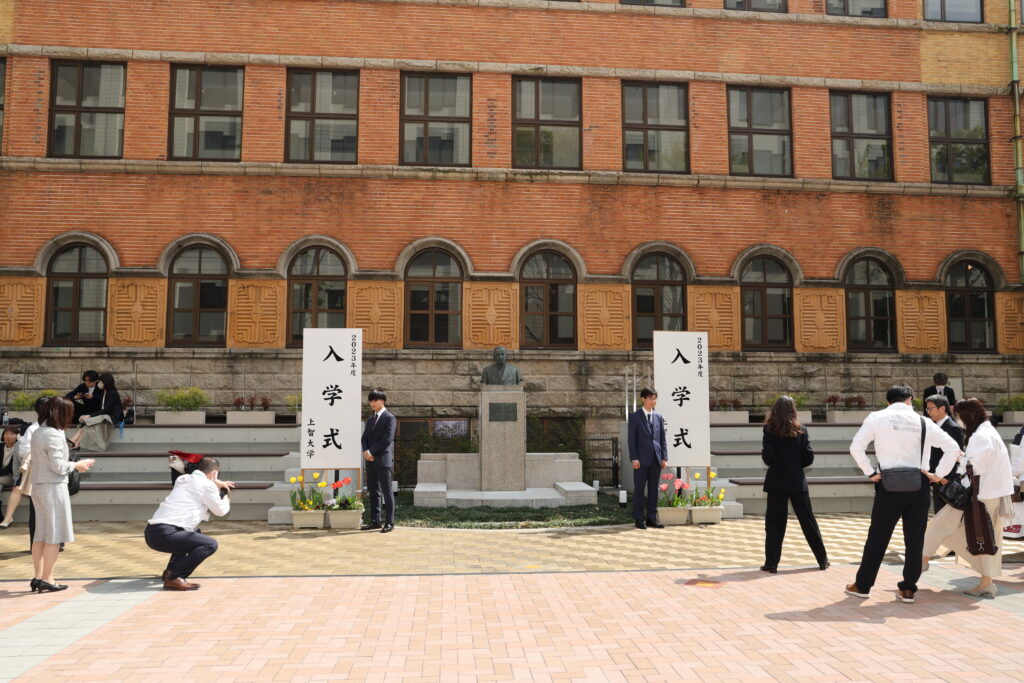 New students taking photos in front of the entrance signboard on campus