CHAPTER 2
REFLECTING ON THE VISIT OF POPE FRANCIS
Since Pope Francis's election in 2013, we had a number of exchanges with the Pope on various occasions. On November 26, 2019, during his stay in Japan, we were able to welcome Pope Francis to our university.
In this chapter we look back on the Pope's visit and introduce items that recall the event.
1.Welcoming Pope Francis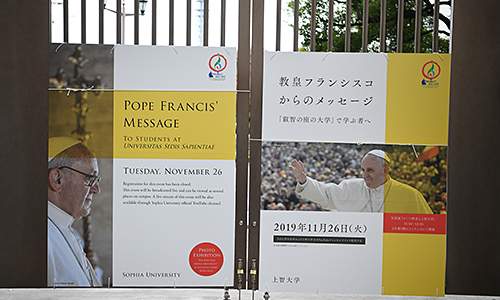 資料番号:撮影_4_DSC_3990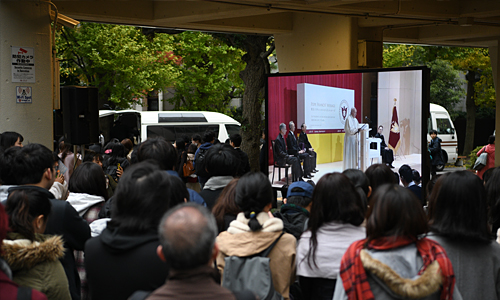 資料番号:撮影_4_DSC_4024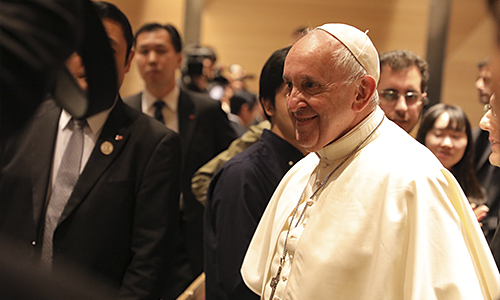 資料番号 3E2A1034
2.Pope Francis signing the guest book(at Kulturheim)
4.Items memorializing Pope Francis's visit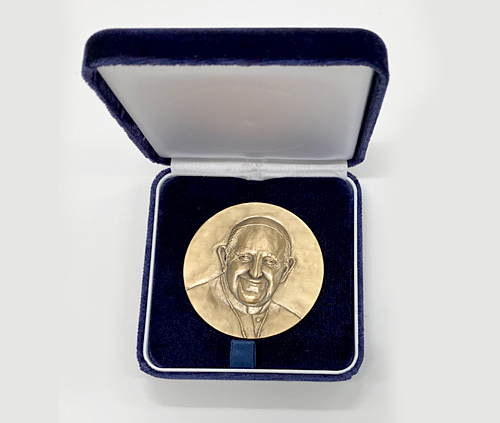 資料番号:教皇フランシスコ_20
The medal commemorating the Pope's visit to Japan presented by the Catholic Bishops' Conference of Japan.
The official logo reads "Protect all life," the theme of the Pope's visit.
Rosary and card from the Vatican
Pope Francis's Coat of Arms is engraved on the medal of the rosary.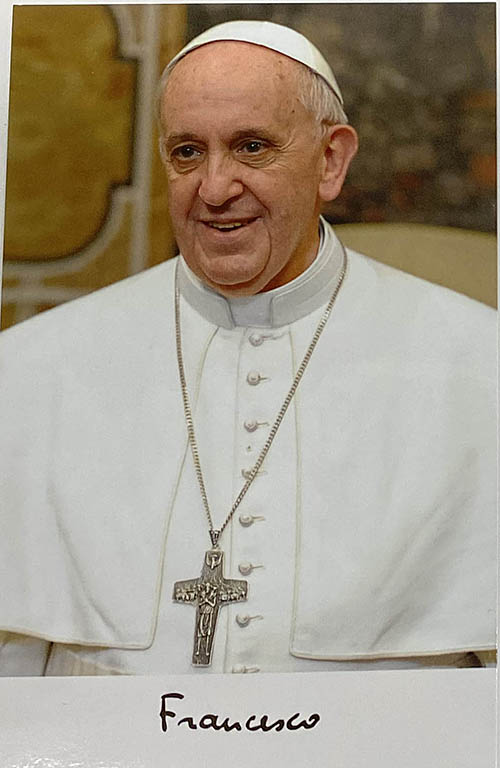 資料番号:教皇フランシスコ_16
Card (front)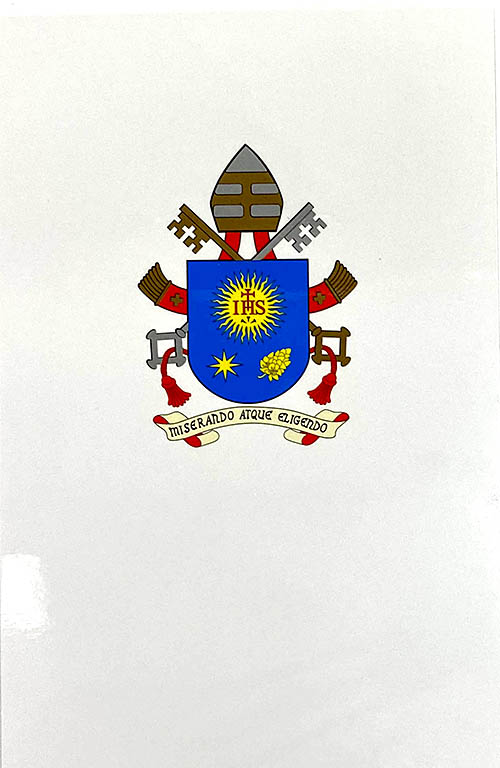 資料番号:教皇フランシスコ_16
Card (back)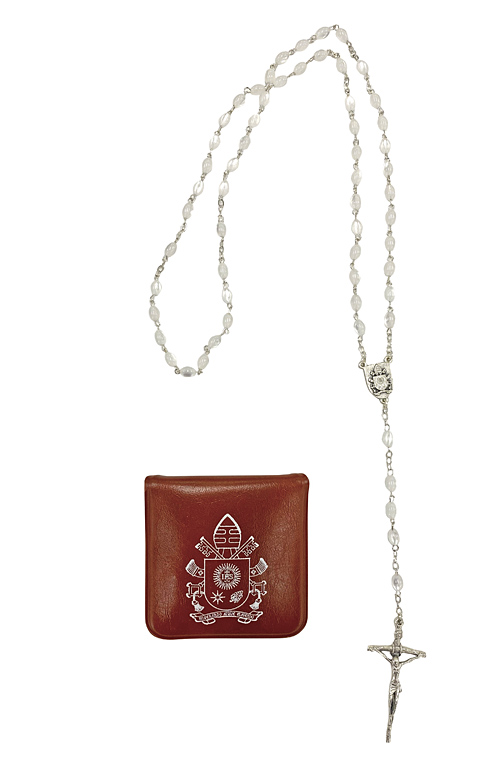 資料番号:教皇フランシスコ_15
Rosary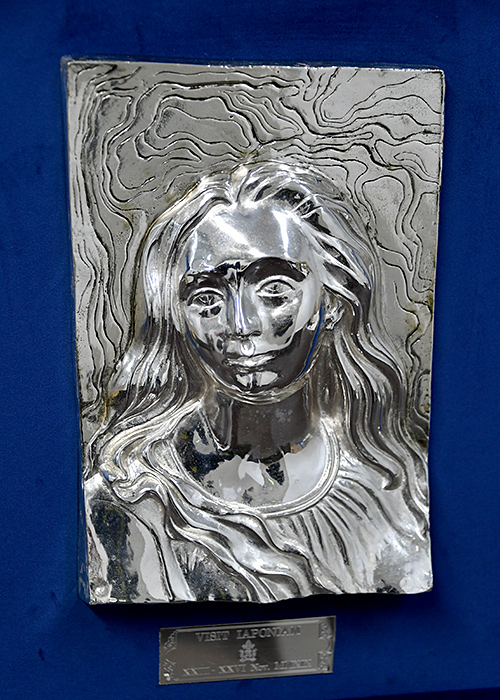 資料番号: 教皇フランシスコ来日・来校関係資料 _21
Madonna in silver, a gift from Pope Francis
This metal casting work was created by Marino Mandolesi in 1989 using a lost-wax process, inspired by the famous painting by Scipione Pulzone "Immaculate Conception of Mary" (1582) for the cathedral in Gaeta, Italy.
Specially made bookmark to commemorate the visit of Pope Francis to our university
The original design was created to commemorate the Pope's visit. At the top are the Jesuit symbol and the Pope's episcopal motto in Latin "Miserando atque eligendo" (chosen in mercy). At the bottom are Sophia's emblem and the date of his visit.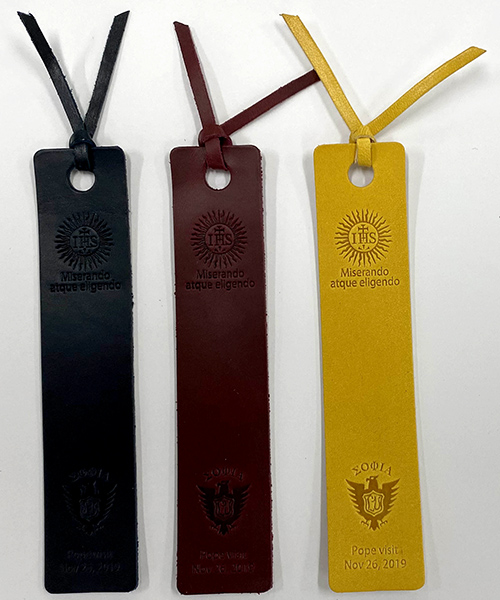 資料番号:教皇フランシスコ_17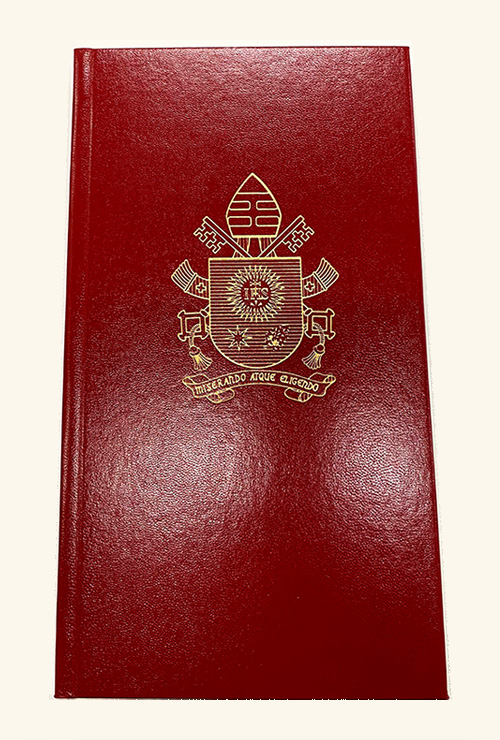 イエズス会日本管区本部所蔵
The chair used by the Pope during his visit
The chair, used by the Pope at the "Pope in Japan 2019" event of the Catholic Bishops' Conference of Japan, at the meeting on November 25 with victims of "Triple Disaster in East Japan," and at the visit of the Pope to Sophia University on November 26, was donated to Sophia University by the Catholic Bishops' Conference of Japan.
Important Papal documents donated to the Japan Province of the Society of Jesus.
Selected Papal Documents (encyclicals, apostolic exhortations, apostolic letters) handed by Pope Francis to the Provincial of the Japan Province of the Society of Jesus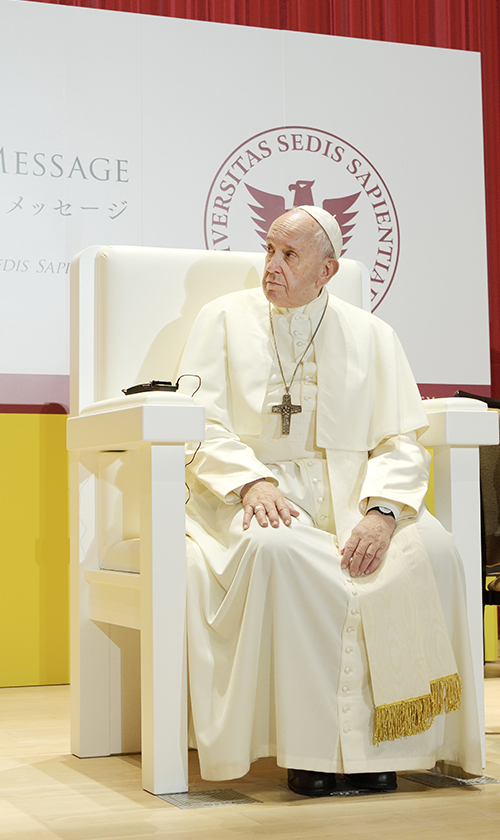 資料番号:撮影_5_YS074
Exhibited on the first floor of the Number 6 building (Sophia Tower)