CHAPTER 1
THE POPES AND SOPHIA UNIVERSITY
Sophia is a Catholic university, and examining its history demonstrates its close connections with the Popes.
Joseph Dahlmann, S.J., who played a crucial role in the founding of Sophia University, urged the necessity of the establishment of a higher educational institution in Japan at his audience with Pope Pius X in 1905. As a result Pope Pius X entrusted the establishment of this institution to the Society of Jesus, leading to the opening of Sophia University in 1913.
The Society of Jesus (Jesuits) is a religious order in the Catholic Church that grew rapidly in the 16th to 17th centuries. It established hundreds of schools, particularly in Europe. Francis Xavier, who introduced Christianity to Japan, was a Jesuit missionary whose activities are widely known.
In this Chapter we will examine Sophia's connections with the Popes in chronological order up to Pope Francis.
September 1540
With the approval of Pope Paul III, the Society of Jesus was founded.
Saint Ignatius of Loyola was appointed as the first Superior General.
August 1549
Saint Francis Xavier, S.J, came to Japan.
With a high evaluation of the Japanese character, Xavier expressed a longing to establish a university in Japan in his letters to fellow Jesuits.
October 1903
Joseph Dahlmann, S.J., who played a key role in establishing Sophia University, came to Japan for scholarly research.

Pope Pius X
July 1905
Fr. Dahlmann reported to Pope Pius X about the results of his investigations in Japan.

資料番号:ネガ1_0323

Sophia's first red-brick school building
August 1906
Pope Pius X requested that the Society of Jesus establish a Catholic institution of higher education in Japan.
April 1913
Opening of Sophia University.
March 13, 2013
The Jesuit Jorge Bergoglio was elected to be Pope Francis.
September 25, 2013
Delegates from Sophia University were granted an audience with Pope Francis.
2.The Visit of Pope John Paul II (February 1981)
資料番号:来訪者_3_00002
Pope John Paul II
264th Pope, October 1978 to April 2005
In February of 1981, Pope John Paul II made the first-ever visit of a Pope to Japan. On February 25, 1981, at 7:20 a.m., Pope John Paul II made a surprise visit to Sophia University during his stay in Japan.
From the sound data we can recognize the joy of the audience at the Pope's speech, filled with humor. He used the word "Sophia" repeatedly in his address, indicating his high expectations for our university. The full text of the address is featured in our university newspaper,
Jōchi Daigaku Tsūshin.
3.Pope Francis and Sophia University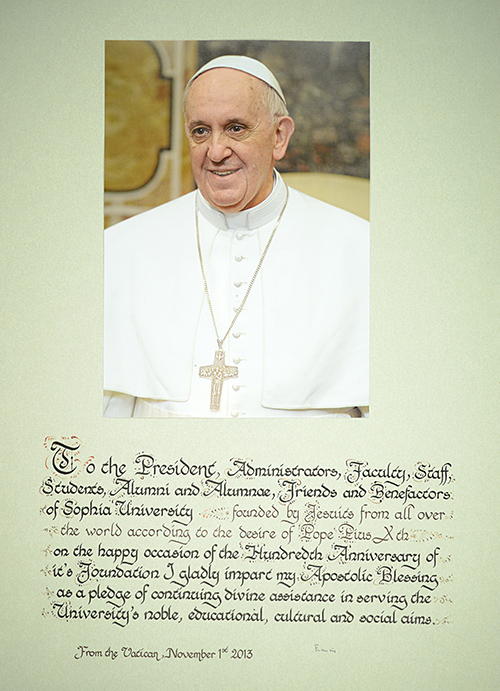 The Pope's congratulatory message
※Please click for the entire message (with Japanese translation).
Pope Francis was elected in March 2013 as the 266th Roman Catholic pontiff, the first Jesuit and the first person from South America. Sophia University, a Jesuit institution, has had a number of exchanges with Pope Francis since he was elected.

Exhibited is the Pope's congratulatory message sent to the centennial celebration of the founding of Sophia University. His message recalled Japan's encounter with Saint Francis Xavier and Sophia's connection with Pope Pius X, and then addressed the mission of today's university.
An event called "Let's speak to Pope Francis" was held via video streaming with Sophia students on December 18, 2017.
Pope Francis answered a student's question about the purpose of study in a university.
The followings are the video and an article from
Jōchi Daigaku Tsūshin.
relating to the event.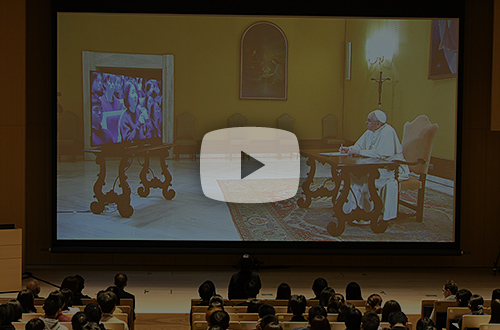 Click here for the Video "Let's speak to Pope Francis" (2h 25min 21sec)
We celebrated the Pope's birthday (81 years on December 17) by singing "Happy Birthday" in Spanish.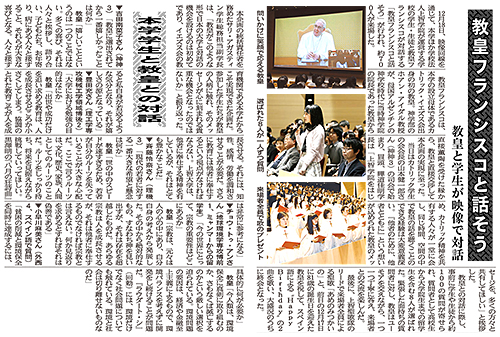 Jōchi Daigaku Tsūshin.

No.423 published on January 29, 2018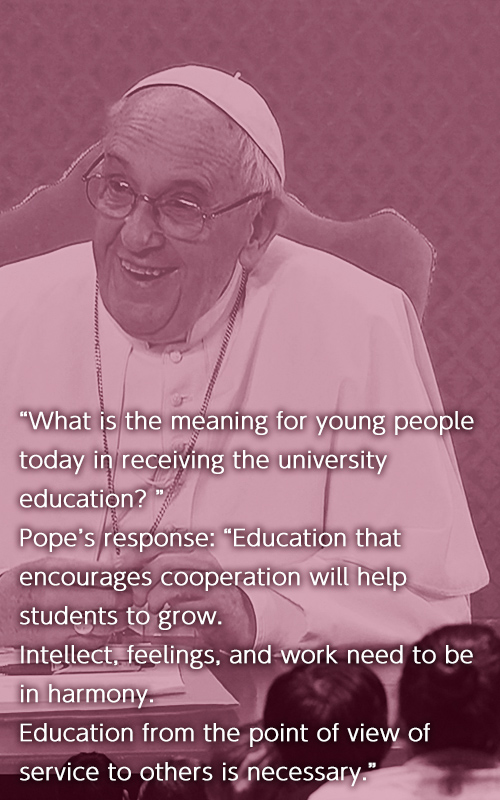 資料番号:2017.12.18_教皇フランシスコと話そう_0461
The Message of Pope Francis (from the online event)