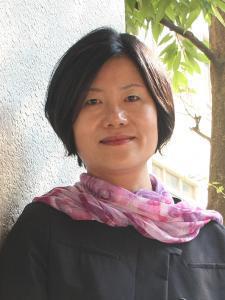 Email: a-yiu[at]sophia.ac.jp
Tel: 03-3238-4030
Office: 10-647

YIU Angela
Professor
Modern Japanese Literature
B.A., Cornell University
M.A., Ph.D., Yale University
Research and Teaching Interests:
I studied Comparative Literature as an undergrad at Hong Kong University and Cornell University, and my dissertation at Yale University was on Natsume Sôseki. My current research interests include modernism, utopian studies, postwar literature, urban studies, and women writers. These are themes that I cover in my undergraduate and graduate courses, which include readings from Meiji to contemporary Japan. In all my classes, I encourage students to read carefully, think deeply, and write thoughtfully via the long and meaningful detour of literary texts.
Chaos and Order in the Works of Natsume Soseki (University of Hawaii Press, 1999)
Three-Dimensional Reading: Re-Imagining Time and Space in Japanese Modernist Fiction (University of Hawaii Press, 2012)

"Okuizumi Hikaru and the Mystery of War Memory" in Imag(in)ing the War in Japan:Representation and Responding to Trauma in Postwar Literature and Film, David Stahl and Mark Williams (ed). Boston and Leiden: Brill, 2010.
"Atarashikimura—the Literary Context of a Taishô Communal Village," Japan Review (International Research Center for Japanese Studies-Nichibunken), No. 20 (2008), pp. 199-227.
"A New Map of Hell: Satô Haruo's Dystopian Fiction" in a special issue titled "Tokyo Nonsense in the Interwar Era." Japan Forum Vol. 20, No. 3 (March 2009)
| | |
| --- | --- |
| Course No. |                              Title |
| LIT231 | INTRODUCTION TO JAPANESE LITERATURE |
| LIT308 | REMEMBERING THE WAR IN JAPANESE LITERATURE |
| LIT337 | MODERN JAPANESE FICTION |
| LIT373 | MODERN CHINESE LITERATURE |
| LIT405 | SEMINAR IN MODERN LITERATURE |
Graduate Program in Global Studies
| | |
| --- | --- |
| Course No. |                              Title |
| JS508Z | INTERPRETATIONS OF MODERNITY 1 |
| JS509Z | INTERPRETATIONS OF MODERNITY 2 |
| JS708Z | ADVANCED STUDIES IN INTERPRETATIONS OF MODERNITY 1 |
| JS709Z | ADVANCED STUDIES IN INTERPRETATIONS OF MODERNITY 2 |