I first came to Sophia as an exchange student in 2004-05, before transferring and then graduating in 2007. When I was looking for the right university - and program - to attend in Japan, the one that really got my attention was Sophia University's FCC (Faculty of Comparative Culture).
FCC had something many universities didn't, offering both Japanese and international experiences in a single program. While getting to learn about Japan and its language, I was given the chance to study in an international and English-speaking environment with professors and students from various backgrounds and cultures. It gave me a new perspective into the world we live in.
This unique multicultural environment opened my mind to the fact that one's educational and cultural background is only one example among many others. This realization has allowed me to understand, to perceive, and to address many of the social problems I wanted to understand, from entirely new perspectives.
As a business major, I am now working in the marketing field. I have to say I benefited substantially from the internationally recognized professors at FCC. They provided me with the best tools to be an efficient marketer in Japan or, for that matter, anywhere in the world. Beyond the classes I attended, I also greatly benefited from the FCC business circle, 'Sophia Enterprises', whose objective was to connect students with professionals in the business world. As a member of Sophia Enterprises, I was able to get my first sense of how the business world really works.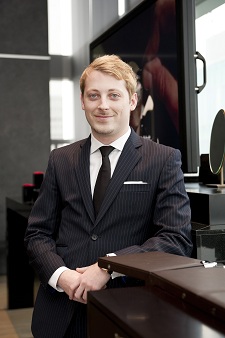 After graduation, I worked first for Movado, which designs and manufactures watches for fashion brands (Coach, Tommy Hilfiger, Lacoste, and Hugo Boss among others). I was in charge of both the retail networking and marketing in Japan. I now work for Cartier Japan as a Marketing Watch Product Manager. In both these roles, my key agenda was to enable the success of a global watch brand in Japan and to find product offerings that would be successful in the long run. This involves properly responding to the specific needs of the local market without compromising the global brand image. I believe no university could have trained me better for my career than Sophia did.

Most precious to me, however, have been the people I met during my years at FCC – those who still remain my closest friends. No matter where I travel around the globe there will almost always be someone I got the privilege to know at Sophia. For this I am – and always will be – very thankful to FCC.