With-COVID/Post-COVID Initiatives
Sophia New Normal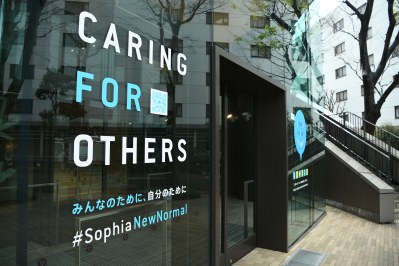 Sophia New Normal is a new campus rule that Sophia University has established to prevent the spread of COVID-19.
To prevent the spread of COVID-19, we must act differently than we did in the past. "Caring for Each Other", the message Sophia New Normal would like to share with our entire Sophia community including students and faculty, means that we would like to call on everyone to promote new ways of on-campus daily conduct that are appropriate for life in the new normal, with kind care for others as well as positivity.
Sophia New Normal Video Series
Here we introduce 6 easy-to-follow rules, as well as rules when eating and drinking on campus, to put action guidelines under the new normal to practice.
Conducting Classes in the With-/Post-COVID Environment
As in the past, classes are conducted face-to-face, on campus, as a basic policy while taking thorough infection prevention measures. However, for courses that are judged to be highly effective in terms of learning when actively utilizing online measures, we offer on-demand (*1) or simultaneous interactive online classes using Zoom and other technologies.
The program also includes high-flex classes (*2) for students who have an underlying condition that puts them at high risk when infected or those who are temporarily unable to attend face-to-face classes due to infection or having been in close contact with those that are infected.
As measures for online classes (high-flex classes/on-demand classes), microphone speakers for conferences have been installed in all classrooms, and various class environment improvements have been made, including the establishment of wireless LAN availability in each classroom and a review of network configurations. In addition, a "High Flex Support Desk" has been established to improve the online class environment.
*1: Lecture materials and videos are distributed over the Internet and classes can be taken at any time and place within a set period.
*2: Online (simultaneous interactive (Zoom, etc.)) participation in face-to-face classes from outside the campus with prior application/request.